Guide to Convert Image to Icon SVG Using the Best Image Converters
Maybe you are a graphic designer or a website creator who needs to design logos and icons. That said, you need to design photos with a format that is zoomable and resizable while maintaining a high-quality photo. Also, it is helpful when printing high-quality images since it does not lose any resolution when you enlarge them. All these attributes point you to one format, which is SVG. On the other hand, you already have a target photo to design, yet it is not in the format you want.
Therefore, this guide will share the programs on how you can convert images to SVG in various ways. At the end of the post, you can turn your image files to SVG online and offline. Learn further by reading below.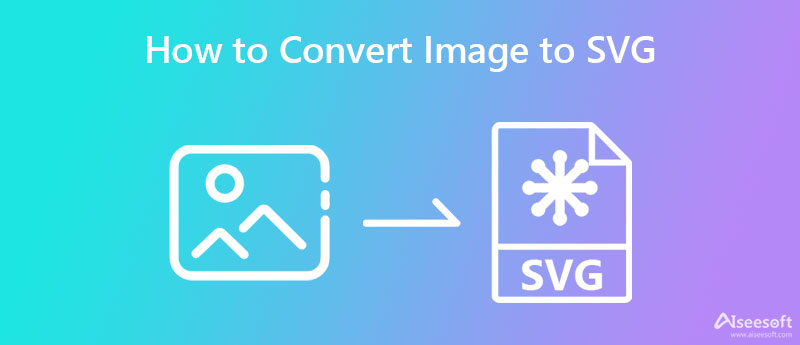 Part 1. How to Convert Image to SVG Offline
If you wish to learn how to convert images to SVG offline, you should consider using Converseen. This free program runs with all operating systems supported by Qt and Windows, and Linux. It comes with all the essential image editing tools, including the ability to flip, rotate, and resize. Most importantly, the program is capable of converting your images to SVG in just a few simple clicks.
Plus, the program enables you to process multiple files at once. That means to say. You can convert a bunch of images in one process. If you want to learn how to convert an image to SVG, follow the simple steps beneath.
Step 1:
Acquire the app from its official website and launch it on your computer. Then, circumnavigate the tool to familiarize yourself with the interface.
Step 2:
The tool is straightforward. Upfront, you will see the function buttons. From the main interface, hit the
Add images
button and select your target HEIC photos.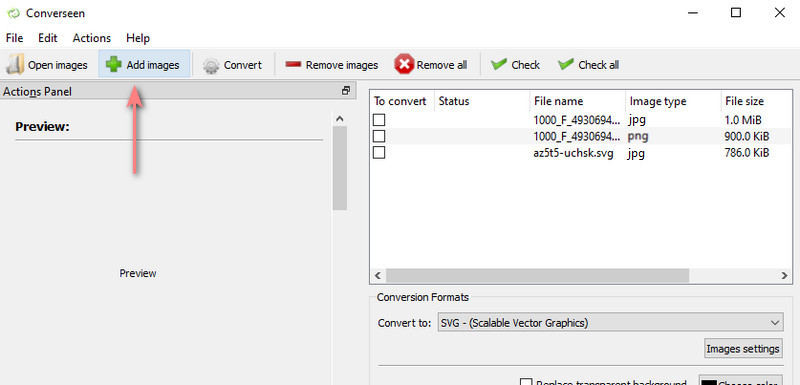 Step 3:
Right after, edit the Conversion Formats by expanding the
Convert to
option. Now, select
SVG - (Scalable Vector Graphics)
from the list of options.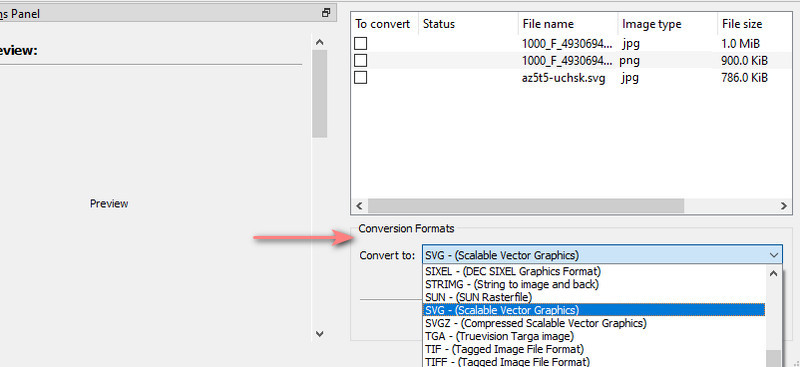 Step 4:
Now, confirm that you will convert the loaded photos by putting checkmarks. Simply hit the
Check
or
Check All
button on the top menu. Finally, tick the
Convert
button to commence the session.
Part 2. How to Convert Image to SVG Online
You can also convert files online without downloading any program on your computer. This method is most convenient when the internet connection is not always available in your case. What is captivating about this tool is that you can select from different formats besides SVG. Moreover, users may also define their desired image quality and resize the image.
Not to mention, you can modify the DPI of vector graphics. That is for sure helpful when you wish to improve the quality of your SVG photos. On the other hand, here is the simplified process of how to convert images to SVG for free online.
Step 1:
Run your preferred browser and visit the program's official site. Then, you will see various functions on the left side menu. From here, select the
Image
option.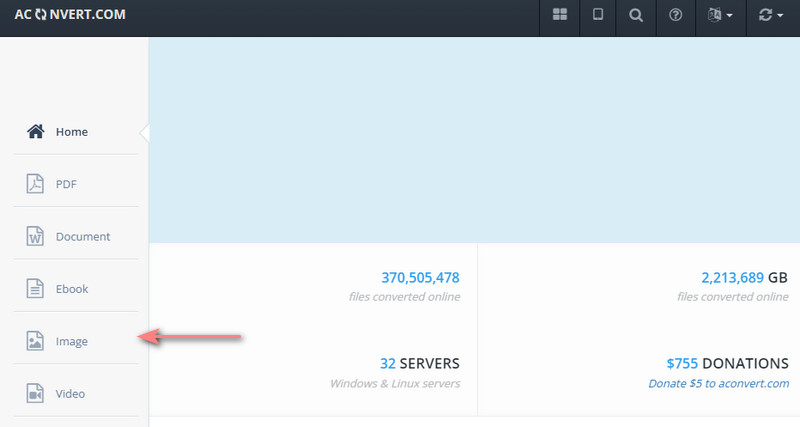 Step 2:
Then, you should be able to access the Image Converter immediately. This time, hit the
Choose Files
button and import the photo you wish to convert to SVG.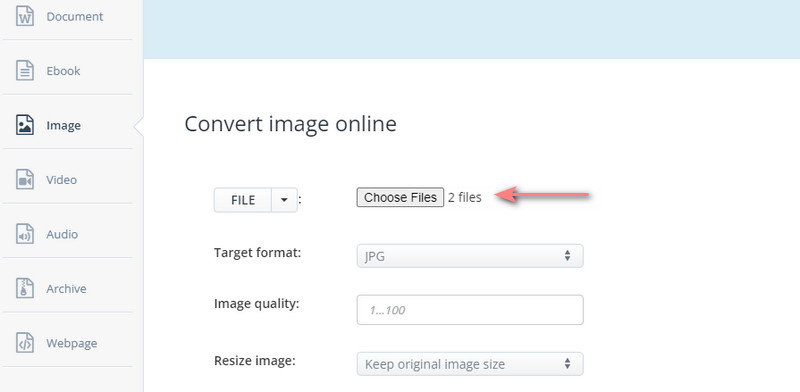 Step 3:
Afterward, expand the
Target format
drop-down menu and select the
SVG
format. By then, all the resultant files will be saved as SVG.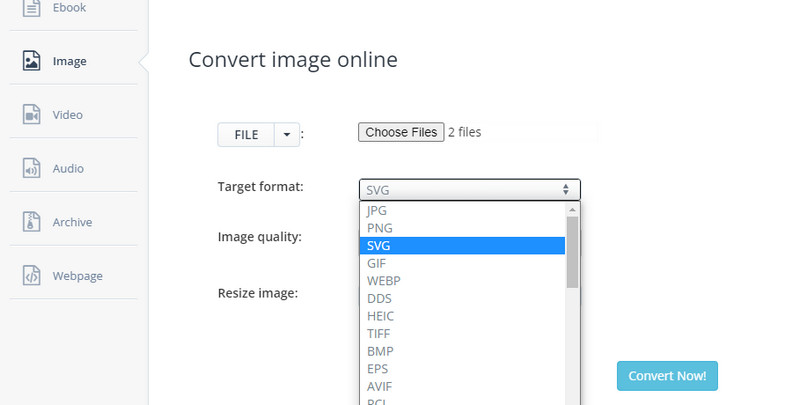 Step 4:
You may also edit the quality of the photo as per your needs. Once all set, hit the
Convert Now
button to initiate the process. Now, you can convert images to SVG for Cricut using this program.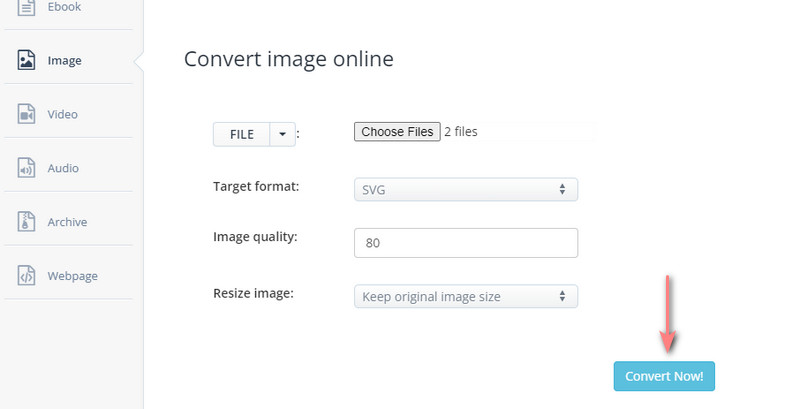 Part 3. Best Tool to Convert SVG to JPG/PNG/GIF
Now, if you are wondering which tool is best for converting SVG to JPG/PNG/GIF, it is another internet-based program named Aiseesoft Free Image Converter Online. Likewise, this tool works without the aid of downloading apps. Additionally, users do not need to register for an account or subscribe to maximize its full service. Using this online program, you will be able to convert SVG photos to JPG, PNG, and GIF.
Plus, you can process many photos in one process. Say you wish to convert multiple photos. The program can handle it well for you. You can process and convert up to 40 images in one process. Over and above, all the uploaded files are automatically deleted once the conversion is done to keep your privacy. You may also refer to its additional features for your perusal.
Aiseesoft Free Image Converter Features:
1. Completely free program.

2. There is no need for installation.

3. Imported photos are automatically deleted after processing.

4. Batch convert and download image files.

5. It can read and modify 30+ image formats to JPG/PNG/GIF.
Part 4. FAQs About Converting Image to SVG
What compression scheme does SVG use?
SVG is a lossless file. That means that SVG files have lossless file compression. Hence, you can resize and zoom these types of files without losing their quality. The same is true when compressing them. You will not lose information after the compression.
How do I compress SVG files?
If your SVG photos are taking up so much disk space on your device, you may want to compress SVG files. There are a lot of SVG file compressors you can find online. You just have to be vigilant in finding the right tool.
Can I convert PNG to SVG?
Yes. It is possible to convert your PNG files to SVG. There are numerous ways to convert PNG to SVG. On the other hand, you need to find the best tool that delivers efficient results. You can try to check some guides to turn PNG to SVG and consider the tools offered there.
Conclusion
This guide post shares the best apps to convert images to SVG. If you will SVG for crafting machines and Cricut, you must check this walkthrough. Moreover, this tool teaches you the program to help you convert SVG to other compatible formats, including JPG, PNG, and GIF.

Leave your comment and join our discussion