How to Convert JPG to GIF on Your Desktop and Online Quickly
This guide will show you the easiest ways to convert JPG to animated GIF. JPG is a still image format commonly used on the web, while GIF is animated image format. The biggest difference between JPG and GIF is dynamic. More importantly, you can create a GIF image with several JPG. This guide will show you how to convert several JPG images to animated GIF, so that you can tell a complete story.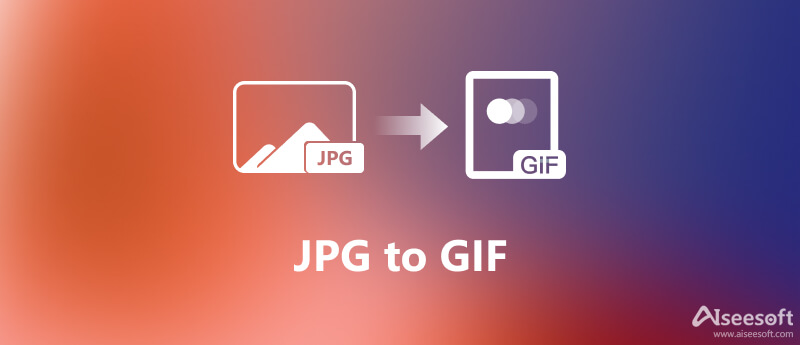 Part 1: Ultimate Way to Convert JPG to GIF
Aiseesoft Video Converter Ultimate is the best way to convert JPG to GIF. For beginners, the well-designed interface enables you to find what you want quickly. For advanced users, there are tons of custom options and bonus tools.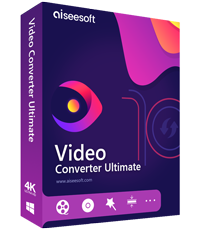 Downloads
How to Convert JPGs to an Animated GIF
Step 1: Open JPG to GIF converter
The best JPG to GIF converter provides two versions, one for Windows 10/8/7 and the other for Mac OS X. Install the right one on your computer and launch it. Go to the
Toolbox
pane from the top of the home interface and select
GIF Maker
.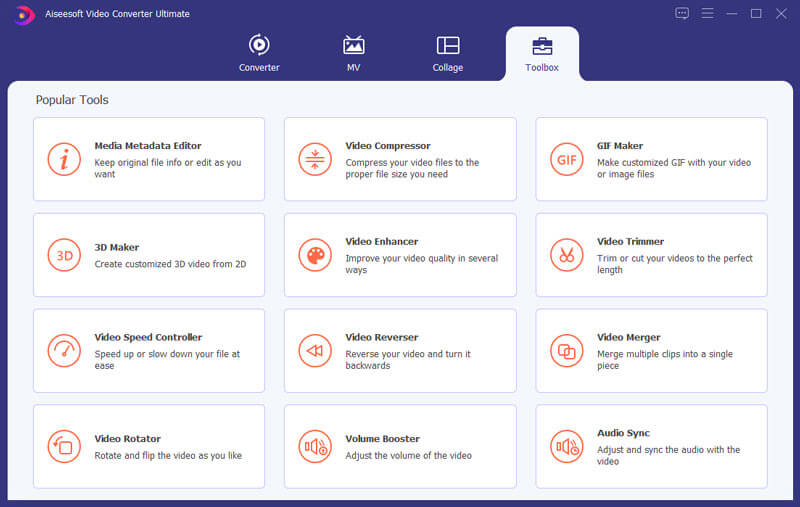 Step 2: Add JPG
Hit the + icon in the main interface, find and select all JPG images that you want to convert and click
Open
. Alternatively, drag and drop the JPGs into the interface. Then set the
Output Size
and other options based on your situation.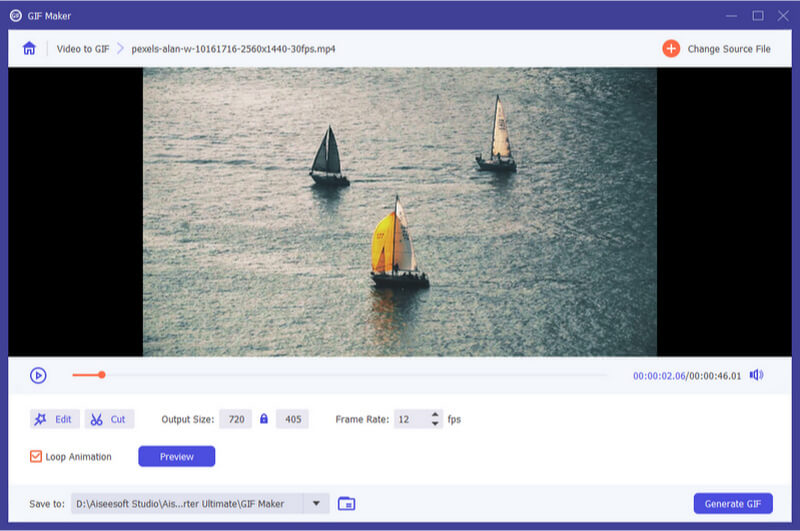 Step 3: Convert JPG to GIF
Preview the animated GIF and adjust it until you are satisfied. At last, click the
Folder
button at the bottom and set a specific folder in the
Save to
box. Click on the
Generate GIF
button. A few seconds later, you can find the GIF converted by JPG in your folder.
Part 2: Top 3 Methods to Convert JPG to GIF Online
How to Convert JPG to GIF on EZGIF
EZGIF is a popular GIF solution online. It is completely free of charge with some limitations. It includes a GIF maker, which allows you to upload up to 2000 JPG, PNG, HEIC and other images and convert them to an animated GIF.
Step 1:
Visit https://ezgif.com/maker in your browser. Click the
Browse
button to upload the target JPG images. Bear in mind that the maximum file size is 600MB each.
Step 2:
Click the
Upload and make a GIF
button to enter the next page.
Step 3:
Set the duration of each image in the
Delay
option. If your images are different on size, click the
Resize
button to resize all images to match the smallest one.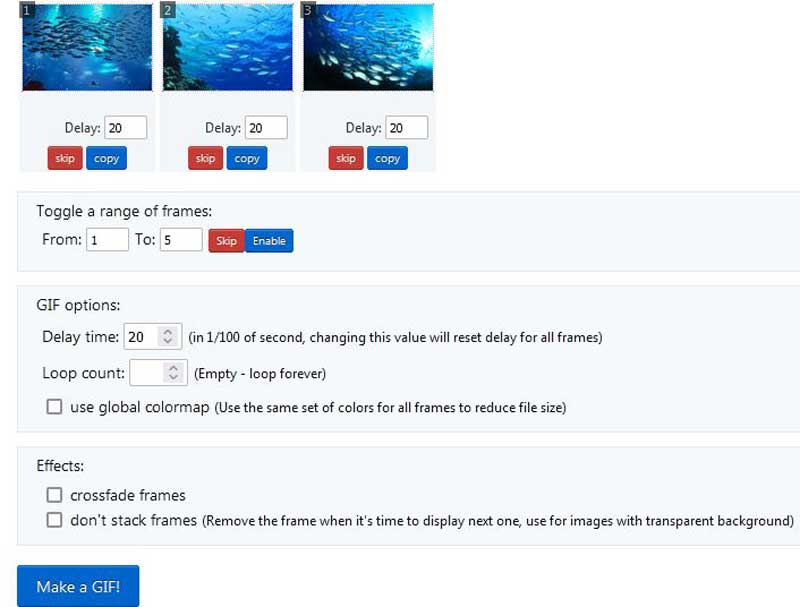 Step 4:
Set the options and click
Make a GIF
button to begin converting JPG to GIF online. When prompted, click the
save
icon to download the GIF to your disk.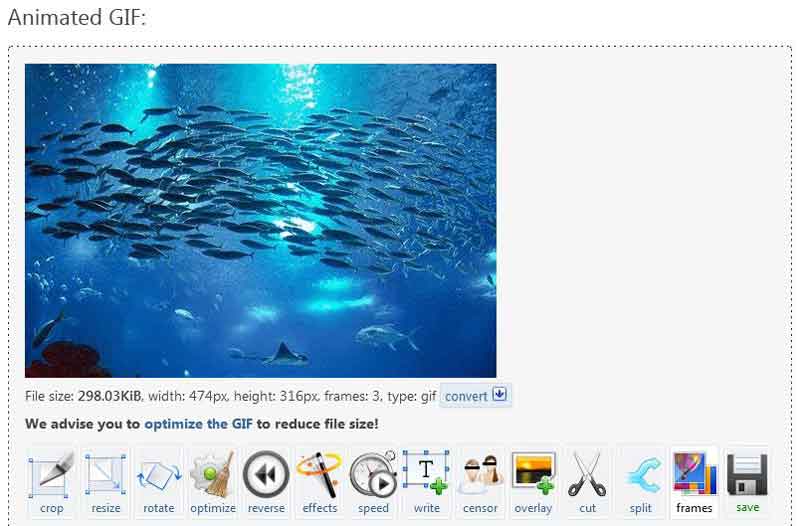 How to Convert JPG to GIF on iLoveIMG
iLoveIMG is a simple tool to convert your JPG to animated GIF online. It provides the free edition that only allows you to convert JPGs up to 200MB per time. Of course, you can subscribe the premium edition to remove the limit and ads.
Step 1:
Access https://www.iloveimg.com/jpg-to-image/jpg-to-gif in a browser. Click the
Select JPG images
button and upload the source images from your computer. It allows you to import JPGs from Google Drive and Dropbox too.

Step 2:
After uploading, you will see the images. Adjust the order by dragging and dropping. Then select
ANIMATED GIF
on the right side. Set the
Seconds per image
and
Loop
accordingly.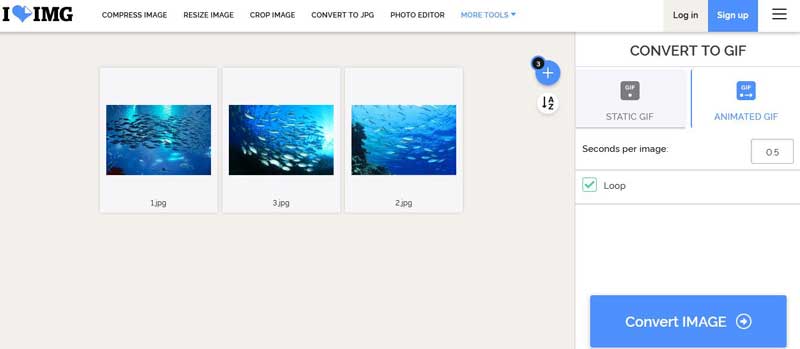 Step 3:
Click the
Convert IMAGE
button to initiate converting JPG to GIF. Finally, download the result to your hard drive.
How to Convert JPG to GIF with ImageOnline
As its name indicated, ImageOnline is a web-based image solution. More importantly, it allows you to convert JPG into animated GIF online for free. Although it contains ads, you can use the custom options to create desired effect without installing anything on your disk.
Step 1:
Open a web browser when you need to convert JPG to GIF, copy and paste https://gif.imageonline.co/ into the address bar and hit
Enter
key on your keyboard to open it.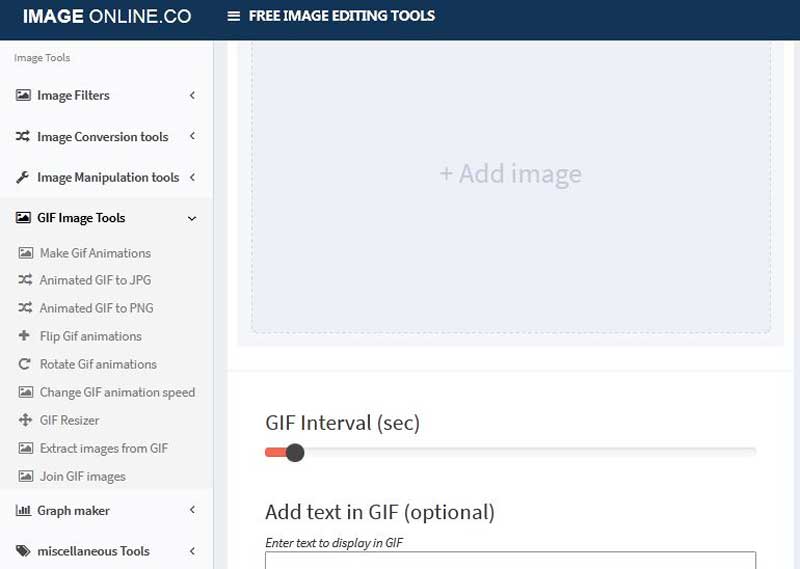 Step 2:
Press the
Add image
icon on the home page and select the JPG images that you intend to convert. Then change the
GIF Interval
, add text to the GIF and resize the image.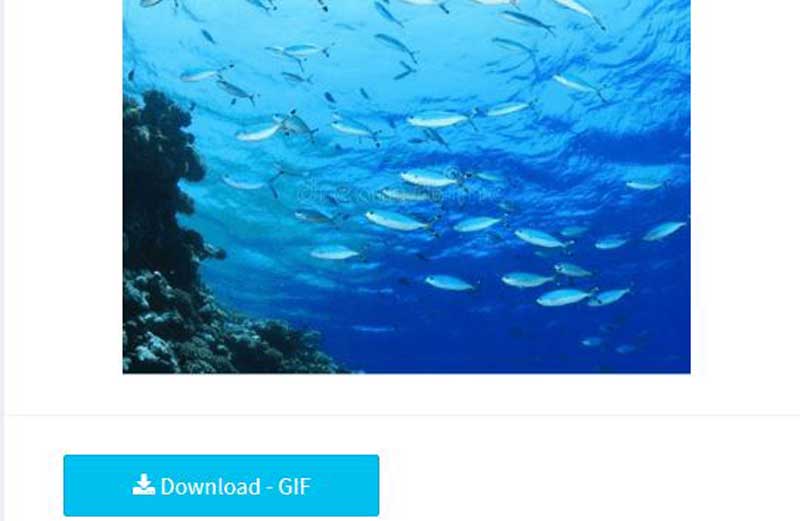 Step 3:
Click on the
Apply Changes
button. Then you can get the preview on the right side of the web page. If you are satisfied, click on the
Download – GIF
button. If not, you can adjust the options and apply it again.
Note: Since the web page contains a lot of ads, you should be carefully when downloading GIF.
Part 3: FAQs about JPG to GIF
Can you save a GIF as a JPG by renaming?
No. If you simply rename a GIF image extension to JPG, it may damage your pictures. The correct way to save GIF as JPG is to use a GIF to JPG converter program.
How to convert JPG to GIF in Photoshop?
You can open a JPG in Photoshop, edit it, and then save it as another image format, such as GIF.To know more how-to details, click here.
Why my animated GIF saved as pictures?
GIF is a series of static images. When downloading a GIF from the web, you have to save it as GIF. If you download it as other format, it will turn to still image.
Conclusion
Now, you should learn at least four ways to convert your JPG images into an animated GIF in order to tell a complete story. It is said that a picture is worth a thousand words. Thus a GIF image should be worth thousands of words. Aiseesoft Video Converter Ultimate can help you streamline the job and produce as high output quality as possible. More problems? Please, feel free to leave a message below.

Leave your comment and join our discussion