Everything You Need to Know about Converting MXF to AIFF without Quality Loss
Recently, I got some video files saved in MXF format, but I just want to listen to them on my iPhone, how to convert MXF to AIFF?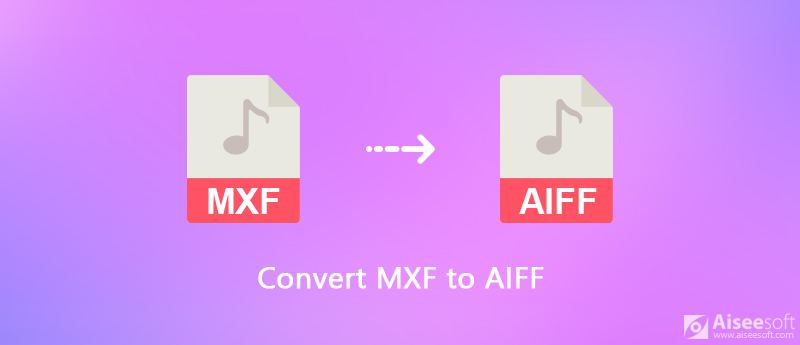 MXF is not a standard media file format, so you cannot play it in any media player or on any digital device. The good news is that you can convert it to the right video or audio format and then enjoy your content. This article will show you 3 methods to convert an MXF file to AIFF format on your desktop or online.
Part 1: What Are MXF and AIFF?
MXF, stands for Material Exchange Format, is a video container format for SMPTE standard video and audio content. An MXF video file is alternative of video tape but in digital format. It supports full timecode and metadata and is mainly used in TV broadcasting. The biggest advantage of MXF is to store several different compression formats in a single file.
On the other hand, AIFF, stands for Audio Interchange File Format, is a file format developed to store audio data for Apple devices. A standard AIFF file contains 2 channels of uncompressed stereo audio with a sample size of 16 bits.
Part 2: Convert MXF to AIFF on Desktop
As mentioned previously, MXF is used to store compressed content while AIFF is an uncompressed audio format. Quality loss is a big concern when converting MXF to AIFF. From this point, you'd better find a powerful tool, such as Aiseesoft MXF Converter.
Convert MXF files to AIFF or other media formats in one click.
Support almost all video and audio output formats.
Edit MXF files before or after conversion.
Batch process multiple MXF files at the same time.
In a word, MXF Converter is the easiest option to convert your MXF files to AIFF on Windows and Mac.
How to Convert MXF to AIFF on computer
Step 1. Install the best MXF to AIFF converter
There are two versions of the best MXF converters, one for Windows 10/8/7 and the other for Mac OS X. Download and install the right one to your computer based on the system. Launch it and click the Add File menu on the top of the window to add MXF files. Alternatively, drag and drop the MXF files into the main interface directly.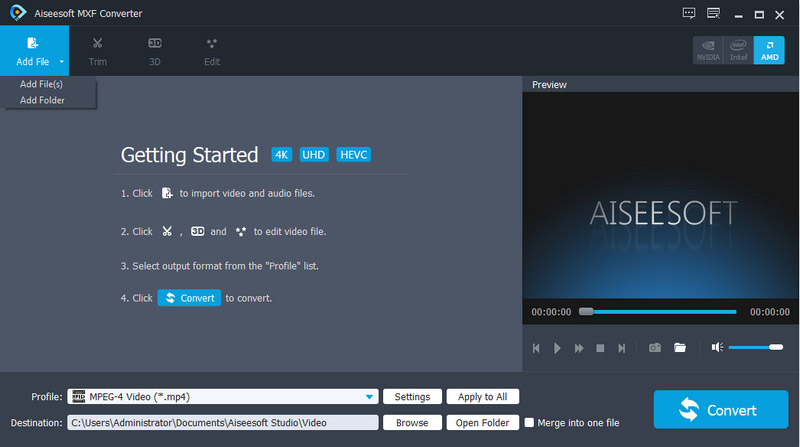 Step 2. Preview and edit MXF files
After adding, your MXF files will appear in the library. The media player on the right side allows you to preview the MXF files before conversion.
If you just want to convert a part of an MXF file, click the Clip menu to open it in the clip window and reset the starting and end points.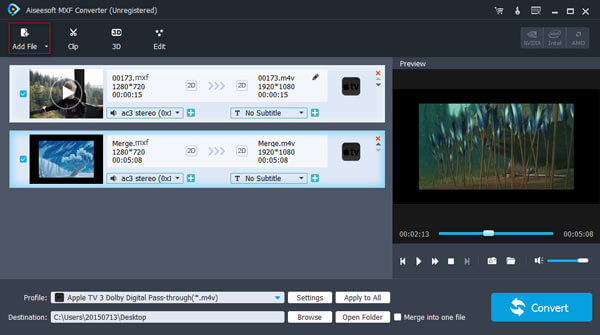 Step 3. Convert MXF to AIFF
When editing is done, go to the bottom area. Expand the drop-down list next to Profile, select General Audio and then AIFF or other audio formats. Then set a specific folder to store the AIFF output by hitting the Browse button. Finally, click the Convert button to start converting MXF to AIFF.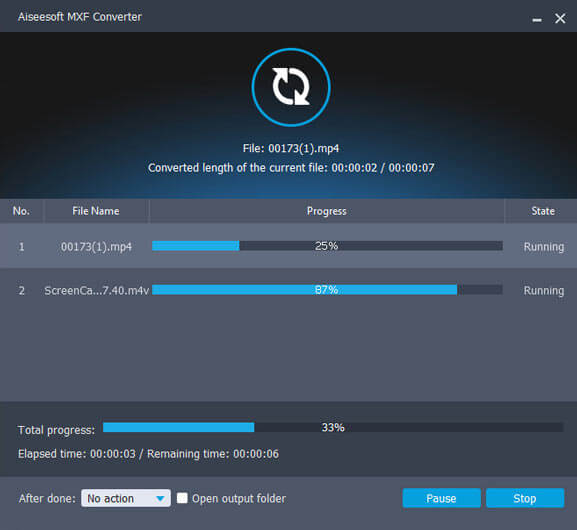 Note: If you want to change the parameters related to audio, such as bitrate, click the Settings button at the bottom and you can get what you want in the Profile Settings dialog. More MXF file converter, you can check it here.
Part 3: Convert MXF to AIFF Online
Sometimes, it is not convenient to install a desktop MXF to AIFF converter to your machine. In such case, web apps can meet your need. If you do not mind the drawbacks, such as file size limit and poor output quality, here are two online MXF to AIFF converter apps.
Method 1: Convert MXF to AIFF with Cloud Convert
As its name indicates, Cloud Convert is a cloud-based file converter app. It is able to convert several MXF files to AIFF online. Although it does not have file size limit, it may freeze if you upload large files.

Step 1. Visit https://cloudconvert.com/mxf-to-aiff in your browser to open the MXF to AIFF converter page. Click Select Files button to upload MXF files from your hard drive. Or hit the Arrow icon next to the button to upload files from Dropbox, Google Drive or OneDrive.
Step 2. To customize options or trim the MXF file, click the Tool icon to open the Conversion Options dialog. If you are beginners, keep the options by default. Click the Start Conversion button to process your file.
Step 3. When it finishes, hit the Download button to get the output AIFF files to your computer, or scan the QR code to transfer it to your mobile device or other AIFF players.
Method 2: Convert MXF to AIFF with FreeFileConvert
FreeFileConvert is a collection of online file transfer apps. It permits you to handle 1 to 5 MXF files up to 300MB online.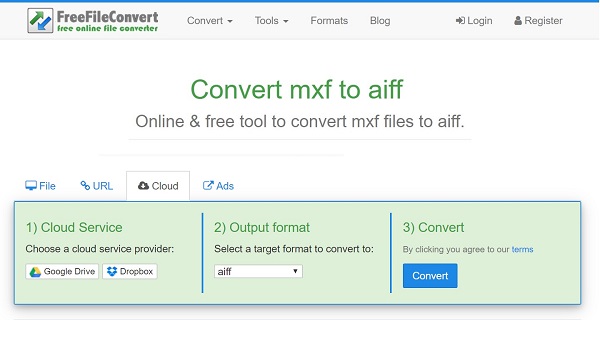 Step 1. Open your browser, copy and paste https://www.freefileconvert.com/mxf-aiff in the address bar, and hit Enter key to access the web app.
Step 2. Go to the File tab and input your MXF files from your computer by hitting the button. Or you can upload MXF files from URL, Google Drive, or Dropbox.
Step 3. Unfold the Convert files to drop-down list and select aiff under Audio formats section. Once you hit the Convert button, the MXF to AIFF conversion process will start. When prompted, click the Download button to download the output.
Note: If it is not convenient to download the AIFF audio files immediately, click the Email icon and write down your email address. Then the web app will send the result to your email, and you can download them at any time on any device.
Conclusion
This article discussed how to convert MXF to AIFF on Windows and Mac OS X. Firstly, MXF can store multiple media formats and you can only extract audio files from it. Some web apps have the ability to produce AIFF files from MXF without asking you to install software, but they cannot process large MXF files. Aiseesoft MXF Converter, one the other hand, can convert your MXF files to AIFF and produce the best audio quality. More questions? Please leave a message below.