How to Defrag A Mac - Learn More About Mac Defragging
My Mac is starting to run slow… Do I have to defrag A Mac OS X hard drive? Or do they do that automatically? I wonder if there is a program that I can run monthly or weekly without mac auto-defrag.
Sometimes, our Mac gets running slow for there is no enough storage space. At that time, some people may want to defrag their Mac, but some of you may question that is there a need to defrag Mac. Well, this article will tell you how to defrag a Mac, and we will also provide you the best Mac defrag alternative to speed up your Mac.

Defrag Mac
Part 1. Does Your Mac Need Defragmentation
"Does Your Mac Need Defragmentation?" This question may have troubled Mac users for some time. To answer this question, you should first get to know about what is defragmentation. Defragmentation is a process that reduces the degree of fragmentation. It will organize the files that scattered in the disk and collect them together. Defragmentation is important because it can speed up a slow computer and improve its performance.
To answer this question, here are some occasions concluded when your Mac doesn't need a defragmentation.
• Generally speaking, Mac doesn't need defragmentation if it adopts HFS+ file system. The HFS+ file system will increase the number of allocation blocks on the disk and decrease the minimum size of the file, which can upscale the storage space on the Mac hard disk.
• Besides, with the Hot File Adaptive Clustering technology of the Mac OS X system, Mac doesn't need to defrag and will defrag automatically if necessary.
• For Mac OS X 10.2 or later, there is also no need to defrag a Mac. Another situation is that if you own a new Mac with SSD (Solid State Drive), there is no need to defrag your Mac. Because it can auto-defrag your Mac.
But if your hard drive is almost like 95% full (less than 10% storage), there may be some problems occurring in Mac's auto-defrag. Or you are using an old Mac with traditional HDD (Hard Disk Drive).
At that time, your Mac will not defrag automatically. You should delete the large or old files on your hard drive or find a useful tool to defrag it.
You may doubt that if defrag will harm your HDD. The Mac OS X defrag will not harm your hard disk, but boot your Mac's performance.
Part 2. How to Defrag Your Mac Hard Disk Drive
Different from the Windows system, the macOS doesn't provide a built-in feature to defrag the Mac. So, if you really want to defrag a Mac, you can use a third-party program. But remember that you need to back up your Mac data first before defragging a Mac. In case something going wrong, you can restore necessary files with Time Machine, iCloud, Dropbox or Mac Data Recovery.
The most popular app for defragging is iDefrag. It will help you get the most out of your hard drives. There are five different defragmentation algorithms for different levels of defragmentation. In addition, iDefrag supports all versions of Mac operating system. Here are the steps on how to defrag your Mac with iDefrag.
Step 1After iDefrag has been downloaded, run this app on your Mac.
Step 2Defrag will start examining the disk automatically. Wait for a few minutes, and click the first Drop Down menu.
Step 3There are many options for you to choose. You can choose Quick (on-line) to operate it.
But it is not a free app. If you want to experience the whole features, you need to purchase it. You can also use other defragmentation software like Drive Genius or TechTool Pro 5.
Part 3. Is There An Alternative to Defrag Your Mac
Well, if there is a plenty of large music or movie files that are taking up much of your Mac storage space. The answer is definitely yes. The simple way is to delete them manually. Another way is to defrag your Mac with the defragmentation software mentioned in part 2. But you need to backup your Mac data first.
Considering about its complexity, there is a fast and simple defragmentation alternative provided for you – Aiseesoft Mac Cleaner. It is a professional Mac management tool to remove junk files, clutter, duplicate files, large and old files, and monitor your Mac performance.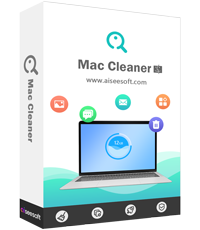 Monitor your Mac performance, such as disk utilization, battery status, memory usage, and CPU usage.
Safely delete Mac junk file, clean unnecessary files, and uninstall apps in one click.
Preview junk files, unneeded files, old/large files, unnecessary apps before cleanup.
Compatible with macOS Sonoma and earlier.
Support iMac, iMac Pro, MacBook, MacBook Air, MacBook Pro.
You can follow the steps below to clean and speed up your Mac.
Step 1 Launch Mac Cleaner
Free download, install and launch Mac Cleaner on your Mac. You can click "Status" to view disk utilization, memory usage and CUP usage.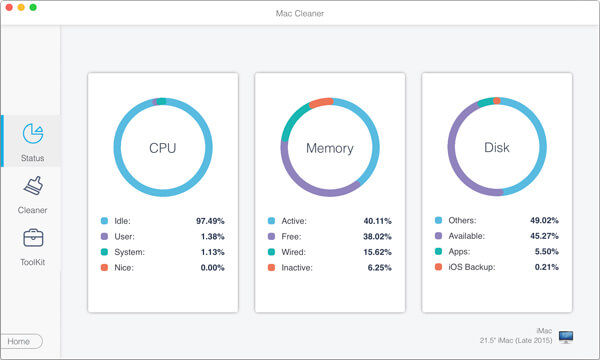 Step 2Scan Junk Files
Mac Cleaner allows you to clear system junk, iPhoto junk, email junk, similar photo, iTunes junk, trash, large & old files and duplicate files. Click the feature you want to use to clean junk files. Then click "Scan" to scan junk files.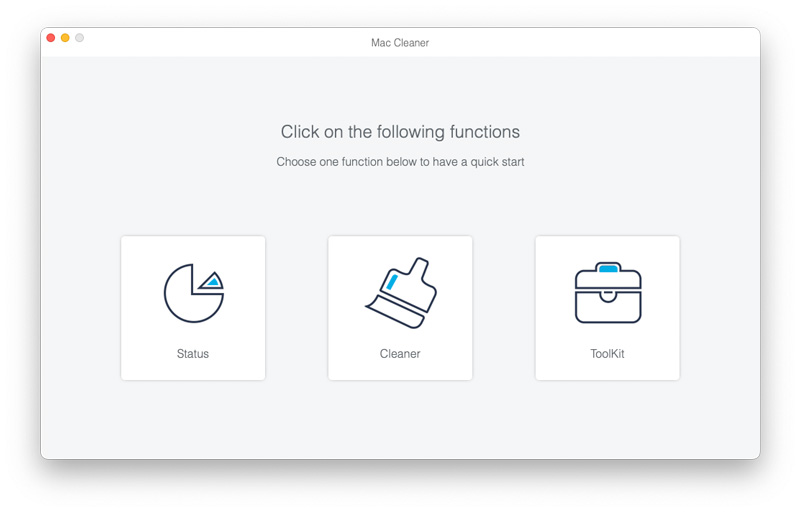 Step 3Clean Junk Files
After the scanning is completed, click "View" button to check these junk files. Then select the file you want to clear and click "Clean" to clean the junk files on your Mac.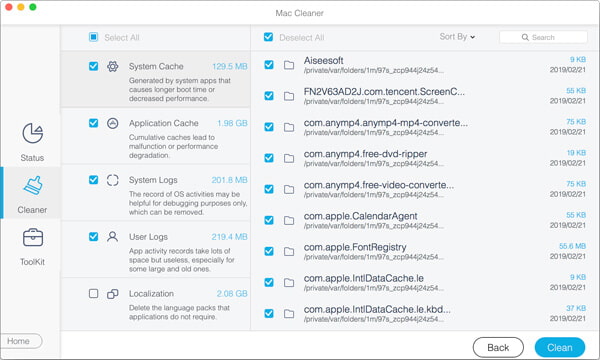 As you can see, just a few clicks, you can clean the junk files easily on your Mac. Moreover, you can also clean large/old files, unneeded apps or duplicate files that are taking up the Mac space, as to speed up Mac and improve its performance.
Conclusion
In case something important lost, you'd better back up some important files before defragging. With the defragmentation software we mentioned, we hope that you can defrag your Mac easily. If you just want to free up storage space on your Mac, Mac Cleaner is also a useful alternative tool for you. If you have any questions, just don't hesitate to contact us.