Part 1. 10 Little Tricks to Make Your iPhone Faster
Trick 1. Delete apps that take up a lot of space
The more bloated your iPhone is, the slower it's going to run. Head over to Settings > General > iPhone Storage and delete some unused apps to make iPhone faster.
Trick 2. Get rid of old photos/videos/music
Deleting unnecessary media files is a great way to speed up your phone. If you've got hundreds of photos/videos on your iPhone, try syncing them to iPhoto on your desktop or backing them up through iCloud and erasing them from your phone.
Trick 3. Delete old text messages
Go to Settings > Messages > Keep Messages, here you can select the time (30 Days/1 Year/Forever) for which you want to keep up your conversations. Removing text messages and multimedia files can free up iPhone space and make iPhone faster.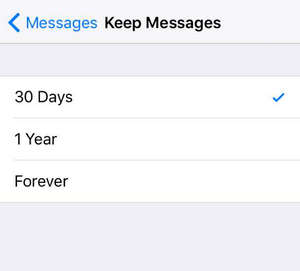 Trick 4. Empty Safari's cache
Head over to Settings > Safari, and tap Clear History and Website Data to empty Safari's cache as you did to your computer and keep it running smoothly.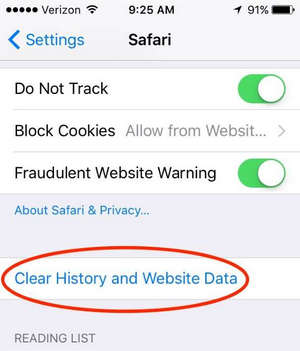 Trick 5. Disable background app refresh
There is a feature called Background App Refresh in iOS that supports background activity for different apps. Turning off this feature will surely make iPhone run faster. It can also help preserve battery life. You can go to Settings > General > Background App Refresh, and disable background app refresh.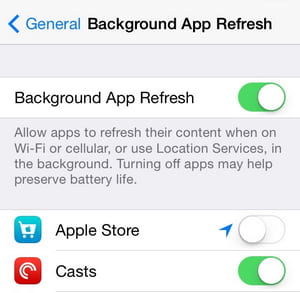 Trick 6. Cut down on animations and visual effects
Too much visual flourishes in your aging handset might slow down iPhone. Go to Settings > Accessibility, here you can adjust and disable accessibility features like Zoom, Motion and more.
Trick 7. Turn off auto app updates/downloads
Turn on auto updates/downloads all the time can make your iPhone slow because it may try to update/download any app in the background. Go to Settings > App Store and turn off Automatic Downloads.
Trick 8. Update your iPhone if necessary
Software updates often include bug fixes, some of which can be related to an issue that makes your phone seem slow. Sometimes the hardware in previous models of iPhones simply can't handle the software as well as newer phones.
Trick 9. Restart your iPhone regularly
People would get into the habit of leaving their phone on all the time, but it's healthy to restart your iPhone every once in a while. Turning off your phone can help your iPhone let go of some of the resources it might have been holding on to that were weighing it down.
Trick 10. Reset your device completely
If none of these tricks can make iPhone faster, you can always try to reset your iPhone. That means that all the content on your iPhone will be erased, and your iPhone will be like a new one. So, you need to back up iPhone before reset.
Part 2. Advanced Solution to Speed up iPhone within Simple Clicks
If you are looking for a useful tool to make iPhone run faster, iPhone Cleaner would be your choice. iPhone Cleaner is one of the most popular tools to erase iPhone data. It can delete a variety of iPhone contents and settings permanently, including photos, pictures, contacts, text messages, videos and more. To meet your personal need, this professional software provides you three modes to clean iOS device data. To wipe out all your photos, download iPhone Cleaner and install it on your PC. The following steps will show you the way in detail.
Detailed steps to clean your iPhone and make iPhone faster
Step 1:
Connect your iPhone or other iOS devices to the computer with a USB cable. Tap
Trust
to trust this computer on your iPhone.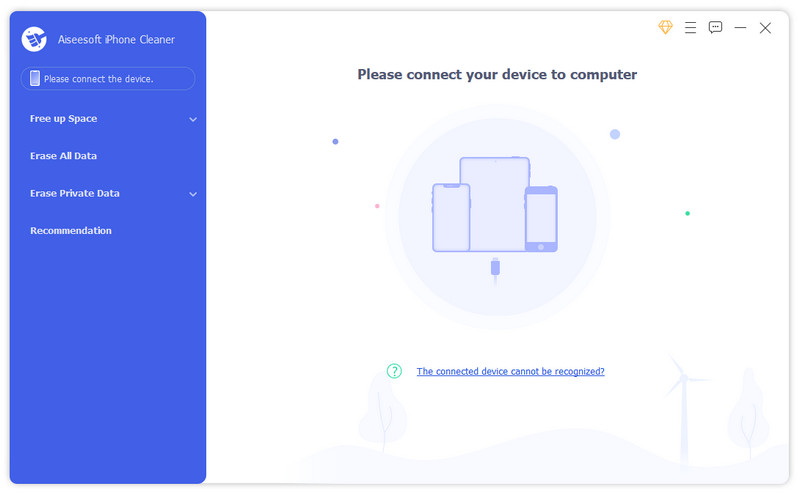 Step 2:
Choose
Erase All Data
on the left side and select the erasing level (Low, Middle, High) according to your need.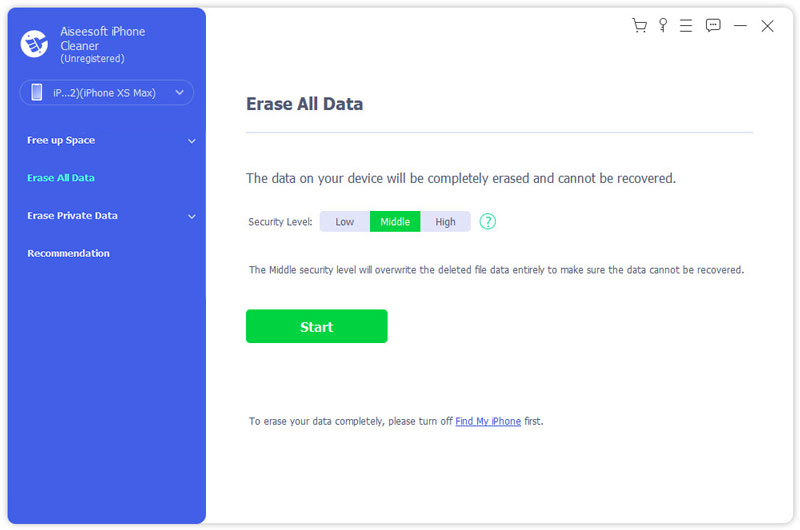 Step 3:
Enter
0000
and click
Erase
to confirm the erasing. Wait minutes for the erasing process, your iPhone will speed up perfectly.