How to Speed Up iPad with The Simplest Method
You have to admit that iOS can always give you a faster reactions compared with Android operation system. That's one of the most important reasons why so many users choose to use an iPhone, iPad or iPod. However, even you choose an iOS device, along with the daily usage of it, your iPhone/iPad still turns to slow motion. How to fix iPhone/iPad running slow? How to speed up iPhone and iPad?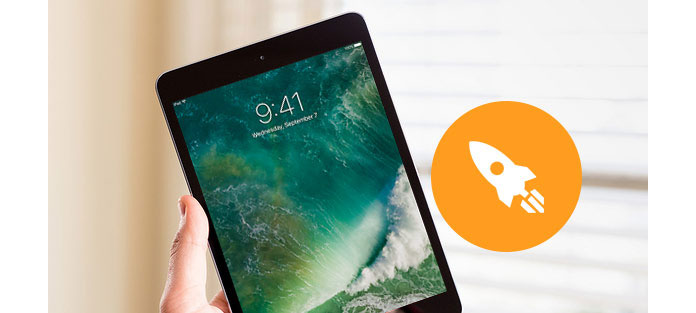 iPhone/iPad running slow issue could bother many of us, iOS user. And in this post, we will show you some effective ways to speed up iPad/iPhone. (Here we take speeding up iPad as an example.) Before we do that, we also will explain the reasons why your iPad runs slow. You can keep reading to find the solutions to fix iPad running slow problem and speed up iPad.
Part 1: Why iPad running slow
At the first part of this article, we will show you some common problems that leads to iPad running slow. Then we will show you how to speed up iPad according to these problems.
1. Old iPad models
Old iPad models with newer system are more likely to occur iPad running slow issue. Though some old models of iPad still work well, you can't use them to play the high-definition videos or run some hottest games smoothly.
2. Old iOS versions
Because Apple doesn't maintain some old iOS versions, you should upgrade iPad to the latest iOS version. If you prefer to use the old version, your iPad may run slow.
3. Extra running Apps
Many iPad apps like Facebook, Twitter, Skype, WhatsApp, etc. will keep running in the background even when you don't use them. iPad allows you to close them conveniently. If you don't shut these apps down completely, the slow motion will appear on iPad.
4. Poor internet connection
If you are playing the online video or game, a bad network connection has a big chance to slow video motion on your iPad.
5. Insufficient memory
Full space can easily cause slow responds on iPhone. Videos, songs, photos and all kinds of caches can quickly run out of your iPad space, especially when you don't get a big space iPad. At this time, iPad may run slowly.
Part 2: Simple ways to speed up iPad
After reading the first part, you can get a basic understanding of iPad running slow. Now we will tell you how to speed up iPad according to these reasons.
1. Update iOS version
Download and install the latest iOS version on your iPad. You can click Click "Settings" - "General" - "Software Update" to check if there is an available iOS version to ungrade.
2. Close or uninstall unnecessary apps
Double click the "Home button", you can check and shut down the running background apps. Also, you can uninstall some unnecessary apps to make more memory available. To remove the non-essential iPad apps, you can tap on any of them until you see the app wiggle, and then tap the cross on the top-left corner of it.
3. Delete videos and clear caches
Videos, songs, photos and all types of caches always take the most space of your iPad. You can choose to clear Safari caches or delete some media files/photos. If you want to remove all the data on your iPad, you can restore iPad to factory settings. What's more, you can rely on the professional iPad Data Eraser to bring your iPad to brand new one. You can free download it to clear iPad memory.
FoneEraser - iPhone Data Eraser
Scan and erase junk files, cache & cookies, large & old files on iPhone.
Erase iPhone settings completely and permanently.
Protect your privacy and speed up iPhone.
Meet your personal needs with three erasing levels selectively.
Available for all iPhone X/8/7/6s/6/5s/5/4 in iOS 7/8/9/10/11.
DON'T MISS: Maybe the best way to deal with your treasured photos, videos, songs or other files is to transfer them to your PC/Mac. We all know that iTunes isn't a good choice to do that. Here we sincerely recommend the powerful iPad Data Transfer to help you transfer iPad photos, videos, songs to computer.
For the detailed steps, you can follow: How to transfer iPad photo to computer.
In this post, we talk about the reasons why iPad runs slow. In addition, we show you some simple methods to speed up iPad. Hope you can better manage your iPad data after you reading this post.