Best Phone Cleaner Apps for Android
I never use some cleaner apps to clear my Samsung Galaxy S7, and now it reminds me that my phone storage is not enough. What can I do to clean my Samsung phone except for deleting photos or videos?
I like to use my phone to search the internet, and it seems to accumulate GBs of junk files and cache. Is there any good cache cleaner for my Android phone. My cell phone is HTC, and it was attacked by virus, so if the cleaner app with virus clean function will be better. Thanks.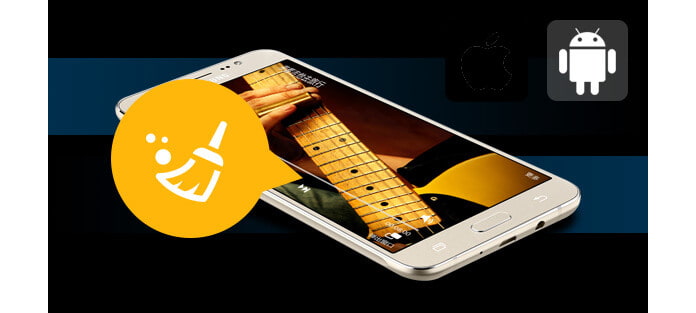 Phone Cleaner
In modern life, people's life becomes portable with the smart phone. You can use your cell phone to call or send/receive messages; you could also use your mobile phone to make entertainment with the popular apps; you still could also use your phone to watch movies and listen to music. Mobile phone joins your life deeply. When you use your phone to make those operations, one thing you may notice is your phone moves slowly with more junk files or cache. Some of you may suffer from serious virus attack and phone gets crashed. Considering such misfortune, you may have to think about using some phone cleaners to help you manage your phone more conveniently. In this post, we will introduce the best phone cleaners in 2018 to you, so you can clean your phone storage or virus attack easily.
Top 8 best phone cleaner for Android
No. 1 Phone Cleaner - CCleaner
Link: https://www.piriform.com/ccleaner-android
Platform: PC, Android, Mac
Remove junk files, and clean app cache, browsing history and clipboard content.
Streamline your phone or tablet, and uninstall multiple apps.
Easy to use without any ads.
Cleaner for PC also lets you check your CPU, track RAM, and battery level and temperature.
Its free version only lets your computer move faster and protect privacy.
Note: CCleaner is also the junk file cleaner for computer.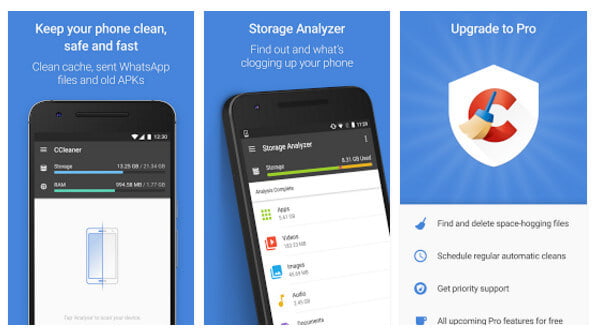 No. 2 Phone Cleaner - Clean Master
Link: http://www.cmcm.com/en-us/clean-master/
Platform: Android
Clean master can be the best cleaner & booster for Android mobile and SD card.
Clean Master for Android blocks junk notifications, cache and residual files accurately.
Cool off your Androdi phone by closing apps that are causing its overheat.
Scan the system, pre-installed and user-installed apps to keep your device safe from viruses, trojans, vulnerabilities, adware and spyware.
You can set a scheduled reminder for auto cache cleaning or auto task killing.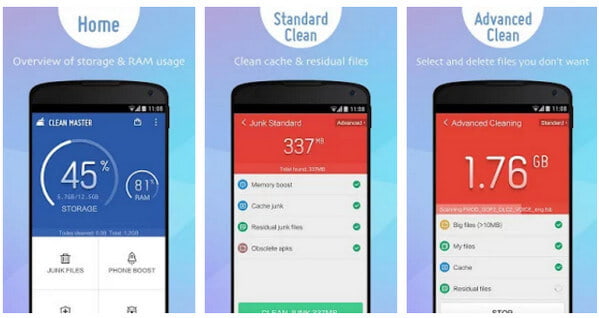 No. 3 Phone Cleaner - Super Cleaner (Antivirus)
Link: https://play.google.com/store/apps/details?id=com.apps.go.clean.boost.master&hl=en
Platform: Android
Super cleaner, top cleaning Android Cleaner Tool with Junk Cleaner, Booster and Antivirus features.
Helps analyze and safely remove the junk files that take up your memory and storage space. Clean with only 1-tap, free up space and boost phone speed.
Analyze CPU usage and stop overheating apps to cool down CPU temperature, with only 1-tap.
A quick booster to free up RAM, clean background tasks, providing extra entrance in widget, desktop shortcut and notification toolbar.
Completely free and trusted by over 30 million users worldwide.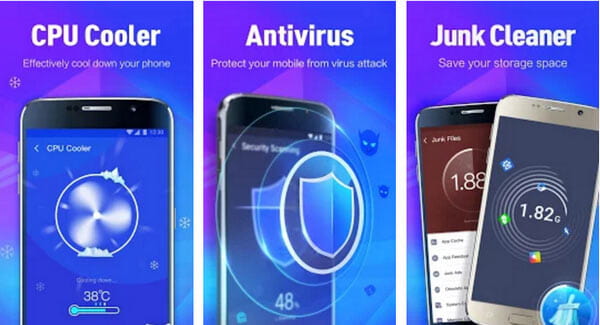 No. 4 Phone Cleaner - Phone Clean Best Speed Booster
Link: https://play.google.com/store/apps/details?id=com.cyou.clean&hl=en
Platform: Android
Phone Clean Speed Booster for Android is a free phone cleaner app that can help clean redundant apps and files, clear residual junk, free up storage space & clean up your RAM.
With the smallest install package you will get a powerful junk cleaner app, speed booster, battery saver for your phone or tab.
Clean junk and optimize your storage space in just one click, with a simple, intuitive user interface that is easy to navigate.
Customize your cleaning experience the way you like with advanced clean phone features.
Safe and accurate registry cleaner for android.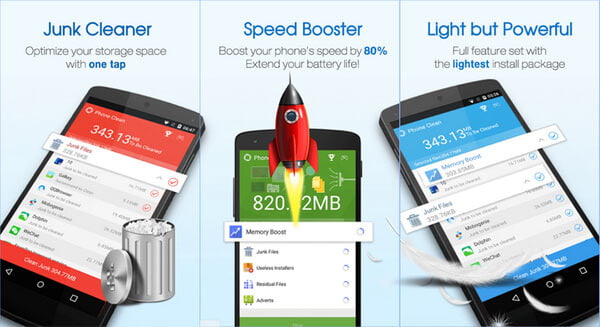 No. 5 Phone Cleaner - Norton Clean, Junk Removal
Link: https://play.google.com/store/apps/details?id=com.symantec.cleansweep
Platform: Android
Norton Clean is a phone cleaner app that will help you reclaim storage space on your Android device by cleaning junk, removing residual files & optimizing memory.
Clean residual cache system files often left by uninstalled apps to free up Android phone or tablet disk space.
Analyze, cleanup and safely remove the junk files that take up your memory and storage space.
Perform a clean sweep removal of junk files that waste memory space and compromise device performance.
Uninstall bloatware, unwanted, or background apps.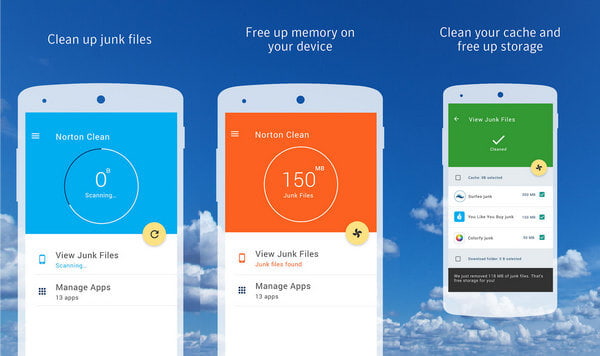 No. 6 Phone Cleaner - Avast Cleanup & Boost
Link: https://play.google.com/store/apps/details?id=com.avast.android.cleaner
Platform: Android
A highly effective phone cleaner app for Android. Remove disposable files, caches, or thumbnails, and win back space you never knew you had.
Avast Cleanup quickly analyzes storage space on your phone and clears all unnecessary data.
The smart Safe Clean feature instantly cleans up unimportant data, system caches, gallery thumbnails, installation files, residual or unused files, and APKs.
The Cleaning Adviser option gives you a detailed overview of all the data on your phone.
Uninstall applications in one tap to free up space.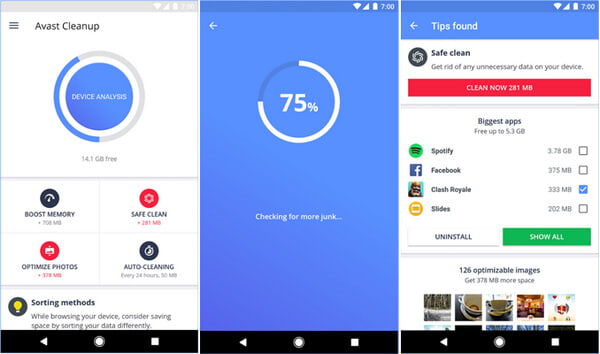 No. 7 Phone Cleaner - DU Speed Booster
Link: http://www.duapps.com/du-speed-booster.html
Platform: Android
One touch to accelerate your Android phone and can app to protect your phone from virus or Trojans attack.
Clean up your Android phone and SD cardjunk files with a single touch to increase your phone's memory and speed.
Manage your apps to keep storage space clean and well-organized.
Concentrate system resource to support game operation, smoothes game play and boosts FPS.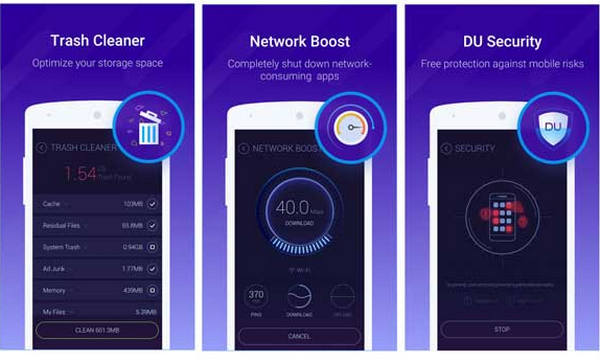 No. 8 Phone Cleaner - Startup Manager
Link: http://startupmanager.org/
Platform: Android
This Android phone cleaner aims at helping disable/enable startup items from system boot for Android devices including smartphones and tablets.
For Android 2.2 and higher OS non-rooted devices, some processes will restart themselves right after being disabled.
Easy to use without any ads.
This Android cleaner app is for modifying boot launch events only.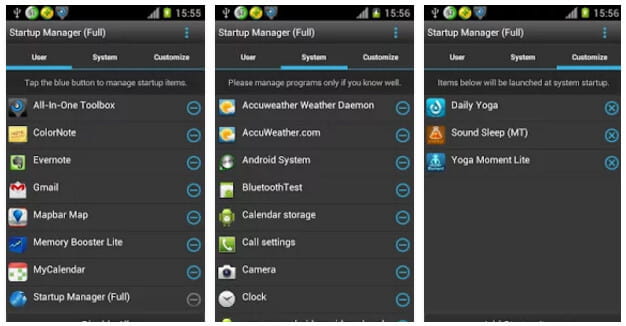 In this article, we have mainly introduced 8 best phone cleaner apps you could use to free up and speed up Android phone. Still have more questions for phone cleaner app? Feel free to leave your comments down below.
An Android Data Recovery Recommendation
FoneLab - Android Data Recovery
FoneLab Android Data Recovery is the best Android file management tool that helps you to transfer any Android file or restore deleted Android data.
Restore videos, photos, music, contacts, messages and more on Android device with ease.
Support most Android device, including Samsung, HTC, LG, Huawei, Sony, etc.
Recover deleted data from Android phone/SD card.