How to Completely Remove an App (Icon) from Launchpad on Mac
Launchpad is the application launcher since Mac OS X Lion in 2011. With it, you can easily find and open your apps into folders on Mac by adding the app icon into this utility. Moreover, it helps you to organizes the apps on Mac like on iPhone or iPad, like dragging the app location, create a folder, etc.
"The app won't delete from Launchpad."
"There is no remove button for the apps I want to remove from Launchpad."
"How to remove an icon from launchpad that does not appear?"
No matter what situations you are getting stuck in, you could follow the detailed guide to remove the app icons from Launchpad easily.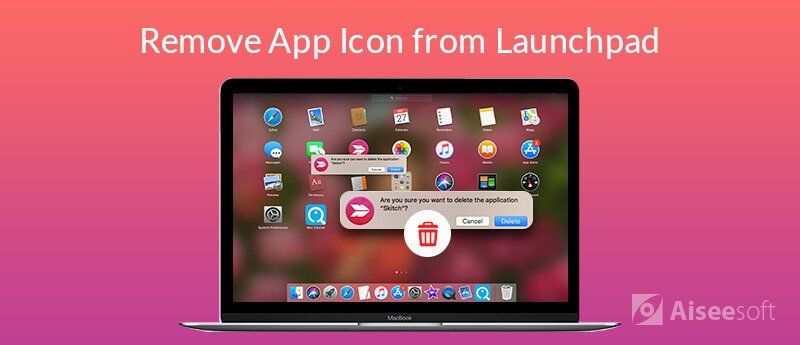 Note: All the apps downloaded from App Store and apps you added into the Applications folder on Mac will appear in Launchpad with their icons. While you removing the app icons, the applications will also be therewith uninstalled from Mac.
Part 1. How to Remove App Icons from Launchpad Directly
To remove the app icons from Launchpad is as easy as you can imagine.
Click "Launchpad" in the Dock > Find the app icon that you want to remove > Press and hold the Alt (⌥) key, or click and hold the app icon until it jiggles > Click the cross next to the app that you want to remove and click "Delete" to remove the app and app icon immediately form your Mac.
To reinstall apps that were installed as part of macOS, reinstall macOS. This applies to apps such as Safari, iTunes, Books, Messages, Mail, Calendar, Photos, and FaceTime.
You can also redownload apps, music, movies, TV shows, and books that were installed from the App Store, iTunes Store, or Apple Books.
Deleting an app doesn't cancel any subscription that you have purchased. The apps that were installed from App Store can be redownloaded from App Store after the deletion.
As you can see, some apps that do not show the cross. They are either the apps that do not come from App Store, or the pre-installed and required by Mac. If the apps are the latter, then you cannot remove them. If the apps are the former, then just move the next part to remove them easily.
Part 2. How to Delete an App Icons via Finder (That Launchpad Won't Delete)
As mentioned above, app icons appearing in Launchpad are part of apps in Applications. So, for deleting the apps those without the cross, you need to manually remove them via Finder.
Step 1 Find the app icon that you won't delete in Launchpad to run it.
Step 2 Right-click the app in the Dock and choose "Options" > "Show in Finder".
Step 3 Drag the app icon and move it into Trash to remove the icon from Launchpad.

Most apps are in your Applications folder, and you can quickly find the app icon by searching it in Applications folder directly.
If the app icons that you removed are the part of macOS, then you have to reinstall macOS to get back the apps like iTunes, Messages, Mail, Calendar, Photos, and FaceTime.
Part 3. How to Delete App Icons That Do Not Appear in Launchpad via Terminal
When you install some apps that are t from outside the Mac App Store, it will pop up the option to move the apps into Applications folder. After you confirm that, your app icons will also display in Launchpad. However, once you reject the option, you will find the app icons are missing from Launchpad, but they exist on Mac.
For removing the app icons that are missing in Launchpad, you can use Terminal.
Step 1 Open Terminal
Go to "Finder" > "Applications" > "Utilities" > "Terminal".
Alternatively, just press the Command + Spacebar to open Spotlight Search and input terminal for searching and open it.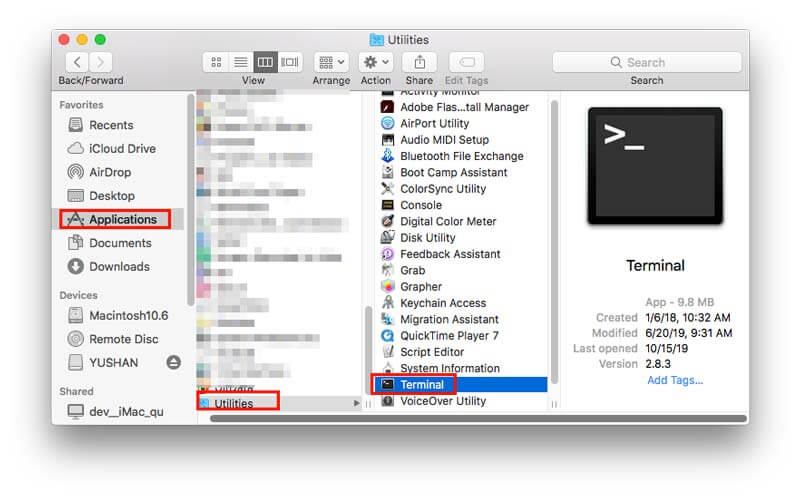 Step 2 Remove an app from Terminal
Type the following line into Terminal:
sqlite3 ~/Library/Application\ Support/Dock/*.db "DELETE from apps WHERE title='APPNAME';" && killall Dock
APPNAME means the app name that you want to remove. You just replace APPNAME with the app name.
Then the app icon will remove from your Mac.

Just repeat the steps to uninstall the app icons from Mac one by one.
Feel troublesome to remove those app icons one by one? Just move the next easiest method.
Part 4. How to Delete Apps Icons and Related Data from Launchpad (Completely)
For removing the app icons appearing or missing in Launchpad in an easy way is using the third-party app uninstaller.
Aiseesoft Mac Cleaner is the easy app and app icon remover for Mac users. It can completely uninstall the apps and its cache, history and cookies from your Mac to free up more space. Moreover, it can scan the ghost apps (e.g. Mac Cleanup Pro) that you never use or installed without your sense and remove them conveniently.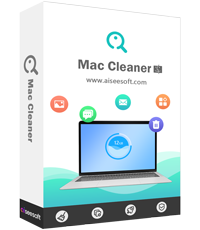 Downloads
Make slideshow videos with photos, movies and music files in different formats.
Get various movie styles, such as romantic slideshow, wedding slideshow, travel slideshow and more.
Create your own theme with 31 types of text effects, 31 transition modes, 32 kinds of filters and 37 selections of elements.
Wide support of output video formats and compatible digital devices.
Step 1 Run Mac Cleaner
Free download this app remover on your Mac. Install and run it immediately.
Mac Cleaner is compatible with iMac, iMac Pro, MacBook, MacBook Air, MacBook Pro, etc., running in macOS Monterey, macOS Big Sur and macOS Catalina, macOS 10.14, 10.13, 10.12 and 10.11. You can use it on Mac where there is Launchpad to remove app icons.
Step 2 Select Uninstall
In the main interface, you can see there are 3 functions, Status, Cleaner and Toolkit.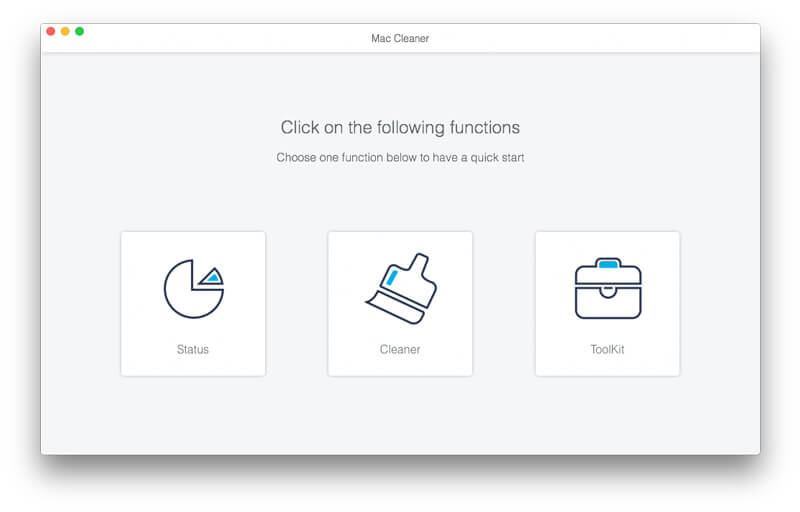 "Status" will detect your Mac information.
"Cleaner" can clean the data like System Junk, iPhoto Junk, Similar Photo, iTunes Junk, Large & Old Files, Duplicate Finder, etc.
"Toolkit" lets you uninstall apps, optimize Mac performance, protect privacy, write NTFS, manage files, hide files, compress/extract files from 7z and RAR, and check the Wi-Fi connection.
Here we select "Uninstall" after entering "Toolkit".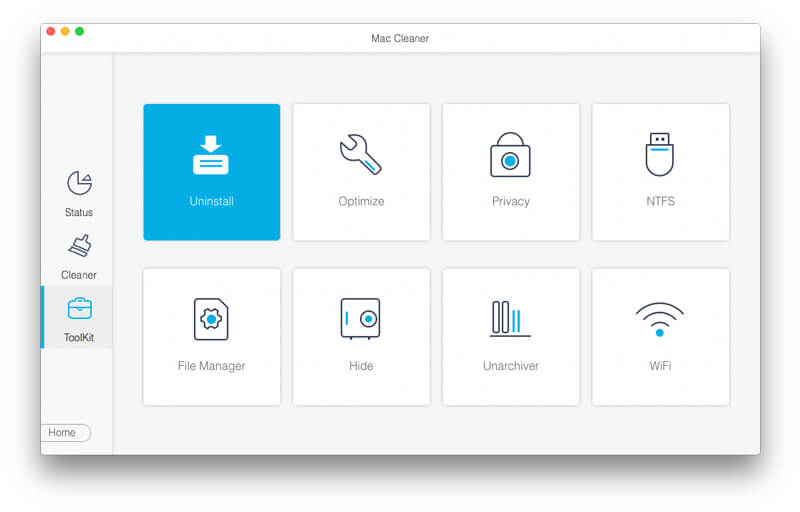 Step 3 Scan apps and remove apps
In the pop-up window, select "Scan" and this software will scan your Mac for the apps.
Wait seconds for the scanning process, and click "View" to check the apps.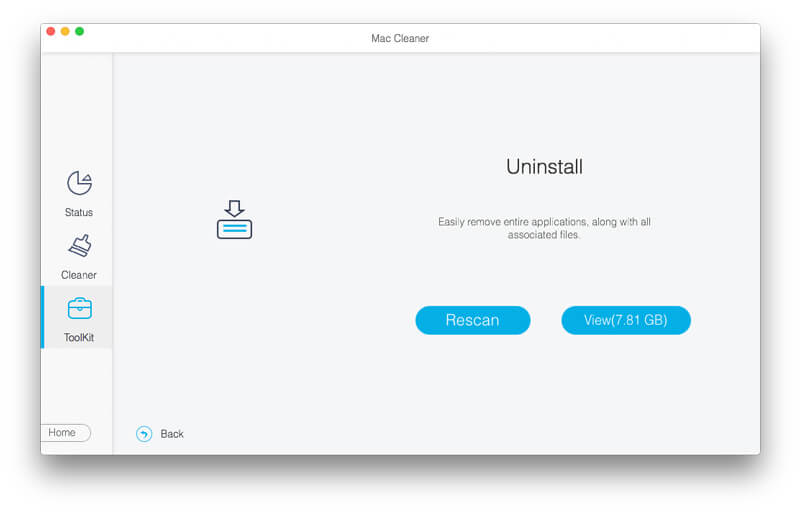 Then scroll down form the left list to check the app, click the app that you want to remove, and all the related app data will show in the right window.
Tick the box before the data, and click "Clean" to remove the apps and related data from Mac.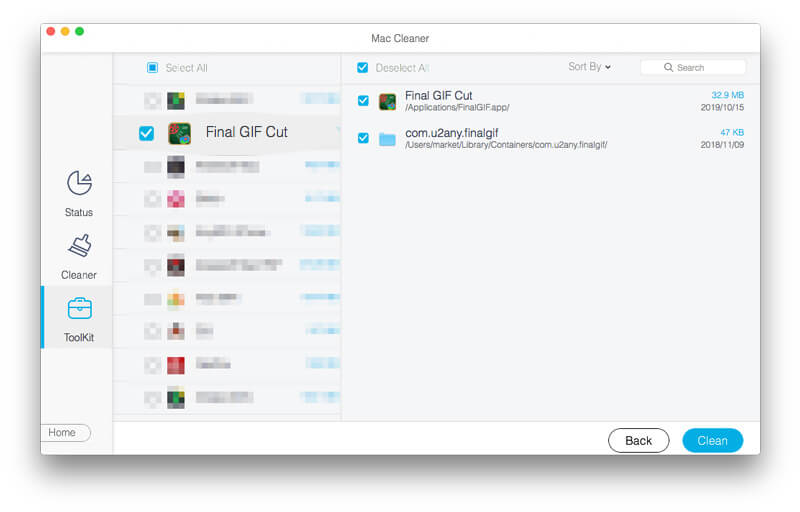 There is no doubt that the last method comes to be easier.
Part 5. FAQs of Removing App Icons from Launchpad
1. How do I completely remove an app from my Mac?
With Aiseesoft Mac Cleaner, you can clean up your Mac thoroughly. As you open Mac Cleaner, click Uninstall in Toolkit. Click Scan to scan out the unnecessary apps on your Mac. Select the app you want to uninstall. Then click Clean button to completely remove the app from your Mac.
2. How to delete cookies on Mac?
Launch Mac Clener, choose Cleaner and click System Junk. Click Scan button to scan out the system junks on your Mac. Check them all and click Clean button to delete the cookies on Mac.
3. How do I delete all emails on Mac?
Open the Mail app on your Mac, and select messages or conversations in the list. Then click the Delete button in the Mail toolbar or press the Delete key.
Conclusion
Launchpad creates an easy way to open and delete the apps on Mac. However, not every app can be removed directly from Launchpad. When you can't remove deleted application icons from Launchpad, Finder and Terminal can help exactly. Meanwhile, we also recommend the easiest way to delete the app icons from Launchpad and other locations on Mac with Mac Cleaner. All the app icons can be removed easily in simple clicks.
Now it is your turn.
Which way is in favor of your consideration?
Let me know by leaving your comments.

Leave your comment and join our discussion