How to Share Current or Fake Location on iMessage for beginners
"I just got a new iPhone, and I prefer to chat with my friends using iMessage, but how to share my location on iMessage?" As the built-in message app, iMessage lets you send more than text, emojis, pictures, voice, and video. Users can also send locations and more information. If you are in a new city, visiting a great restaurant, or intend to share other locations using your iMessage on your iPhone, you can follow the guide below.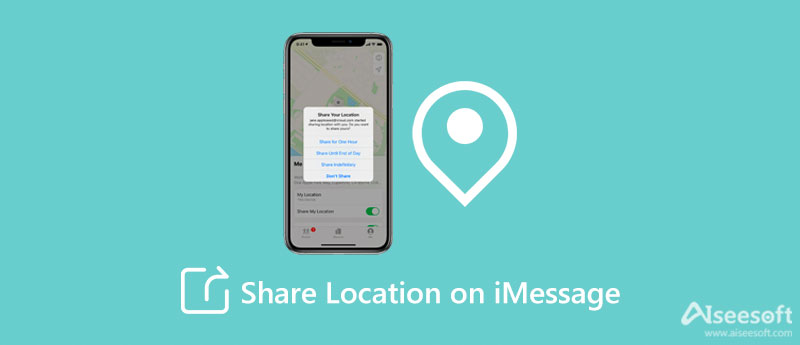 Part 1. How to Share Location on iMessage
In fact, it has never been easier to share location on iMessage with your friends or family, but many users still do not understand how to do it. Here we demonstrate it in two ways.
Way 1: How to Send Location on iMessage with Google Maps
Although iMessage is the preinstalled message app on iPhones, many users prefer Google Maps. Fortunately, you can share your location on iMessage using Google Maps.
Step 1:
Run the Settings app on your iPhone, tap the Privacy entry, and select Location Services. Make sure to toggle on the switch of
Location Services
.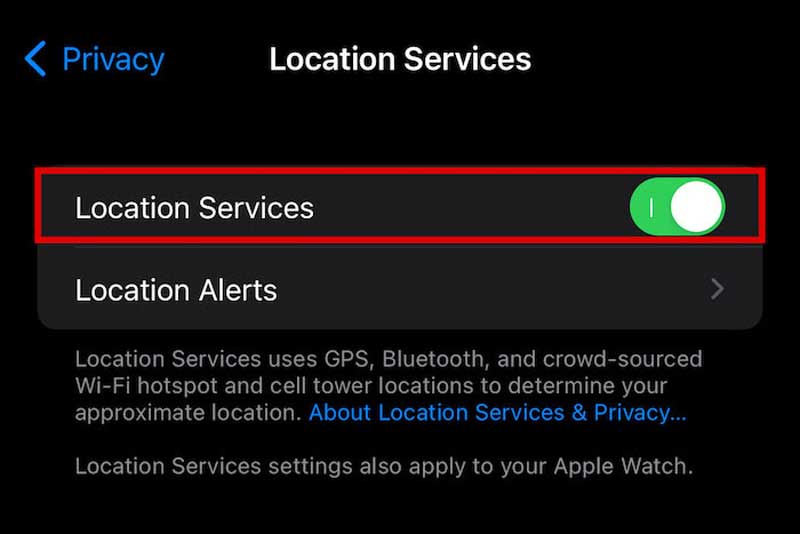 Step 2:
Turn to your Messages app from your home screen. Find the contact who you want to share the location with, and make a new chat. Or enter an existing conversation in which you intend to share the location on iMessage.
Step 3:
Enter the apps list below the text box, and find and tap
Google Maps
. Then tap the
Send your current location
button.
Tip: If you tap the Share your real-time location for 1 hour button, iMessage will share your live location.
Step 4:
On the new message screen, you can type in some text in the box. Once you tap the
Send
button next to the text box, your current location will be sent as an iMessage.
Way 2: How to Share Location on iMessage by Apple Maps
Apple Maps is the map service on iPhones. It enables you to send location on iMessage without accessing your Message app. That is convenient in some cases, such as when you are driving.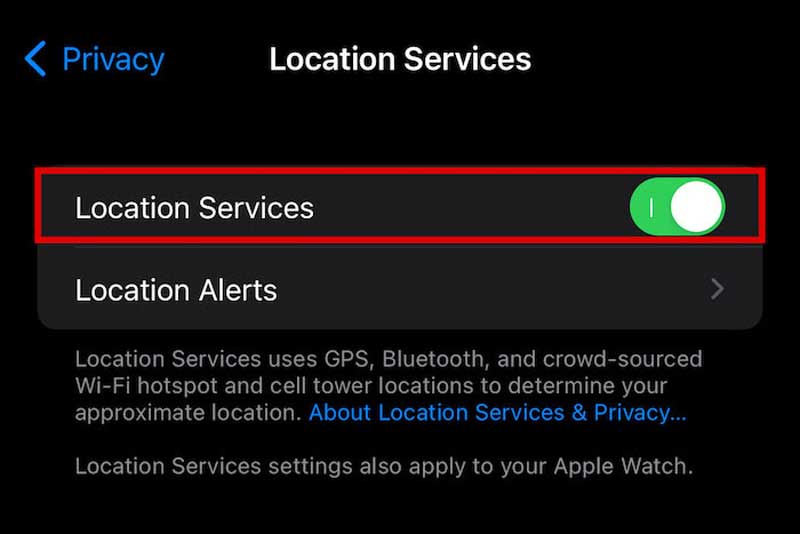 Step 1:
Start the Maps app on your iOS handset, and tap the location you want to share or your current location.
Step 2:
Swipe upward from the search bar to display the menu screen. Then press the
Share My Location
button at the bottom.
Step 3:
Next, choose the
Messages
option on the sheet screen, and then select the target conversation. If you do not have an existing chat with the desired contact, create a new one.
Step 4:
Also, add some text or not, and tap the
Send
button. Then the recipient will get your location through iMessage.
Part 2. How to Spoof iMessage Location
Either Google Maps or Apple Maps are using iOS location service to send locations on iMessage. It means that the recipient can only get your live or current location. If you want to fake your GPS location, you will need a powerful tool, such as Aiseesoft AnyCoord.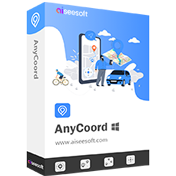 Downloads
Aiseesoft AnyCoord – Best Spoof Application
Fake location for iMessage without installing anything on iPhone.
Protect your privacy and GPS information.
Include multiple modes for faking locations and routes.
Available to a wide range of iOS devices.
How to Send a Fake Location on iMessage
Launch the spoof application once you install it on your computer. Then plug your iPhone into the same machine using a Lightning cable when you need to share a fake location with iMessage. If prompted, tap Trust on your handset to confirm the connection. Click the Start button to enter the main interface, and hit the Modify Location button to move on.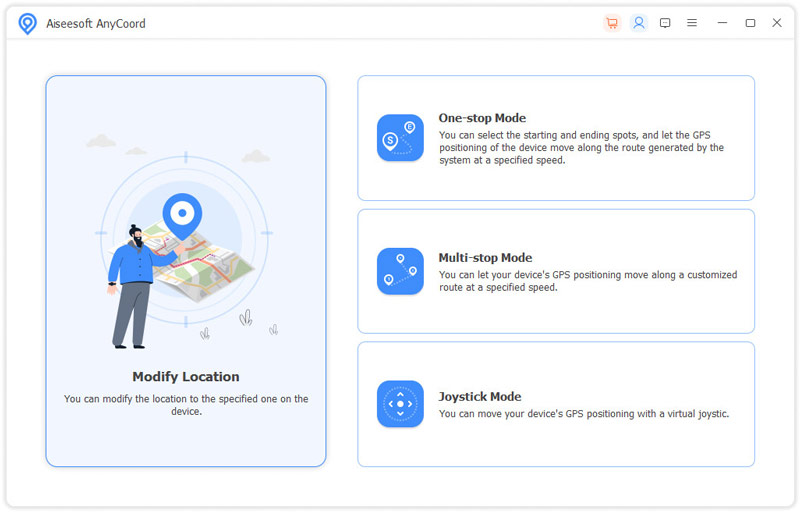 Step 2:
Send fake location via iMessage
Now, you should be presented with the map window and see your current location. There are two ways to create a fake location:
Type in an address in the box on the Modify Location dialog, and hit the Search icon to move to the fake location. Then click the Confirm Modify button to change the GPS location on your iPhone.
If you just want to make an imprecise fake location, click it on the map directly. Then the application will tell you the address and other information. Hit the Move to button on the pop-up dialog to confirm the change.
Now, turn to your iPhone, open your Messages app, create a chat or enter an existing conversation, and share your location on iMessage using Google Maps as usual. You will find that the fake location is sent to the contact.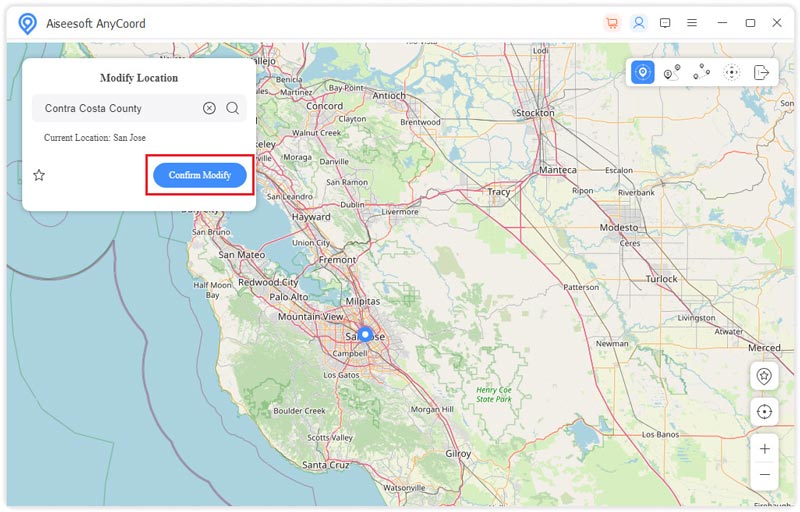 Note: In addition to modifying location, the application also allows you to make fake routes in multiple ways.
Part 3. FAQs about Sharing Location on iMessage
Why I cannot send the location on iMessage?
Firstly, the person to that you sent the message should have an Apple device too. Moreover, iMessage must be enabled on the recipient's device. You should turn on the Location Services feature on your iPhone; otherwise, you cannot send locations with any services.
Can I trace the location of a sent message?
A message usually is sent to the server of the provider, and then went to the recipient's device. Therefore, you cannot trace the location without extra help. However, there are some tools, such as Locationtracker, that can help you track a message's location by phone number.
Can you get someone's location via iMessage?
Yes, you can share your location with somebody who you are talking to on the iMessage app. Of course, you can also get their whereabouts if they permit you to access them.
Conclusion
This guide has discussed how to send your location on iMessage properly. Google Maps is a built-in messaging app on your iPhone. You can share your current location easily. Plus, the Apple Maps app allows you to share your location via iMessage directly. To send a fake location through iMessage on iPhones, Aiseesoft AnyCoord is the best choice. It is not only easy to use, but also offers bonus features. If you have other problems about this topic, please write them down below this post.

Leave your comment and join our discussion