Easy Way to Share Wi-Fi Password from iPhone to Android
How to share a Wi-Fi password from iPhone to an Android phone? I set a very complex WiFi password even I can't remember anymore. The good thing is, all my iOS devices will automatically connect the Wi-Fi connection, so it didn't bother me. But I want to send the password to my friend who are using a Samsung Galaxy phone. Is there any simple way to check and copy the Wi-Fi password on my iPhone?
Apple doesn't allow you to view the password for a Wi-Fi network you're connected to. This will give you more security. But same time, it may cause some inconvenience. You may have no idea how to share Wi-Fi password with friends, especially when you create a very long and complicated Wi-Fi password. We have to admit that, we always like to make a difficult password to get more security. It is so complicated that even we easy to forget.
You can't directly share your Wi-Fi password from iPhone to your friend's Android phone. But if you are using an iOS device which running iOS 11 or higher version, you can easily use "Share Password" feature on your iPhone to connect iOS device to the same network. However, if your friend is using Android or another mobile OS, this feature doesn't help at all.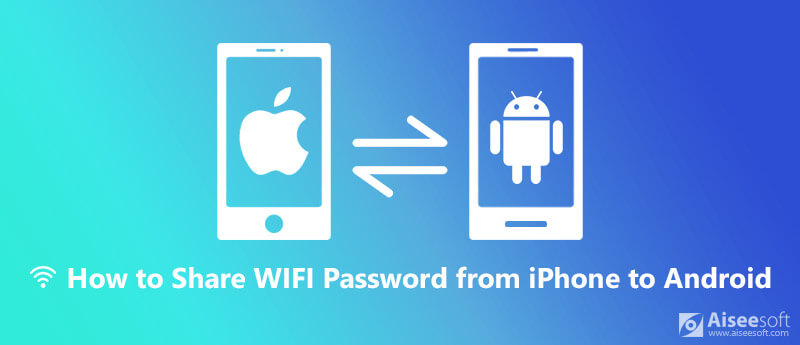 Share WiFi Password from iPhone to Android
Now we back to the key point, how to share Wi-Fi password from iPhone to Android? In this article, we will explain how to share Wi-Fi passwords on an iOS device to help your friends quickly connect to your Wi-Fi network.
Steps to Share Wi-Fi Password from iPhone to Android
When you want to send a Wi-Fi passcode to your friend for the network connection, the hardest part is to view the password, considering that you can't remember it. As we mentioned above, iOS won't let you do that. In that case, you have to rely on some apps to make the Wi-Fi password show up, or instead, create a QR code that your friend can scan with Android phone. Here in this part, we will tell you how to make the QR code.
Step 1. Locate Wi-Fi network name
First, you need to find your SSID, your Wi-Fi network's name. Unlock your iPhone and open Settings app. Tap "Wi-Fi" option and here you can find the SSID. Then you need to record it somewhere as you'll need it later on.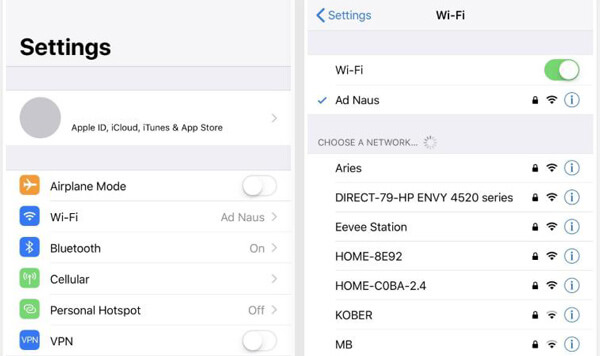 ---
Step 2. Install Visual Codes app
Visual Codes is one app which can help you create QR code. You can easily install it from App Store.
---
Step 3. Create the QR code
After installing Visual Codes app on your iPhone, open it. When you enter the main interface, tap "Add Code" button at the bottom. Then tap "Connect to Wi-Fi" and enter your network's name, password, and security.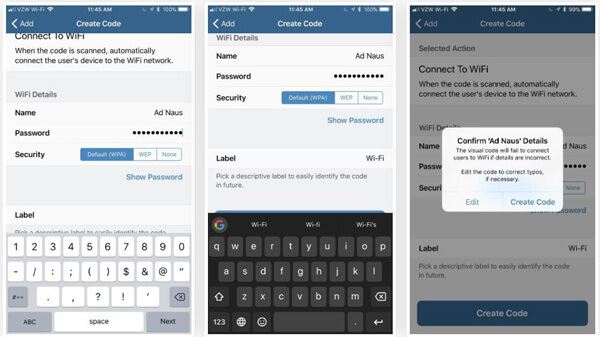 Remember that, the name is the SSID, and the password is for your Wi-Fi network. The security option will default to "WPA". During this step, you are allowed to label the QR code. You can create different codes for home and work and so on. Tap "Create Code" to confirm the operation.
---
Step 4. Share the created QR code
The created QR code will be stored in Visual Codes' library on your iPhone. You can use "Share" or "Print" feature to quickly share the code with your friend. Also, you can take a screenshot of the QR code to quickly save it on your Photos app. Now you can share Wi-Fi password from iPhone to Android with ease.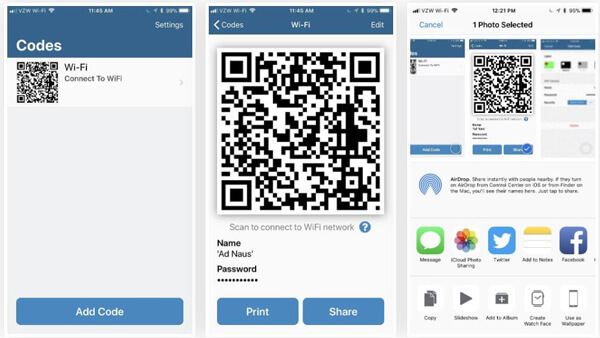 Read More: Solutions to Fix Wi-Fi Not Working on iPhone
Best iPhone/Android Data Transfer Manager you may like to know: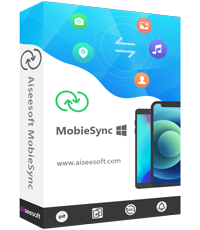 Downloads
MobieSync – Best iPhone Android Transfer Manager
Support any popular iOS data types like contact, photo, video, audio, message, and more.
Transfer files from iPhone to Android or from Android to iPhone.
Copy PC files to Android/iOS device or back up iPhone/Android data to computer with ease.
Check and manage all kinds of data on your Android phone and iPhone.
Work as a powerful Ringtone Maker and HEIC Converter.
Check the post to find Wi-Fi password on Mac
After reading this post, you can handily share Wi-Fi password from iPhone to Android. You can get a convenient way for you friends to quickly connect to your Wi-Fi network, especially when you don't know the password. You can share it in comment part if you have any better method.

Leave your comment and join our discussion