What Is a GIF and How to Make Video to GIF with Ease
"What does GIF mean?"
"How do I create an animated GIF?"
"What does GIF acronym stand for?"
You may hear about GIF format before, but do you really know what is a GIF? Then which one is the correct GIF pronunciation? "G-I-F" or the word similar with "jif"?
Through this article, you can know more details about GIF format. Consequently, next time you meet GIF images, you can easily manage them without hassle.

What Is GIF
Part 1: What does GIF Stand for
Graphics Interchange Format is the correct GIF abbreviation. GIF was invented by Steve Wilhite (CompuServe) from US in June 15, 1987. At that time, he wanted to animate images with the smallest file size.
So what is GIF format? Actually, a GIF is combined by serious of images or soundless video clip. Each image can up to 8 pixels. Moreover, GIF accepts up to 256 colors across the image. Well, you can see that the GIF file will repeat in a loop automatically.
Because of its auto short time reaction and small file size, animated GIFs are very popular with online articles, social media, forums and more.
Part 2: Why People Use GIFs on Facebook
GIFs are supported by many large platforms, like Facebook, Tumblr, Reddit, Buzzfeed, etc. As for Facebook, it added a GIF search engine to Messenger since July 2015. Sooner, Twitter supports GIF animations as well. Then why GIFs are so popular?
The main reason for that is you can show you opinion in more direct ways. Sometimes manners can express more information than pure characters. Furthermore, animated GIFs can catch your eyes quicker than sentences, right? Actually, there is no official answer towards "What is GIF on Facebook". Because it is just a tool to show your feelings with a strong visual appeal.
Part 3: When Should You Use GIFs
Here comes the next question, what can GIFs bring to you?
Well, a GIF image can add more entertainment to your timeline. In spite of long paragraphs, GIFs can break the serious atmosphere.
What's more, GIFs can help you build brand awareness, brand personality and even create viral content. In addition, you can animate images of your product or content into a GIF loop.
Then what does GIF mean in daily life? There are hundreds of thousands of GIFs on the Internet with positive and negative meanings. People tend to reply with GIFs while chatting, especially when emoji or words cannot express anything concrete. Do you ever comment with a GIF on Facebook? In a word, GIF stands for a new way to spread and show your attitude.
Part 4: How do You Make a GIF
After reading so many explanations about what does GIF stand for in computer terms and daily usages, it is time to create an animated GIF by yourself.
You can clip the video part from your favorite movie, and then add any text to GIF you like.
Now, let's read together to see how to make a GIF animation with Aiseesoft Video to GIF Converter here.
Main Features of the GIF Maker Software
Batch convert over 200 video formats to GIF including MP4, AVI, MOV, WMV, etc.
Provide various editing tools like encoder, resolution and more.
Make video to GIF offline with no Internet connection.
Convert GIF to MOV, WMV, AVI, 3GP, etc.
Create video to GIF animation in high quality and fast conversion speed.
How to Make a GIF using Aiseesoft Video Converter Ultimate
Step 1 Launch Video to GIF Converter
Free download and install Aiseesoft Video to GIF converter on your Windows or Mac computer. Launch the GIF converter software after the installation.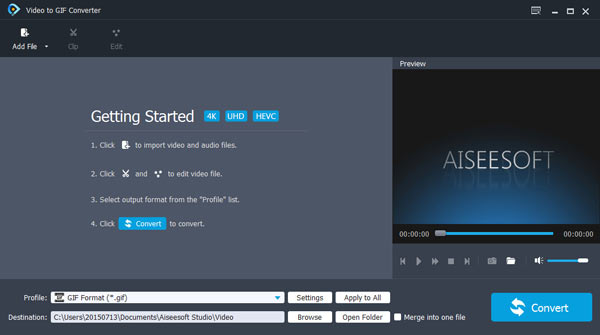 Step 2 Add video to GIF maker
Choose "Add File" option on the top toolbar. Then you can choose which video file to import from your local folder. Of course, you can drag and drop video file to its main interface as well.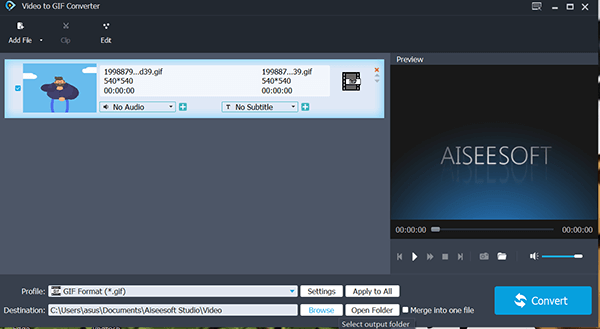 Step 3 Cut video clip for further GIF animation (optional)
If you want to cut the certain video part to make a GIF video, then you can choose "Clip" on the top. Set the start time and end time manually.
In addition, you can move its slider by your mouse as well.
Furthermore, Video to GIF Converter allows users to set duration, take snapshot and do other customizations with a real-time preview window.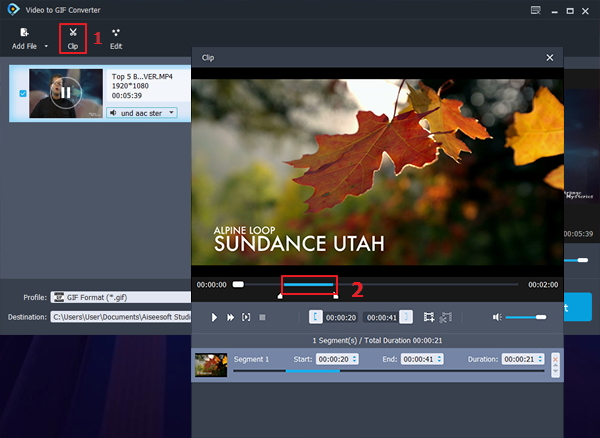 Step 4 Set GIF as the output format
Click "Profile" at the bottom of the window. Then select "GIF" from various output formats. Choose "Settings" option besides to adjust the output settings. Well, you can change frame rate, encoder, resolution, bitrate and other settings freely. Just choose "OK" to save your change and exit the window.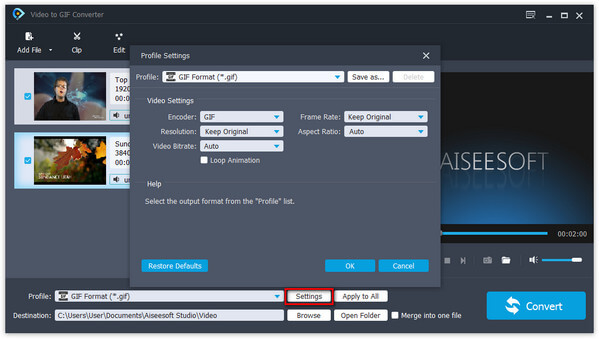 Step 5 Convert video to GIF
If you do not want to save the GIF video to the default destination folder, you can click "Browse" option below to set a new output folder. At last, choose "Convert" to start to animate video to GIF quickly.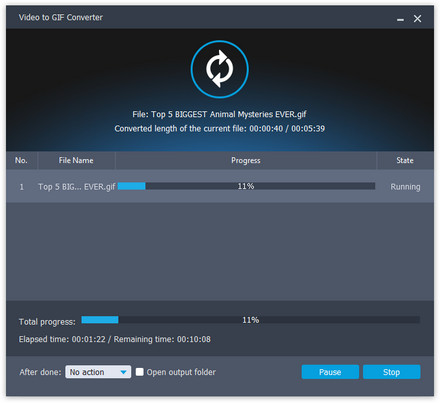 Note: This tool can be as the GIF editor to clip, crop, merge, add watermark and apply video editing effects by choosing "Edit" option on the top toolbar if necessary.
Even though you want to batch convert videos to different output formats, the software can still help you solve the problem perfectly. Of course, you can convert videos to animated GIFs in batch in a short time using Video to GIF Converter software, too.
Part 5. FAQs of GIF
How to make a GIF?
Generally speaking, there are 2 ways to make a GIF. 1. Create a GIF from a video file by clipping and merging. 2. Make a GIF by combine some images to make a slideshow. No matter which way you use, you need a GIF maker to do it.
How to post a GIF on Instagram?
Instagram does not allow uploading GIF images directly. Even if you upload a GIF on Instagram, the app cannot format it in the correct way. To post a GIF to Instagram, you need a third-party tool like Boomerang, GIPHY Cam, etc.
Where to download GIF videos?
You can download GIFs from GIPHY, Tenor, and other sites. The detailed information about downloading GIFs is here.
After that, you can post GIF on Facebook and other social platforms with ease. That's all for today's lesson of "What does gif stand for". Well, you can leave messages in the comments below and write down your difficulties. We are glad to help you solve any problem about GIFs whenever you need. Please share this post to your friends if it works.