Is There Any Differences between iOS 9 and iOS 8
The high welcomed new system iOS 9 has been announced at Apple's WWDC 2015 event in San Francisco. There are many differences of the two operating systems. According to Apple's statement, iOS 9 has been totally re-designed and comprehensively upgraded to make sure a smarter user experience.
Here is a simple comparison between iOS 9 and iOS 8, let's go and see how it differs from the operating system of iOS8.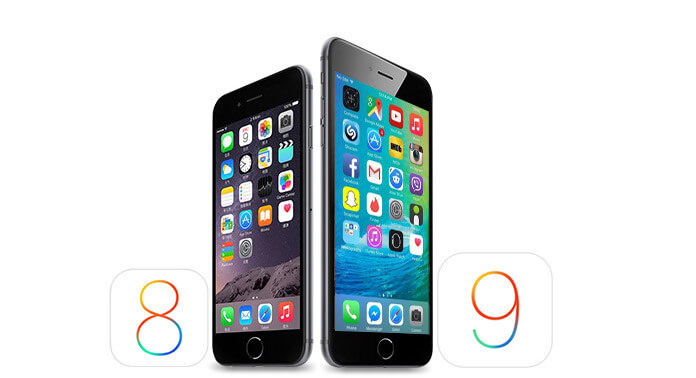 You can not miss: The difference between iOS 10 and iOS 9
iOS 9 VS iOS8: Smarter Siri
The significant improvement of iOS 9 is the Siri. It provides not only a new interface which makes it more interesting, but also provides a wider range of contents for your information than iOS 8. On the WWDC, we have got many interesting and real examples from Apple, like: "show me my photos from Utah last August" or "play the top songs from 1982" via navigating to apple Music.
Siri in iOS 9 is more like a personal assistant. Its smart makes it possible to help you find a certain photo or video, or reminds you to read over some article on the internet. These are easy-to-finished tasks for the new Siri. While with iOS 8, Siri is just a robot without memory, it even can't remember the last words you said.
iOS 9 VS iOS 8: Apple Maps
When Apple announced iOS 8 last time, the Map app only had a slight adjustment replacing a previous upgrade. Compared with iOS 8, iOS 9 has a significant improvement to this app in the form of Transit.
With this upgrade of Maps, you can easily get the route guidance of the bus, train, subway, ferry and other public transport means, your real-time position and more. Or you can quickly find the entrance and exit with the help of Transit for passing in and out of the station at the first time.
iOS 9 VS iOS 8: Battery Life
In iOS 8, there is not any design for saving power, so as an iPhone user, you have to do some settings manually such as turn off data, Wi-Fi and Bluetooth to conserve power.
In the latest iOS 9, Apple brings us a new function called "low power mode". According to Apple's claim, under the "low power mode", the power of your iOS device will get three additional hours.
iOS 9 VS iOS 8: App Switching
Basically, in iOS 8, Apple only added contacts shortcuts to the multi-tasking pane, you cannot know it clearly that how many apps you are running from the large app previews.
While, in iOS 9, Apple re-designed the multi-tasking pane for changing it as stacked cards, allowing you to navigate to the opened apps more quickly and easily, at the same time, you will know it more clear that how many apps you are running.
iOS 9 VS iOS 8: Spotlight Search
In iOS 9, Spotlight becomes a more intelligent searching engine on you iPhone and iPad, of course, it is benefits from the new and improved Siri. You can find it obviously different from iOS 8 only with inputting text on the keyboard.
Compared with iOS 8, the interface of iOS 9 also has an improvement, recommending the latest call history, apps, and destinations you may are interested in. In addition, it supports directly search the score, events schedule, movie, messages in your apps and more which cannot reach in iOS 8.
iOS 9 VS iOS 8: Apple Pay
As expected, Apple also gives a boost to the Apple Pay with iOS 9, but what we need to pay attention that this service can only support iPhone6, iPhone 6 Plus and Apple Watch.
With iOS 9, the Passbook app has been changed the name to Wallet for adding store credit and debit cards, ticket, boarding pass and more.
iOS 9 VS iOS 8: iPad Only
In iOS 9, Apple added a few layout improvements and new functions for iPad only.
The first is the improvement of QuickType which even not exist in iOS 8. Users of iPhone 6 Plus and iPad have the right to enjoy this new function under the landscape mode. The QuickType Keyboard added handy copy, cut, paste tools to the suggestion bar, and quickly insert the photos, attachments and change formatting.
What's more, you will get a track pad when you use two fingers on the keyboard, you can easily select the text that you want, which is hard to achieve in iOS 8.
Release Date
iOS 9 is the latest update for iPhone and iPad. And it will launch around September this year. Good news for iPhone and iPad users, downloading and installing will become more convenient and easy so iOS9 reduces the requirement for upgrading space. It only needs 1.3GB compared with the 4.6GB of iOS 8.