iOS 10 VS iOS 9 – What Is the Big Difference
It has been some days after iOS 10 beta releases. As iOS users, have you downloaded iOS 10 beta for a free trial? What are the most attractive features of iOS 10 for you? What is the difference between the latest iOS 10 update and iOS 9? Would you like to update your iOS to the newest iOS 10?... In this article we will discuss the difference between iOS 10 and iOS 9, so that you can make it clear that if it deserves to update to Apple iOS 10.
You can also focus here to get more iOS 10 news.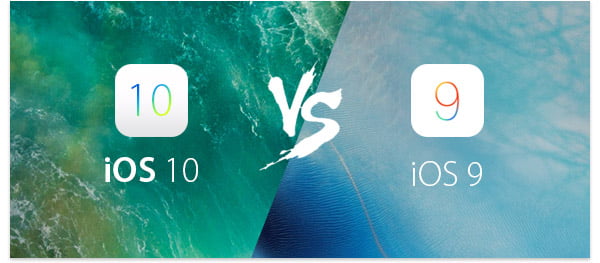 Design and interface difference between iOS 10 and iOS 9
Unlock Screen
In this Apple iOS 10 update, the first obvious change is the screen-unlock. In previous iOS version of iOS 9/8/7, you need to slide to unlock screen. But in iOS 10, you are required to press Home to unlock iPod touch, iPad or iPhone. This is a change in Apple's history. This iOS difference gets no function but only the habit of a new change. Like or not, it all depends on you.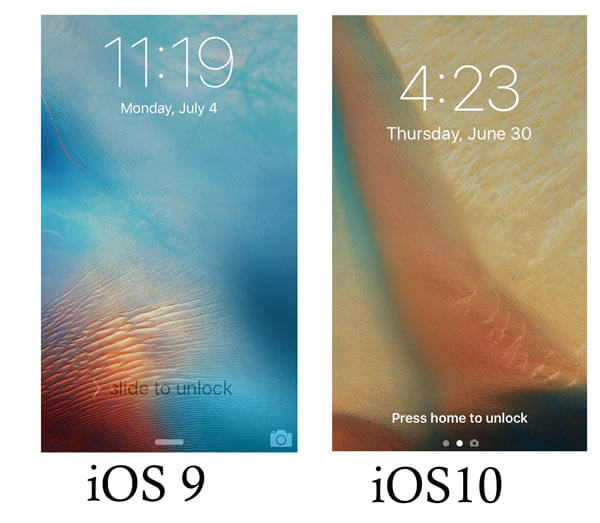 Screen Slide
In iOS 9, Notification will show by swiping from top to bottom, but this iOS update, you just need to slide to right to see your notifications. And if you slide to left, Camera will be your use easily and quickly, which is not possessed in iOS 9.
Control Center
Control Center is the handy additions to use AirDrop, flashlight, Camera, etc. by swiping from bottom to top in the screen (including lock screen). In this iOS 10 update, as Apple claims that bold and big. You will see that the interface font becomes bigger than before in iOS 7/8/9.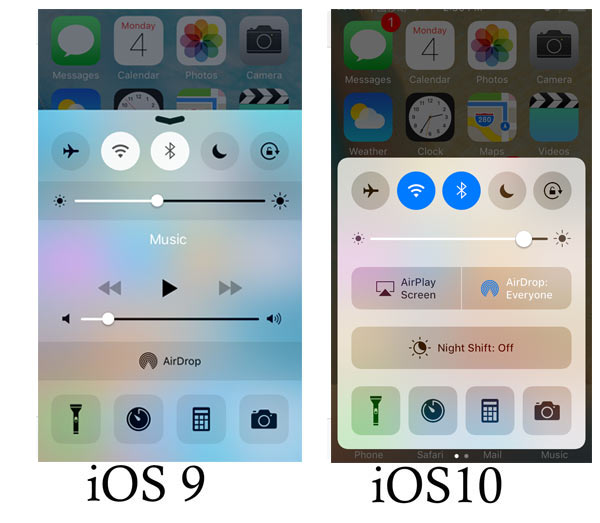 Music
After unlocking screen you will see your Music app gets a simple interface with black and white color. In iOS 9, the Music app gets a colorful interface for music listening. But this time, Apple simplifies its interface to be black and white, except for those particular artworks.
You may need to read this article to back up iPhone before updating to iOS 10: How to transfer iPhone music to iPod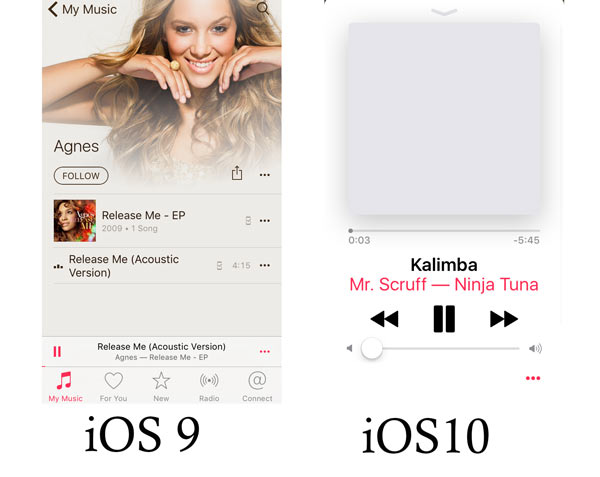 Functions changes from iOS 9 to iOS 10
Apart from redesign or interface changes, more functions are added in out hand-on test on iOS 10.
Siri open to third-party apps
Siri, the intelligent helper for iOS users, it does not only serve Apple built-in apps in iOS 9, it also becomes open to third-party apps like WhatsApp, WeChat and other more apps in iOS 10. That is a historic change that Apple starts to open its door to outside. So you can ask Siri to make a WhatsApp call to your friends.
You may be interested in: How to recover iPhone call history
Notification
In iOS 9, you have to unlock screen to view the message details. But in iOS 10, Messages will show in the screen of Notifications. Moreover, you will see information of Calendar, live photos and more apps. Alternatively, all performances can be done with 3D touch.
Added Messages emojis
In this iOS 10 updates, Apple does make efforts to enrich users' emotions in Messages. Emojis, rich link, full-screen emotions, handwriting animation, etc. which you can never experience before in iOS 9 or more previous iOS versions. But you should note that if you use these emojis in your text messages, your SMS becomes MMS. So you should think twice for the cost or change to use iMessages.
More reading: How to retrieve iPhone MMS
• Invisible inks
If you want to send someone the secret message, you can use the ink effect. When the receiver gets the message, it shows bubbles, and the receiver needs to slide their finger over a text or photo. It'll either be a nice surprise, or horrific shock to your friends.
• 3X Emoji
iPhone keyboard can recognize words and pop up the corresponding emojis for you to replace the single text. And the emojis get three times as big as before.
• Bubble effects
Feel bored by the original dialogue box in messages? iOS 10 brings more animations choices with bubble response. Like a jiggling bubble that shakes the whole screen, "say it loud" with a bursting bunch of text.
• Rich links
If you share a link in messages, you will see pictures, videos and more right inline.
• Real-time handwriting animations
Personal handwriting is not only in paper. iOS 10 update enables you to handwrite small notes and send them to your friends to show your works, which is similar to digital touch sketching works.
• Full-screen animations
When you print special words or emojis, you can send a full-screen animation to your friends to surprise them.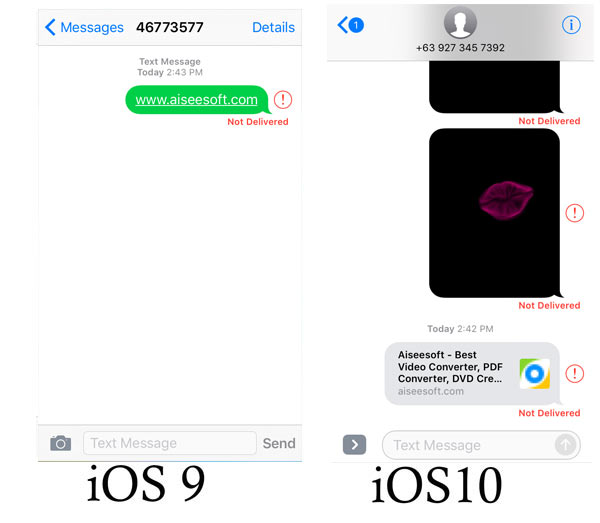 Photos
In iOS 9, iPhone 6s gets live photos. But this time in iOS 10, Apple keeps getting improvements to manage your photos automatically.
• Intelligent facial or object recognition
If you take many photos for your friends, or beautiful scene or little pets, and feel hard to classify, then iOS 10 will do you a great favor. iOS 10 adds intelligent recognition to put your friends into different albums, like people, scene or object.
• Memory management
As the photographers, you may have kept various photos in your phone at different locations. iOS 10 will assemble your photos according to different places, so that you can get a slideshow easily for the photos from the same places.
Extended reading: How to recover iPhone photos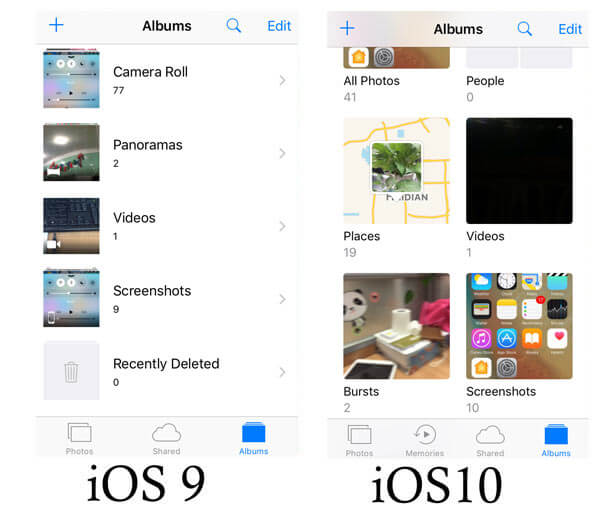 HomeKit
HomeKit has been improving in difference iOS version. For users who owns smart home, this added functions will delight them. iOS 10 allows user to search the home accessory nearby and add them to the phone for easy control like door lock or unlock, air conditioner, air purifies and humidifiers. Moreover, HomeKit adds the support of Apple Watch and Apple TV. All those features are not in iOS 9. So iOS 10 updates smart support for home to facilitate users.
Phone
Compared with iOS 9, the calls from WhtsApp, Skype and other apps can be checked when you log in theses apps. But this time, iOS 10 lets you pick the calls from third-party programs as the normal phone call in locked screen. Moreover, if you are annoyed by listening to all voicemail then try to read texts transcribed from voicemail, so that you do not need to listen to voicemails one by one.
Security
In this update of iOS 10, security problem is still the most care from iOS users. In iOS 10, Apple adopts the end-to-end encryption for its apps like FaceTime, Messages, and Home. When you use Spotlight search or Maps search, Apple will not build a user profile, which is different from that in iOS 9.
Maps
Apple always tries to make more improvements in its built-in apps. iOS 10 improves a lot in Maps. Different form iOS 9, where Maps perform like a teenager, iOS 10 makes Maps work as an adult, where Maps will provide some proactive suggestions to make route plan. And not like in iOS 9, you will not need to spring back to your current locations if getting a failure of navigation. Moreover, it adds a feature for driver that you remember parking location by your tapping phone's sensor, so that you can get an easy park next time.
Other small changes between iOS 10 and iOS 9
Compared with iOS 9 or more previous iOS versions, Apple still get some small changes in iOS 10.
• Keyborad: iOS 10 enables Keyboard to become smart to provide proactive suggestions, which is not owned in iOS 9. (See what to do if iPhone keyboard is not working)
• 3D Touch: it becomes faster than before and gives you more graphical account of your fitness goals.
• Mail: iOS 10 improves the much-needed feature in Mail. And iOS 10 generates an unsubscribed link automatically at the very top, which you cannot experience in iOS 9.
• News: News added four sections like Top Stories, Trending Stories, Called and Featured to create an easy reading for you.
• Live Photo: While iOS 9 lets you take live photo with iPhone 6s, iOS 10 improves to edit live photos.
• Camera:Camera mode-switch has been changes the location from top to the bottom.
You may be fond of: How to use iPhone Camera effect
• Lyrics: Lyrics with the digital coding will not be available right in the Music app in iOS 10.
• Download: the Music app adds a new section Download to show the music you download from some music applications or iTunes store.
• Clock: Added black theme is popular among users. And clock will record your sleeping time to HealthKit.
The differences mentioned above between iOS 10 and iOS 9 are based on hand-on experience. Still you can find more differences by yourself.