The 9 Updated Apps in iOS 9
On the WWDC 2015, iOS 9 beta version released to meet users requirement. And iOS users paid a high attention to that how many new functions and new features in iOS9. So let's find the new updated contents of iOS 9 and understand these excellent functions of iOS 9.
According to Apple's official announcement, iOS 9 is the totally re-designed operating system, and it becomes smarter for optimizing the commonly-used apps in your iOS device.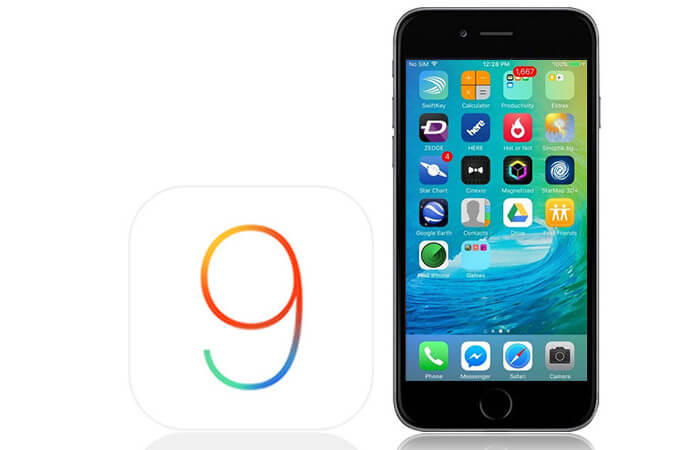 The Collection of iOS 9 Updated Contents – 9 New Functions of iOS 9
1. Smarter Siri
The smarter Siri in iOS 9 improve its speed and accuracy for 40% so that you are able to search for more topic contents. For example, it can help you find some photos or videos according to your need and remind you the browsed contents.
Siri has the ability to forecast your next action according to some specific data such as the position you are, if you added some event for a travel in your Calendar app, your iPhone will remind you the start time and the real-time traffic status to make your trip more convenient.
2. Intelligent Recommendation
Using Spotlight at the same time, your device will recommend you the latest call history, apps and the space you are interested in without worrying about your privacy. Your searching record will not connect with your Apple ID.
The Notes App will always be your good partner. After being re-designed, the function of Notes becomes stronger. You can add photos, maps and other contents from other apps to this Notes App directly.
3. Powerful Map functions
The Apple Map brings many kinds of new functions including the newest Transit. You can get the navigation of bus, train, subway and other public traffic tools. Your trip will become more convenient.
4. App News
You will get a new app in iOS 9: News. It will push the news which you are keeping attention to according to your hobbies and interests. You can get more that 1 million topics for your choice including the latest stories and articles.
The most important function of this News app is that it protects your data privacy. Apple will not share your reading contents to anyone else. However, this app only provides services on America, UK, and Australia at this moment.
5. More convenient input experience
The Quick Type in iOS 9 has equipped with new functions to make your input and edit more convenient. In addition, as the new designed Shortcut Bar, you can write something on your iPhone or iPad in a more handy way.
6. Multitasking function
iOS 9 brings us the new multitasking function including Slide Over, Split View, Picture in Picture. The Slide Over function allows you to open the second apps without leave the first one, Split View function makes it possible for keeping two apps exist and operate in the same screen and do not influence each other, Picture in Picture function allows you to keep watching your movies when you are replying your email.
7. Intelligent connection
The HealthKit allows apps providing health and fitness services for you so that you can realize your health-related information. HomeKit support domestic security system and other new equipment. In the future, you may control your home equipments with the help of iCloud wherever you are. In addition, CarPlay allows you to use your iPhone in your car with a smarter and securer way, connect your iPhone with car via wireless.
8. Enhancement of Battery life
iOS 9 strengthen the daily-used apps and functions. Including the basic apps, multitasking function, optimized searching function, lasting time of the battery and its security. For example, the iPhone 6 with iOS 9 will have another one hour's using time under the normal condition.
9. 1.3G Upgrade Package
Apple will release iOS 9 this autumn. And this operating system will match all devices in iOS8. What's more, the upgrade package of iOS 9 is only with 1.3G, it takes less space compared with the 4.6 G of iOS8.