Make Wi-Fi Calls with iPhone, iPad, iPod and Mac in iOS 8
After the long-time waiting and the release of two beta versions, finally this new feature appears. On July 7th, Apple released Beta 3 of iOS 8. It fixed some bugs and improved some functions among which the biggest breakthrough is the appearance of Wi-Fi calling. Although it is open to developers only, we can take a short glance of this revolutionary improvement.
According to developers who have used Wi-Fi calling in iOS 8 beta 3, the voice quality is much better than calling with cellular. But I think that should depend on the Wi-Fi signal strength.

For T-mobile users, within the Wi-Fi range, you can make or receive phone calls with your iOS device, not limited to iPhone. But you should make sure that you have logged in the same iCloud account on these devices. This is to protect the security and privacy of your phone calls. Therefore, after logging in the same account, you can answer phone calls no matter you are playing iPad or sitting near your Mac. And if you want to book a hotel when viewing browser, you can make a phone call directly on your Mac or iPad. This function will make your Apple devices more powerful and more unified. This is a point which is hard to surpass for any other brand.
Apple has given us a brief tutorial of how to use this function:
1. Go to Settings - Phone - Wi-Fi Calling
2. Toggle on the "Wi-Fi Calling" switch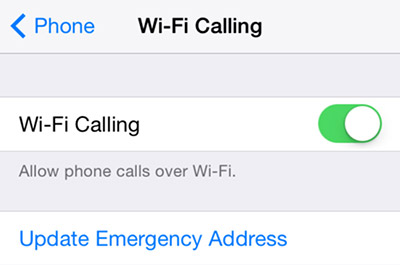 The last step requires you to enter the emergence address. This can help you in case you are in danger and calling for help.
Unlike the highly limited blue tooth connection, this new Wi-Fi calling function has no limitation to phone types to which Apple users are calling. This will be a trend for both iOS and Android users. (Wi-Fi calling not working on iOS?)
Extended Reading: How to recover lost data from iPhone/iTunes/iCloud?
FoneLab - iPhone Data Recovery
For Mac
FoneLab is the best iOS data recovering and backing up tool to recover and backup iPhone/iPad/iPod data to PC or Mac.
Recover deleted iOS data like contacts, call logs, videos, audios, photos, notes, messages, etc. from iPhone/iPad/iPod.
Back up all types of iPhone data to PC/Mac.
Support iPhone X/8/7/SE/6/5/4, iPad Pro/Air/mini, iPod touch 6/5 and more.
Extract files without backup from iPhone directly.