How to Download iCloud Backup Files before Clearing up iCloud Storage
Whether you have an iPhone, iPad or iPod touch, it is important to take regular backups. Apple makes this process very easy with its iCloud service. However, sometimes, if you just want to download iCloud photos backup to PC for viewing, or download contacts from iCloud for backup in future use, the process is not simple. And iCloud is exactly the way to back up your iPhone, but it fails to keep data for you forever, because it has limited free space. If you want to back up more iPhone data to iCloud on PC, then you have to pay for more storage space, $20 for 10 GB per year. Otherwise, you have to delete your iCloud backup to embrace new added backup on iCloud. Under such circumstances, you must be eager to know how to download backup from iCloud and clear up iCloud for more space. In this article, you will find the answer.

Part one: How to back up iPhone/iPad/iPod data to iCloud
Before downloading iCloud backup, you must be sure you have made iCloud backup. Here are the simple steps to direct you how to make iOS devices (iPhone, iPad and iPod) backup to iCloud. You need to keep your iPhone connect Wi-Fi at first.
On your iPhone, choose "Settings" > "iCloud"> "Storage & Backup".
Turn on iCloud Backup and click "Back Up Now". The data in your iPhone will be backed up into the iCloud account.
Part two: How to download iCloud backup on PC
Method one: Download iCloud backup to PC from iCloud website
iCloud works well for users, and you can view the backup information from website, and iCloud control panel.
iCloud control panel provides a way to show the basic information about iOS backup, but not details. Whether you want to preview your backup contacts, photos, messages, music, Apps, etc., or you want to download iCloud backup from control panel for Windows/Mac, you will fail to make it. So you have to turn to its website for help. See the details as the following,
Log in website from iCloud. Sign in your iCloud account.
Download iCloud backup.
In this step, if you want to download download photos from iCloud, you just click "Photos", find the photo that you want to download, and then click "Download" in the top menu. In this way, you can preview and download iCloud photos to PC, but you have to operate the process by clicking one by one. For downloading batch photos, it must be a huge task.
If you want to download contacts, notes and emails from iCloud to computer, you have to open them by clicking the icons one by one, and copy the content and paste them to your Word/Text on PC for downloading. This procedure is really time-consuming. If you want to preview or download Apps, music or messages, then you find no access here.
Method two: Download backup from iCloud with iCloud Downloader
For the above method of downloading backup from iCloud is disabled for you, so we suggest you the second way here, with iCloud Downloader. This program is the fastest iCloud backup downloading software, which makes it a cinch to download iCloud contacts , messages, Apps, music, photos, etc. Here we provide the detailed instruction of how to use it to download iCloud photos and contacts to PC. For other data you want to download form iCloud, you can do it in the same way.
Step 1Once you download this program and install it, you'll see three recovery modes. Click the last one option and it will ask you to enter your iCloud credentials.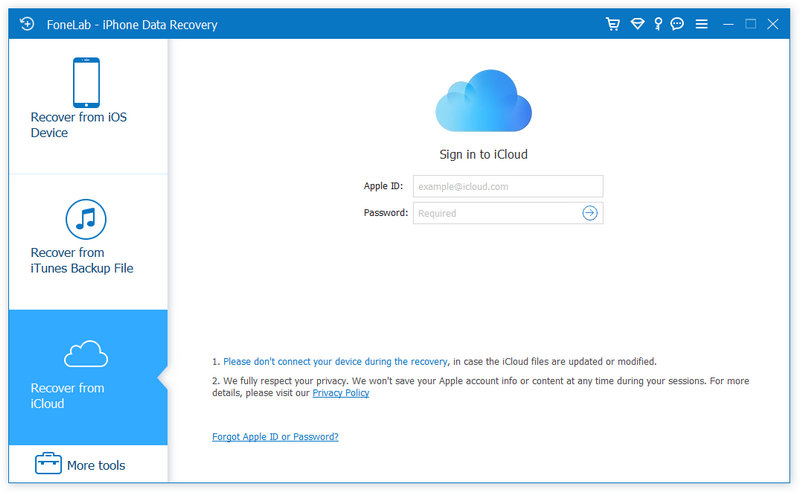 Step 2After you login, please select the iCloud Backup option and click Start. It will display all backup files record with different dates. Find the backup you want to download.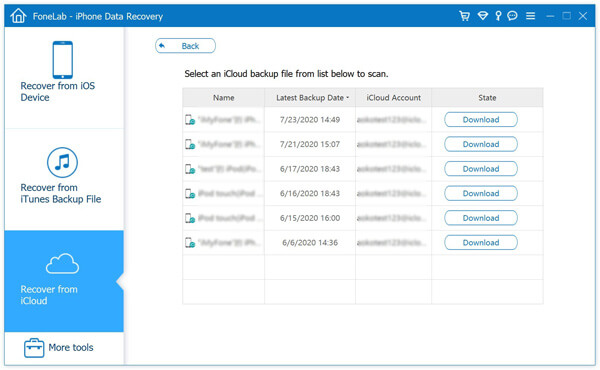 Step 3After downloading the files, you will be asked to choose the type that you want to recover, if you want to download all iCloud backup, then tick all of them. Optionally, you could select contacts, messages, Apps, photos, etc. to download from iCloud backup. Then wait seconds for this program to scan the data.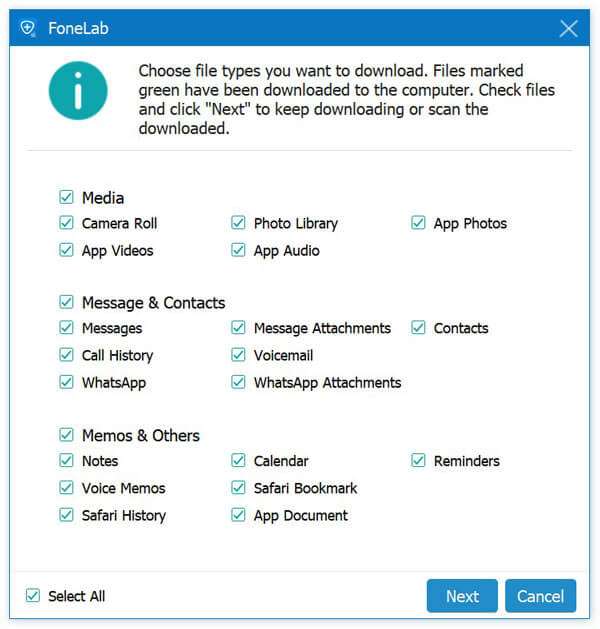 Step 4Click the file type from the left sidebar, and all the details will be displayed on the right. Choose the data that you want to download, then click "Recover" to download your iCloud backup to PC with one click. You could find the downloaded backup in the pop-up window after finishing the downloading process.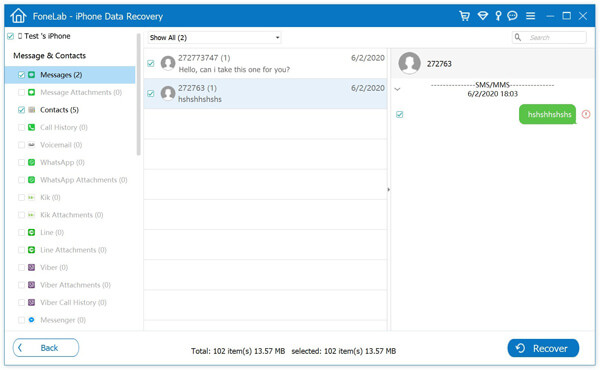 Compared with the first method, iCloud Downloader works better to download iCloud backup for PC. More than download iCloud photos, video, music, etc., it helps to restore contacts from iCloud with simple steps. If you lost data on your iPhone, iPad or iPod, you can use it to recover deleted files.
You can learn the steps from the video below: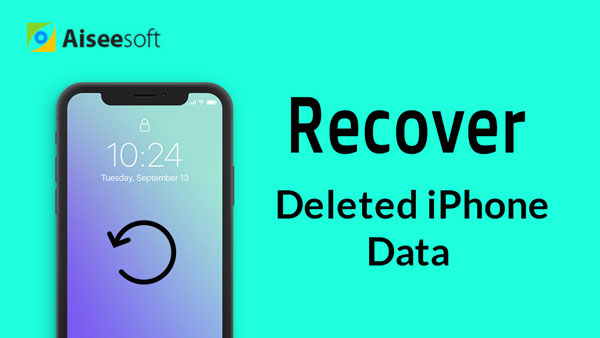 Part three: How to clear up iCloud backup
If you further need to free up your iCloud, then you may clear up iCloud backup to regain mroe space.
Kindly suggestion, iCloud still concerns many users for its leaking event. So it may be not the ideal tool to back up iOS data on PC. Here we show you more ways to back up your iphone.