New Features in iOS 10 Photos: Facial, Object & Scene Recognition
Taking full advantage of Apple's A-series of processors, Photos app in the latest iOS 10 will feature the advanced face, object and scene recognition, which will use the foremost computer vision and deep learning techniques to recognize people faces, objects and scene of your photos locally in Photo library on the device.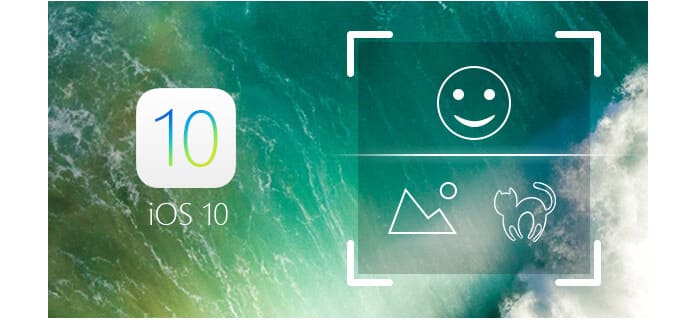 New designs in Photos app
Inside iOS 10, Apple has totally renovated its Photos app, along with new features and excellent improvements. There are four options when you launch the app: Photos, Memories, Shared and Albums.
Photos: Besides remaining almost previous version, Photo option will use facial and object recognition and give you relevant pictures or events when you are looking at a specific photo. What's more, fresh "Markup" enables users to draw, manage and delete iPhone photos.
Memories: You will be displayed a series of photos arranged by Photos app in chronological order. The biggest highlight of the Memories is that the section will automatically create a slideshow video when entering it. There will be a grid of all photos and videos below the video. You are able to customize and edit them.
Shared: The same function as the previous Photos app, Shared option allows you to share images or videos with the people you choose and let them add photos, videos and comments.
Albums:The section will show all albums to you, with two brand new additions, People and Places.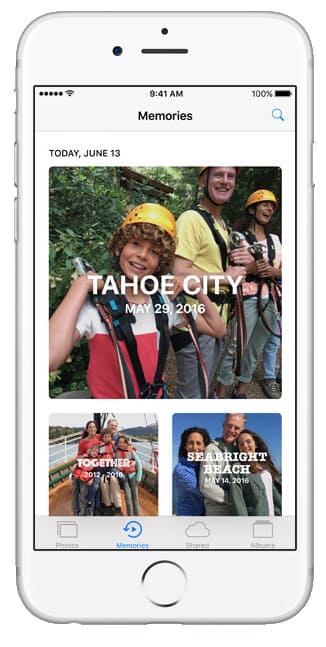 Deep learning techniques and computer vision
Utilizing local processor power and kinds of deep learning techniques, Photos app in iOS 10 will adopt the advanced computer vision, which enables to analyze and recognize the contents showing from photos. Performing more than eleven computations, iOS 10 Photo app will not only feature facial recognition, but also pick out and identify objects and scenes, such as mountains, rivers, flowers, horses, beaches and so on.
Facial, Object & Scene Recognition
The new Photos applies image recognition of people face, objects and scene. Taking facial recognition as an example, click the People album, you are displayed a classification according to the photo numbers the Photos app has found. Tap on one of the faces, you will be shown all of the photos which include the target people face. Besides, you can set your preferred people to show always on the top in the People folder. Once you look at a specific people, Photos app will automatically innovate a memory video or a slideshow between you and that particular person, with the locations where those photos are taken.
Memories and search feature
Thanks to the brilliant artificial intelligence, you are able to search and scan all your photos from the whole Photos library to fast locate and cluster the target photos which you are looking for. Tap "Memories" option, the screen will show all recent photos, with the location, time, etc on the surface. You can use the search function on the upper-right corner, and type the information to search for complicated requests.
For instance, enter "sunset", Photos will show you all pictures related to sunset. Searching for "beach" will display all photos of beach. Inputting "Linda sitting on the beach at sunset", Photos app will show all pictures with content of "Linda sitting on the beach at sunset".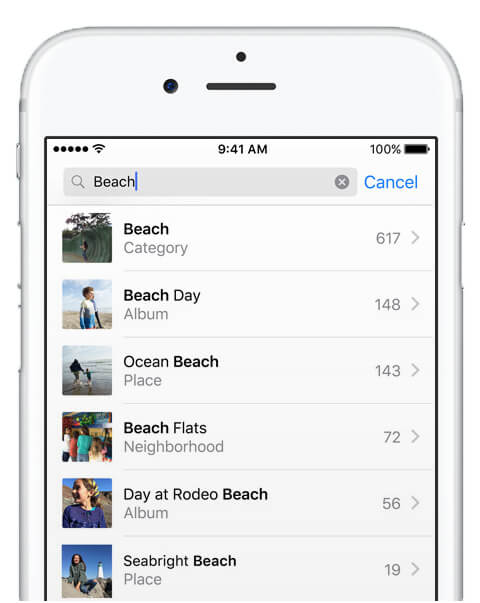 Photos app features from iOS 10 update will surprise Apple Users. In this article, we mainly discuss about the new features of face, object & scene recognition in Photos app.
FoneLab - iPhone Data Recovery
For Mac
FoneLab is the best iOS data recovering and backing up tool to recover and backup iPhone/iPad/iPod data to PC or Mac.
Recover deleted iOS data like contacts, call logs, videos, audios, photos, notes, messages, etc. from iPhone/iPad/iPod.
Back up all types of iPhone data to PC/Mac.
Support iPhone X/8/7/SE/6/5/4, iPad Pro/Air/mini, iPod touch 6/5 and more.
Extract files without backup from iPhone directly.