New Features about iOS 10 Update
The biggest news in June from Apple is iOS 10. By Now, surrounding iOS 10, there are many added new features like messages emojis, Siri app becomes more intelligent, Photos Recognition, and more. In this post, we will show you a detailed hadn-on view for new features about iOS 10 update. You should notice that, the new features of iOS 10 are based on its beta version. For the exact functions, you will be known until iOS 10 releases.
Every update of iOS will bring new features for Apple users. This time iOS 10 also surprises its users with some spotlights from iOS 10 news. In the following description, we will share some new features about iOS 10 based on hand-on vision.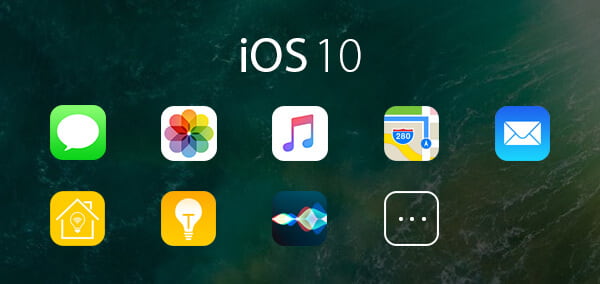 Unlock Screen
From its birth, iOS devices stick its way to unlock screen by sliding. But this time, it reverses the way to press "Home" button to unlock screen and lock screen. This is not a technique changes but a change of habit.
Meanwhile, when you slide to right, the left side is filled with widgets, like Weather, Contact, Music, Calendars, Reminders, Maps, Siri app suggestions, and more.
If you slide to left, Camera will show on the right side.
Extended reading for you about how to solve the problem of forgetting iPhone password.
Notifications
Want to view the notification without unlocking screen? This feature in iOS 10 will help you. Without locking screen, you can check your important notifications by sliding to left. For example, you can read iPhone text messages in the locked screen. Also check calendar events, see live videos and get real-time scores from sporting apps like ESPN. Definitely, you can clear all your notifications with one hit. All operation can be done with 3D touch if your device supports.
Messages
One of the biggest changes in iOS 10 is messages. Messages app adds more factors like emojis, rich link, and more to make your text messages animated.
• Invisible inks
If you want to send someone the secret message, you can use the ink effect. When the receiver gets the message, it shows bubbles, and the receiver needs to slide their finger over a text or photo. It'll either be a nice surprise, or horrific shock to your friends with emoji messages.
3X Emoji
iPhone keyboard can recognize words and pop up the corresponding emojis for you to replace the single text. And the emojis get three times as big as before.
• Bubble effects
Feel bored by the original dialogue box in messages? iOS 10 brings more animations choices with bubble response. Like a jiggling bubble that shakes the whole screen, "say it loud" with a bursting bunch of text.
• Rich links
If you share a link in messages, you will see pictures, videos and more right inline.
• Real-time handwriting animations
Personal handwriting is not only in paper. iOS 10 update enables you to handwrite small notes and send them to your friends to show your works, which is similar to digital touch sketching works.
• Full-screen animations
When you print special words or emojis, you can send a full-screen animation to your friends.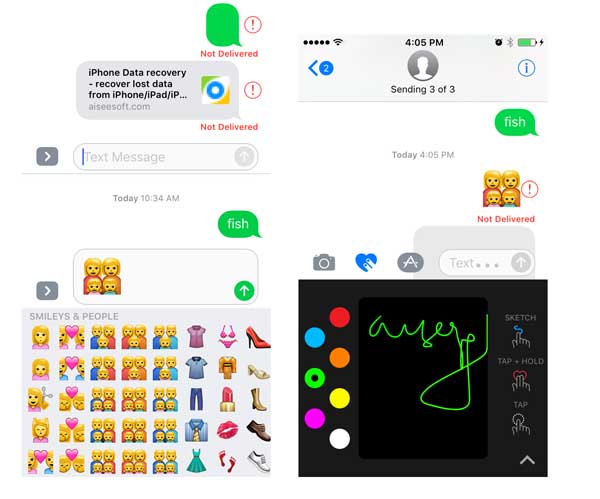 1. If you add special effects to your text messages, then your SMS becomes MMS. And the fee is not cheap. So you had better take iMessages for messages emojis.
2. If you fail to get an iOS update, you can read this post to restore iPhone messages after iOS upgrade.
Siri app
Siri app as the intelligent helper for iOS users, it is innovated to help users to facilitate life compared with iOS 9.
Extended reading: iOS 10 VS iOS 9
• Open to third-party apps
Apart from asking Siri to call your wife in Phone app, you could also ask Siri to send WhatsApp messages to your friends, or get a car from Uber. Siri is open to third-party apps now. Siri will be ready for WeChat, WhatsApp, Square Cash app, etc.
You may be interested in: iPhone WhatsApp Recovery
• CarPlay apps
Siri will help you to control CarPlay apps to access temperatures, ratios settings, and more. And you can use VoIP calls in CarPlay via Siri.
Photos
iOS 10 gets a few big additions to Photos app. Apart from being visible on Mac and Apple TV, iOS 10 brings more managing features for photos.
• Facial, object and scene recognition
Photo recognition is the biggest change in Photos app. The photos in your device will be sorted into people or object or scene recognition. It will assemble your tiger photos together, and scene pictures like stream, and people into different albums, so that you can pick up your favorite photos conveniently.
• Edit live photos
In iOS 10, you are allowed to edit live photos easily. Moreover, you do not worry about choosing one of taking photos with camera or listeninging to music meanwhile. Because they can be donw at the same time.
• Memories
If you have a poor memory to mark your photos in different locations, then iOS 10 will do you a great favor. It updated Photos app will remember the different places, or dates to classify your photos taken for your easy viewing.
More reading: How to get back lost photos after iOS update?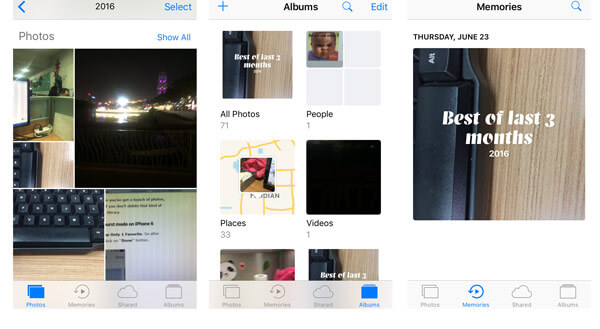 Music
Apple finally hears users' pleas for a more intuitive interface. In this update of iOS 10, certain apps get new look in its interface.
• White and black
Visual refresh look in iOS 10, and one world can be used to describe the white and black interface. Instead of colorful and translucent look, iOS makes the Music app black and white backgrounds and text except for the color of particular album's art, which makes it bold but simpler.
• Lyrics
Every song that has lyrics in the digital coding will now be available right in the Music app under the Now Playing window.
For You
In the For You section, you'll be able to find tunes to rock out to by using the new Discovery Mix, My Favorites Mix, and Daily Playlist features. And social networking feature has been moved into the For You section.
• Sections
In the iOS 10, the Music app is divided into Library, For You, Browse, Radio and Search, which enables you to filter your search by playlist, artist, albums, songs, genres, and downloaded music conveniently. By the way, Downloaded music is the new added feature in iOS 10 upgrade.
• Music and camera
In the previous iOS version, Live photos cannot work with camera meanwhile. In this iOS update, it totally removes this limitation. Live photos capture and music listening is compatible.
• Optimized storage management
For users with 16GB iPhones, iOS 10 will automatically remove downloads of songs you haven't listened to in a while. Alternatively, you can set minimum storage from none to 32GB for storage management.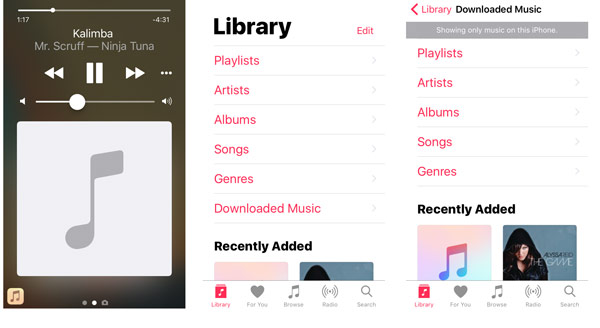 Maps
Compared to Google Maps, Apple Maps is no doubt that on the way. But compared to its previous version, it is better now.
• New interface
This new iOS update brings Apple Maps a new look in Maps interface. When you use turn-by-turn navigation, Apple Maps show you the dynamic view so you can check the traffic by panning or zooming the long and complicated interchanges.
• Proactive suggestions
When you slide up from bottom, Apple Maps will give you suggestions automatically to make route planning. And you will be never annoyed to spring back to your current location.
• Find my car
Siri in iOS 10 can tap into your iPhone's sensors and tell when you have stopped driving your car, and Siri automatically drops a pin at this location where you have parked, then send you a notification and adds it to Maps.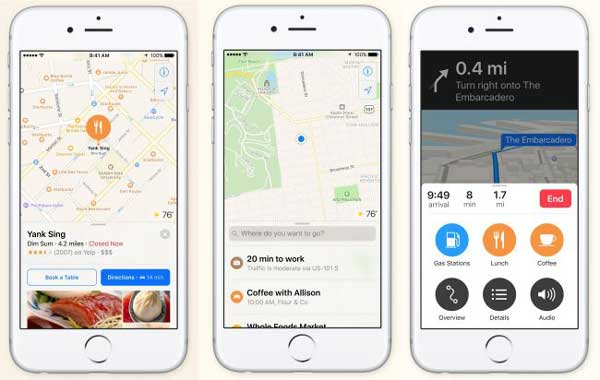 You may need: How to Fix Apple Maps Not Working
Phone
iOS 10 brings more convenience to users in this iOS update.
• Voicemail transcript
Hate to listen to voicemail, especially the voicemail is coming from unknown number? iOS can help you solve this problem. iOS 10 will help get text transcript from voicemail. And Apple cooperates with Tencent in China to alert iPhone owners there that an incoming call might be spam.
• VoIP extension
Apple gets closer to third-party tools in this iOS 10 upgrade. Calls from WhatsApp, Skype, and other apps will look more like normal calls to display in the locked screen. For more convinent usage, Contacts app will also feature additional way to connect your friends and families with quick access.
HomeKit
In this update of iOS 10, the biggest change in HoneKit is the dedicated Home app. But it is not only Home app.
• New support category
iOS 10 adds new support like Camera, door locks, air conditioners, doorbells, air purifies and humidifiers.
• Home app
Home app in iOS 10 enables you to search the home accessory nearby and add them to your phone. Home app supports favorite accessories, scene creations, Control Center, Lock Screen Notifications and more.
• Apple TV support
Integrated with Apple TV for remote access, iOS 10 lets you coordinate your accessories when you are not at home, like turning on/off light.
• Apple Watch support
Home app comes with built-in home control support for Apple Watch so you can tap your wrist to lock the front door.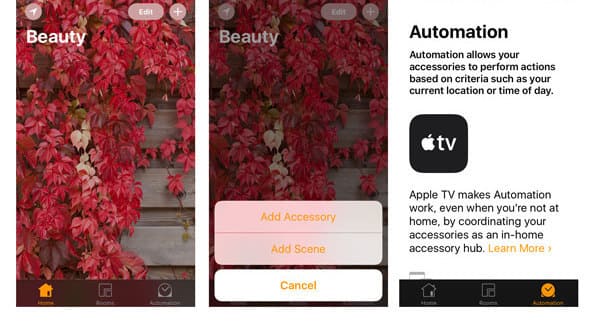 Split-Screen in Safari (Only iPad)
In iOS 10 beta, iPad split screen makes you enjoy life easier. iPad owners can view two websites at once by simply pressing the "plus" button in the upper right corner to open a new tab.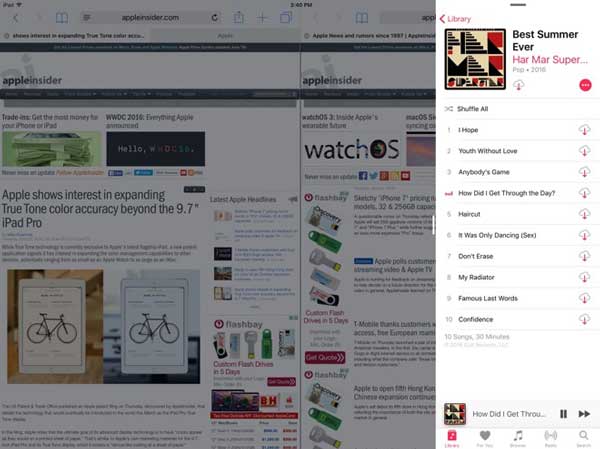 News
News is the frequent-used app whether you are free or busy reader. In this hand-on experience, iOS also brings its improvement to News.
• Redesign
As Apple claims that, bold look is the whole look of News, so that you can find what you are looking for easily.
• For You
The daily rundown has been divided into four sections under For You page, Top Stories, Trending Stories, Called (your chosen topics) and Featured (new topics based on what you read). User-oriented design will make you more convenient.
• Subscriptions
You will be allowed to subscribe to magazines and newspapers inside News app and access then alongside the other News content that you read.
• Breaking new notifications
As mentioned before notifications will be viewed in lock screen. Here the breaking news will also arrive in your eyes via Notification Center.
Security
At WWDC, Apple took a moment to speak on its security and privacy policies.
• Privacy
Built-in apps like FaceTime, Messages, and Home all use end-to-end encryption.
• Deep Learning
Built-in services that use deep learning, like Photos object recognition and QuickType proactive suggestions are on-device only intelligence. No information is sent to Apple.
• Profiling
When you perform searches in built-in apps like Maps and Spotlight, Apple does not build a user profile.
• Differential privacy
Differential privacy is, in a nutshell, a way to learn about a group about typical activities while trying to avoid learning anything at all about the individual.
Other small changes in iOS 10
• Control Center: Everything is bigger for easy to see and interact with. And you are able to change the intensity of the flashlight as low, medium and high. Just pull up the Control Center and use 3D Touch to tap the flashlight icon.
• Mail: iOS 10 improves the much-needed feature in Mail. You do not have to scroll all the way down to tap "unsubscribe". iOS 10 generates an unsubscribe link automatically at the very top.
• Keyboard: The quickType board is integrated with Siri intelligently. When you type, it will show suggestions based on the text and what you wrote. (See what to do if iPhone keyboard is not working)
• Build-in apps: iOS 10 lets you delete the built-in apps in iOS devices, but they are not uninstalled. If you search the related app in App Store, you will have to install them back. Apple just hides the apps, not uninstall them. But for some apps like Messages, Photos and Camera, you cannot hide them.
You cannot miss: How to erase iPhone data securely
• 3D Touch: iOS 10 gives you more graphical account of your fitness goals. It will become faster than ever that you have to get close the daily activity rings.
The above hand-on experiences are from iOS 10 practice. There may be some points we miss here, but welcome any advice to improve this post to help more users.
Before you get to update iOS, you should take some preparations to avoid some data loss.