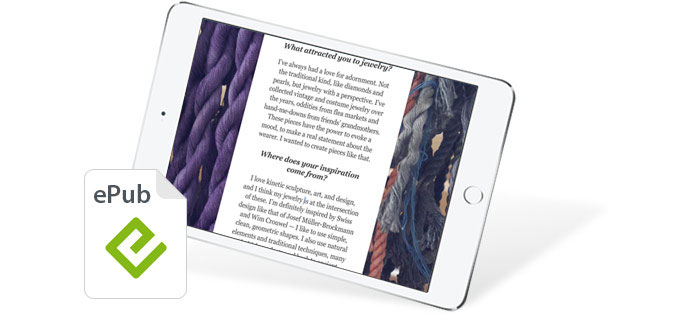 Along with the development of electronic technology, a growing number of people prefer to read eBooks on Amazon Kindle, iPhone SE/6s Plus, iPad Pro/Air/mini and other Android devices rather than turn the pages of traditional paper books. ePub is one of the most popular eBook format, and you must frequently access ePub files if you have already gotten used to reading eBooks at leisure time.
ePub, shorted for electronic publication, is a free and open standard published by the International Digital Publishing Forum (IDPF). Compared with paper books, ePub books have more advantages. It enables you to handily edit the font, size and other features of the books as you like. Moreover, ePub files cost little storage and can be displayed on any electronic reader and iOS/Android device. Because iPad has a suitable size and light design, so iPad can be the best ePub files reader for you to read ePub eBooks. Here in this article, we will show you effective ways to transfer ePub files to iPad Pro/Air 2/mini 4 for reading.
Read ePub eBooks on iPad with iTunes
When you want to read ePub eBooks on iPad, the first thing you should do is to transfer ePub files to it. And when you want to import some data to iPad, the first tool you will choose is iTunes. Next, we will tell you how to add ePub eBooks to iPad step by step.
1Launch the latest version of iTunes on PC or Mac.
2Click "Books" icon and navigate to "Books" section.
3Select the ePub files you want to load to iPad and drag them to the interface of iTunes.
4Tab "My Books" and then you can view the ePub eBooks you added to iPad.
5Connect your iPad to computer with USB cable and after iTunes detects your iPad, click "iPad" icon. (iTunes does not recognize iPad?)
6Click "Books" on the left column and then mark "Sync Books" and "Selected books" in the right window.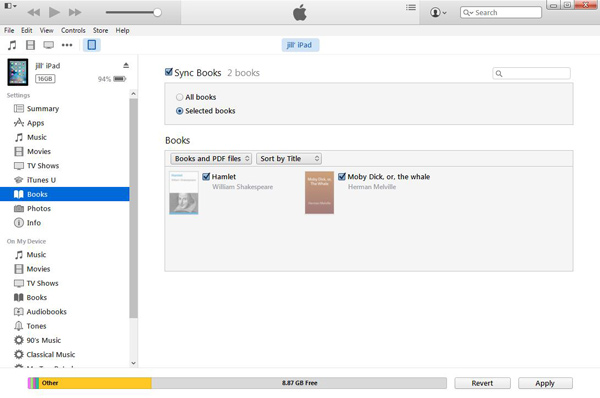 7Make sure the imported ePub files are checked and tab "Apply".
8Unlock your ipad and tab "iBooks" icon. Then you can read ePub eBooks on iPad.
1. Using iTunes to transfer ePub files to iPad will erase the original eBooks on your iPad, so if necessary, you should back up iPad before syncing.
2. This method of syncing ePub from computer to iPad will also erase all the data on your iPhone and replace them with the latest backup. So you had better think twice before you do that.
Transfer ePub files to iPad with professional ePub eBooks Transfer
If you want to read ePub on iPad, iTunes can be a big assistant to help you import ePub eBooks to iPad. However, the first method may be a little difficult for some users, and using iTunes to transfer ePub files has a big disadvantage that the sync process will replace all the original eBooks on iPad with added ePub files. What if you still want to keep and read them? At this time, you must want a better choice. So here we sincerely recommend a powerful ePub Files Transfer to help you import ePub books to iPad for reading. First, you should download and install it on your computer.
Here are the steps:
1Launch this ePub Books Transfer on your PC/Mac with USB cable and connect your iPad to your computer.
If your iPad is the first time to connec the computer, you need to unlock iPad firstly and tap "Trust" on your iPad to manage your iPad on this computer. (iPad password forgot?)
2 Click Books on the left column and then tab Add. After selecting the ePub files, click Open to copy the ePub books to iPad.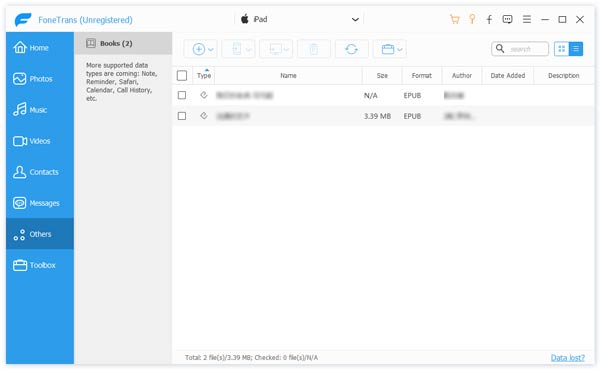 The process of importing will be finished instantly. You cannot find an easier way to transfer ePub files to iPad. Now, you are able to read ePub on iPad.
1. Besides importing ePub books to iPad, it also allows you to export your selected ePub files from iPad to computer directly.
2. It can works as an iOS data transferring program to transfer files between iOS devices and PC/Mac. For instance, you can transfer iPhone photos to iPad and copy iPad music to Mac.
3. This ePub Files Transfer can transfer PDF to iPad, and music, videos, photos, contacts and more to computer or another iOS device.