iPad File Manager for Mac – Manage iPad Files on Mac
As an iPad users, have you met such questions? "I get thousands of photos on my iPad, how to transfer photos from iPad to my Windows 10 computer for freeing up storage?" or "I want to upgrade my iPad to iOS 10, before that, I need to copy my iPad files to my Mac. How do I back up my iPad?" or like this, "I want to sync my iPhone contacts to my iPad, is there any way?"... There are some confusion when managing files on iPad, but those confusion can be removed by some tools, iTunes, iCloud, iPad File Manager, DiskAid, etc. Undoubtedly, iCloud and iTunes are the widely used file managers for iPad users to manage iPad files. How do they work? Which one is the best choice for your managing file on iPad. Keep reading to find the answers.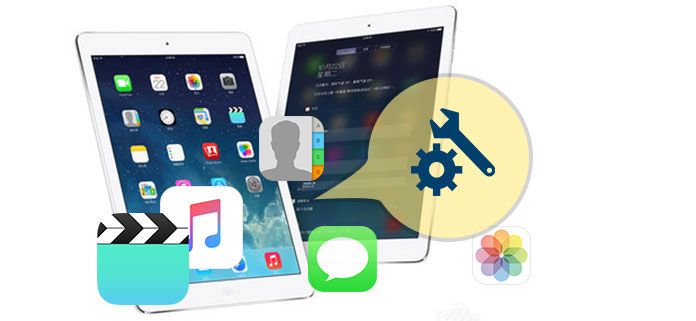 Free iPad Manafer for Mac and Windows – iTunes and iCloud
File transfer and recovery for iPad – iTunes
When you mention to transfer iPad music to Mac or computer, iTunes will be your first choice. Why? iTunes is a very useful tool to sync iPad to iTunes. that means you can transfer your music, videos, movies, photos/pictures, contacts, calendars, notes, etc. from iPad to computer or Mac for backup. Also you will be easy to restore your iPad files from iTunes backup. You could manage your favorite music file or movies on iTunes by dragging it or removing it from your playlist to rebuild your iTunes Library. But for those text files, you could only back up or restore, but you will find no way to edit your contacts or delete some messages.
iPad data sync tool – iCloud
Without iTunes, how do you manage iPad? The answer is iCloud. iCloud is another free manager for iPad to transfer photos, contacts, messages, photos, music, video, etc. from iPad to iCloud. iCloud is free to provide you 5GB storage for your backup. If you need more storage, you have to pay more money to buy it. On your iPad, you are allowed to make iPad backup to iCloud, and download iCloud backup to your PC or Mac. You may ask how to manage iPad file on iCloud? Log in your iCloud account on its web page, www.icloud.com, and then you will find your iCloud backup, contacts, photos, etc., click one category to view the details on iPad, where you could manage your photos and contacts. You could transfer photos and pictures from iPad to Mac or computer by downloading them one by one. Also, you could upload photos from your Mac, and add photos to album. Definitely, you are able to delete all contacts from iPad and edit contacts with iCloud, and after that, you are capable of restoring iPad files from iCloud on your iPad. You will notice that, you could only manage those visible files from iPad like photos, contacts, calendars, etc. For music, videos, and messages, you could only back up them to Mac with iCloud and then restore those files directly on your iPad. For managing them in other features, you will find no way.
iPad Manager software for Mac – DiskAid
DiskAid is one of iPad manager software. It may have been recommended by some of your friends. It has Windows and Mac version. You could download this iPad file manager from its web, www.diskaid.com. If you want to download DiskAid for Mac, you need to print the words to search it. DiskAid for Mac is a good helper to transfer files between your iPad, iPhone and iPod and Mac. Now, it updates to its new name, iMazing, you could use it to manage your iPad on Mac easily. It has a limited function to transfer 100 photos and videos from iPad to Mac for free, copy 100 contacts and 10 messages. After the free trial day, you need to pay $34.99 to transfer files between iPad and Mac. You could transfer iPad files that are synced from iCloud or iTunes to Mac for backup. But you will find that, you are only allowed to back up or delete files, but you could not edit your contacts, like adding new contacts, delete duplicate contacts, etc.
iPad File Manager for Windows and Mac
More than a DiskAid alternative, Aiseesoft iPad file manager, is a multifunctional tool to manage your iPad files on Mac. It lets you copy files from iPad to PC or Mac for backup, also enables you to transfer files from Mac to iPad for restoring. Why? Try this software here, and get a free trial.
FoneTrans - Best iOS File Transfer
For Mac
Aiseesoft FoneTrans is the professional iPhone sync tool to transfer all types of iOS data between iOS devices, move data from iPhone to Mac/iTunes, and sync data from Mac to iPhone.
Sync iPhone photos, music, playlist, etc. to iTunes directly.
Transfer contacts, calendar, photos, etc. from iPhone to computer (Windows PC and Mac).
Transfer data from computer to iPhone.
Compatible with iPhone, iPad and iPod with iOS.
1. Transfer photos, videos and music between iPad and Mac
After installing this software, launch it. Plug your iPad to Mac with USB cable. Wait seconds for this explorer to detect all your iPad files. Choose "Media" > select music or movie file, click "Export to" > "Export to Mac" to transfer music or movies to Mac. Also you could repeat the steps to transfer photos from iPad to Mac or PC.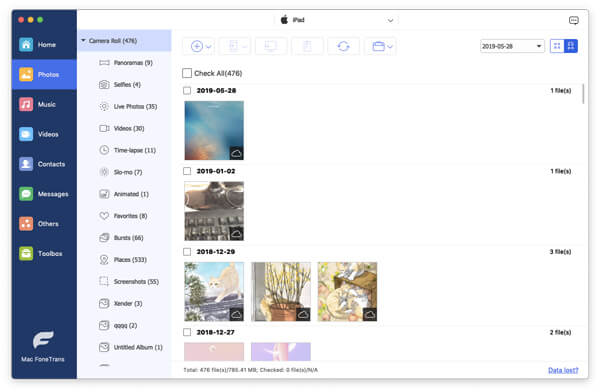 When you want to transfer photos from Mac to iPad, you need to click "Add" > "Add File(s)/Add Folder" to extract data from Mac to iPad. For photos, you only repeat the steps. There is one advantage that, when you add music files from Mac to iPad, it will convert audio and video file to format compatible with your iPad, like converting FLAC to MP3 for playing on your iPad.
2. Transfer messages and delete/add/edit/de-duplicate contacts
When you transfer contacts and messages from iPad to Mac, just repeat the above steps to make it. But you should know that, you could only sync messages to Mac for backup, but not move it back to your iPad. For contacts, you are not only allowed to transfer contacts from Mac to iPad, but also manage your contacts by adding new contacts, delete unwanted contacts, and remove duplicate contacts.
Click "Contacts" > "New" button to add new contacts. Locate the contact that you want to manage, click "Edit" to edit his information. Choose multiple contacts, or single contact, or all contacts to "Delete" them. For imported contacts from Mac, You may find some are duplicated. Choose all contacts, click "De-duplicate" to delete the duplicate contacts.
3. Transfer book and other documents between Mac and iPad
iPad accepts PDF files and ePub files for reading with its builter-in. This file manager also allows you to transfer PDF to iPad and export ePub files to Mac. Beyond that, iPad can be as a flash disk to store your other documents. You could transfer the documents to your iPad and extract them to Mac easily.
4. Transfer iPad files to iTunes
If you do not install iTunes desktop on your Mac, you could also transfer your iPad songs, movies, etc. from iPad to iTunes. How to do? Choose the file you want to transfer to iTunes, click "Export to" > "Export to iTunes".
By now, you will find all the four tools can help you manage your iPad files. But which one is the best one? See the following the comparison:
iPad Manager
Pros
Cons

iTunes

1. Free to transfer files between Mac and iPa

1. Disable to view and edit contacts, messages.

2. Synced data from Mac will delete existing files on iPad.

iCloud

1. Free to back up iPad data to iCloud

1. Disable to view and edit messages.

2. Limited free 5GB storage to store iPad files.

DiskAid

1. Tranfer iPad files between iPad and Mac, iTunes and iCloud.

2. Convert video or music file automatically to play on your iPad.

1. Only iPad backup, not more features to manage iPad file.

2. After-sale is often complained to be slow.

iPad File Manager

1. Transfer files between Mac and iPad.

2. Convert music and movies automatically to play on your iPad.

3. Add/delete/edit/de-duplicate contacts.

4. Transfer iPad files to iTunes directly.

1. Transfer iPad messages to Mac, but not move them back from Mac to iPad.
The above tools for for iPad or iPhone manager for transfrring data for iOS users. If you are Android users, go to Android file transfer.