5 Best Mock Location Apps for iPhone and Android Phones
You may want to set a fake location for playing location-based games or using social and dating apps. There are plenty of mock location apps offered on the market that can help you easily set virtual locations for different needs. After testing over 30 location spoofing apps, we list the five best ones for changing your iPhone or Android locations.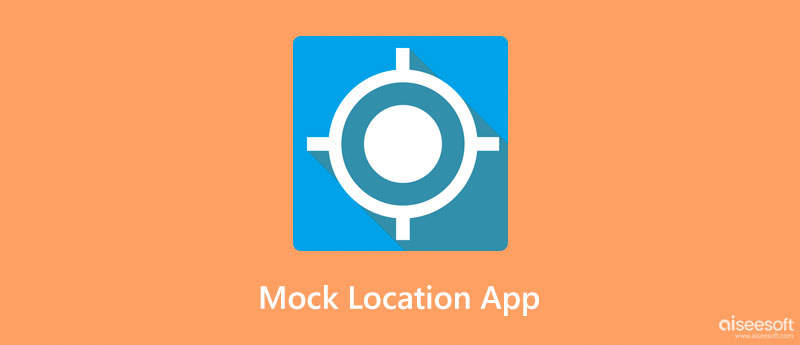 Part 1. Best Mock Location Apps for iPhone and iPad
As an iOS user, when you need to spoof your GPS location on an iPhone or iPad, you can use the two recommended apps below.
AnyCoord - Best fake GPS app for iOS
AnyCoord is a specially-designed mock location app for iPhone and iPad users. Compared with other GPS spoofing apps, it can give you a more stable network connection and location-changing experience. It allows you to fake your GPS location anywhere in the world. This mock location app can help you set a virtual location to stop sharing your actual location with others, play AR video games, and use some dating apps like Tinder, Happn, eHarmony, Bumble, or Match.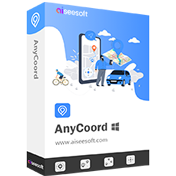 Downloads
AnyCoord - Mock iPhone Locations
Mock your current GPS locations on an iPhone or iPad.
Fake your real-time location to anywhere you want.
Set virtual locations for dating, gaming, streaming, and more.
Offer different modes to mock GPS locations at different speeds.
When you want to change your GPS locations on an iOS device, you should free download this best iPhone location spoofer on your Mac or Windows PC first. Open it, click the Start button, and connect your iPhone to it.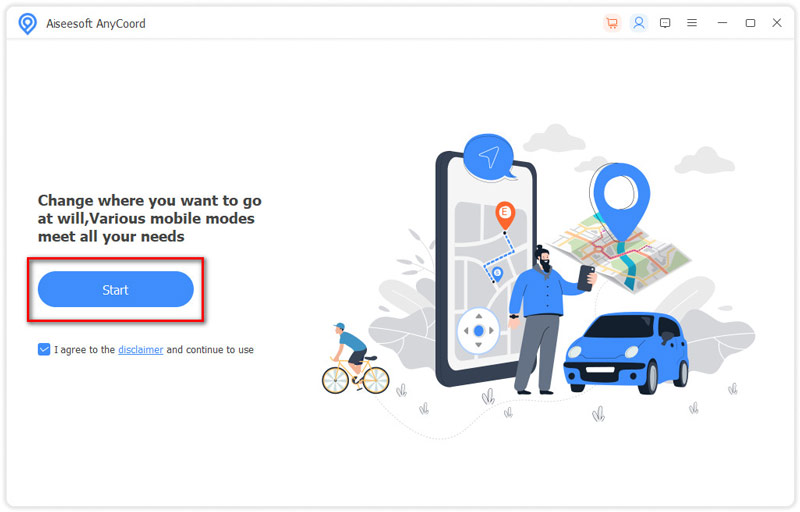 This mock location app offers four key features for you to fake GPS locations. Here you can choose the Modify Location option to move on.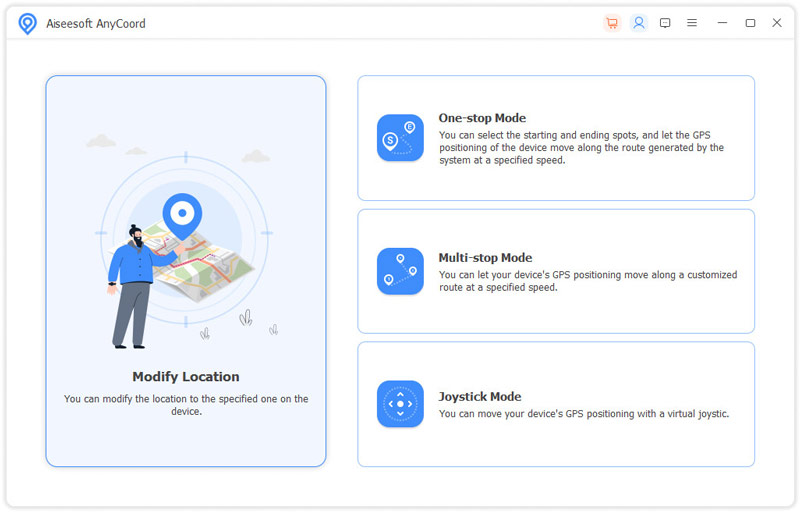 Its built-in map will load on the screen and mark your current location as a blue dot. You can freely drag, zoom in, or zoom out the map to view your GPS location and check nearby places.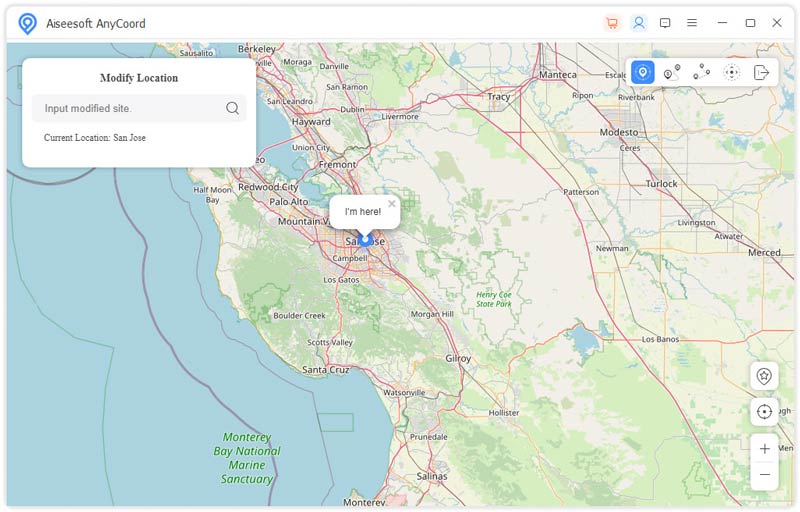 When you need to mock your GPS location, you can drag the map and directly select a suitable address. Also, you are allowed to search for the target address. When you locate the desired place, you can click Confirm Modify button to change your location to there.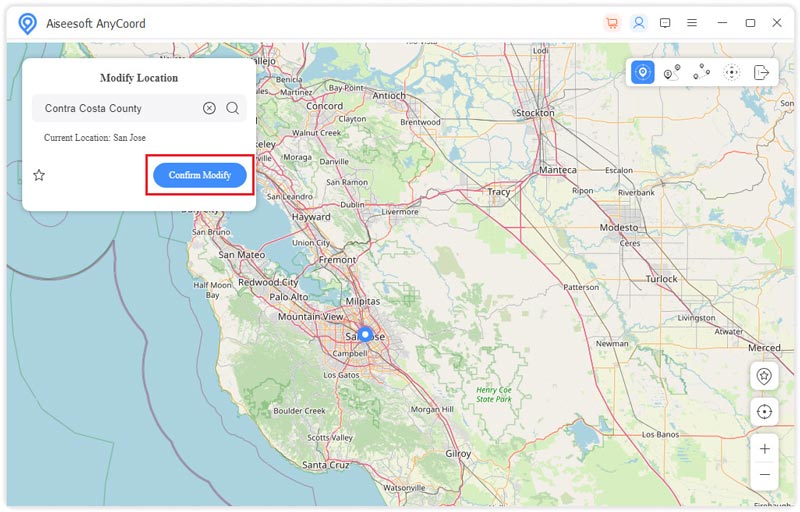 iTools Virtual Location
iTools is an all-featured iOS data transfer app that can help you set fake locations on iOS-based devices. It is mainly designed to transfer files between iPhone and computer. It can also help you recover some deleted and lost data. It has a unique Virtual Location tool to fake GPS locations. You can free download it on a Windows PC or Mac to set a virtual location for your iPhone or iPad.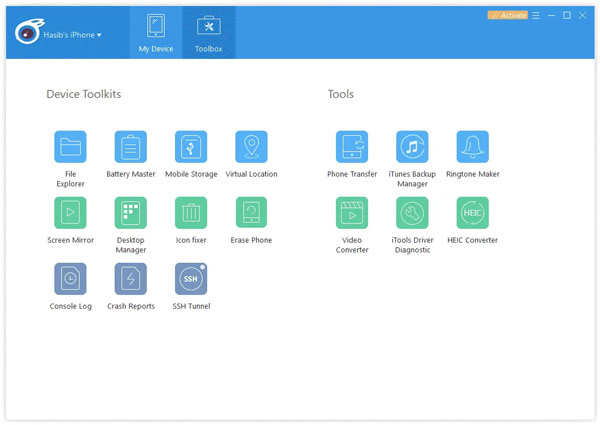 After downloading iTools, you can launch it and click the Toolbox tab to display more tools. Double-click on Virtual Location to open its GPS spoofing app. You can enter another place or GPS coordinates in the blank frame and click the Go button to locate it quickly. When you see the location you want to go to, you can click the Move here button to mock your current location.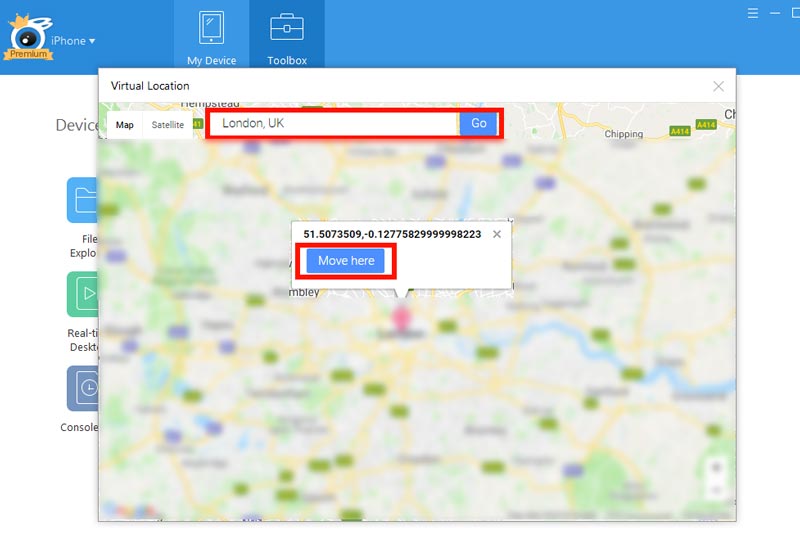 Part 2. Best GPS Location Spoofing Apps for Android Phones
When you want to fake your GPS location on an Android phone, you should enable the Mock Location feature first. To do that, you can open the Settings app, locate the About Phone or Software Information option, and tap the Build Number option seven consecutive times to guide your Android device to developer mode.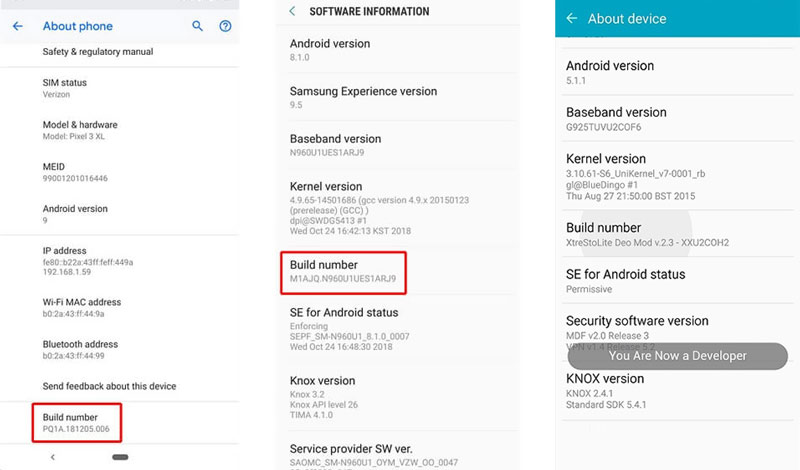 Back to the main interface of Settings, find the Developer Options, and enter it. Here you can turn on the Allow Mock Locations option easily. Using this method, you can enable the Mock Location feature on any Android phone, including Samsung, LG, Google Pixel, Sony, HUAWEI, and others.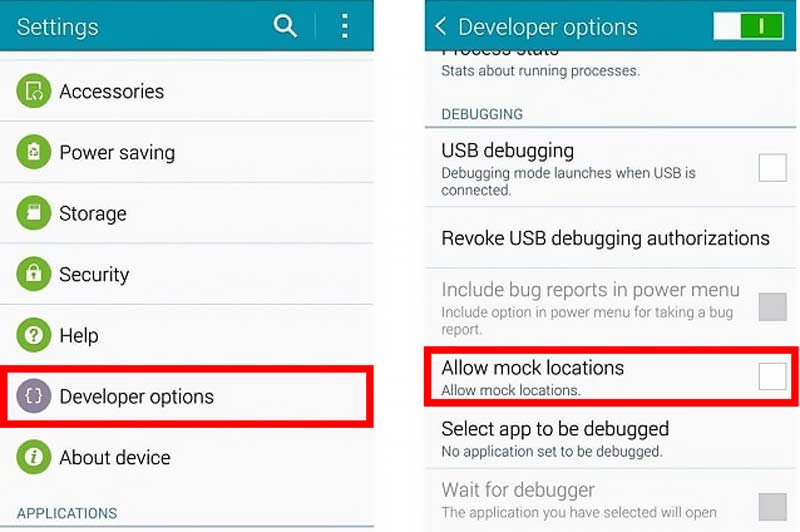 Fake GPS location
Fake GPS location is a famous GPS spoofing app for Android users. You can free install it from Google Play Store. It can help you change the real-time location of your Android phone and give you realistic GPS values with Joystick. You can set a virtual location using three customized speeds.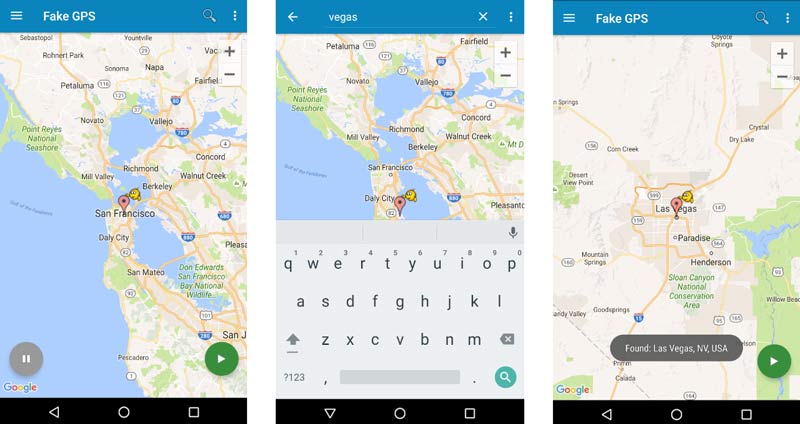 To fake GPS location, you can open the Fake GPS location app, choose the target place you want by moving the pin, and then tap on the Start button to change your current location to there. If you fail to mock your Android location, you can go to the Developer Options and select the Fake GPS location app in the Select mock location app option.
GPS Emulator
GPS Emulator can change your Android location to any address in the world. It helps to create a fake GPS location and let other apps on your phone identify that. With this mock location app, you can handily switch your location and altitude based on your need. Moreover, you can customize the accuracy and get the related prompts from the fake position. It offers three map types, normal, satellite, and terrain, to fake your GPS location on an Android device.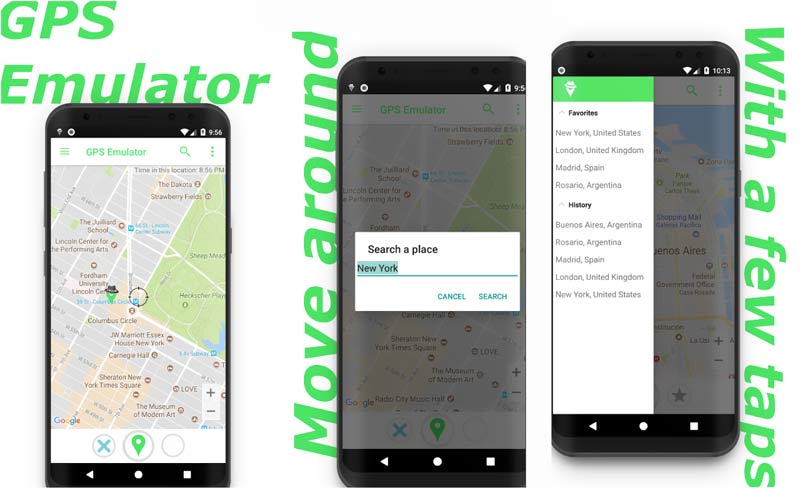 Netlinkd Location Changer
Netlinkd Location Changer is an easy-to-use GPS location spoofer app that can prevent apps and websites from tracking your real location. It is mainly designed to protect privacy. More than a mock location app, it can be a potent location status tool to tell detailed location information. You can long press on its map to set a pin and double tap to zoom in or zoom out. You can't change the fake location back to your real location by rebooting. Instead, you should tap on the Stop button.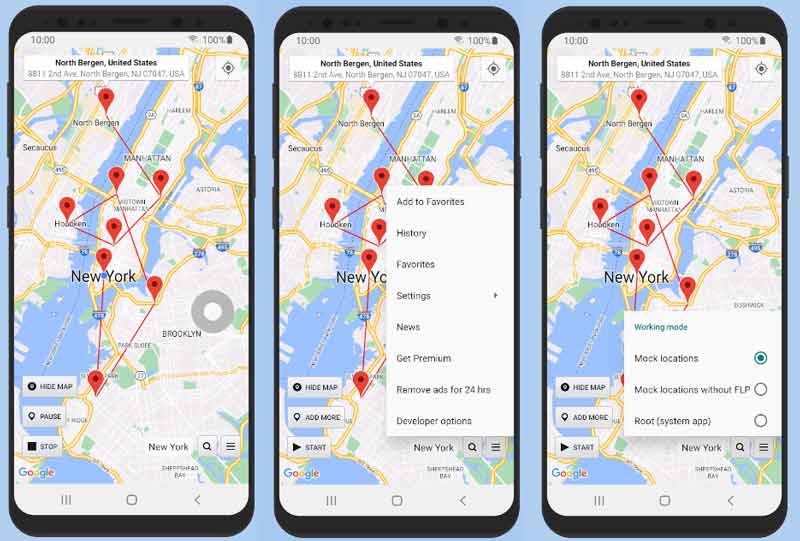 Part 3. FAQs of Best Mock Location Apps
What is the mock location feature on Android?
The Mock Location feature on an Android device is available in the Developer Mode. It is mainly used to change your Android location to other places for app testing. You can enable it and then use a location changer app to set virtual locations.
How do you disable location services on an iPhone?
When you want to disable all GPS location services on your iPhone, you can go to the Settings app, choose Privacy, and tap the Location Services option. You can disable all location services for your iPhone to prevent others from tracking your real-time locations. Also, you can customize the location settings for specific apps according to your need.
How can I hide my location without turning location services off?
Whether using an iPhone or Android phone, you can turn on Airplane mode to effectively hide your location.
Conclusion
This post gives you a review of the five best mock location apps for iPhone and Android phones. You can check their key features and select your preferred one to fake your GPS location. If you have any other location changer or GPS spoofer app recommendations, please share them in the comment section below.

Leave your comment and join our discussion