Most Reliable 6 Image to PDF Converters Available on Desktop [Online & Offline]
Disarrangement of files in a folder, whether images or documents, makes searching challenging for every user and business owner. Creating a folder containing files is time-consuming and isn't ideal for everyone. Usually, these files are also large individually, which could make transferring challenging. Fortunately, a container known as PDF has the advantage of storing multiple documents in a single file, which makes everything organized and searchable. Instead of opening the images one by one with PDF, you can open all the files stored here with a single click. Even though it contains multitudinous files at once, PDF uses an ideal compression that brings the file size smaller without affecting the overall quality of the files it contains. With a suitable converter, converting images into a PDF format is straightforward. Keep reading to learn and choose the best image to PDF converter for your needs.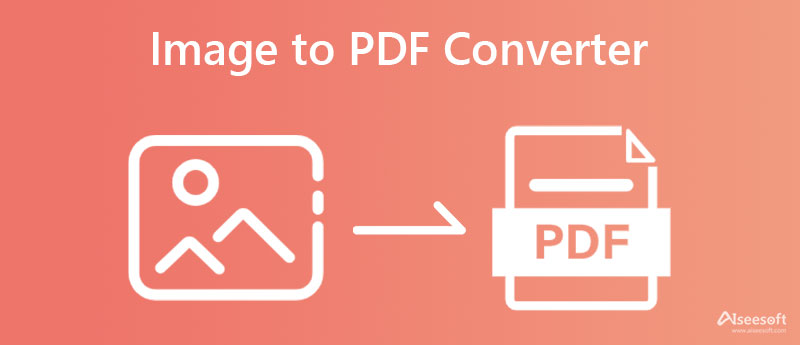 Part 1. Top 3 Image to PDF Converters Accessible on the Web for Free
1. Free PDF PNG Converter Online
Free PDF PNG Converter Online is an image-to-PDF converter online developed by Aiseesoft to convert quickly without downloading a launcher or file. Professionally speaking, this can be a solution for those who need quick conversion of images to PDF files. It has the speed to process batch images into a PDF for free and without affecting the quality of the contained files in the PDF. Even if you aren't tech-savvy like others and need to convert images to PDF, you can finish the task with the help of this app. If you need a tutorial on performing it with this app, follow the instructions in this article.
PROS
No installation is needed to convert the images to PDF files.
It supports AI and ultra-fast conversion processes even if the app is online.
It can do Document Encryption for free.
Import images limitlessly and convert them here without restrictions.
Available in all different web browsers installed on the device.
CONS
Requires internet to function.
Steps on How to Use Free PDF PNG Converter Online:
Step 1:
Using your web browser, search the official website of Aiseesoft to have access to its premium and free image to PDF converter. Even though the name suggests PNG to PDF, you can upload other image formats here, such as JPEG, JPG, BMP, SVG, WebP, and more.
Step 2:
After uploading the images, choose the
PDF
format as an output on the
Convert to
. Besides PDF, you can also export the image you upload as Word, Excel, or PPT.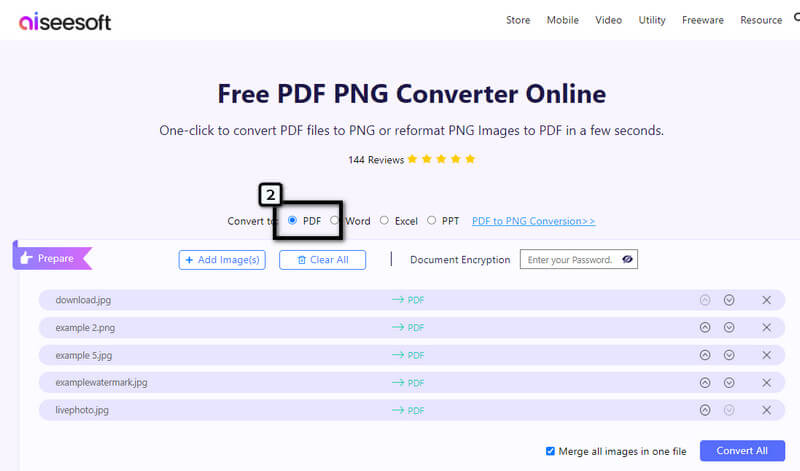 Optional: Need to add document encryption to PDF? Well, you can do it with this app for free. On the Document Encryption, type the password you want to use to encrypt the PDF file and click the eye button to see if the password you set is correct.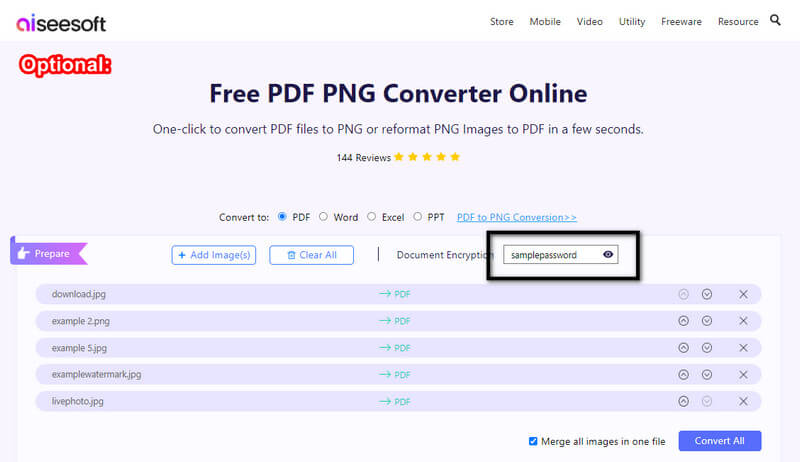 Step 3:
Before you export the PDF, you can save the images as individual PDFs or merge them as one. If you decide to merge them as one, tick this
box
. For the other users who don't want to merge them all, skip this step.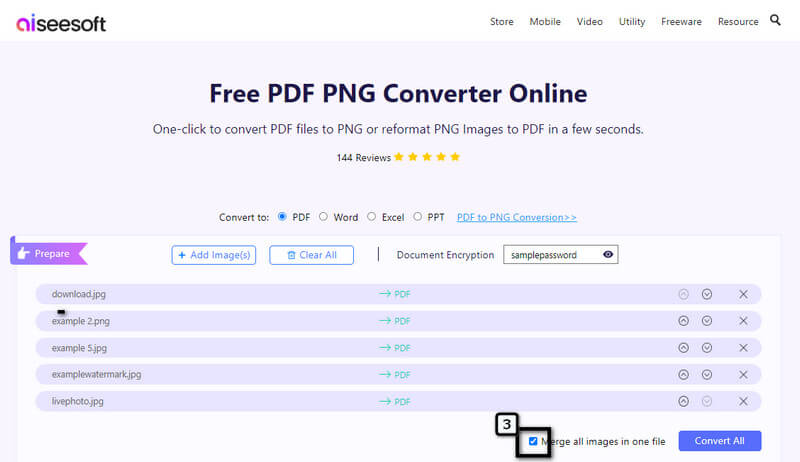 Step 4:
After that, click
Convert All
to process the images you upload into a PDF format. With its AI and ultra-conversion speed, you'll have the output in a matter of seconds. When the PDF file is in the result, click
Download All
to save the final output on your device's local drive.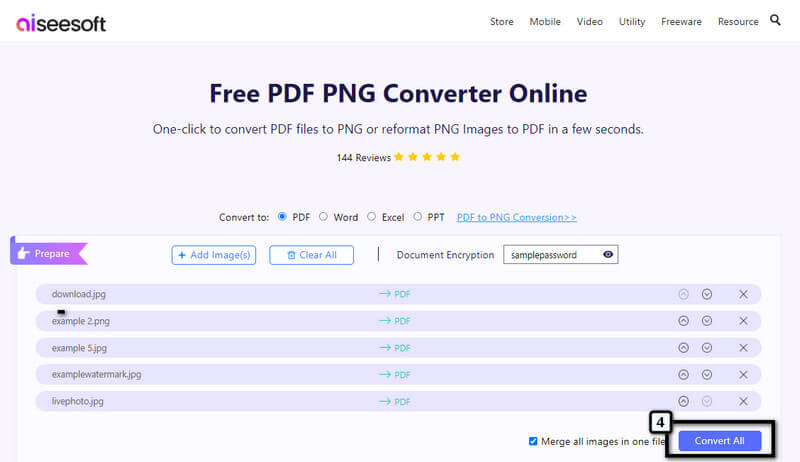 2. EasePDF – JPG to PDF Converter Online
EasePDF is another image to PDF converter accessible on the web. This app can finish the job of converting a JPG into a PDF file without quality loss. Like the first online app, you wouldn't need to be registered to use it, for it is a registration-free app. However, this app's free version has many restrictions, such as batch processing, file size per task, ads, OCR, and more. So, purchasing a monthly or yearly plan is needed if you don't see ads and have strict restrictions. Overall, the app is a good image to PDF solution you can use.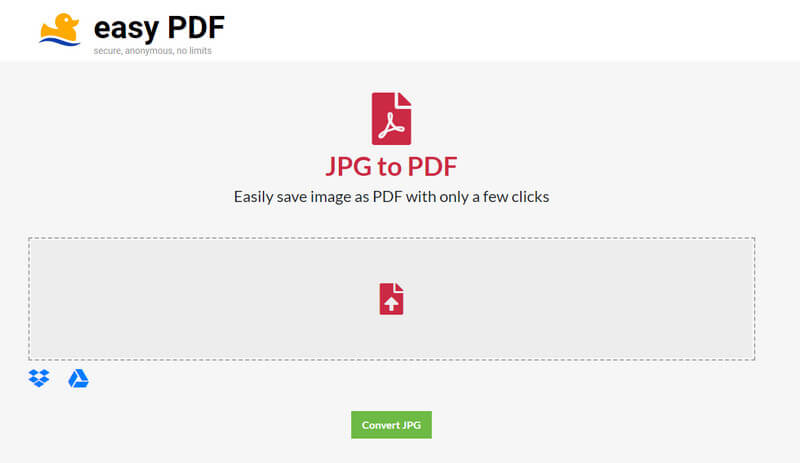 PROS
It uses 256-bit SSL security.
Image and PDF tools are included, both free and paid.
It supports the drag-and-drop feature.
Upload and export images from different cloud services.
CONS
The free version does have many limitations.
It doesn't have document encryption.
It needs an internet connection.
3. Smallpdf
Smallpdf supports a reliable and secured image to PDF conversion process on the web. This image to PDF converter online allows you to upload as many images as you want and convert them into PDFs. It has one of the cleanest web converters you can visit, for it doesn't show ads anywhere, even when converting. Though the web converter is free and reliable, limitations make this app less of choice. For instance, you can't export the image as No or Big margin, for they are only available on the pro version. So, if you want to choose these options, you can log in to start the free trial.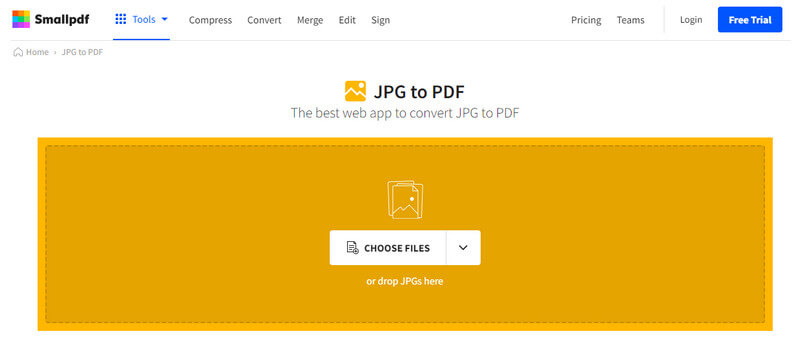 PROS
It supports bulk importing and converting processes.
Easy to use and one of the best choices for beginners.
You can use it without platform restrictions.
CONS
The free version has restrictions.
You'll need a strong internet connection to use it.
Part 2. Top 3 Image to PDF Converters for Desktop [Windows & macOS]
1. File Center
File Center can quickly convert image files into a single PDF without a cost since it is free to download images to a PDF converter. Thus, this software can convert your PNG or JPG to PDF without a hassle. Since the app can convert PDF, you can also edit, organize, scan, and create a manageable PDF file with this app. Yet, you'll need to purchase the app to use it without restriction, and there is no need to worry, for it is only a one-time purchase. Here, you can upload files saved from your cloud service, and it is fully supported on different Windows applications such as Word, Excel, and Powerpoint. However, the app doesn't have a version for macOS, Linux, and older Windows 10. Nevertheless, the app is an excellent pick-up for everyone who needs a converter at reach.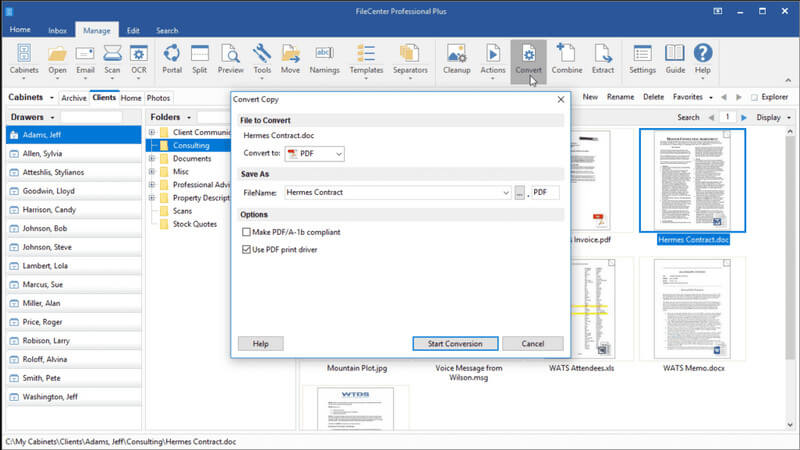 PROS
It supports an advanced PDF conversion option.
It can process multiple images into a PDF seamlessly.
It has additional features for scanning, managing, organizing, and creating PDFs.
It can access known Cloud services for importing and exporting files.
CONS
The app doesn't support systems that aren't Windows 10 or higher.
Free versions do have many drawbacks.
It requires a strong memory and CPU for OCR to perform at its best.
2. Adobe Acrobat Pro DC
Adobe Acrobat Pro DC is an all-out image to PDF converter and solution everyone can use. Adobe produces PDF files, so it naturally creates a solution for their format. With this tool, you can do many things to solve problems that you may encounter on PDFs, such as editing, merging, commenting, filling & sign, and more. Despite knowing Adobe products have to become difficult to manipulate, set this app aside, for it has one of the most intuitive interfaces and is easy to use. Even though the app has many additional features for PDFs, like repairing PDF files, you'll not be able to use them for a long time if you haven't paid for a plan. Though it costs you much compared to other converts, it is still an excellent pick for those who need a PDF solution daily, but if not, try to use the other alternatives mentioned here.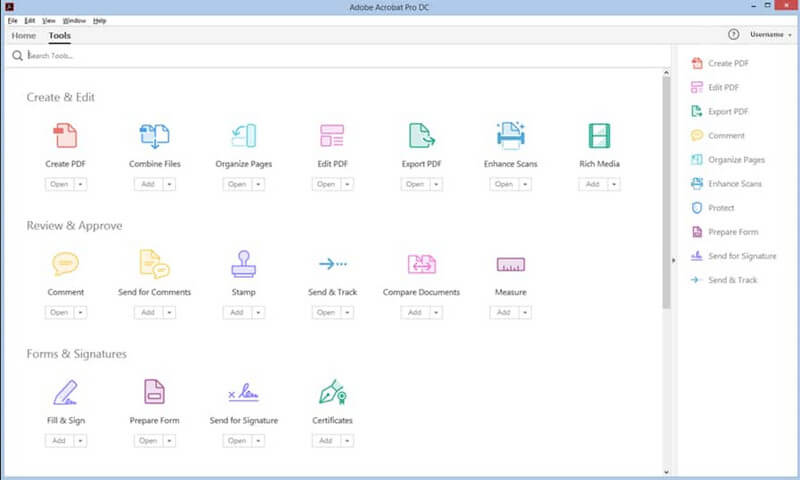 PROS
It wields an all-out PDF solution for every PDF problem.
No professional skills are needed to use.
It is compact and has the most intuitive interface.
CONS
It is not free to use.
The app is pricey compared to other purchasable PDF converters.
3. Preview on macOS
Preview is a download-free image to PDF converter that any Mac user can portably access on their OS. Unlike the other converters we introduce here, this app doesn't require you to download it because it is pre-installed, yet it is accessible only on macOS. With it, you can convert image files to PNG, JPG, JPG2000, PDF, and other image formats. Though the app is listed in this review, it can't compile images into a PDF file, for it solemnly changes the image format extension into a .pdf. Other than converting, you can encrypt the PDF file with a password when needed.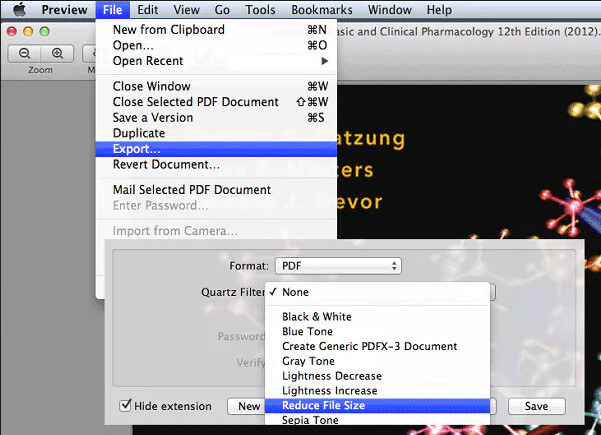 PROS
It supports the most basic PDF converting process.
It supports encrypted PDF files.
It has a wide variety of selection image formats.
CONS
It doesn't support batch image conversion for PDF.
Not ideal for professional purposes.
Part 3. FAQs about the Image to PDF Converter
Can I convert HEIC to PDF?
Yes, converting HEIC to PDF is simple and easy, even if you don't have vast knowledge about converting. Before you convert HEIC to PDF, you'll need to choose first the converter you can use to do the conversion process. Select the best converter for your needs that supports HEIC as an import file and PDF as an output.
Does renaming the extension convert the image to PDF?
No, it doesn't. Even though you change the image extension to .pdf, the file isn't going to turn into a PDF file. It is only a waste of time to change the name; instead of changing it, use an image to PDF converter to do the task.
Why are the PDFs encrypted?
When you add encryption to the PDF file, the user who wants to open it needs to know the file's password. Adding encryption to the PDF can be a huge advantage for everyone who wants to protect their file from trying to open it.
Conclusion
After all, the image to PDF converter online and offline is mainly needed. Before you pick the converter you use, it is better to read some information about the software and its pros and cons. We hope that we helped you in selecting the tool to choose with this article. So what do you think about this article?

Leave your comment and join our discussion