Best Messaging Apps for iPhone/Android
Everybody is messaging. As our dependence on mobile technology grows, the use of instant messaging apps plays a role bigger than ever before. Also on account of that, you can now see more and more messaging apps provided with advanced features such as social networking, free mobile calling, etc.
When it comes to choosing a messager app for your own, you may get confused. Established mobile apps like WhatsApp, Facebook Messages, Apple Messages are still dominate, but they have tons of promising competitors now. In this article, we have organized 10 best messaging apps for iPhone/Android in 2021. I'm sure you can find one you like.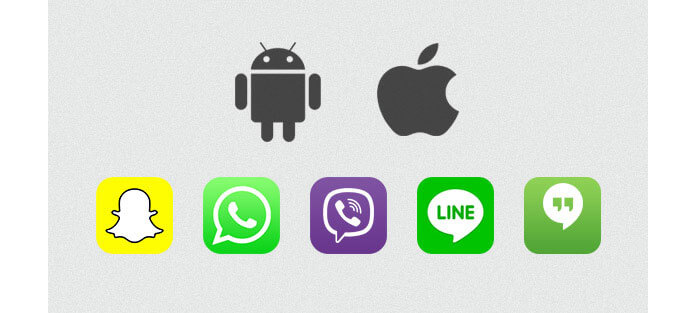 1. WhatsApp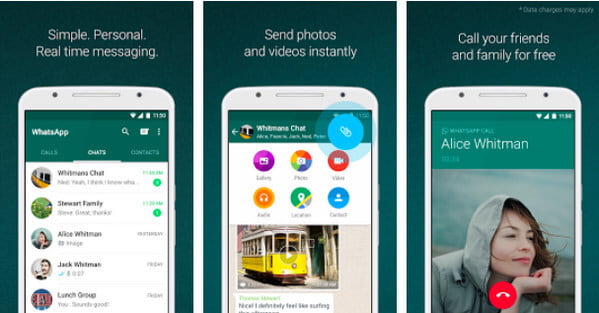 The enormously popular WhatsApp is a mobile text messaging app designed for cell phone users to send text messages and make calls over the internet without incurring a charge from their cellular carriers. WhatsApp offers simple chat, group chats, free calls - even to another country - and end-to-end encryption for your security. You can send video and photos instantly, dictate a voice message and send PDFs, documents, spreadsheets and slideshows within the app.
WhatsApp is a cross-platform app. It's available for Android, iOS and Windows phones, and for Windows and Mac computers. It offers a web application for other mobile devices.
2. Facebook Messager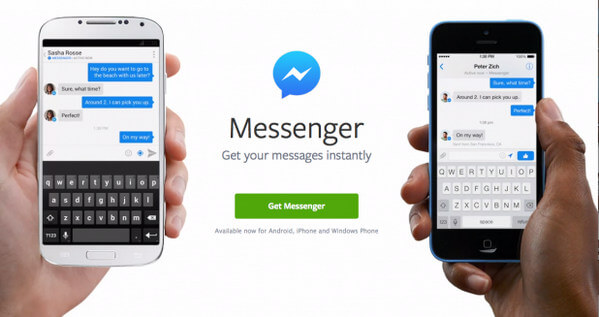 Facebook has its own separate messaging app that makes it very convenient to chat with friends and family. It will automatically populate your contacts, but you can also add a contact, or allow someone to add you as a contact, by scanning a unique code. There are plenty of free stickers and you can send GIFs. The video and voice calling is clear and very reliable.
Facebook provides this messaging app on both iPhone and Android. On Android, the "Chat Heads" feature allows you to keep a chat icon floating on top of your screen, which is very convenient.
3. Viber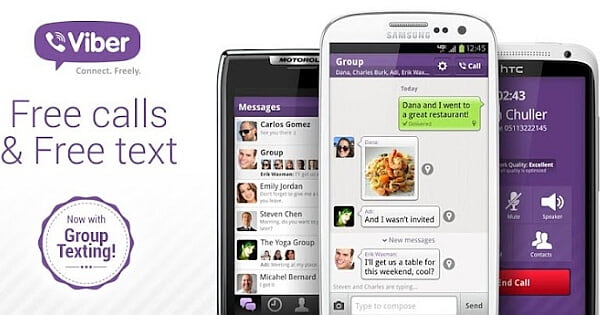 Viber is a lot like WhatsApp, but couldn't take off in a big way. It gained most of its popularity being one of the first instant messaging apps to offer free voice calling, and that is still the app's mainstay. The interface is good and the messager app still has good features like celebrity chats, stickers and emojis. If you wanted a messaging app that would sync well with your contacts and give you instant online calling option over the internet, Viber is a good bet.
4. Telegram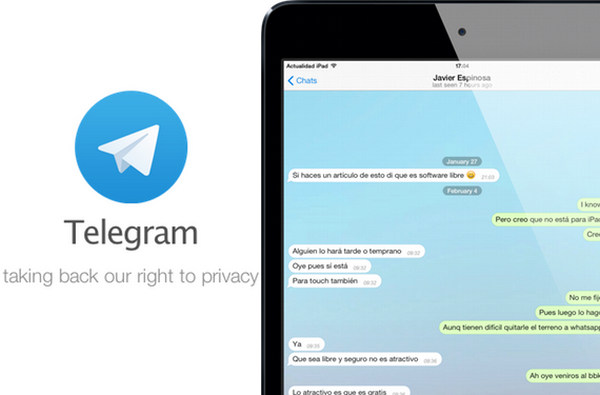 Telegram is not only a quick and simple messaging app for iPhone/Android, but has an excellent 'secret chats' feature. Telegram provides cloud-based messaging service that promises fast and secure messages. Conversations are encrypted and can only be accessed on the same device where you started the chat. This messaging app enjoyed some notoriety when it turned out that Islamic State was apparently using Telegram to recruit followers.
5. LINE Mobile Messaging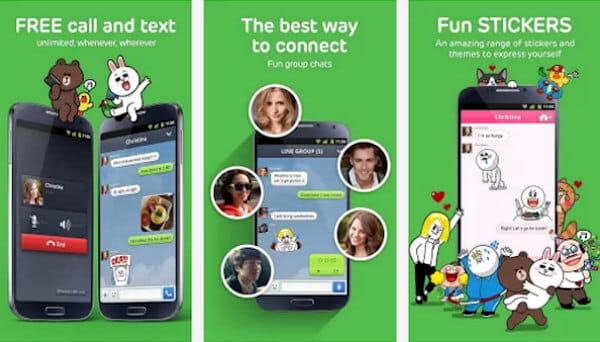 LINE is a mobile messaging and voice calling app with social networking and gaming features that add a social entertainment aspect to messaging. Line offers free voice and video calls, you can start one-on-one and group chats with friends anywhere. What's more, this messaging app has some really charming cartoon characters, cool stickers and themes, which makes it very popular among young people.
6. Snapchat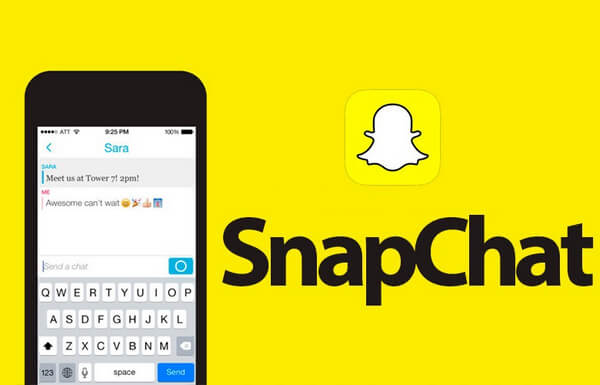 Snapchat has grown immensely over the past couple of years, mainly due to the large teenage fan following the messaging app managed to gather with their unique take on Instant Messaging.
Snapchat basically enables live video conversations with selected friends with the added twist that all video messages can only be viewed for 10 seconds before they are deleted from the company's servers (as claimed). Its most famous feature is funny filters for your video snaps, and it also offers photo editing. It's definitely the most fun way of delivering bite-sized communications to data.
7. Google Hangouts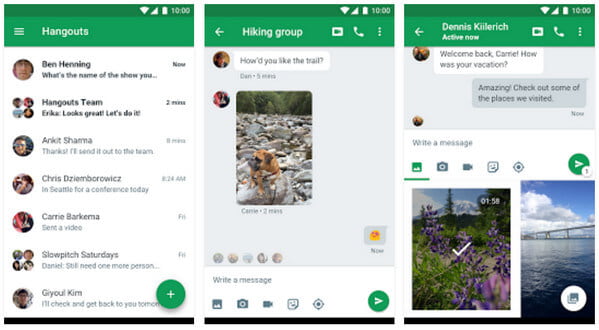 Google Messenger, also known as Google Hangouts, is an instant messaging app for Android/iPhone that provides both text and voice communication. The instant messaging service is very convenient for people with Google account to message, phone or video call friends and family. When messaging with this application, you are able to add photos, emojis, stickers and GIFs to your messages, turn message into a voice or video call, etc.
8. WeChat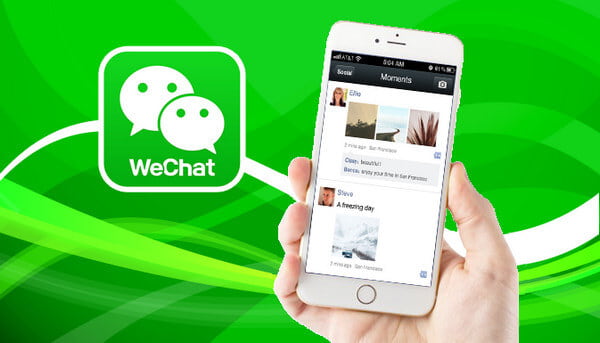 Developed by China's Tencent Holdings, WeChat is one cross-platform messaging app for iPhone, Android. Features include traditional messaging, hold-to-talk voice messaging, broadcast messaging, photo and video sharing, location sharing and more. WeChat fully developed the self-contained network, which enables users to share, like and comment on photos, videos very easily. WeChat has already been the one that's mentioned a lot when speaking of messaging app. If you're looking for a free messager app, WeChat is worth a try.
9. Signal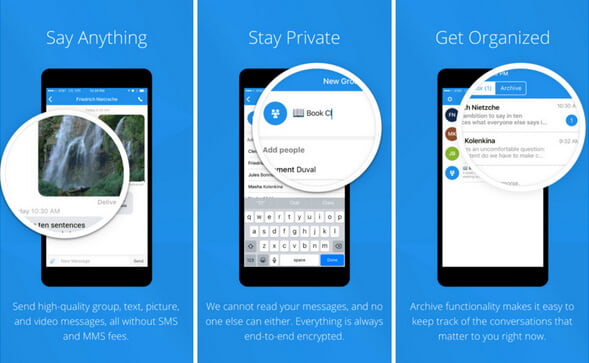 Signal, from Open Whisper System, is one of the most highly recommended messaging apps for iPhone/Android when it comes to chat encryption and security. This messaging app has military grade encryption for all your messaging and voice calls. It supports sending texts, voice calls, group messages, and sending media attachments. Edward Snowden famously recommended this messaging app, which makes it a top pick for people who are looking for security, first and foremost.
10. IM+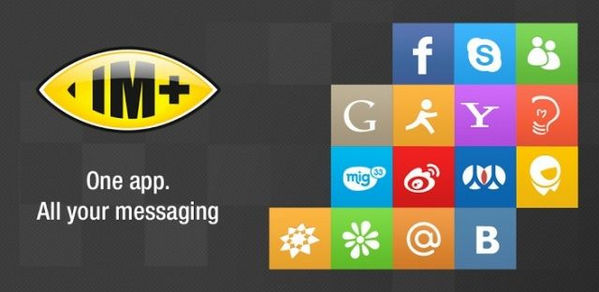 For people who are using more than one messaging service, IM+ may be the solution. This messaging app allows you to send and receive instant messages from a wide variety of services, including Google, AIM, Twitter, ICQ, Yahoo, Facebook, Live, etc. If you're still relying on older messaging apps, or have many lingering accounts that aren't WhatsApp or Line, then you can aggregate them all in IM+ and simplify your life.