Best Text Messaging Apps for Android and iOS
As our dependence on mobile devices grows, so does the need for constant and instant communication with your friends and family. That explains why text messaging apps have developed so quickly, providing rich services and interaction with others, including free text messaging, voice/video calling, file sharing and more.
You may find so many text messages apps on the Internet, and wondering which one is suitable for you. Give all this, we have updated our list of the best Text messaging apps that you can download for free and replace your stock messaging app. Hope this can help you.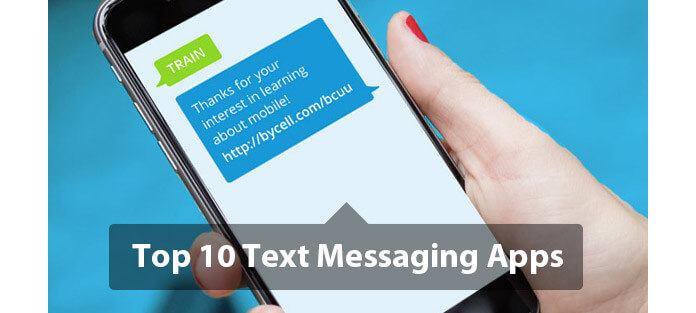 Part 1. Best text messaging app for Android
1. Chomp SMS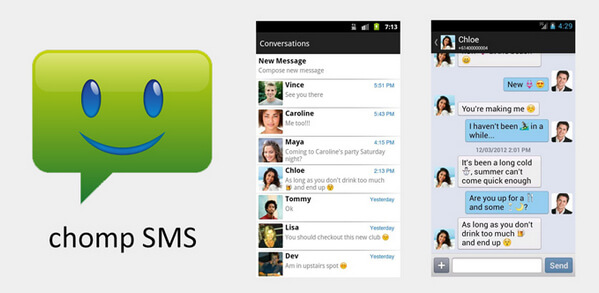 Chomp SMS is the most popular text messaging apps available on the Play Store. You can choose from hundreds of free themes to personalize your text messaging experience. Some of the features include scheduled SMS sending, delayed messages, group MMS, pinning favorite conversations to the top, messaging blocking and sending quick replies. You can also customize your SMS notifications according to your contacts by setting up vibration patterns and LED colors for alerts. Chomp SMS also works with Android Wear, brings over 1,600 emojis and is free to download.
2. Google Messenger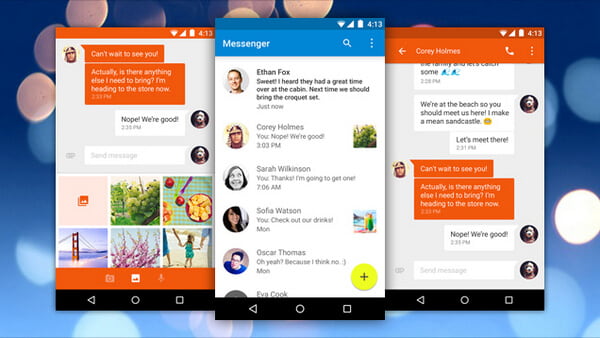 As one of the best text messaging app for android, Google Messenger has all the basic features you need for an enjoyable text messaging experience. It comes with an eye catchy design interface. In addition of sending free texts, you can also do audio message recording and take pictures using the app.
3. Go SMS Pro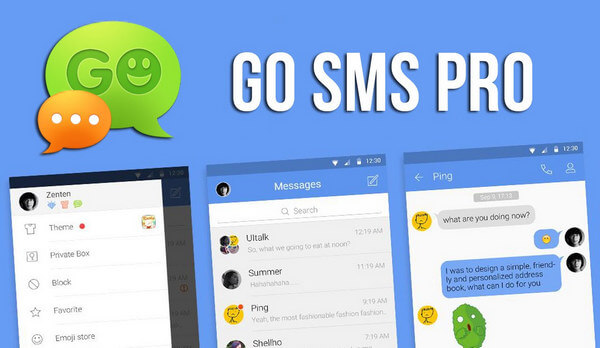 Go SMS Pro is designed by Go Dev Team, known for their remarkable contribution to the Play Store like keyboards and launchers applications. Like other text messaging apps for Android, Go SMS Pro supports a lot of customization options courtesy themes and stickers which are updated regularly and has some staple features like a Private Box for personal messages, free online text messaging. You can also block unwanted numbers from sending you texts. Delayed sending and cloud backup of all texts are also supported and the app, like others, is free.
4. MySMS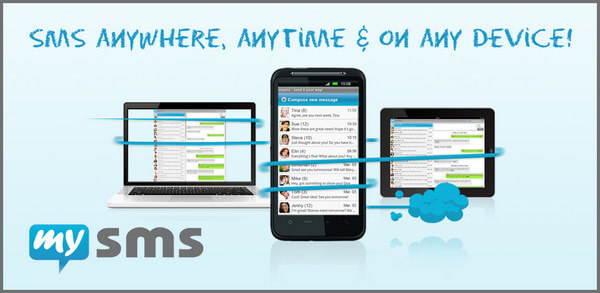 Regarding one of the best text messaging app for android, users have often had great reviews for MySMS in recent times. As a cross-platform friendly android text messaging app, MySMS enables users to post from their tablet or computer by just using their android device phone number. It also supports MMS and group messaging and can connect with services such as Google drive and Dropbox. The downside is that many of its advanced features require subscribing to a premium membership.
5. Textra SMS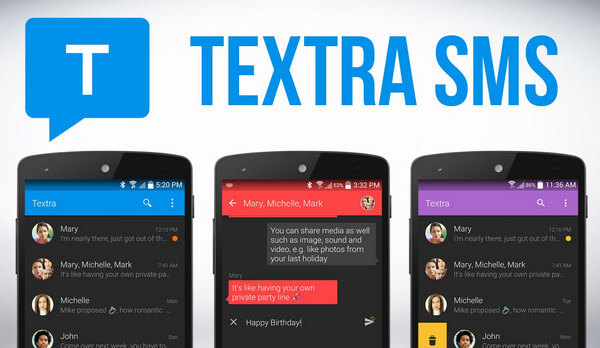 Textra is a great text messaging app which makes excellent use of Material Design, therefore it is visually beautiful. Textra the text messaging app has more features than most stock SMS apps, including floating notifications, quick reply popups, and a heap of signature and notification types. Textra SMS features more than 100 different themes and app icon colors, making it one of the most customizable messaging apps available. What's more, it's compatible with PushBullet and Android Wear.
Part 2. Best text messaging app for iOS
1. WhatsApp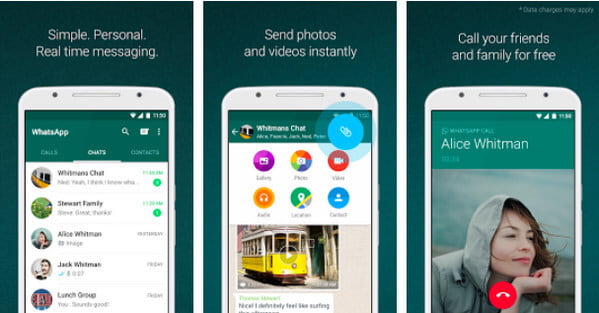 As one of the most used text messaging apps in the world, WhatsApp is very easy to use. After entering WhatsApp password, You can free chat, share things including your location, photos, documents, etc. and make video and voice calls. The set up requires you to grant it access to your contacts, so it can automatically populate your contact list. One more attractive thing other than its massive popularity, is the addition of end-to-end encryption for privacy and security. It also supports GIFs and Snapchat-like editing features for fun.
2. Facebook Messenger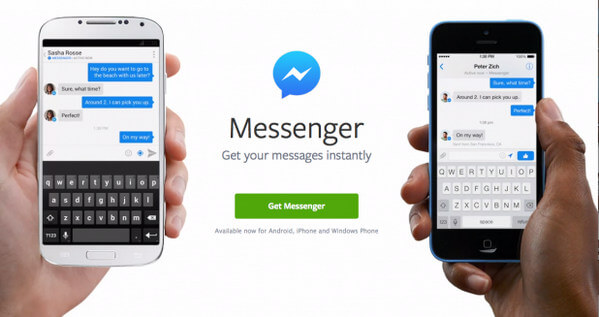 Facebook Messenger is the standalone text messaging app version of Facebook's core email/messaging feature, which makes it more convenient to connect with our contacts. You can send photos, stickers, GIFs and videos to individuals or groups on Facebook. The video and voice calling is also very clear and reliable.
3. SnapChat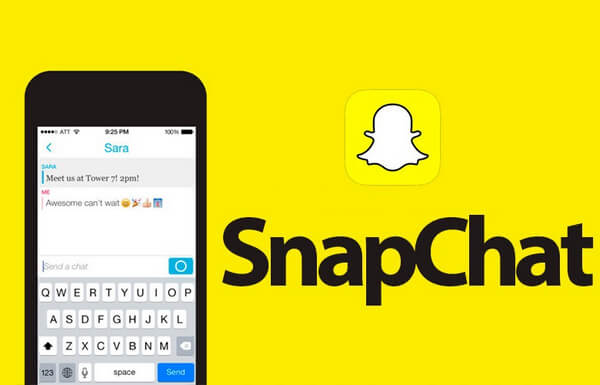 Many people regard Snachat as the Facebook Messenger alternative. As people are more willing to share photos and pictures, text messaging apps like SnapChat become increasingly popular. SnapChat is a way of sharing images instantly and privately, with the added bonus that the images don't hang around for long, ten seconds at most. The most famous feature of this messaging app is funny filters for your video snaps with photo editing function. It's definitely the most fun way of text messaging.
4. TextNow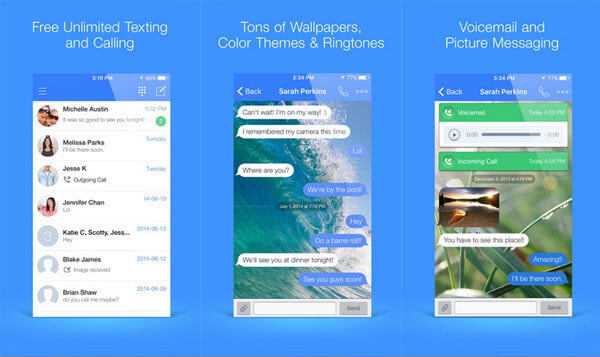 TextNow (Free, with in-app purchases) works much like the other text messaging apps on this list, in that you get a phone number associated with your account and in exchange you have to look at some ads every so often. TextNow also includes a good amount of customization—you can add custom wallpaper, upload thumbnail photos, or share your number on Facebook and Twitter. Like many other apps, it also supports voice calling and requires the earning or purchase or credits to enable some features.
5. Telegram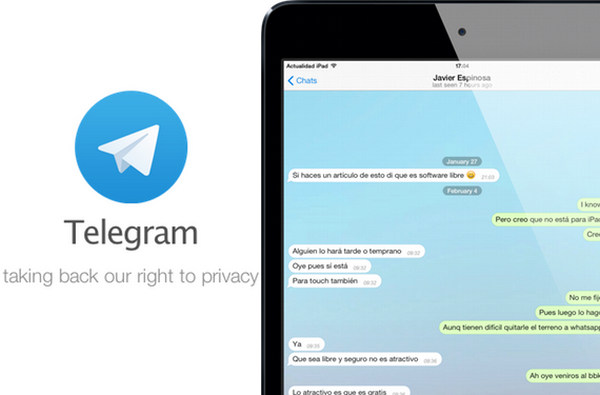 Telegram is a great text messaging app for iPhone. You can send and receive all manner of files, including PDFs, Word documents, and more. All of it is saved in the company's secure cloud storage. You can create a group chat with up to 200 people at once. If you find yourself needing a little extra privacy, you can open up a secret chat in real-time with someone. Secret chats use end-to-end encryption and includes a self-destruct timer, so your conversation can disappear forever.
In this article, we have mainly showed you 10 best text messaging apps for Android or iOS. Still have recommendations about text messaging apps? Feel free to leave your comments down below.