Easy Ways to Perform LaCie Data Recovery
Yes, you can repair LaCie external hard drive and recover your lost data easily here.
LaCie is a useful backup drive in the market. If you delete some files by mistake, you can restore backup from LaCie. However, there are many complains about the LaCie hard drive failure. For instance, the LaCie storage device cannot be recognized or accessible suddenly.
However, do not worry about that. This article is exactly the latest LaCie external hard drive troubleshooting you are looking for.
Though you cannot open or write files stored in LaCie hard drive, those files still exist in the "invisible" state. Just stop using the external storage device once you find the problem. Just leave the hard drive alone. Otherwise, the new saved item may overwrite the previous data, which make the LaCie data recovery difficult.

LaCie Data Recovery
Part 1: Why Files in LaCie Hard Drive Lost
To start with, let's figure out the real reason why you encounter data loss in LaCie hard drive. As a result, you can prevent the same error and protect important files easily. Well, the followings are common causes, just read and check.
Delete files and empty trash with no backup.
Terminate system files suddenly due to power surge and other reasons.
Unplug LaCie hard disk while reading or writing forcibly.
Corruption in header file.
Hardware or software issues.
Crashed computer
Corrupted or broken LaCie external hard drive.
Virus attack or malware.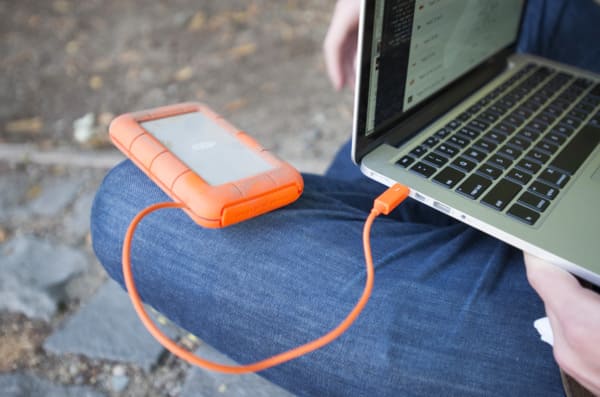 There are also other reasons that lead into LaCie external hard drive not working and data loss errors. Then here comes the question, how can a novice user distinguish the real reason and get back the deleted files successfully?
Actually, you can use LaCie data recovery software to rescue lost data easily as a pro. The followings are two useful solutions you can refer to. Let's read together to solve the problem.
Part 2: 2 Methods to Recover Files from LaCie Hard Drive
Wanna troubleshoot LaCie external hard drive data loss errors? It's OK if you have no experience of data recovery before. Just do as the following paragraphs tell to recover data from LaCie hard drive step by step.
Method 1: Recover Lost Data from a LaCie External Hard Drive Selectively
Aiseesoft Data Recovery can help you recover any deleted, corrupted or lost data from LaCie hard drive and other portable devices effortlessly. In another word, you can recover almost all files from deletion, formatted partition, crashes computer and other data loss errors directly.
In a word, Aiseesoft Data Recovery is novice-friendly LaCie data recovery software with powerful features.
Recover data from LaCie external hard drive, computer and other removable drives selectively.
Not only LaCie, you can also get data recovery from G-Technology, Buffalo, Toshiba, etc.
Get back any data type to your computer.
Offer simple data recovering modes for all situations including formatted devices, unexpectedly operations and more.
Provide fast scanning speed and reliable LaCie data recovery services.
Simple, clean and user-friendly interface.
Step 1Launch Data Recovery
Free download and install Aiseesoft Data Recovery on your Windows computer. Double click its icon to launch the LaCie data recovery program after the installation.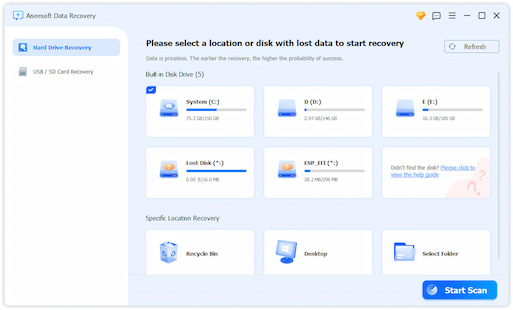 Step 2Choose data types and hard drive to recover
If you want to recover photos from LaCie hard drive, you can choose "Image" under the question "What type of files you want to recover?".
Consequently, you can set LaCie as the location where you want to recover data. Of course, you can also choose other available data types together.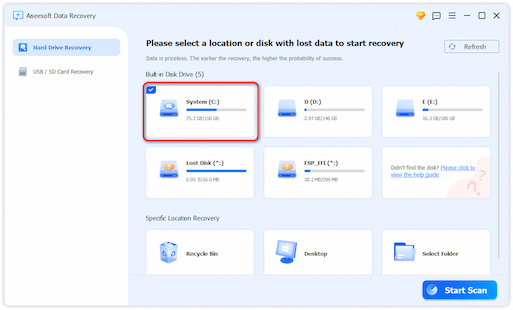 Step 3Scan the selected data
Click the "Scan" button to start a quick scanning on the chosen part immediately. Wait for a while to complete the process. Later, you can see all files displayed in categories. Just choose and preview any file you need. If you fail to find the target file, you can choose "Deep Scan" instead.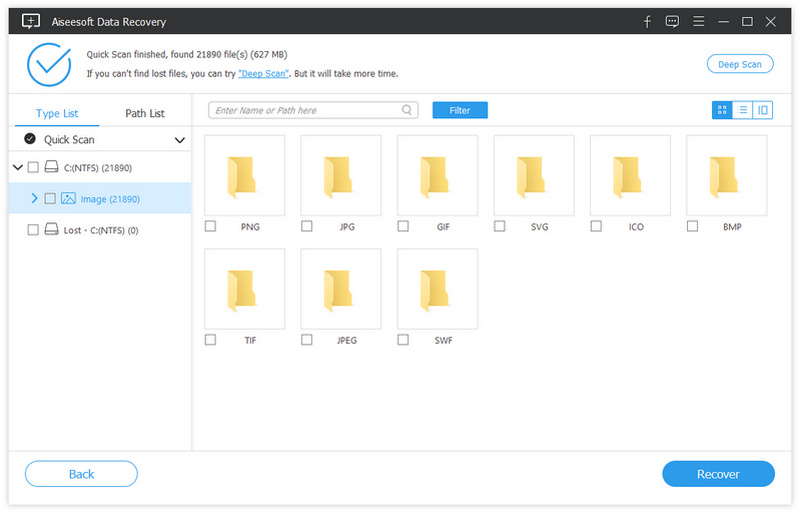 Step 4Perform LaCie data recovery
After all operations, click the "Recover" button on the lower right corner of the screen. Later, you can get the recovered data from LaCie external hard drive to your computer successfully. Choose "Open Folder" if you want to access the LaCie data quickly.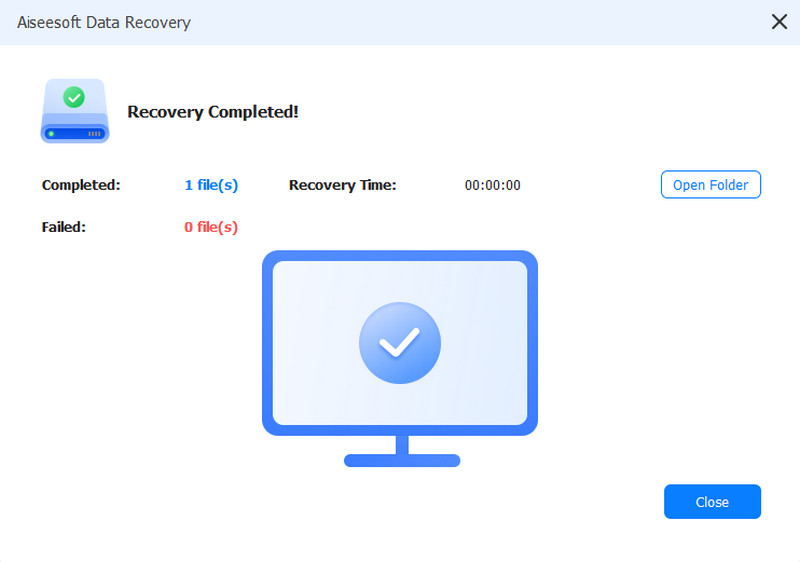 Method 2: Repair LaCie External Hard Drive on Mac and Windows by Formatting to Factory Settings
Before formatting or resetting LaCie hard drive to factory settings, you need to know some basic knowledgeable about drive formats.
FAT32: You can save files less than 4GB. Both Windows and Mac computers are supported.
NTFS: For Mac users, you can only read files in NTFS format instead of writing. There is no maximum file size limitation.
Mac OS: This is a Mac-only format, and you can save files larger than 4GB.
To format a LaCie external hard drive on Mac:
Step 1 Open "Disk Administrator" or "Disk Utility" from "Applications" on Mac.
Step 2 Highlight your LaCie hard drive in the left panel, and then choose "Erase".
Step 3 Choose "FAT32" or "Mac OS" based on your need.
Step 4 Set a new name for your LaCie hard drive.
Step 5 Click "Erase" twice to repair LaCie external hard drive Mac.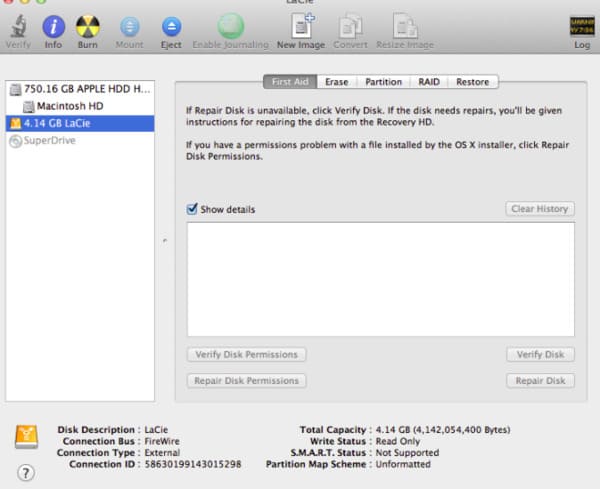 To format a LaCie hard drive on Windows:
Step 1 Head to "My Computer", then right click on your LaCie hard drive.
Step 2 Choose "Format" from the right-click menu.
Step 3 Set "NTFS" or "FAT32" from the "File System" dropdown menu.
Step 4 Click "Start" and "OK" in order to confirm the format request.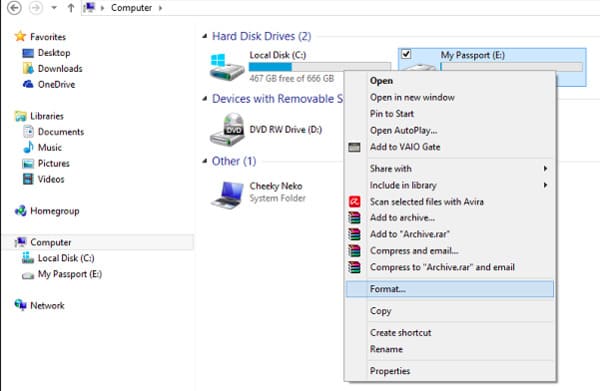 If you decide to format your LaCie hard drive, you had better make a backup in advance. Well, it does not matter if you cannot backup data instantly. Because Aiseesoft Data Recovery can help you perform LaCie data recovery after format within few clicks. Sounds pretty good, right?
Learn here to get format drive recovery.
So if you want to recover lost files back to your LaCie external hard drive quickly and easily, then Aiseesoft Data Recovery should be your first choice. If you have any other good recommendation of LaCie data recovery tools, please don't hesitate to contact us.