How to Recover Deleted/Lost Files from Hitachi Hard Drive
My Hitachi 500GB hard drive is dead. It does not respond when power is given. I have all my childhood memories in there, can it be repaired?
Hello all, I am in the midst of trouble that disk utility is failing to repair my Hitachi drive…
When you find the data stored in the Hitachi hard drive is deleted or corrupted, you need to use a Hitachi hard disk repair tool as soon as possible.
Well, the moment you delete or format a file in an external hard drive, the particular partition will be marked as available instead of being erased completely. Therefore, you can still get a chance to recover Hitachi data before being overwritten.
Wanna get the deleted or missing data back? Just read and get your best Hitachi hdd firmware repair tool here.

Hitachi Disk Repair Recovery
Part 1: What Is Hitachi Hard Drive
Hitachi is a Japanese technology company specialized in hard disk drives and more. The Hitachi hard drive is a non-volatile storage device that you can store all kinds of digital data, similar to G-Technology hard drive.
To use the Hitachi hard drive tools, you need to install the driver software with free disk drive diagnostic and management tools from its official website.
Well, Hitachi hard drive works on Windows and Linux platforms. With the support of 48-bit addressing, you can add more memory space to the IDE (integrated development environment) hard disk drive. Moreover, you can transfer data from the Hitachi hard drive to your RAM (random access memory) freely because of the UDMA (ultra direct memory access) protocol settings. However, many people complain that the real storage space in Hitachi hard drive tools is less than the advertised capacity.
Part 2: How to Recover Lost Data with Hitachi Disk Repair Recovery
Aiseesoft Data Recovery is the powerful Hitachi hard disk recovery software for both beginners and professionals. You can recover almost all deleted or lost files from your Hitachi hard disk including photos, emails, contacts, videos, audios and more. What's more, this Hitachi hard drive repair tool can export the recovered file to any format as you need.
In a word, Aiseesoft Data Recovery can be your smart choice for Hitachi disk repair and recovery.
When You Should Use the Hitachi Hard Drive Recover Tool
If you delete some files by mistake in Hitachi hard drive, you can run Aiseesoft Data Recovery to get back the deleted items selectively.
When you find the data is formatted due to virus attack, system crash and other errors, you can use the Hitachi hard drive firmware repair tool to solve the problem.
If the whole partition is deleted or corrupted unexpectedly, or you fail to find the Hitachi hard drive in the Windows Explorer, you can recover the lost data from partition to successfully.
What Can Aiseesoft Data Recovery do for Hitachi Repair Recovery
Recover any deleted/lost/formatted data from your computer, memory card, flash drive, digital camera camcorder, hard drive and removable drives.
Offer 2 simple data recovery modes for all situations, such as partition deletion, formatted drives and more.
Provide the filter function to search and preview any file you need quickly.
Wide support of revocable file types like images, emails, videos, audio files, and system files recovery like ASD, DLL, PST, etc.
How do You Recover Deleted/Lost Files from Hitachi Hard Drive Selectively and Safely
Step 1Launch Data Recovery
Free download and install Aiseesoft Data Recovery on your Windows computer. Launch the Hitachi hard disk repair tool after the installation. You can get a clean interface with a direct on-screen instruction.
Step 2Select the data type and hard disk to recover
Choose the data type you want to recover, like "Image", "Audio", "Video", "Email", "Document" and "Others". Later, you need to select your location for Hitachi hard drive tools bad sector repair.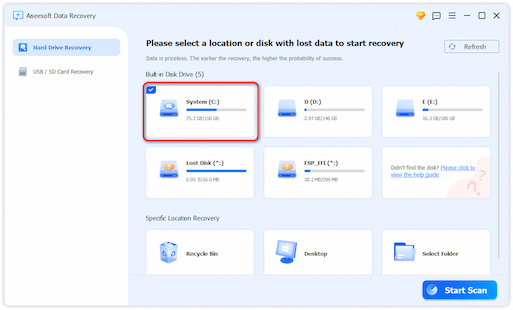 Step 3Scan data on the Hitachi hard disk
There are two scanning ways you can get.
If you want to perform a quick scan, you can click the "Scan" option on the lower right corner of the window directly.
Well, if you fail to find your missing data, you can choose "Deep Scan" to get all possible results. Wait for a while to complete the scanning process.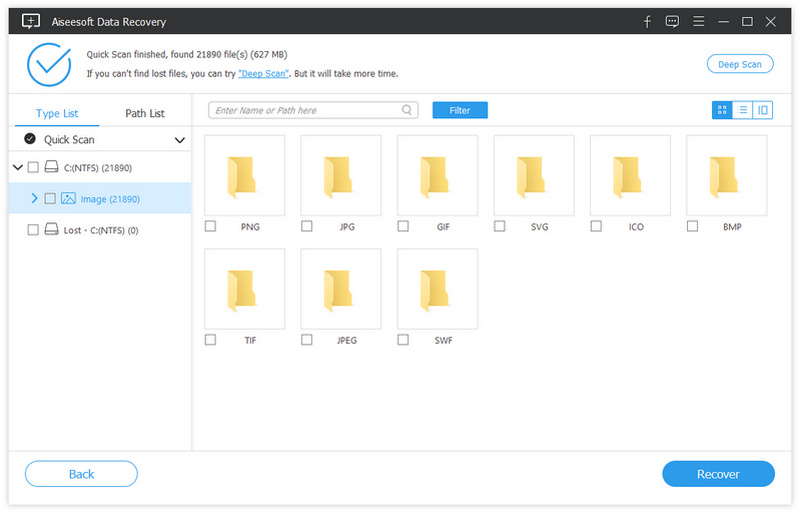 Step 4Choose the file you want to recover
After that, you can see all deleted or lost files displayed in categories. Open one folder to preview all its contained files.
Actually, you can use the "Filter" function to search your target file quickly. Use the preview window to get the detailed information.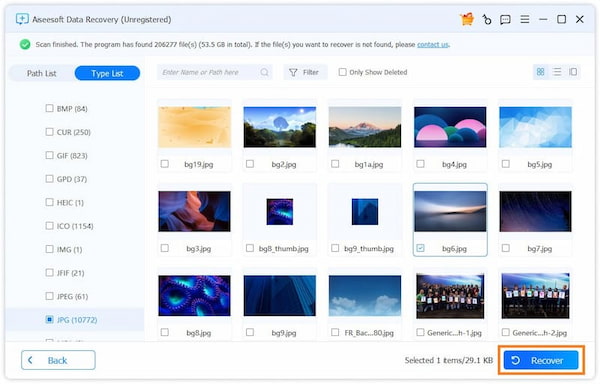 Step 5Recover data from Hitachi hard drive tools
Finally, click the "Recover" button on the lower right corner. Aiseesoft Data Recovery will start recovering data from Hitachi hard drive immediately. When the data recovery process ends, you can choose "Open Folder" to navigate its destination folder quickly.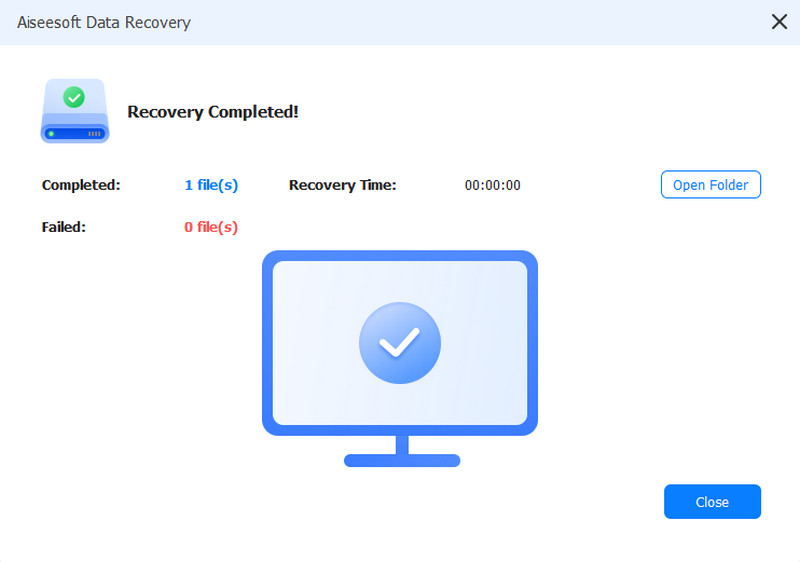 Part 3: Tips about Diagnostic Hitachi Hard Drive
The hard drive damages and failures can cause the critical data loss problem too. Therefore, you need to monitor and diagnose the Hitachi hard drive for hardware issues.
During this time, you can try some free tools for Hitachi hard drive tools diagnostics. Well, HD Tune, Acronis Drive Monitor, Crystal Disk Info, Speed Fan and See Tools are your good choices. Moreover, it is a good way to prevent your Hitachi hard drive from malware, virus and other potential damages.
Through above paragraphs, you can get useful solutions to check your hard drive for errors, as well as Hitachi disk repair recovery. So next time you encounter any problem and need the Hitachi hard drive support, you do as it tells to fix your hard disk back to the normal state.
Well, share this article if it works. Thanks for your reading.