Top 10 Photo Video Makers – Make Stunning Photo Videos
Recently, a kind of photo video maker app has come to people's view. After shooting photos with your smartphone, you can use such a photo video maker to create your own movie. Without doubt, this is a great way to share your life, your story with your family and friends. Here we recommend the best 10 photo video makers for you to create your beautiful life story.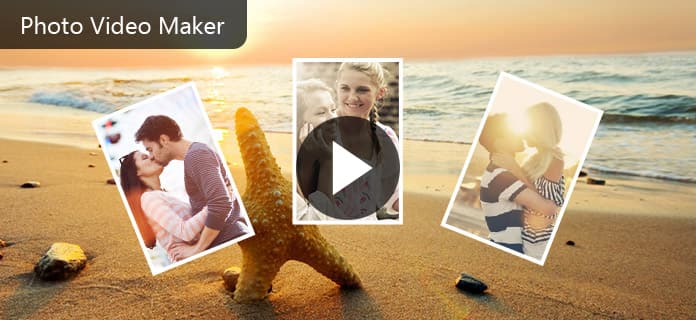 Photo video maker
1. Easy Photo Movie Maker
Easy Photo Movie Maker makes it possible for you to convert your still photos into videos, DVD movies, and digital albums. By using this photo video maker to combine multiple images into a movie, your life story can be told to your family, friends and even the world.
Key Features:
Drop in photos, select music, type titles, set photos effects easily.
It is a lightweight program that needs less space than the average software.
You can share the created video directly to your social platform, or save on your computer.
Price: Free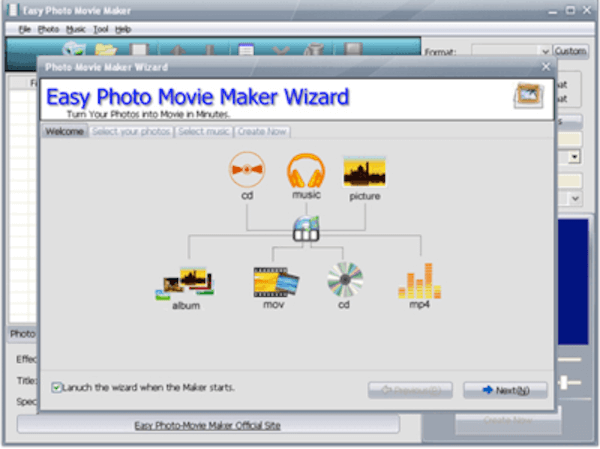 Easy photo movie maker
2. Slidely
This easy application can help you to make a moving story from a photo video. Using this photo video maker, you can simply select these photos you like, input them into Slidely, add a little music, choose an appropriate theme, type a new name for the video, then end it up with a nice movie to share your story with your friends.
Key Features:
Slidely allows you to add effects, captions, as well as music to the imported photos.
You can also enhance the pictures by editing and applying transitions, overlays, and more effects.
You are allowed to add your own unique watermark on the photo video by editing in the trial vision.
Price: Free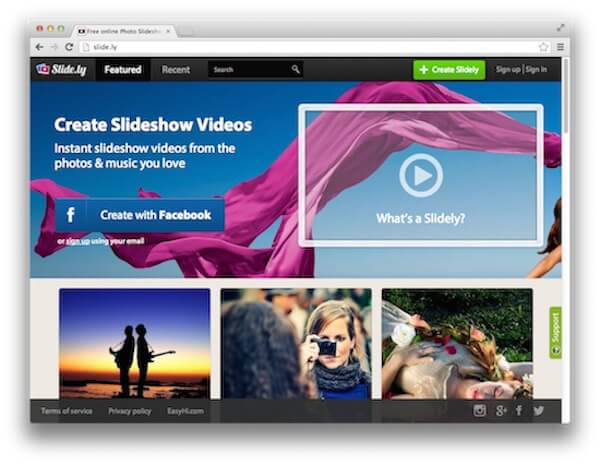 Slidely
3. Movavi Video Editor
This is another great program that makes videos out of your photos on your computer. Just select your favorite photos, add some interesting transitions on the app, and import a suitable song. That is it! You've made your own photo video with this great photo video maker!
Key Features:
Add transitions between the clips in one pass with one click.
Jazz up the created movie with special subtitles and fair-sounding music.
Offer amazing editing tools for you to add background music, input pre-recorded narrations into the video.
Price: Free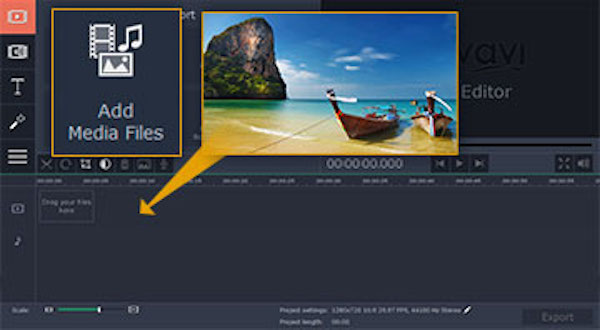 Movavi video editor
If you are looking the easiest and safest method to recover lost data from iPhone when your iPhone battery abnormal causes data loss, then definitely iPhone Data Recovery is your first choice. You can back up and restore most iOS data without data loss. Moreover, even though your iPhone got badly damaged because of water damage, factory setting restore or others, you can still recover the lost data from your broken iPhone without data loss. Therefore, iPhone Data Recovery can replace iTunes to back up and restore your iPhone data safely.
4. PhotoStage Slideshow
PhotoStage Slideshow offers an intuitive and organized environment for fast creating high definition movies. This photo to video maker is aimed at creating dynamic videos from your photos quickly and easily. Moreover, it can turn live photos on iPhone to video easily. After you have made a photo movie already, you can share it online with your family and friends.
Key Features:
You can upload the movie directly to your social circle and share online.
It allows you to add innumerable photos, video clips, music and narrations without limitation.
PhotoStage Slideshow provides a wide range of transitions and effects to customize your own movie.
Price: Pro Edition $80; Home Edition $60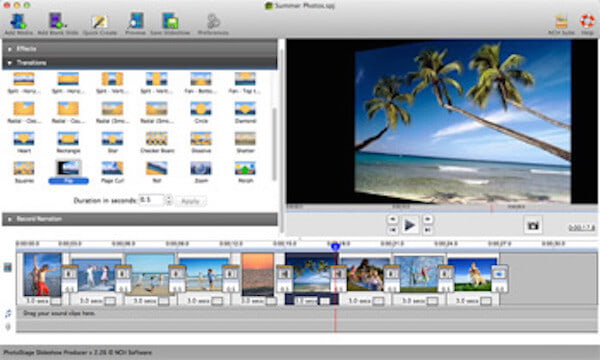 PhotoStage slideshow
5. Filmora Video Editor
Filmora Video Editor is also a nice option for you to considerate. Filmora Video Editor enables you to make videos with photos and music, though it is named as video editor. You can import pictures in BMP, JPG, PNG, GIF, TIF, ICO and more formats, and then combine them into a unique video. Also, it applies to both Mac and Windows PC.
Key Features:
Filmora Video Editor allows you to create videos with pictures.
You are supported to revolve the photos and set the contrast, saturation, brightness, and etc.
You can add and edit photos as you like, such as editing and applying filters, transitions, overlays, PIP, and more other effects.
Price: Free download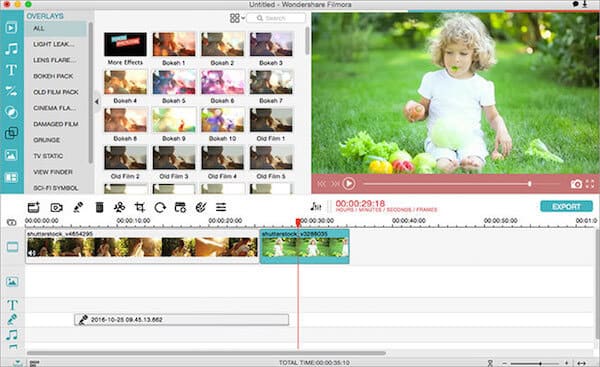 Filmora video editor
6. Smilebox
With Smilebox, you can transform photos from your smartphone or camera into a beautiful and memorable movie with ease. This wonderful photo video maker will let you find inspiration and beauty around every corner in life.
Key Features:
You are allowed to export the video to email, post, and share it on your Facebook, or burn to a DVD.
Smilebox provides a variety of slideshow designs for you to choose under different occasions.
You can add photos, videos, music when editing the photo video, and then photo video maker will do the rest automatically.
Price: Free for download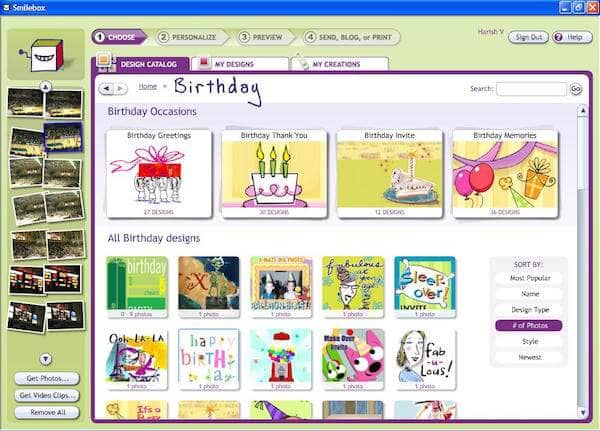 Smilebox
7. Slideshow Maker
Slideshow Maker is the best photo video maker to create amazing videos with photo/music/video clips as well as edit video effects. As a video editor, it is good at adjusting video effects for your better enjoyment. Additionally, it supports you to export your own video files as any popular video format, including VOB, MP4, AVI, MKV and so on.
Key Features:
Import multiple pictures and combine them to video to create your own movie.
All video/photo formats can be adopted by this slideshow maker app for you to create your own slideshow files.
You can adjust and edit the created video by adjusting the output effects, adjusting video parameters, adding text as the subtitle.
Price: Free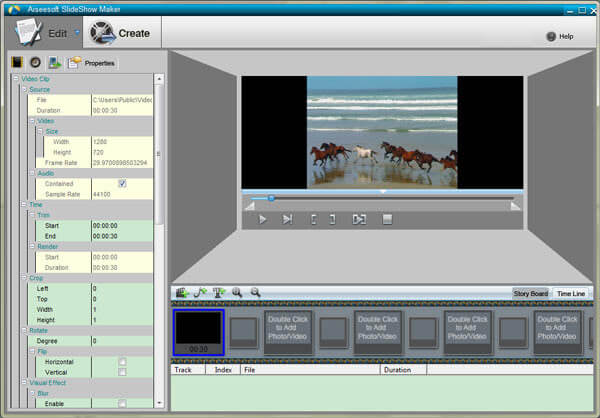 Slideshow maker
Here's the video about making slideshows for you. Click it to check.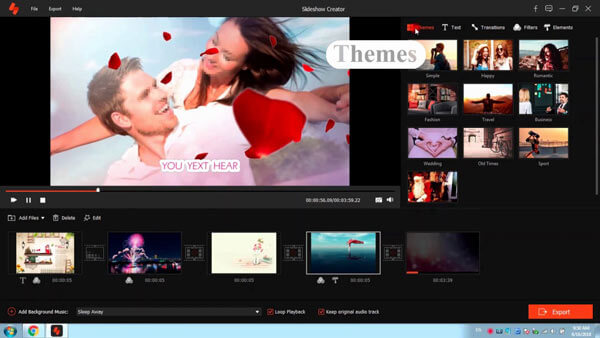 8. Animoto Video Slideshow Maker
Animoto Video Slideshow Maker is an excellent tool for you to turn your cherished pictures into great movie in 5 minutes. You can use this photo video maker to create customize video slideshows easily. However, the only disadvantage of this application is that it is only available on the App Store for iOS device.
Key Features:
Animoto Video Slideshow Maker is really easy enough to use and straightforward.
The layout on the interface is easy, concise and elegant, which is really delightful.
There are various selections of themes and effects for you to make a special video slideshow.
Price: Free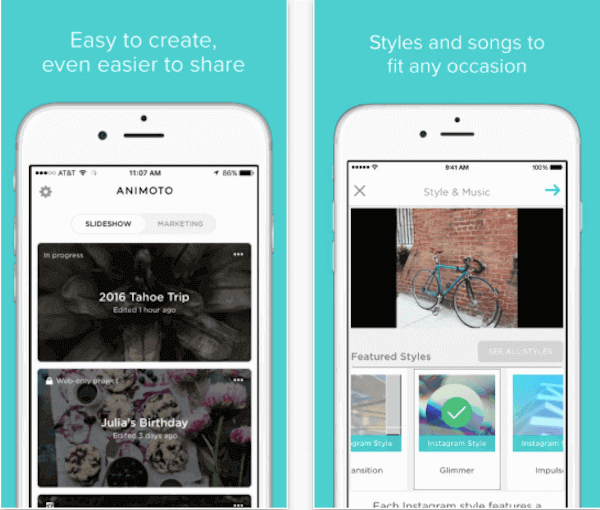 Animoto video slideshow maker
9. Viosk
Viosk can be used as a wonderful online photo video maker that connects, integrates, and automates your interesting photos with video. You can search its official website on Google, and then log in it. After signing up, Viosk allows you to create a high-quality video with your own pictures at a low cost. What's more, it is really easy to operate and you don't need to handle too many technical skills.
Key Features:
Create various templates with different animation styles for you to select.
You can add text you like and edit these photos as you need directly in your video scenes.
Make the photo video from a lower quality to extremely high definition that is equal to TV standard.
Price: Free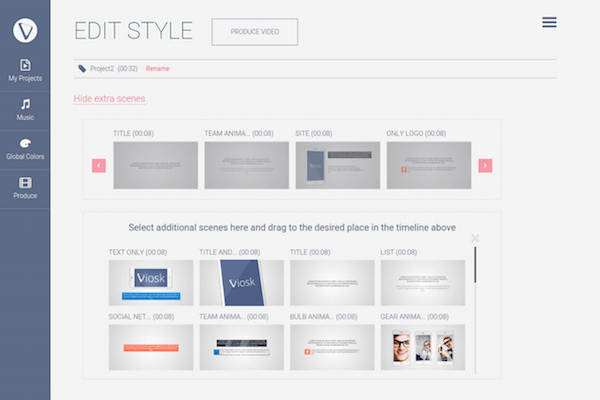 viosk
10. Adobe Spark Video
Adobe Spark Video software is a powerful photo to video maker, which can help you to create fully customizable slideshows and movies. With Adobe Spark Video, you can easily make your own video slideshows in minutes, even without any design skills.
Key Features:
Allows to add photos, music and even text when making a photo video.
Provide with different customization options for you to customize a truly unique video from photos.
There are lots of nice typography and professional themes for you to choose according to different occasions.
Price: Free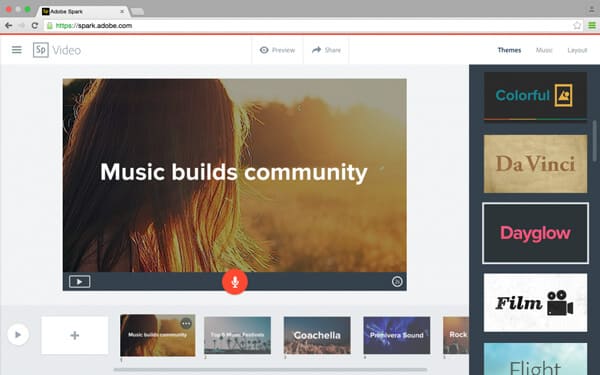 Adobe spark video
Conclusion
Above is the introduction about top 10 photo video makers. All the software mentioned above is easy and convenient to operate. Don't be afraid to have a try and play around with the multiple options until you've found your favorite one. We hope this passage can help you to some extent.