How to Make A Live Photo to A Video Easily?
Live Photo is a new camera feature that is firstly applied to iPhone 6S. A live photo will capture sound and movement 1.5 seconds before and after a photo is taken to create a video-like effect. But when you share the live photos you took with your friends or family, its animation effect is often lost. In order to solve this problem, it'd be a good idea to convert live photos to videos before sharing them.

Part 1: Convert live photo to Loop or Bounce video
You can turn live photo into video directly in your Photos app without the help of any third-party tool. Though live photos are the features in iOS 10, the built-in Loop and Bounce effects in the iOS Photos app are since iOS 11. The Loop effect makes a live photo play over and over, and the Bounce effect makes a live photo play forward and backward. Both the effects create a continuous video for you. You can check the detailed steps below.
Step 1Go to Photos app and select the live photo you want to make to a video.
Step 2Swipe up, you will see the Effects option like below.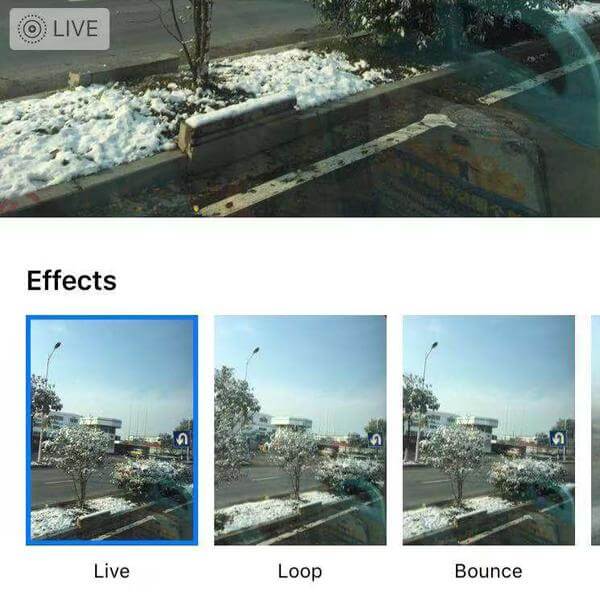 Step 3Choose the Loop or Bounce effect as you like, then the live photo will be automatically saved as a video in the Animated album.
Please note that there is a large disadvantage of this method, which is that the Loop and Bounce videos don't have sound.
So if this solution is not what you are looking for, please keep reading for other solutions.
Part 2: Turn live photo into video with Lively app
There is an app in App Store which is called Lively, it can help you save live photos as videos or GIF at ease, so that you can share your live photos with friends on iMessage, Facebook Messenger, Twitter, Slack, Tumblr and more. It's free and only available on the App Store for iOS devices.
Step 1Open the App Store and search for Lively to download this free app on your iOS device.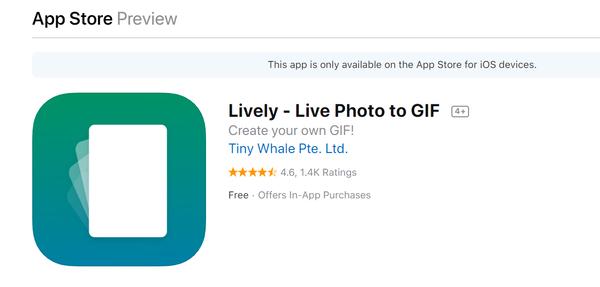 Step 2After you download Lively, open it and give it permission to access your photos.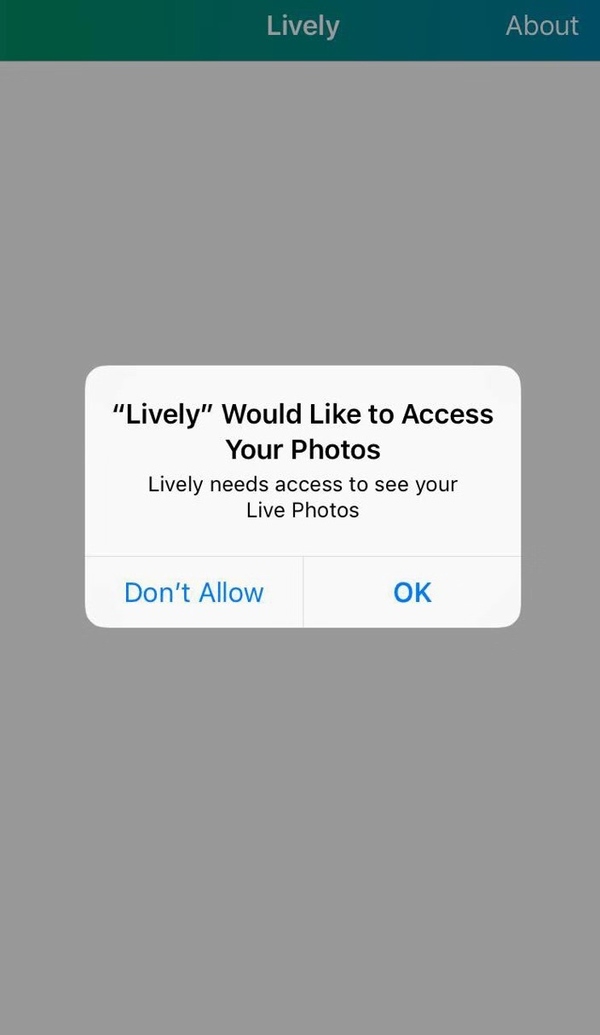 Step 3After that this app will display all the live photos in your Photos app.
Tap the exact live photo that you want to turn into a video, then you will see there are three options for you. You can save your live photo as GIF, Movie and Frame. To convert the live photo to video, choose Movie and click "Export Movie" button.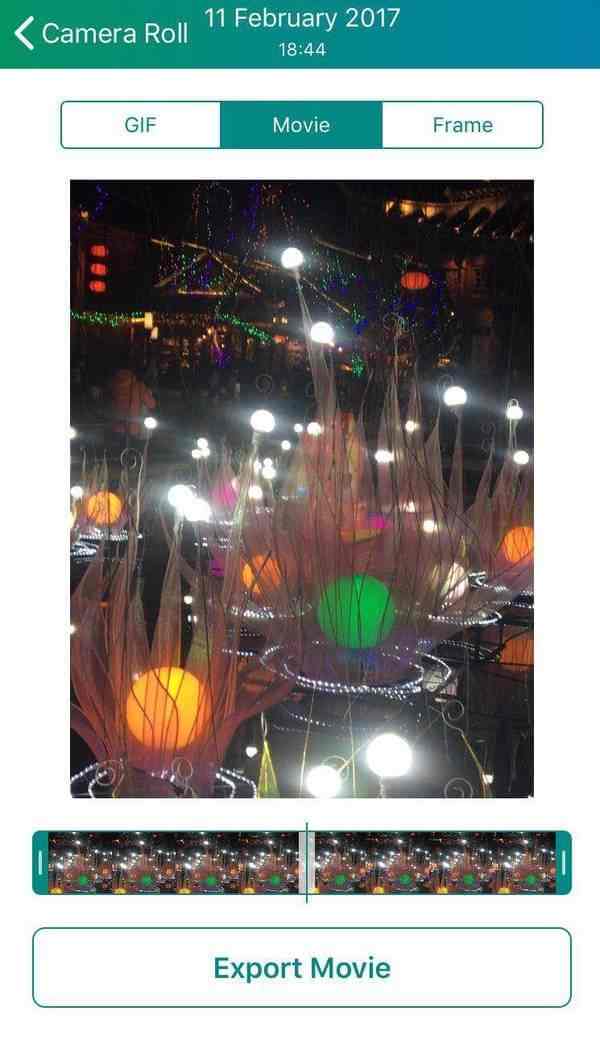 Step 4Finally you can save the converted video to your Photos app or share it via Facebook, twitter, Tumblr, Email, Message, etc.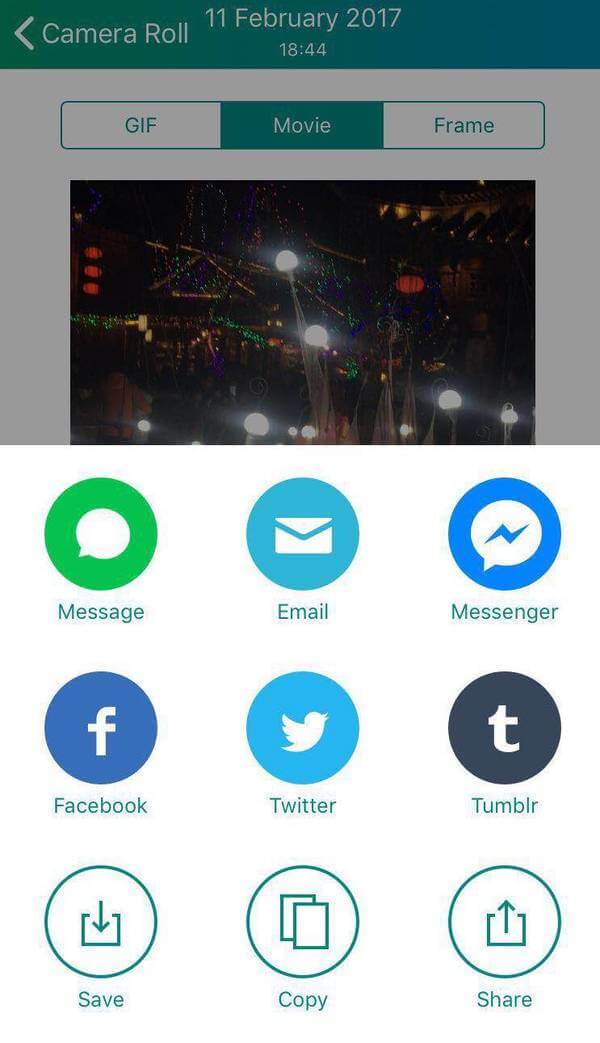 You can also turn live photos into GIF with this app. But there is a drawback with this feature. If you export live photo as GIF, the GIF picture will include a watermark. If you want to remove the watermark, you need to purchase this app with $2.99.
Extended reading: Turn photos into video with Aiseesoft Slideshow Creator
Aiseesoft Slideshow Creator is a professional desktop app that can help you create a video with your photos, videos and music. If you want to make a photo video slideshow with your favorite photos and videos, Aiseesoft Slideshow Creator will be a good choice for you.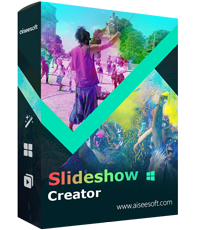 This video maker will add life to your photos by turning them into video and adding background music.
It supports various photo formats, such as JPG, JPEG, PNG, BMP, TIF, TIFF, ICO, DIB, JFIF, EMF and GIF.
It enables you to edit photo/video/music effects. Foe example, you can adjust the visual effects like contrast, saturation, brightness, hue, temperature, tint, exposure and 3D LUT of your photos and videos. You can also rotate, clip and merge videos or photos according to your need.
There are multiple ready movie style for you to choose from, including simple, happy, romantic, fashion, travel, wedding, old times, etc. You can turn your photos into a video and choose an appropriate video style for it.
You are also allowed to create your own theme if you are creative enough.
Step 1Download and install Aiseesoft Slideshow Creator in your computer.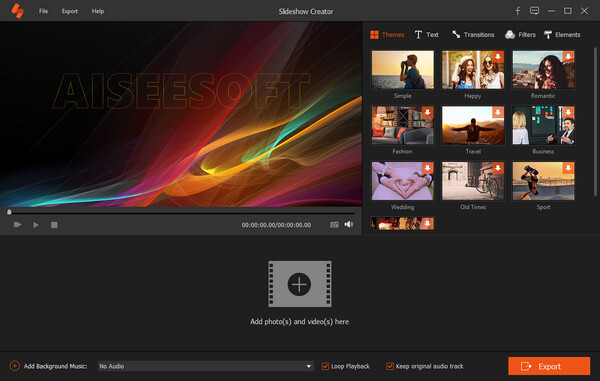 Step 2Click "Add photo(s) and video(s) here" to import photos or videos into this program.
Step 3Edit photos/videos/music
You can rotate, flip, set contrast/saturation/brightness/hue, crop, set duration, and get motion settings for the live photos you have imported.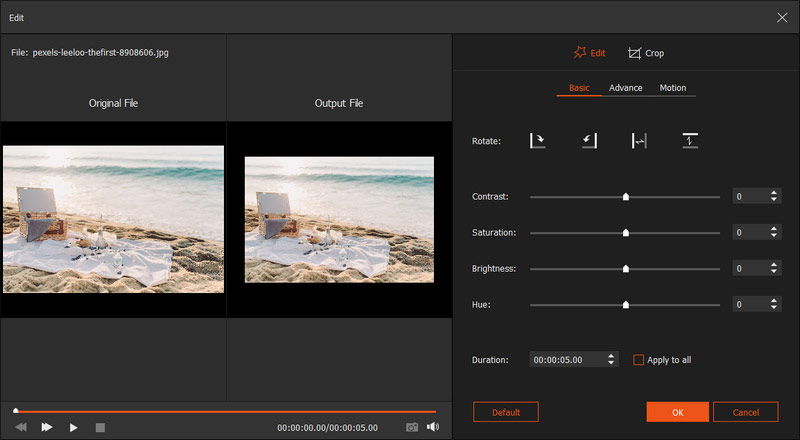 You can edit the background music as you like. For example, you can add or remove the background music in your photos or videos, and set the playback mode of the background music as you like.

Step 4Select ready-made theme or customize your own theme
After editing the files, you can choose a proper theme for your slideshow video or customize the materials to create your own theme.
Step 5Transitions, Filters and Elements
You are also allowed to select the transition mode, set the duration time to apply it to all items. More over, you can add or delete the filter effects on your slideshow video. As for the Elements feature, you are able to drag the element to adjust its direction and size with your mouse. Besides, also remember to set its time duration and motion effects.
Step 6Export your slideshow
After you finish all editing, you can click the "Export" button to select the output format and resolution. You can directly select the output device, so you can play the slideshow video on your portable devices easily.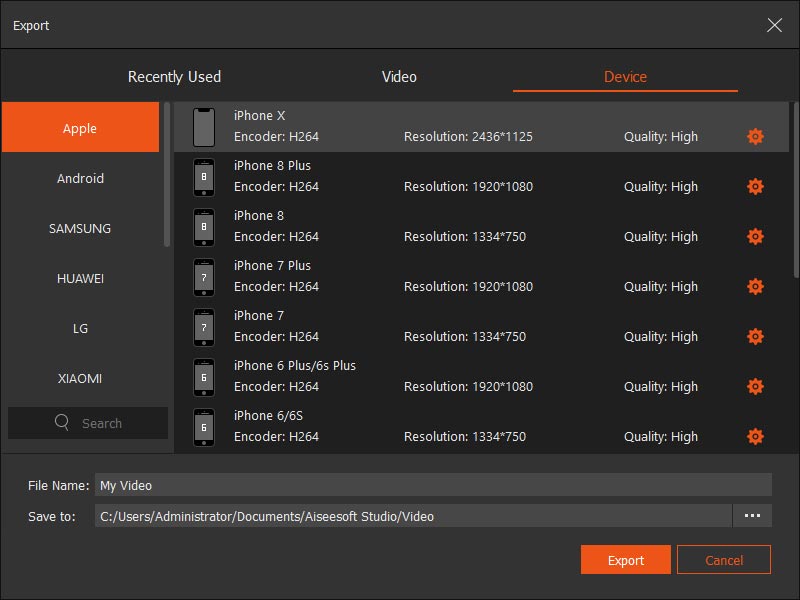 Here's the video about making slideshows for you. Click it to check.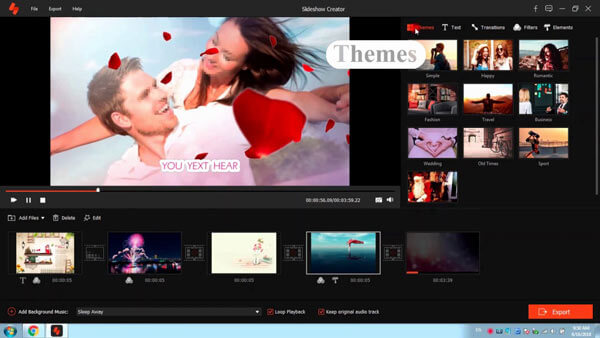 Conclusion
In short, if you want to save iPhone live photos as video or GIF, the Lively app will be you best option. If you want to make a more advanced video with all your favorite photos, videos and music to make your precious memories alive, Aiseesoft Slideshow Creator can be the best choice.