Things You Should Know About Microsoft Photo Story
Microsoft Photo Story is a free application which allows users to create the unique visual story of their own from the digital photos. But many users still have many questions about Microsoft Photo Story. This article will introduce what is Microsoft Photo Story for you, and list the detailed information about Photo Story download. What's more, we also recommend the best alternative of Microsoft Photo Story.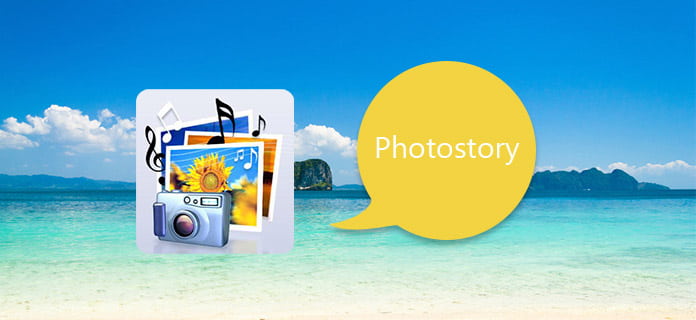 Part 1: What is Microsoft Photo Story
Microsoft Photo Story is a photo presentation program for you to create slideshows using digital photos on Windows XP. Microsoft Photo Story supports you to drag your digital photos to the window, arrange them as you want, and you can crop or rotate the pictures with a single click as well. Except the custom settings, it also provides audio soundtracks or custom auto-generated music and other special effects for you to make a better slideshow. After you finish your slideshow, you can export it as a WMV file to watch on your TV, computer or mobile device, or you can just send your photo story in an e-mail. For output files, you can also choose from various resolutions to optimize your photo story.
Different from other photo story program, Microsoft Photo Story makes the process of photo story making much easier. In fact, you don't need to adjust a large amount of effects or parameter settings because this software does it for you. For instance, this program will generate transitions and zoom for you automatically, and it is surprising that the data and effects the program sets without you look great.
However, there are still some disadvantages of this slideshow maker. Microsoft Photo Story doesn't support burning DVDs and VCDs with your created slideshow. If you want to burn your photo story to DVD, you may need other DVD burning software. The maximum amount of images it can imported as well as the maximum image size is also limited. And this photo story only supports Windows XP platform.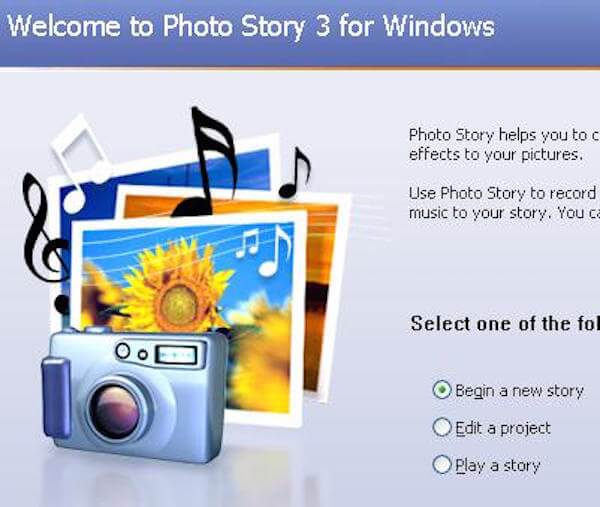 Download Microsoft Photo Story
Actually, there are some different versions of Microsoft Photo Story, such as Microsoft Photo Story 3 for Windows XP, Microsoft Photo Story 2 LE and so on. But the downloads except Microsoft Photo Story 3 are no longer available, and you cannot find them even in the official website of Microsoft. Microsoft Photo Story is the latest version of Microsoft Photo Story, and here we just list Microsoft Photo Story 3 download for you.
Details of Microsoft Photo Story 3 for Windows XP
• Version: 3.0
• Date Published: 4/6/2005
• File Name: PStory.msi
• File Size: 5.0 MB
System Requirements of Microsoft Photo Story 3 for Windows XP
• Support operating system: Windows XP, Windows XP Home Edition, Windows XP Media Center Edition, Windows XP Professional Edition, Windows XP Service Pack 1, Windows XP Service Pack 2.
• Processor Required: Intel P3 700-megahertz (MHz) or equivalent processor, an Intel P4 1.7-gigahertz (GHz) or equivalent processor recommended.
• Memory: 256 MB of RAM, 512 MB of RAM or more.
• Disk space: 400 MB of available hard disk space.
• Monitor: Super VGA (800 x 600) or higher-resolution video adapter and monitor.
Install Instructions of Microsoft Photo Story 3 for Windows XP
Step 1Confirm you have Windows Media Player 10 on your computer, which has Windows XP system.
Step 2Click the "Download" button above to automatically validate through the Windows Genuine Advantage program.
Step 3Then click "Run" button to download Microsoft Photo Story on your computer and install it. Then just follow the steps to complete the installation.
Note: If you want to access this download of Photo Story 3 in a different language, just select the language you wanted from the drop-down list and then click "Go" button to change the language.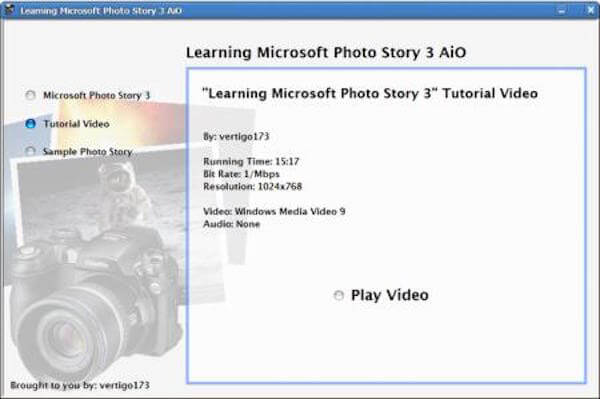 Part 3: Best Alternative of Windows Photo Story
Wondershare Photo Story Platinum is a wonderful photo slideshow maker, which is said to be the best alternative of Microsoft Photo Story. You can make your own precious memory to photo or video slideshow easily with the help of this software. It also has high compatibility with most popular devices and websites, so that you can save your slideshows on your mobile devices and share them to YouTube or other websites. Now we will list the reasons why so many people choose this photo story program and show you the guide of this amazing tool.
Key Features of Photo Story Platinum:
• Support many kinds of output formats and different devices.
• Create your unique slideshow with photos, videos and music at ease.
• Personalize your photo story with built-in effects and make your slideshow look more perfect.
• Overcome the limitation of Microsoft Photo Story, like DVD burning support.
• Share your photo story on YouTube, Facebook and anywhere directly.
How to Use Photo Story Platinum:
Step 1Download Photo Story Platinum
Download Photo Story Platinum from Internet and install it on your computer by instructions.
Step 2Add photos or videos
Launch this software and there are two modes you can choose. Select the suitable mode, then add photos or videos by clicking "Add Files" button.
Step 3Make your photo story
Click "Personalize" tab to personalize your photo story, such as adding transitions, effects, background music and much more.
Step 4Create your own slideshow
When you did all things, click "Create" tab to save your slideshow. You can also share your slideshow on websites directly.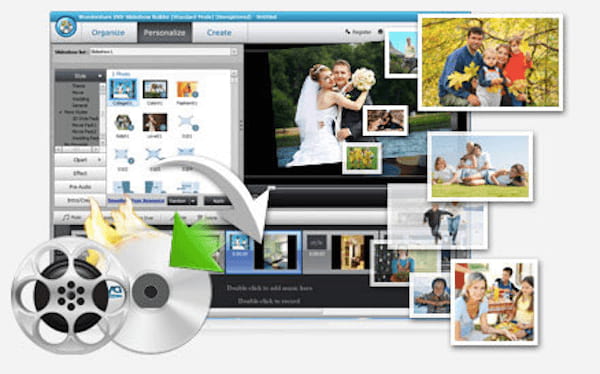 Conclusion
You will learn the Microsoft Photo Story clearly after reading this article, including the functions and limitations. You can know the details about Photo Story download as well. Meanwhile, we recommend the best alternative for you, so that you can do the same job like Microsoft Photo Story with this powerful software. Hope this article can help you when you in need.