Part 1. SVG to PNG Online Converter
Perhaps converting online is convenient for you when you wish to save more disk space on your computer. True enough, you can save space on your device because you do not have to install anything. It all comes down to the best online SVG to PNG converters. That said, here are some image converters online.
Aiseesoft Free Image Converter Online
You can directly convert SVG to PNG from the webpage without downloading software on your device with Aiseesoft Free Image Converter Online. It does change your SVG files to PNG, JPG, and GIF. Not to mention, you can upload and transform between these formats in batches. Actually, both single and batch conversion is possible with this tool. Besides this, all your uploaded photos are automatically deleted, so your privacy is kept.
Moreover, the program is very easy to operate, and users without prior experience can handle the tool without any hassle. More often than not, it converts at a fast rate, provided you are connected to a stable and reliable internet connection. On the other hand, follow the steps to use this SVG to PNG converter.
Step 1:
First and foremost, open any browser available on your computer and visit the tool's official site. Simply type in the name of the website to the program's address bar. Then, you will arrive at the home page.
Step 2:
This time, tick the
PNG
radio button to set it as the output format. Next, hit the
Add Images
button and select the SVG photos you wish to convert to PNG. After that, the photos will be automatically converted to PNG.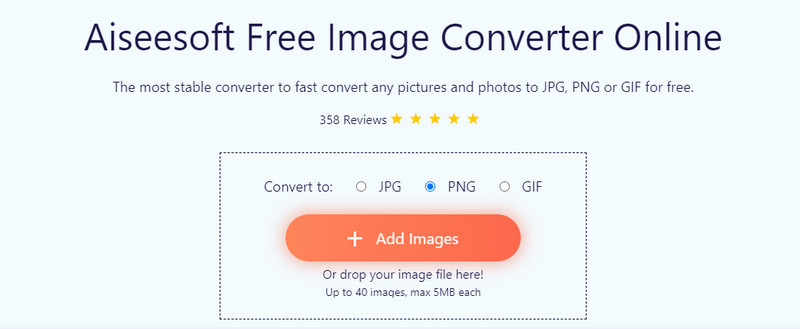 Step 3:
Lastly, hit the
Download All
button below the converted files to get them downloaded all at once. However, if you wish to download individually, tick the
Download
button associated with a specific photo.

Convertio
Convertio is another web-based SVG to PNG converter you can rely on. The tool works with almost all major browsers. Upon checking the output formats available in the program, you can see different file conversions. That includes image, document, ebook, font, vector, and CAD. If your files are located from cloud storage services, the tool supports cloud storage platforms like Drive and Dropbox. If you are new to this program, make sure to follow the instructions below to convert SVG to PNG.
Step 1:
In the same drill, go to the program's main page using any browser on your computer.
Step 2:
Hit the
Choose Files
button or select from one of the cloud storage platforms where your files are located. Then, upload your files to the program and start the conversion.

Step 3:
Now, go to the
Profile
menu and choose the
Image
option. From here, select
PNG
to set it as the output format.

Step 4:
Lastly, hit the red
Convert
button and allow the program to do the work for you. You should see the state of whether the conversion is ongoing or finished. Hit the
Download
button to save the converted files.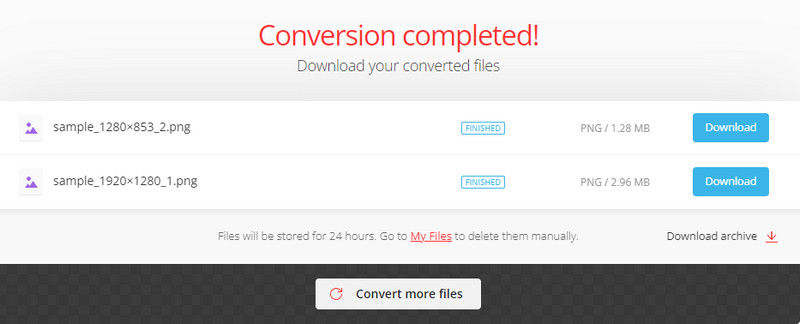 CloudConvert
The last program for online SVG to PNG converters we will introduce is CloudConvert. Likewise, the tool does not only allow you to upload files locally but also via the file's URL. It also enables you to upload from Google Drive, Dropbox, and OneDrive. You can take advantage of the program's batch conversion when saving time and effort by converting individual files. Learn how to convert SVG to PNG by reading the simplified guide below.
Step 1:
Launch a browser you commonly use and type in the name of the tool to the browser's address bar. After that, you should arrive at the main page.
Step 2:
From here, hit the
elect File
button or choose from the other storage where your SVG photos are located.

Step 3:
Choose
PNG
as the output format. At last, tick the
Convert
button to begin the process of conversion.

Part 2. SVG to PNG Converter Software (Windows & Mac)
At times, it is necessary to convert online, especially when you do not have access to the internet connection in your current place. You can use GIMP as a desktop SVG to JPG or PNG converter for your desktop computers. The program works well with Linux, Windows, and macOS. The tool is primarily developed for editing photos. Therefore, you can fine-tune your image's effects using this program. It functions like Photoshop and offers alternative tools for you to edit photos. Now, here is a step-by-step guide to converting SVG to PNG.
Step 1:
Acquire the GIMP from its official page. Next, install and launch it on your device.
Step 2:
Now, go to
File > Open
. After that, it will launch the computer folder on your computer. By then, you can load the SVG photo you like to convert.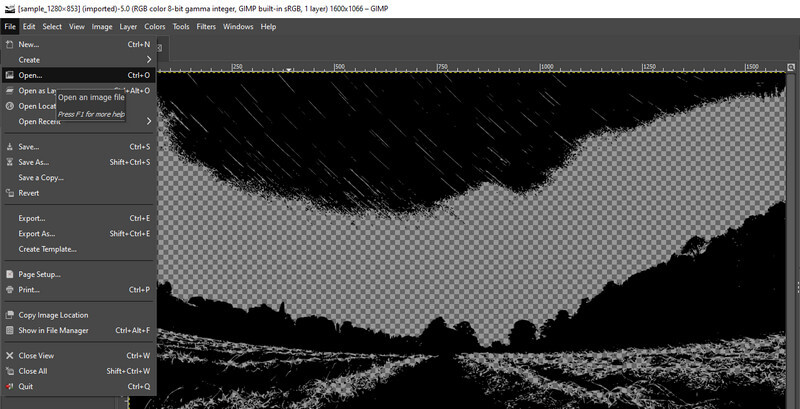 Step 3:
Next, open the
File
menu and select
Export As
. This time, choose PNG from the format option and hit
Export
to begin the conversion process.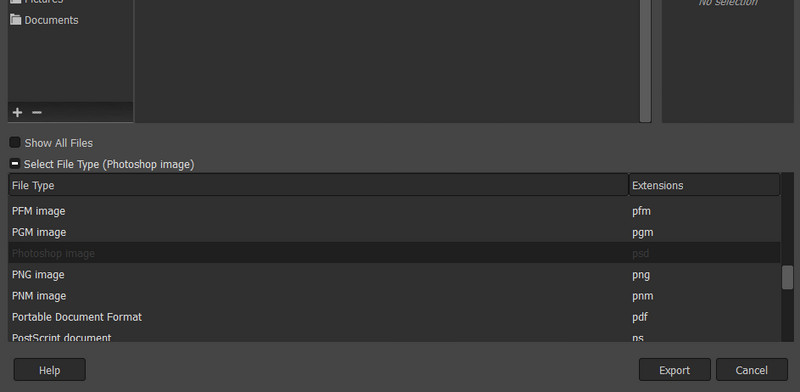 Part 3. FAQs About Converting SVG to PNG
What is a vector image?
It is a vector-based image developed through the connecting lines and curves. When you zoom in on this image, you will see clear points, lines, and curves. Hence, this format is used for illustrations and logos. One example of this format is SVG.
What is a raster image?
A raster image is created by a rectangular grid of pixels that is viewed with the help of a bitmapped display. This is common to photos like PNG and JPG.
Which is better, a raster or a vector image?
It depends upon the user's needs. Raster images like PNG should be your best option if you are working on complex images with diverse colors, blends, and themes. On the other hand, vector images are your best choice for increasing size without sacrificing quality. Typical usage of this file type includes making logos, etchings, engravings, etc. So, some may find it useful to turn JPEG to a vector image.
Conclusion
Those are the SVG to PNG converters you can utilize. Thankfully, there are two methods you can get this done. Online tools are your go-to solutions for users who are not fond of downloading a program. Meanwhile, desktop tools may be helpful when you have no access to an internet connection.

Leave your comment and join our discussion