Download or Turn On/Off Subtitles or Closed Captioning on Samsung/Sony/Apple TV
"Sometimes I find the TV subtitles are annoying. Where to turn off closed captioning on Samsung LN-T4671F TV? Can someone tell me where can I find the option to turn off the Apple TV subtitles?" "It is a little bit difficult for me to switch on the closed captioning on Sony 50W800B. Is there someone who knows that?"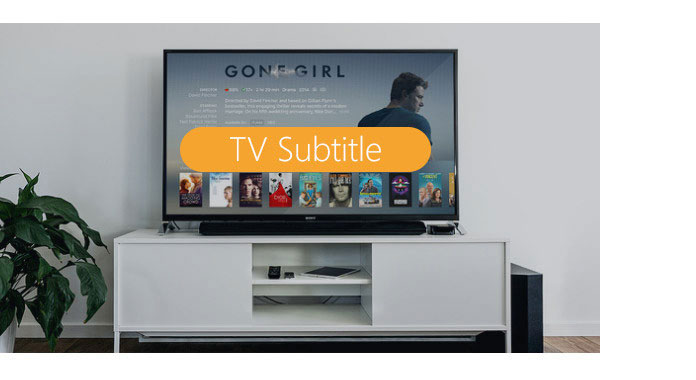 According to Federal Communication Commission regulations, closed captioning or TV subtitles are available on almost broadcast and cable TV shows. TV closed captioning seems convenient for you to understand a dialogue or a plot when you are watching a foreign TV show. Also, when you stay in a noisy environment, TV subtitles will let you enjoy the TV show without any delay. But many people may want to turn off TV closed captioning for better enjoyment. This article is prepared for you, which in detail shows how to turn on or turn off closed captioning on a Samsung/Sony/Apple TV.
Part 1: Top 3 Methods to download subtitles on TV Shows
You can find lots of websites that provide subtitle downloading service for totally free, here we recommend you 3 free Subtitle Download sites to do. After downloading, you are able to add downloaded subtitles to MP4 video or others.
Moviesubtitles.org
Moviesubtitles.org offers subtitles for the most popular movies and TV films. Subtitles are available in multiple languages. To watch DivX/XviD movies with subtitles you first need to install a DirectShow filter for Windows Media Player which is called DirectVobSub.
TVsubtitles.net
TVsubtitles.net has more than 119,000 subtitles for about 680 TV shows and 26,000 TV episodes. Subtitles for a variety of shows and features are on this site, and you can find them in various languages because this is a multi-language free download one. Thousands of those subtitles for TV series and XviD movies are here.
OpenSubitles.org
OpenSubitles.org is the website you can download, upload, request movie subtitles, as well as communicate with others on their forum and blog. From the website front page, you can easily download the latest subtitles and the most popular subtitles.
If you want to learn more info, you can click How to Download Subtitles for TV Shows.
Part 2: How to turn on/off Samsung closed captioning
Turn on your Samsung TV. Press the "MENU button" on your remote control.
Select either Setup or Function, and then press the ENTER button.
Notes: Whether you choose "Setup" or "Function" is up to the menu options of your Samsung TV displays.
Choose "Caption", and then press the "ENTER" button.
Press the left or right arrow button to set the Closed Caption feature to Off or On.
Notes: Your TV may have other selections than On or Off. For example, you may be able to select CC1, which displays Closed Captions at the bottom of your screen like sub-titles. You also may be able to select a Mode (Caption or Text), and a Channel. Different Closed Caption channels carry different information.
Press the EXIT or MENU button on your remote to exit.
Part 3: How to switch on/off Sony TV subtitles
With your Sony remote control, press the TV "Power" button to turn on the Sony TV. Press the "TV" function button. . Push the "Menu" button on your remote.
Use the arrow buttons on the remote to choose "Setup" menu on your television screen.
Press the down arrow to highlight "Caption Vision".
Select your desired setting to turn on the closed captioning. Most television programs use the "CC1" setting.
Part 4: How to turn on/off Apple TV subtitles
Apple TV subtitles or closed captions while watching a movie or TV show. This part focuses on how to turn off or turn on Apple TV subtitles or closed captioning.
Step 1 In the "Subtitles & Captioning" option, tap on "Style" (below Closed Captions + SDH option).
Step 2 Tap on "Create New Style" option.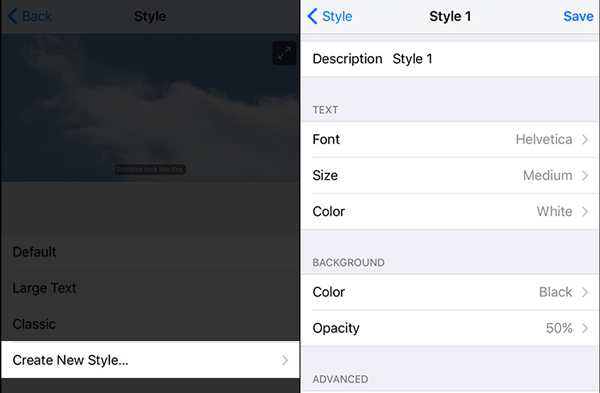 Step 3 Set the style of Apple TV subtitles by editing "TEXT", "BACKGROUND" and "ADVANCED" sections.
In case you want to add subtitles to video, and here, we'd like to recommend Video Converter Ultimate. This program supports subtitle file in SRT, ASS and SSA. You will like it. Aside from subtitle addition feature, you can also use Video Converter Ultimate to convert video/audio, edit video, compress and enhance video, add 3D effects, make animated GIFs, and so on.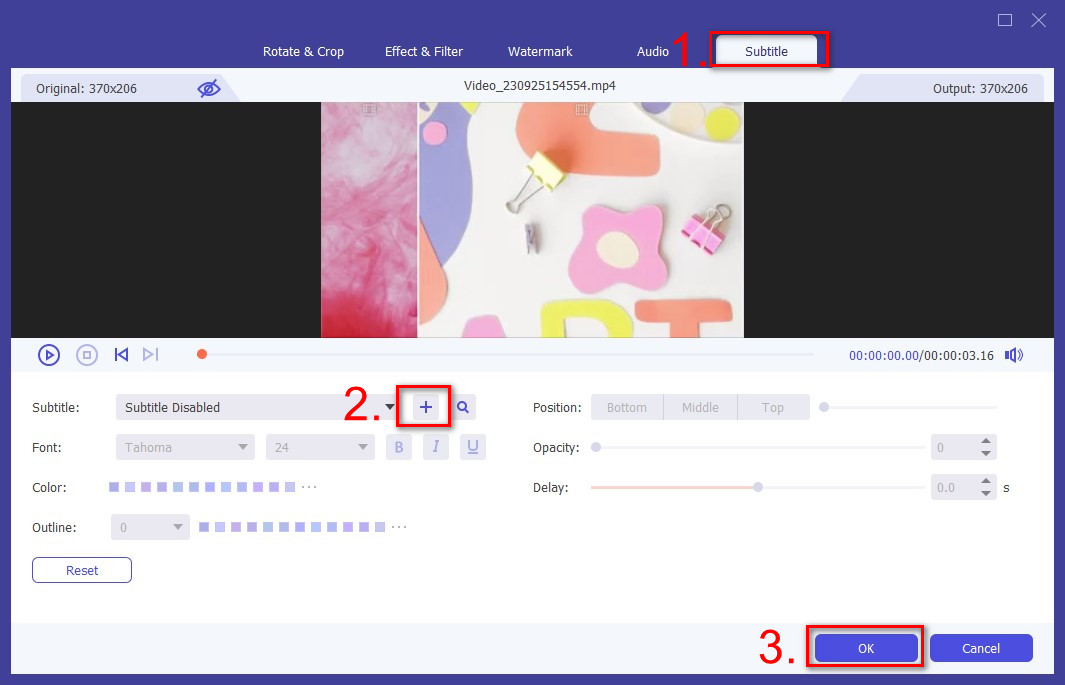 Part 5. FAQs of TV subtitles
1. What's the difference between subtitles and closed captioning?
Subtitles assume an audience can hear the audio, but need the dialogue provided in text form. Meanwhile, closed caption assumes an audience cannot hear the audio and need the text to get what they are hearing.
In this article, we mainly discuss how to turn on or turn off subtitles or closed captioning on a Samsung/Sony/Apple TV. Wish this article can give you some tips.