What is M4V? - Everything you should know about M4V
M4V is a video container format containing H.264 video and MPEG-4 AVC (Advanced Video Coding) audio, which is defined in the systems part of the MPEG-4 standard (ISO 14496-1) and very similar to MP4 format.
M4V file format is developed by Apple and used to encode TV episodes, movies, and music videos in Apple iTunes Store. With the same MPEG-4 video codec, M4V is quite close to MP4. But .m4v files may optionally be protected by FirePlay DRM copy protection.

Where to download M4V movies
M4V is not a popular video format. M4V is introduced by Apple and usually used on iOS related video service. Lots of videos in iTunes Store are in format of M4V. Also, you can download .m4v files from Podcast.
M4V vs MP4
When you first access M4V file, you may feel unfamiliar with this format, and even don't realize it is a video format. Once you know M4V also takes the MPEG-4 standard, you will associate it with MP4 immediately. However, with the frequently-contacting with M4V, you will be much confused about the difference between M4V and MP4. Here we talks about the basic information to help you to distinguish the two different video formats.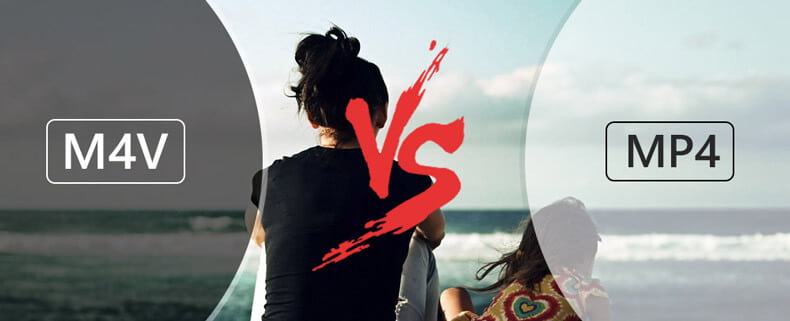 MP4 is MPEG-4 Part 14, a container format defined by MPEG (Moving Picture Expert Group).As a container format, MP4 can carry both video/audio and subtitle/image. Moreover, it also contains metadata. Featured by the high compatibility, MP4 format has an irreplaceable popularity among all video formats.
MP4 is highly supports any frequently-used media player and iOS/Android device, such as iPhone SE/6s Plus/6s/6 Plus/6/5s/5c/5/4S, iPad Pro/Air 2/mini 4, iPod touch, Samsung Galaxy S7 edge/S7, LG G5, SONY Xperia Z5, HUAWEI P9/Mate 8 and more.MP4 format makes videos much more accessible and files can be downloaded quickly from the Internet. So it is widely used on lots of video-sharing websites like YouTube, Facebook, Vimeo, TED, etc.
M4V is a file extension for storing MPEG-4 file. M4V has a big advantage; it has the capability to provide a higher definition with smaller storage space. Just like it mentioned above, the copyright of M4V files may be protected by using Apple's FirePlay DRM copy protection. Because of that, the protected M4V videos forbid the illegal use and play by someone who is not authorized.
M4V format is compatible with iTunes and QuickTime Player by default. And Apple TV needs the .m4v file extension to know how to deal with the AC3 in the mp4 container. Most of the videos in M4V video format are not able to be freely transferred or played in non-Apple devices due to the DRM. When you want to play a protected M4V file, you are only allowed to play it on authorized (using iTunes) account which purchased the videos. Otherwise, you need to convert M4V to MP4 or other suitable formats.
M4V player and how to play M4V
If you are using a Mac OS X Macbook Pro/Air, you will naturally choose iTunes or QuickTime Player to play M4V extension. If you are a Windows 10/8/7/Vista/XP user, you can still download iTunes or use Microsoft Windows Media Player to watch M4V video. The easiest way to open M4V file is to double-click on the M4V video and let computer select the suitable playing software for you. Within two clicks, the M4V movie will be played in iTunes, QuickTime Player, Windows Media Player or other media players.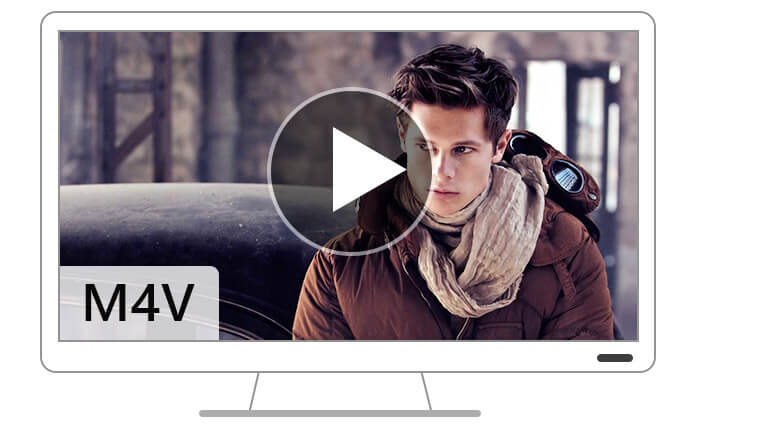 However, sometimes the M4V is not playable on your computer because you don't get the authority. What should you do? To find a perfect M4V player will be your first choice. Then here comes to the question, you can access all kinds of M4V players on the Internet, but which M4V player can suit your need to play all your M4V videos? Here we sincerely recommend the best M4V Player to help you play the M4V movies.
After downloading and installing it on your PC/Mac, you are able to play M4V just in the same way you play MP4 video. Open this M4V player and click "Open File" to choose the M4V file you want to play. Then tab "Open" to load M4V movie. When the target M4V video is imported to the player, it will automatically play M4V in the interface. You can easily control the playing process and other settings. Besides M4V, this powerful video playing software also enables you to play Blu-ray disc/folder and ISO file and other popular 4K/HD/SD and common video formats like MP4, MKV, AVI, FLV, WMV, RMVB,TS, MTS, M2TS, VOB and more smoothly.
Convert M4V to MP4
With the M4V playing program above, you can handily play M4V videos on your PC or Mac. But you may still have a huge demand for watching M4V movies on portable device. Not like the software on computer, it's not very easy to get a secure M4V playing app on mobile phone or tablet. At this time, you need to convert M4V to AVI, MP4 or other supported formats for iPhone/iPad/iPod or Android/Windows device.
For some unprotected M4V files, you may have a chance to turn them to be playable on popular media players by changing the file extension from ".m4v" to ".mp4".
While for the protected M4V videos, even you change the source M4V to MP4 with this method, they are still can't be played on PC/Mac. You must find a video formats converting software. A reputable M4V Converter will be suggested to help you to play M4V files on iOS/Android/Windows device. Moreover, this software is totally free, and you should really give it a try.
It is a one-click free M4V to MP4 converting program. When you launch it on your computer, you will know how to convert M4V to MP4 quickly. In its simple interface, click "Add File" on the top list to import M4V file. Select the suitable output format from the drop-down list of "Profile". When you choose the preferred output video format and destination folder, you can start the conversion from M4V to MP4/AVI/MKV/FLV/MOV/MPEG, etc. by one click on "Convert".
Convert M4V to MOV
Apart from converting M4V to MP4, you may also want to change M4V to MOV for QuickTime Player on Mac. Compared with MP4, MOV can provide a high-quality and high-definition video/audio effect. So when you have a specific need to play M4V with QuickTime Player, converting M4V to MOV can gives you a better visual experience.
Using the same method above, you can easily finish the M4V to MOV conversion. What's more, it enables you extract audio track from loaded video. If you only need the background music or audio contents, you are allowed to convert video to audio. For instance, you are able to convert M4V to MP3 or change MP4 to MP3 with high audio quality.