Best Wi-Fi Hotspot App for Android/iPhone
Hotspot is not a strange word nowadays. If your Internet connection goes down, or you find yourself in a situation where a smartphone is your only connection to the web, turning it into a Wi-Fi hotspot will come in handy. For those who travel regularly or want to take full advantage of high-speed LTE networks, mobile hotspot is a great saver.
Wi-Fi Hotspot, also called "tethering", is a kind of connection platform which helps establishing a Wi-Fi network through your device in the nearby area. iPhone and most Android smartphones come with the built-in hotspot feature, but it lacks functions with too much operations. In fact, there are many free Wi-Fi hotspot apps, which could easily turn iPhone/Android into a portable hotspot. In the following article, I have listed several mobile hotspot apps for Android or iPhone, hope they could help you.
Don't Miss: How to fix iPhone won't connect to Wi-Fi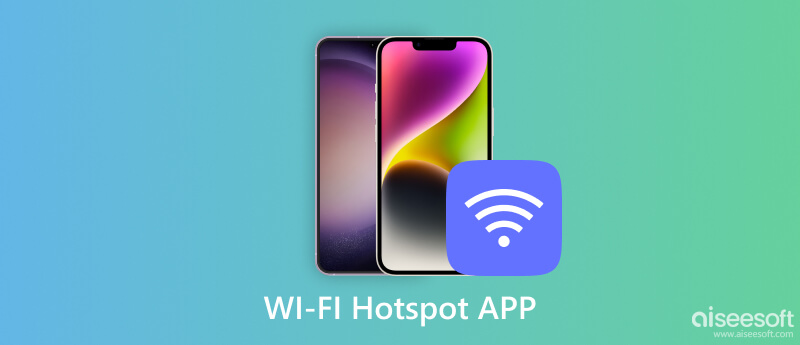 Part 1. Best Wi-Fi hotspot app for Android
1. FoxFi (Wi-Fi Tether w/o Root)
FoxFi is a free Wi-Fi hotspot app for Android without rooting. It allows you to make your phone a mobile hotspot and share internet connections through many options including USB, PdaNet and others. FoxFi has a simple installation and connecting process, most importantly it does not require the extra tether plan (mobile hotspot plan) from your carrier.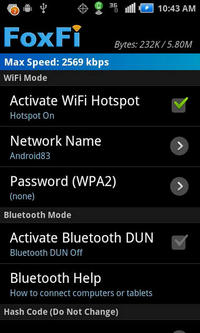 2. Wi-Fi Hotspot Free
Wi-Fi Hotspot Free is a completely free mobile hotspot app to connect Android phone or tablet to multiple other devices wirelessly. The Wi-Fi hotspot app is very easy to operate, all you need to do is turn on the mobile data Internet connection, start this app, enter the name of the Wi-Fi hotspot you want, set a password and simply press start. That's it, the other devices will start seeing the Internet connection easily and can connect with it in mere seconds.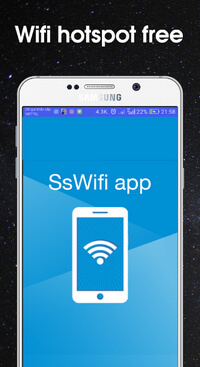 3. Wi-Fi Tether Router
Most cellular providers charge additional rates on top of your smartphone data plan for tethering or hotspot usage. However, with Wi-Fi Tether Router, an effective free Wi-Fi hotspot app for Android, you can connect to the internet via another WiFi-enabled device through your carrier's data plan that is already associated with your phone! Wi-Fi Tether Router is simple to use without complexities, and compatible with most PC's, tablets, smartphones, or other portable devices.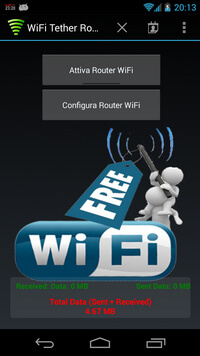 4. Easy Tether Lite
Easy Tether Lite is another Wi-Fi hotspot app that connects Android phones to computer without any hassles. This mobile hotspot app for Android has a sleek and easy interface, which makes the process of tethering smooth. Unlike many tethering widgets, Easy Tether implements its own tethering mechanism completely from scratch. That's why it needs some setups on your computer.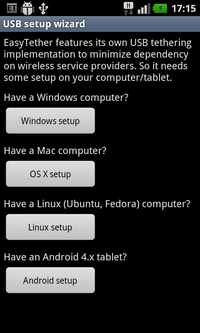 5. 1-Click Wi-Fi Tether No Root
1-Click Wi-Fi Tether No Root is an efficient free Wi-Fi hotspot app for Android. As the name indicates, this is perhaps the world's fastest, cleanest and lightest Wi-Fi hotspot app for launching Wi-Fi hotspot, easily and quickly enabling Wi-Fi tethering hotspot AP in 1 click. The app size has been reduced to almost nothing.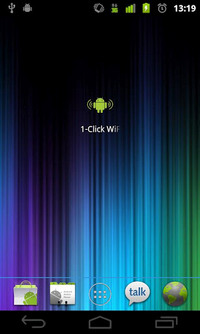 Tip: When using WiFi hotspot apps for Android to connect smartphone, pay attention to other devices that connect to your portable hotspot. With WiFi hotspot app, you can watch and download TV shows, movies, listen to music and play games with ease. If you want to back up your old Android to a new phone or iPhone 12/11/XS/XR/X/8/7, the easiest way is to use MobieSync, which lets you selectively back up data files like contacts, photos, videos and audio files of Android phone to your new one, instead of restoring them from your computer. MobieSync enables you to back up your dead, smashed or old Android phone to another phone selectively and safely.
Aiseesoft MobieSync
Directly transfer data between iPhone/iPad/iPod and Android phone in one click.
Transfer old phone data to new phone between iOS and Android device.
Sync contacts, photos, music, ringtones, audio books, and more from Android to iOS devices.
Move data from phone to phone in one click for all the files to save your time.
Part 2. Best Wi-Fi hotspot app for iPhone
1. VPN in Touch
VPN in Touch claims to offer the most secure VPN mobile service. The free Wi-Fi hotspot app for iOS has an extremely focused security regulation system which ensures secure transactions on public hotspots. The users can conceal their own identity when accessing this VPN and its servers.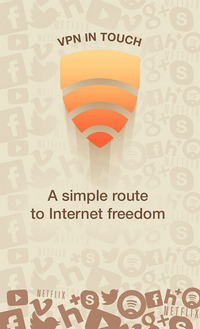 2. Free Wi-Fi Hotspots
Free Wi-Fi Hotspots is a powerful Wi-Fi hotspot app that helps you discover hotspot networks nearby. The user interface is simple to operate and easy enough for beginners, yet the countries covered under the mobile Wi-Fi app are more than 50. What's more, the hotspots are depicted on a map for easier navigation and quicker access.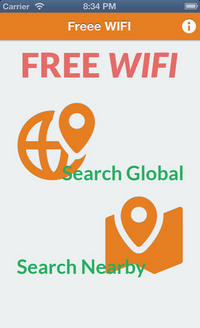 3. Optimum Wi-Fi Hotspot Finder
Optimum Wi-Fi Hotspot Finder is the best Wi-Fi hotspot app, which locates any of the Optimum Wi-Fi Hotspot or Cable Wi-Fi partner hotspots whether or not their iOS device is connected to the internet. The Wi-Fi hotspot App enables users to carry out quick searches for hotspots. Results are presented in map or list view. Users will be able to get directions to the closest Optimum Wi-Fi hotpot from their current location.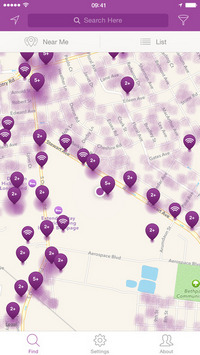 Unlike Android smartphone with different models and brands, iPhone makes the built-in Wi-Fi hotspot simple and straight-forward to use. Therefore, it is also recommended to use the built-in feature to set up Wi-Fi hotspot in iPhone. You can refer to the tutorials below:
How to setup and use iPhone as a Wi-Fi hotspot
On your iPhone go to "Settings" > "Cellular" and then tap to turn Personal Hotspot on. After a while it will automatically turn off if no devices are connected to it. But you can easily turn it back on in the same section. On iOS 7 and later, you'll also be able to monitor how much data has been used.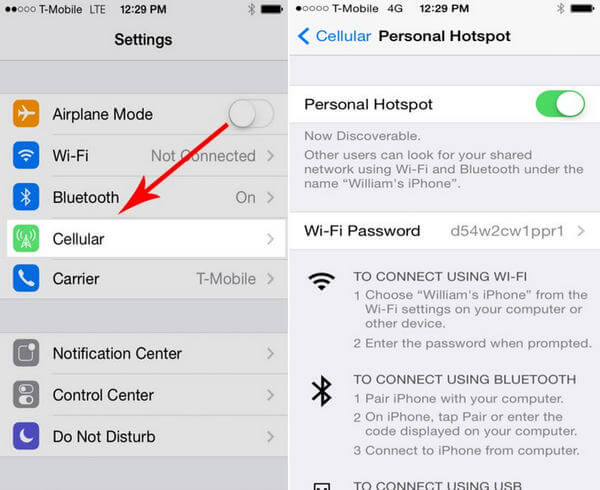 If you live in the US, this will also require a tethering plan. The App Store doesn't have any plan-bypassing hotspot apps, but if you jailbreak your iPhone, you'll find a similar selection to what you'll find on Android.
After installing the best Wifi hotspot app, you can easily download any movie, video, music and more files. For iOS users, you can use iOS File Transfer to transfer all your downloaded music, videos, movies, photos, ringtones, and back up contacts, messages to your other iPhone/iPad/iPod device.
FoneTrans - Best iOS File Transfer
For Mac
Transfer all types of iOS data between iOS devices, move data from iPhone to PC/iTunes, and sync data from PC to iPhone.
Transfer contacts, calendar, photos, music, playlist, etc. from iPhone to iPhone/iPad/iPod.
Support the latest iOS 15 and iPhone 12/11/XS/XR/X/8/7.
In this article, we have mainly introduced the best WiFi hotspot apps for Android and iPhone. Still have more questions about mobile hotspot app? Feel free to leave your comments down below.