10 Best Find My Phone for Android to Track Lost or Stolen Android Phone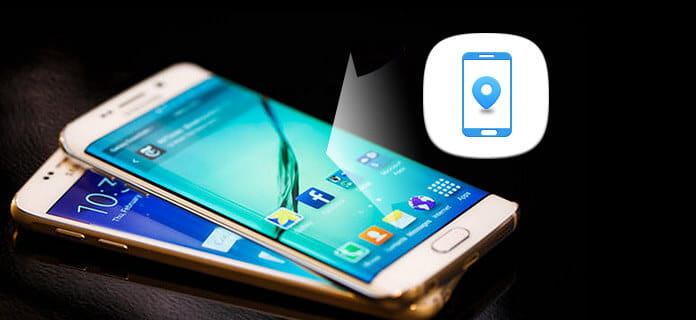 Losing your smartphone is probably one of the most dreadful experiences in our lives. All our important files, contacts, text messages, photos, notes are stored in the phone. As the development of smartphone, many phones come with the feature to help you easily track the phone when it get misplaced or lost. For example, if you are an iPhone user, you must be familiar with "Find my iPhone" function. However, is there any Find my Phone functions for Android?
Actually, there are many "find my phone" apps for Android available in the Google Play store, which can be used to find and trace out Android phone when it get lost or misplaced. This article lists 5 best find my phone apps for Android.
1. Android Device Manager
Android Device Manager is probably the best option to find my phone apps. As a device managing service designed for Android users by Google Inc, Android Device Manager enables you to control android phone, tablet and other android devices via Google account. Its main function is to locate, ring, lock, and erase their android phone or tablet when they lost or misplaced it to make all data on the device safe and secure.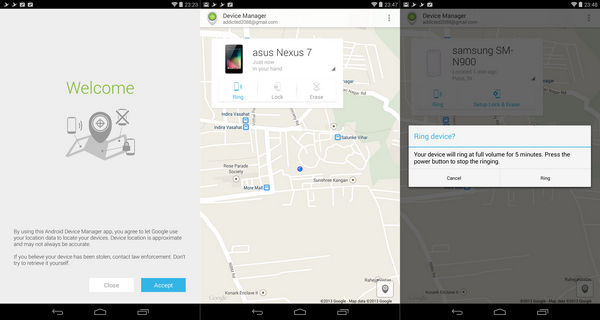 2. Prey Anti Theft
Prey Anti Theft is a very good find my phone Android app which is available for many platforms, including Android, iPhone, Windows phones, etc. This phone-tracker app has outstanding security features. You can get the exact location of the lost device by using network feature. Also, the front camera and rear camera can be used to take the pictures of the person who is using your phone.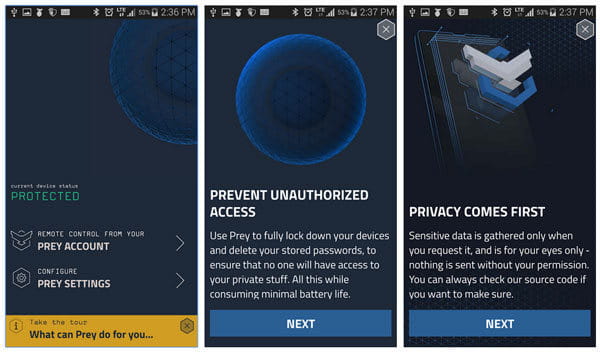 3. Find My Phone
Find My Phone is an advanced Android phone locator with high level security and anti-theft features. As its name indicates, Find My Phone makes it easy to track down the devices irrespective of which of the platform they belong to. It has a navigational feature as this use the GPS of the stolen phone and it can be easily found out and tracked.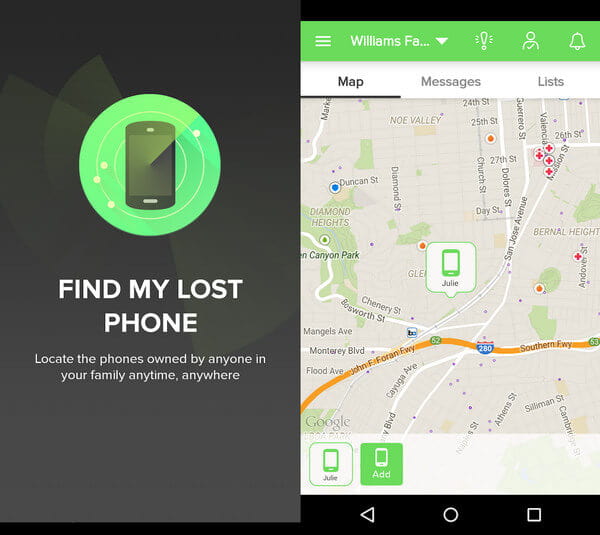 4. Where's My Droid
Where's My Droid is a pure Find my Phone app for Android to help you locate your phone. When your smartphone goes missing, simply send a code via text, and the lost phone will ring (even when set in silent mode) while another text code sends you the GPS coordinates of the phone. Alternatively, you can remotely control your phone by connecting it to the Commander option, a web-based interface.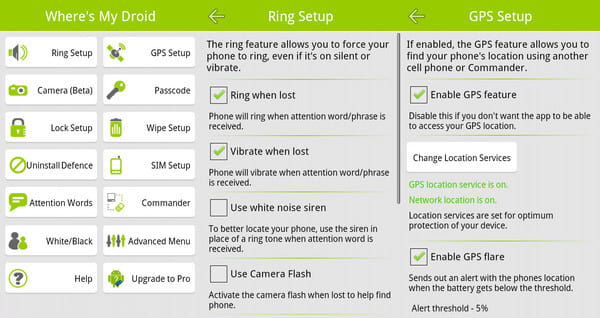 5. Cerberus
Cerberus is another functional find my phone app. It is a total anti theft application with simple user interface and many effective features and functions, including locking and resetting your phone, sounding alarms, displaying messages on screen for thieves to read, and this phone locater even has access to the front facing camera so you can take a picture of the thief.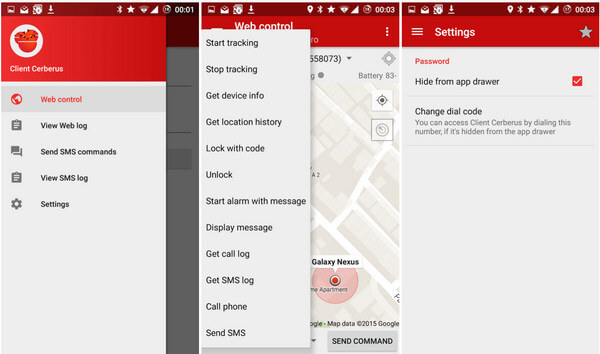 More find my phone apps
Other than these five best find my phone apps for Android we mentioned above, there are also other useful applications to help you track your Android.
1. Family Locator: Family Locator simplifies life in the digital world by making it easy to stay connected to the people who matter most.
2. Lost Andorid: This is an find my phone for Android that lets you remote control your phone from www.androidlost.com. Useful in case you put your mobile on slient and leaves it somewhere, or in case it gets lost.
3. SeekDroid Lite: Find your phone or tablet anywhere in the world. See your device on a map, set off an audible alarm, wipe the device, and more.
4. AntiDroid Theft: Add extra to security to your phone if it is lost or stolen. Track its location and take pictures on the internet through the Anti Droid Theft website at www.antidroidtheft.com.
5. Lookout Security & Antivirus: This is yet another powerful Find My Phone android application which can be easily used to track down android device, iPhone devices.
How to locate your lost Android phone with Android Device Manager
Now take Android Device Manager as an example, let's see how to use one Find My Phone app to track the lost phone.
1. Download Android Device Manager application from Google Play Store.
2. Launch the find my phone app and sign in to the same Google account, the same as the one that is used on the missing device.
3. After successfully log in, choose the device you need to track. And then application will show you the approximate tracking location on the screen.
4. Android Device Manager allows you to remotely ring, lock or erase the SD card or the whole phone.
FAQs of Find My Phone for Android
How can I track my lost Android phone?
Go to android.com/find and log into your Google account. Click your lost phone at the top of the screen. The lost phone will get a notification. From the map, you can get the location about your lost Android phone is.
Can I track someone else's phone location?
Yes. To track someone's location, you can install phone number tracker software or app or Find My Device for Android.
Does Samsung have an app to track your phone?
No. Samsung itself doesn't provide an app to track the lost device. Instead, you can go to findmymobile.samsung.com. Log into your account and find the location of your device.
In this article, we mainly introduced ten best find my phone apps for Android, and showed you how to track your phone with one useful Andorid phone tracker. Still have more questions about Find my phone Android? Feel free to leave your comments down below.
What if you lost your Android data instead of Android phone? You can recover the deleted files on Android with our Android Data Recovery.
FoneLab - Android Data Recovery
FoneLab Android Data Recovery is the best Android file management tool that helps you to transfer any Android file or restore deleted Android data.
Restore videos, photos, music, contacts, messages and more on Android device with ease.
Support most Android device, including Samsung, HTC, LG, Huawei, Sony, etc.
Recover deleted data from Android phone/SD card.