Two ways of Creating Your Own Online Courseware
As a teacher, do you still share the skilled knowledge with your students by the teaching method face to face? As a trainer, do you deliver the practical information by letting the trainees attend your class in a room? Traditionally, you may think students should go to classroom to gain the knowledge, while trainees join a class to learn more about the skills. However, when a teacher has thousands of students, and a trainer has piles of details to show, do you choose the traditional way to share your knowledge or details? If you say yes, then I have to tell that is time-consuming. Actually, online courseware learning is the exact one to share your courseware efficiently.
As the access to quality education has been restricted to popular institutions and training centers, online education has been a trend to provide quality education at a global scale compared to traditional education. Online course has been the way to realize this goal. More than downloadable PDFs off a science courseware-esque website, online course also includes streaming audio and streaming video demonstrations. You can easily find and admire the open Yale courseware about Physics, or Harvard courseware about Plato. Do not envy them, and you are able to make your own courseware to upload them to the internet for sharing with others.
For the statistics courses, you could upload PDF files to the internet simply by writing or printing in your local PDF files. For the dance tutorial videos, you have to create a training course v to share it online to your students or trainees or other dancer fanciers. How to make your video courseware? If you have enough time, you are allowed to make a flash video to make it. But if you are an amateur, you had better record a video for course sharing efficiently. Follow the below ways to create your own course video by recording.
Method one: Create an online course by recording PowerPoint
PowerPoint is the widely used tool in giving a class. But PowerPoint also gets its limitations. It only shows you some data or words on the pages, if you want to listen to the dynamic speech from the teacher, then you have to use the microphone of your computer to record your narrated presentation to the PowerPoint courseware.
Step 1 Run Microsoft Office PowerPoint on your computer.
Step 2 Navigate to the page that you want to add narration. Click "Slide Show Tab" at the top menu bar > Click "Record Slide Show". Here it provides you two recording ways to record your sound to the courseware, "Start Recording from the Current Slide" or "Record from the Beginning of the Presentation". Choose what you want to record for your online courseware.
Step 3 Click on "Start Recording" whenever you are ready. And press the "Escape (Esc)" button to stop recording.
Step 4 Click "Save as" to save the recorded courseware with audio recording on your computer.
1. Only Office 2010 offers you these two options. If other version Office, you will find no choice for the two available options.
2. Only Office 2010 lets you save the recording video in WMV. If you use other version, then you have to use a video converter to convert the recorded courseware to other format so that it could play on your player or upload to YouTube for sharing.
Method two: Make tutorial videos with Screen Recorder
In the above way, you are able to create your own courseware online with simple narrated presentation. If you have some motion videos that show a chemical reaction, or physical reaction, then you have to record your desk screen to share it in your online courseware. At this point, you have to turn to some third-party recording tools for help. Aiseesoft Screen Recorder is the professional courseware recorder. Firstly, free download this program here.
Aiseesoft Screen Recorder
For Mac
The best video/audio recording tool to make your own online courses on Windows computer.
Record streaming video/audio, online video/audio, microphone voice freely.
Record screen video with high quality.
Advanced settings for audio recording.
Step 1 Install Screen Recorder and launch it on your computer.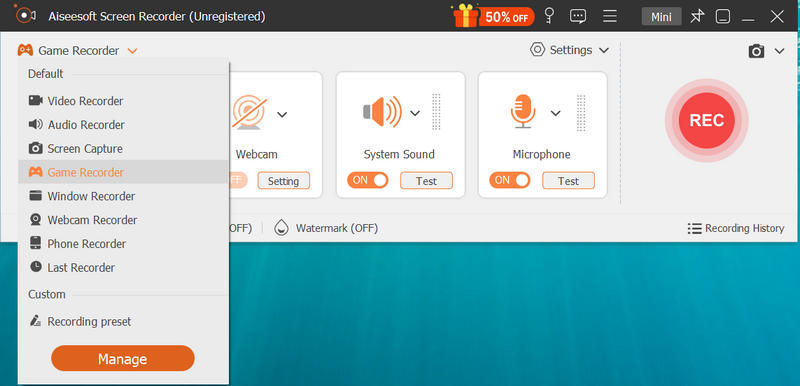 Step 2 Choose recording area to show your courseware. Turn on the microphone audio to record your voice.
Step 3 Get ready for your courseware and microphone. Click the red "REC" button to record your courseware.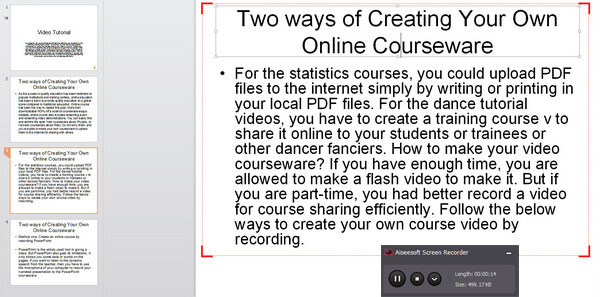 After recording the courseware, you could download and save the video to your PC in WMV or MP4 format. You are capable of uploading it to YouTube directly to create online courseware.
You can learn the steps from the video below:
Don't miss: How to record Omegle video
Warm suggestions for creating online course
When making your online courseware, you need to pay attention to the following points:
◆ You need to choose the recording area to share your desk screen to your visitors. Customized or full screen is optional to you.
◆ If you only want to share your narration to your visitors in online courseware, then you need to turn on microphone audio. If you have other sound from your computer system to show others, then you need to turn on both system audio and computer audio, just like recording Skype video call. If you only turn on the system audio, then you could to use it to download SoundCloud music in the recording way.
◆ You can highlight your mouse cursor when making online courseware by clicking "Preferences" to make the changes.
◆ If you want to show your created online courseware in HD quality, then you have to set your computer resolution of 1920 x 1080.
By now, you have created your own courseware online. Whether you are a teacher or trainer, or student, you are able to make your own online courseware to share them in the internet.