How to Fix an Android Phone That won't Charge Properly
I connect my Samsung Galaxy S8 to a power source, but it won't charge, what can I do to fix the problem?
Today, we almost take our smartphone everywhere and use it to take photos, shopping, pay for bills, listen to music, visit social networks, etc.
the battery capacity of Android phone is bigger and bigger, we have to charge it every day. If your phone won't charge properly, don't worry about why my phone won't charge.
We share 7 solutions to help you fix this problem efficiently.

Phone Won't Charge
Part 1: Try another power source and cable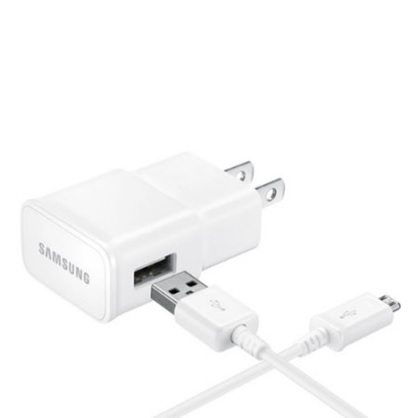 If your phone won't charge and it is not the charger's problem, you should try a different power source. Moreover, charging cable is the most fragile accessory. You should take a close look at your cable and try another one.
Part 2: Clean cache data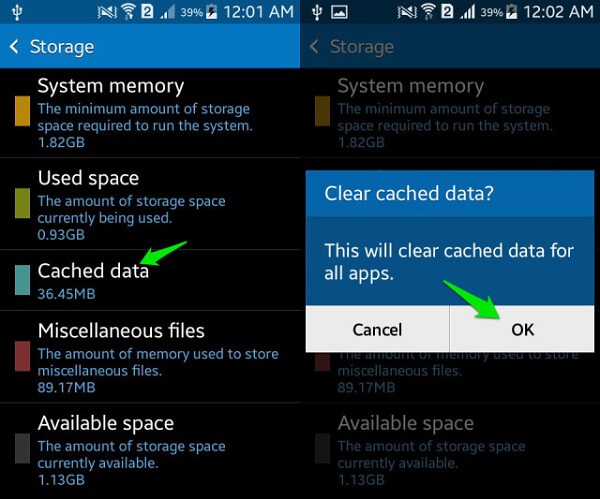 Sometimes, you may find that your phone won't hold a charge or battery drains quickly. Too many apps and cache data may be responsible for the problem. Clearing your device will solve it simply.
Step 1 Open the Settings app from your app tray, and head to Storage.
Step 2 Tap the Cached data option, and then choose OK when prompted.
Step 3 Then charge your phone again to check if it works now.
Part 3: Restart your phone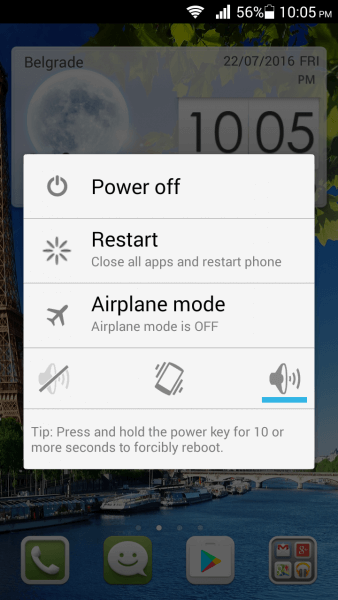 If your Android phone is unresponsive and won't charge properly, all it needs is a restarting so that your phone can detect the charging signal.
Step 1 Press the Power button to activate the power-off screen, and touch Power off to turn your phone off.
Step 2 After the screen goes black completely, wait for at least 10 seconds. Then hold down the Power button again to turn on your phone.
Step 3 Now, try and check if the phone charges normally.
Part 4: Install the latest software update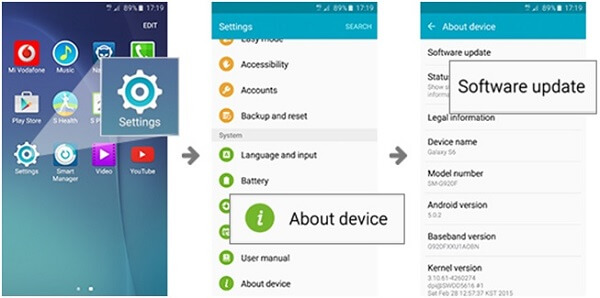 The outdated software could cause a variety of errors, including phone won't charge, so you'd better always update your software.
Step 1 Connect your Android phone to a Wi-Fi or a cellular network.
Step 2 Navigate to Settings -> About device -> Software Update.
Step 3 If there is an update available, download and install it to your device.
Now, your phone should charge as usual.
Also, this way also works to fix your crashed phone.
Part 5: Reset Android phone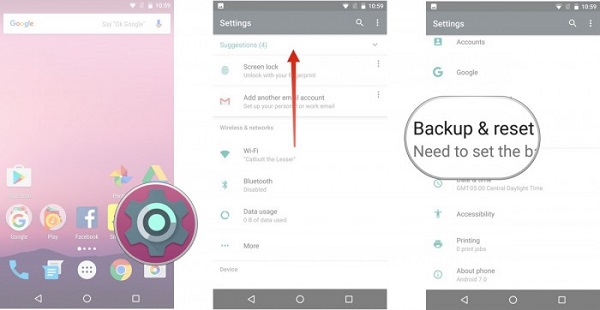 Factory reset is an effective solution of troubleshooting. It is able to fix various problems, including smartphone won't charge at all.
Step 1 Head to Settings -> Backup and Reset or similar option.
Step 2 Tap the Factory data reset option, and then select Reset Device.
Step 3 Finally, tap Erase Everything to start resetting your phone to factory status.
Note: This way could fix the problem efficiently, but it will erase all personal data on your phone.
Part 6: Replace your battery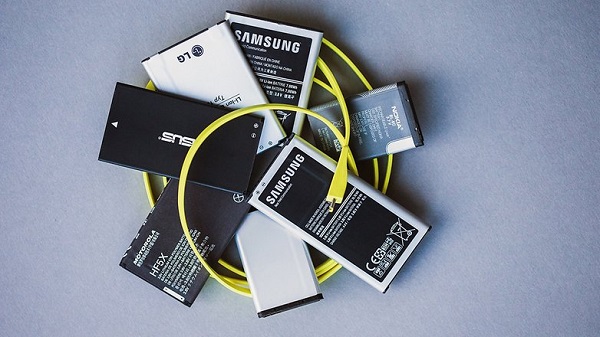 If you have performed the solutions above and the problem that phone won't charge persists, it is the time to replace your battery. Power off your phone and remove the back cover, and you will see the battery. We suggest you to purchase a new battery from your manufacturer, or at least buy a battery from reputable sources.
Part 7: Backup Android phone data
As said previously, factory reset and other troubleshooting to fix your phone that won't charge may damage your data, so you had better backup Android phone with Android Data Backup & Restore. Its benefits include:
1. Create a backup for your Android phone easily.
2. Backup photos, videos, contacts, call history, messages, music, etc.
3. Preview data types and select certain files for backup.
4. Not damage existing data on your phone.
5. Add password to your backup to protect your privacy.
6. Support Android phones from Samsung, LG, Sony, Moto, Google, and other manufacturers.
7. Compatible with Windows 10/8/7/XP/Vista and Mac OS X.
In short, it is the best option to backup you data when fixing the issue that phone won't charge.
How to backup Android phone with Fonelab for Android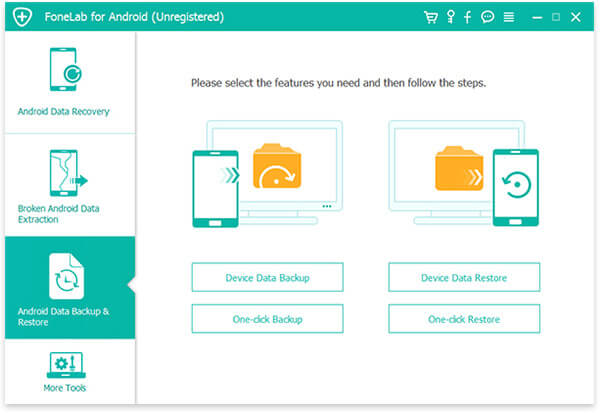 Step 1 Install Android Data Backup & Restore
Get the best Android toolkit installed on your computer and open it. Select Android Data Backup & Restore from the left side to launch the backup tool. To backup entire phone, click the One-click Backup button, otherwise hit the Device Data Backup button to backup selective data.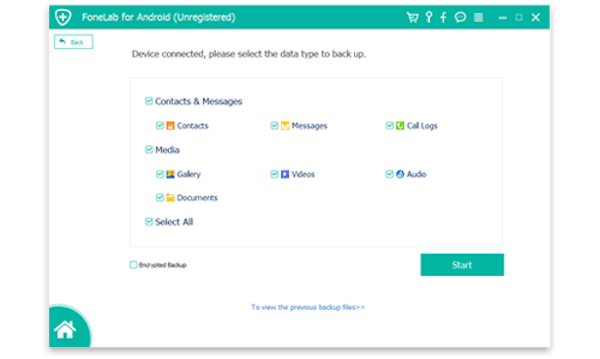 Step 2 Select the desired data
Choose the data types that you want to back up on the next window. To protect your data, select Encrypted Backup and enter your password.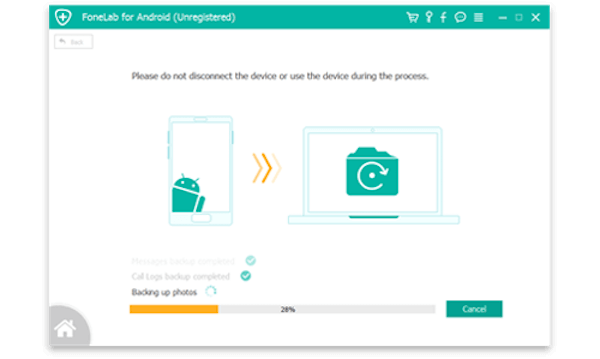 Step 3 Backup Android data simply
Once click on the Start button, the application will start making a backup based on your selection. Then you can feel free to fix your phone that won't charge.
Conclusion
Now, you should understand what you should do when your smartphone won't hold a charge properly. Backup your phone with Android Data Backup & Restore is the starting point of troubleshooting. Then you can follow our step-by-step guides to get rid of the problem easily.
If you have more questions related to charge Android phone, welcome to leave messages below.