Mac Battery Not Charging? Here're 6 Proven Ways to Save Your Battery
When you plug Mac into the power source as usual, you may find that something goes wrong with the computer. "Why is my Mac not charging?" is the question asked by many Mac users. For instance, you may find that the MacBook Pro battery not charging with orange light. It is also possible that your MacBook Air not charging with green light. Things will be worse if your MacBook Pro won't charge or turn on with no light in the status indicator.
There are many possible reasons accounting for Mac not charging, such as hardware problems, overheating, battery critical condition, broken connections, incorrect settings and more. You can try the following steps to fix battery not charging on MacBook Pro or Air in different aspects.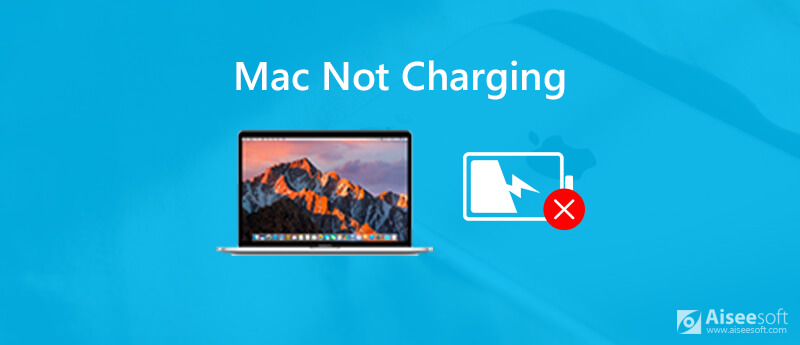 Part 1: Troubleshoot Mac Battery Not Charging with 6 Ways
Just as above mentioned, the Mac computer not charging issue is caused by many factors. Luckily, you can fix MacBook battery not charging when plugged in with easy steps physically and internally here.
Way 1: Check the Power Outlet and MagSafe
Firstly, you can charge Mac with another outlet to have a check. Maybe the electricity in the socket has been cut while charging. Later, you need to check if there is any dark stain or broken spot in the power cable. If you are not sure, you can use another MagSafe to charge MacBook. It is a good way to check if the battery is not charging because of power source or power adapter.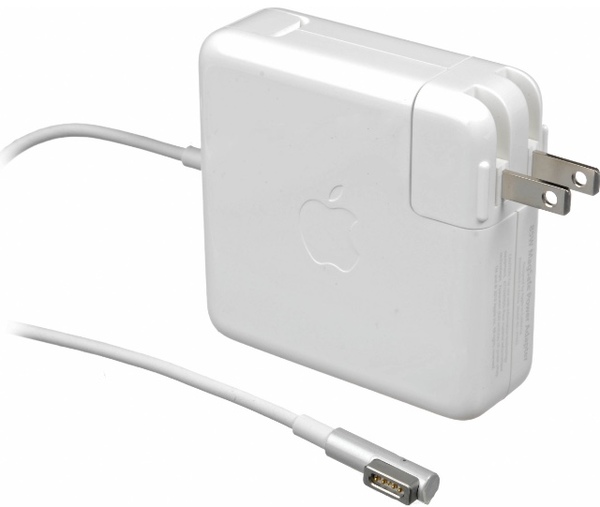 Way 2: Clean the MagSafe Port on Mac
The MagSafe port can be stuck by a tiny object or debris easily. If so, you need to clean up the MagSafe port with a toothpick carefully. Later, repeat the process with the MagSafe adapter.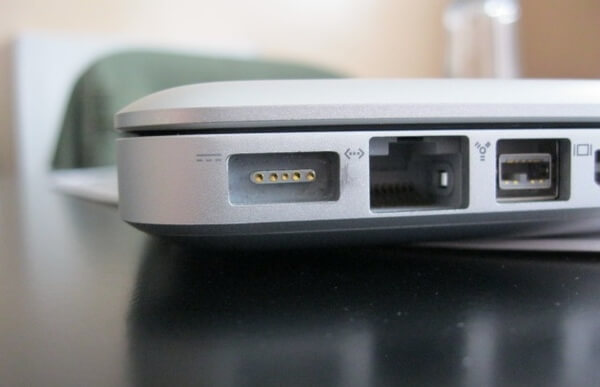 Way 3: Reboot Mac
Rebooting Mac has a magical power. You can reset hardware and fix glitches by Mac restarting with ease. Just choose "Restart" from the "Apple" drop-down menu on the top left corner of the Mac screen. If your Mac computer gets stuck, you can long press the Power button to force restart Mac. The Mac battery not charging problem can be solved via this way.
Way 4: Inspect the Battery Health
When your MacBook Pro won't charge with no light, you need to check if the Mac battery has reached its maximum cycle count. For MacBook Pro 2009 to 2018 models, the maximum cycle count ups to 1000 times. Otherwise, you had better replace a new battery on Mac to get the battery charged.
You can check the battery information via "Apple" > "System Information" > "Power" > "Health Information" > "Cycle Count". By the way, you can check the battery condition from the "Battery" drop-down list on the top. Your Mac battery will be in "Normal", "Replace Soon", "Replace Now" and "Service Battery".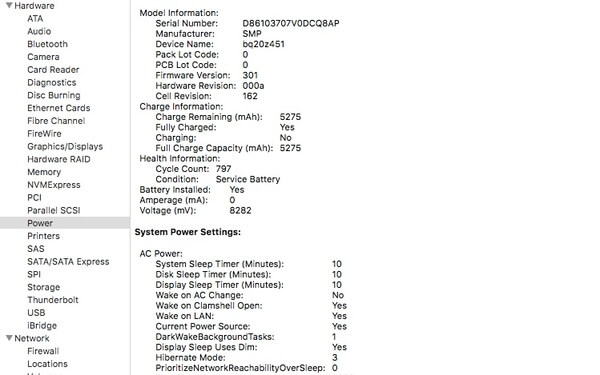 Way 5: Reset SMC on Mac
If your MagSafe and battery are in good conditions, you can reset SMC (System Management Controller) to solve Mac not charging with no light. If your battery is not removable, you need to shut down your Mac computer and plug it into the power source first.
Later, hold and press "Shift", "Control", "Option" and "Power" buttons simultaneously for about 10 seconds. After that, release the other keys, but keep pressing "Power" to power on your Mac computer.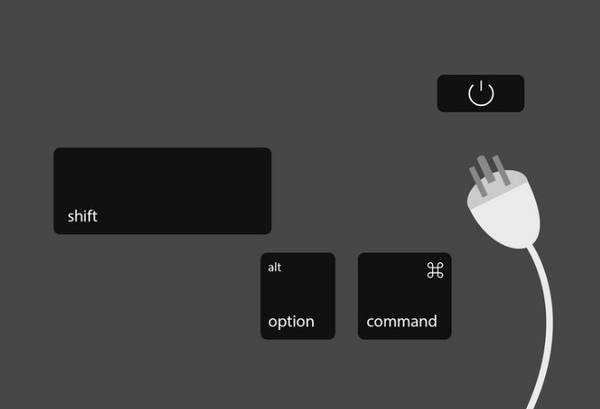 Way 6: Cool Down Your Mac
If there is a drastic rise in temperature on your MacBook, the MacBook battery feature will be blocked. Well, you can power off the computer and leave it alone in a dry and cold place. Do not put your computer in the direct sunlight. The battery won't charge on MacBook problem can be fixed easily.
Part 2: Increase Mac Battery Life with Mac Cleaner and Optimizer
You may not notice that junk files and battery-draining apps lead into Mac not charging too. If there are too many unneeded apps installed on your computer, the Mac running speed will be reduced a lot. Moreover, the battery will be drained out quickly.
To keep your Mac in a healthy state, you can turn to Aiseesoft Mac Cleaner for help. It is more than a simple Mac cleaning program. You can also monitor the battery status and Mac performance in real-time. The one-click Mac optimizer function is attractive.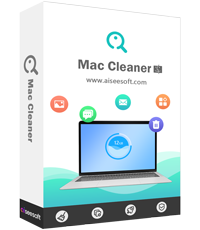 Downloads
Monitor battery status, disk utilization, memory performance and CPU usage.
Find and delete the worthless files via the duplicate finder, similar image finder, shredder and more.
Uninstall any app on Mac with all related logs or document removed in one click.
Free up Mac space and speed up Mac in multiple aspects.
Step 1:
Launch
Mac Cleaner
. Click "Status" to see the condition of CPU, memory and disk on your Mac. You can also unfold its list on the top toolbar to check the current status.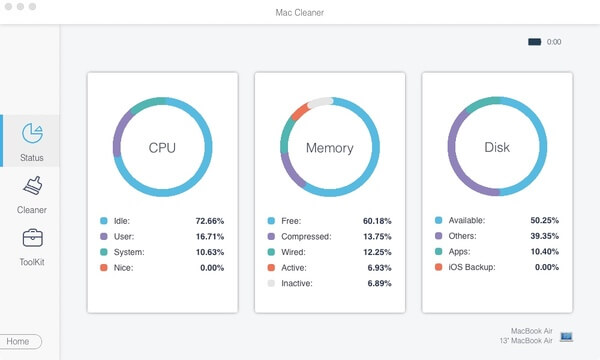 Step 2:
Click "Cleaner" to clean up system junk, email junk, large & old files and more. Choose "System Junk" to optimize Mac performance.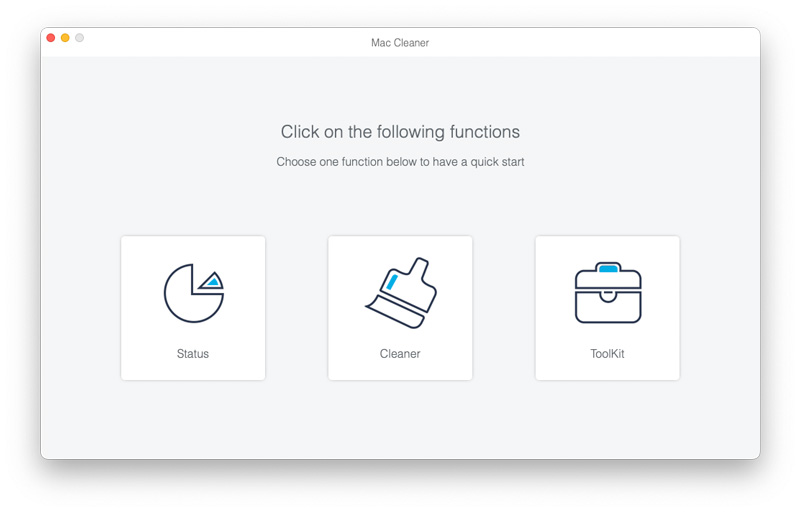 Step 3:
Click "Scan" to find out system cache, app cache and more. After scanning, click "View" to get more details.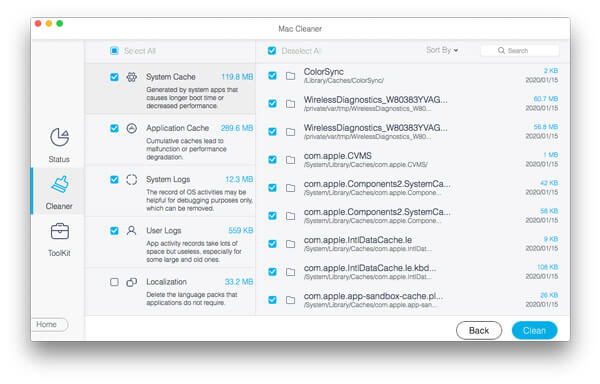 Step 4:
Choose the file you want to remove. At last, click "Clean" followed by "Confirm" to clean system junk that drain your battery.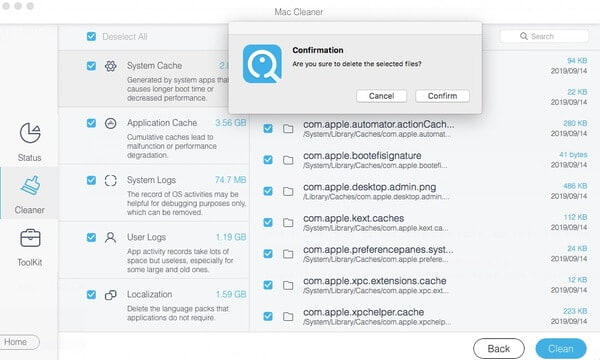 These are proven ways to fix Mac battery not charging with no or low cost. You can also use similar solutions for iPhone not charging. If nothing happens after so many attempts, you may need to replace MacBook battery starting from $129. To get rid of MacBook Pro battery not charging, you need to spend $199 instead. Is there any way to prolong the battery life? Well, you can run Mac Cleaner to keep both Mac and battery healthy.

Leave your comment and join our discussion