Part 1. How to Add More Storage to iPhone
Can I buy more storage for my iPhone 6 from 16GB to 128GB?
Before answering this question, let's explain iPhone capacity.
Unlike Android that expands its space by inserting a new SD card as external storage, iPhone does not allow you to insert an SD card for gaining more storage space. iPhone does not have such a slot for expanding storage. All of its capacity is built-in its internal storage.
Technically, you cannot expand your iPhone capacity, unless you get a new iPhone.
Though there is no hardware support to add more storage on iPhone, you could follow other hacks to increase your iPhone capacity in the next part.
Part 2. How to Get More Storage on iPhone without Paying (3 Hacks)
Thumb Drives That Upgrade iPhone Memory
It is impossible to put an SD card into iPhone, but you can add more storage by a thumb drive.
There is various small and lightweight thumb drives in the market. Plug it into the Lightning port on iPhone 5, 6, 6s, 7, 8, etc., and you can easily increase your iPhone capacity from 15GB to 128GB, 256GB even more.
Since these are protruding attachments on iPhone, they aren't the most elegant devices. For more options of external storage for iPhone, you can check it in this article.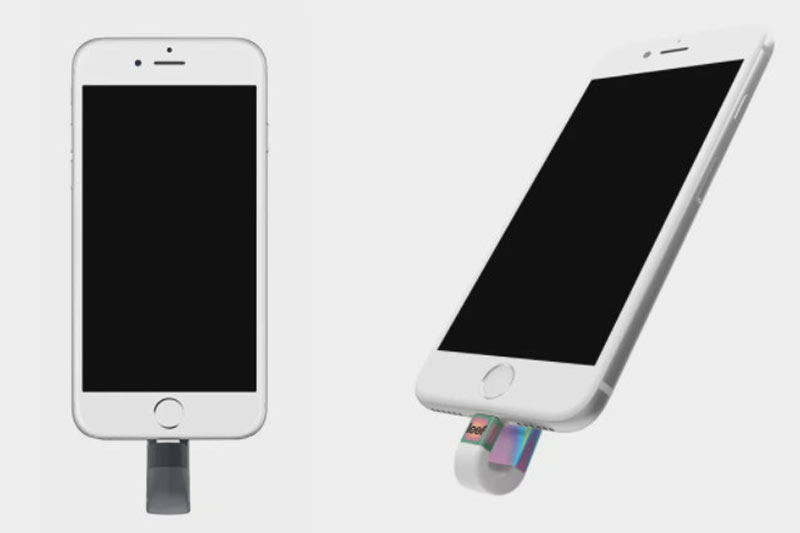 Clear iPhone Junk Files and System Storage
Another efficient way to get more space on iPhone is to clearing junk files and systems. Apple offers you some official guides to free up space via settings like uninstall apps, change the settings to turn off the option of downloading and keeping originals, and more.
Here, we find a more efficient way to clear iPhone storage by using an iPhone cleaner tool.
iPhone Cleaner is an iPhone storage free-up utility. It can scan and get rid of junk system files on iPhone to make a slow iPhone run faster. Besides, you can use to scan and locate large files like photos, videos, and more on iPhone to help you backup to computer and delete them from iPhone easily. For those unused apps on iPhone, it can find and uninstall them with the related data from iPhone quickly.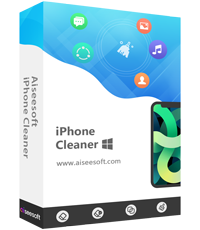 Downloads
Clean iPhone storage from junk files, system cache, and more.
Erase all data permanently without recovery to protect privacy.
Compatible with iPhone 14/13/12/11/XS/XR/X/8/7/6/5/4, iPad, etc., running In iOS 17, and before.
Compress large files and backup to computer before deleting from iPhone.
This short tutorial shows you how to clean iPhone storage to get more free capacity.
Step 1.
Free download this iPhone Cleaner
to your computer. Run it after a successful installation. Get a USB cable to connect iPhone to computer and this software will detect it automatically.
If po-up, just tap Trust on your iPhone to make your computer run your iPhone.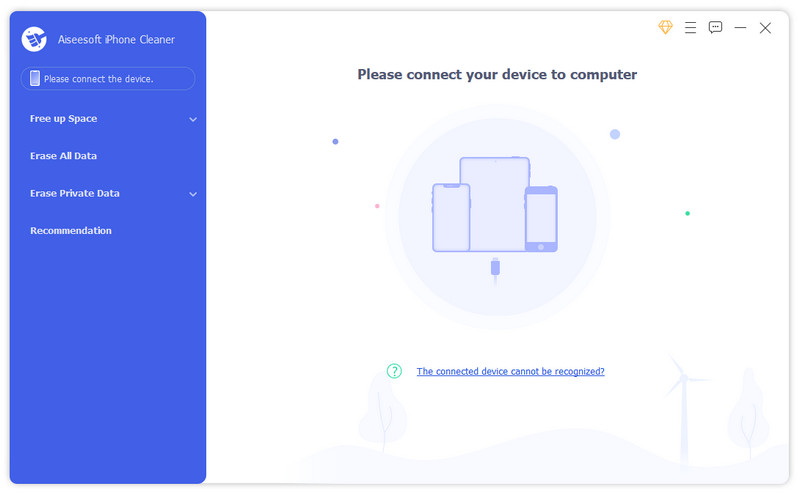 Step 2.
Then your iPhone information, including the capacity information will display on the screen. Click the
Quick Scan
button, and this tool will start a quick scan for this iPhone.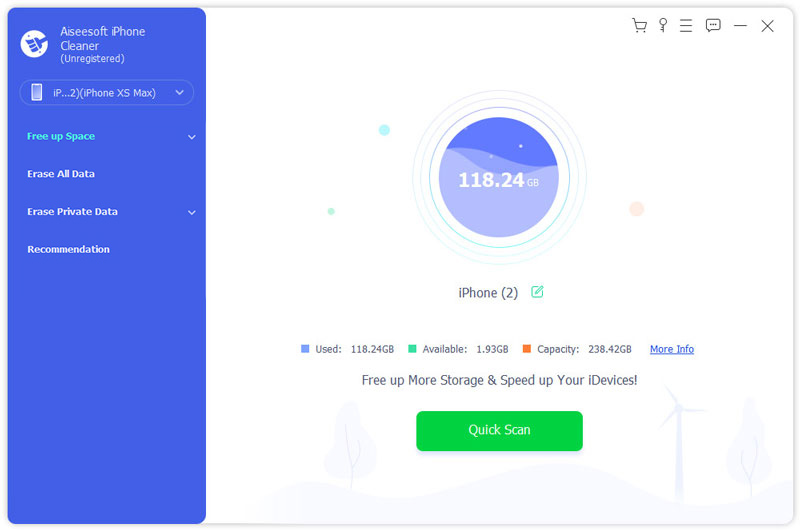 Step 3.
Wait for some moments, and the scan result is complete. Here you can view the capacity of the junk files, applications, large files, and photos that are eating up your iPhone storage.
Click the Erase button to free up the space one by one.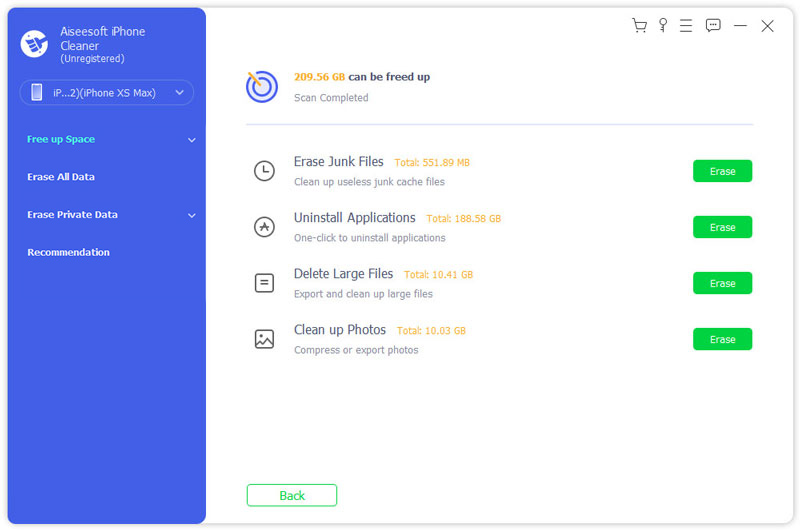 If you want to preview the detailed junk files and decide if you want to delete them, just select the data types (Erase Junk Files, Uninstall Applications, Delete Large Files and Clean up Photos ) for scanning from the left pane, and then start a deep scan.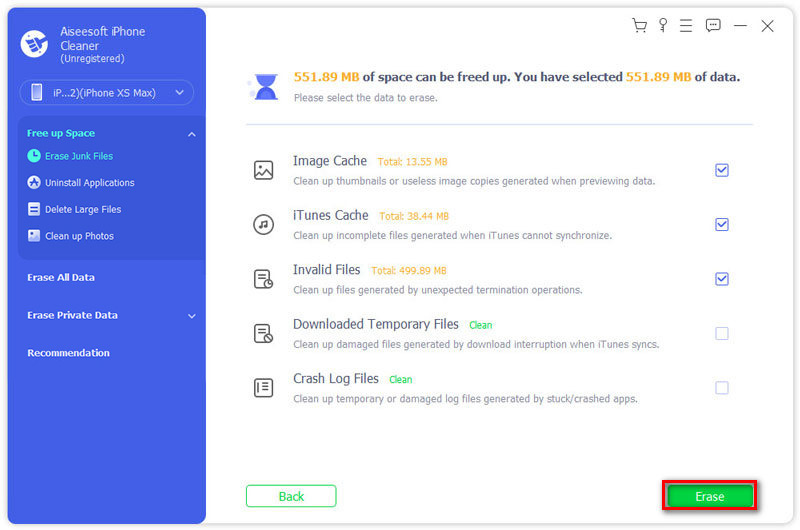 Buy More iCloud Space
If your iPhone storage is full, you can move some data from the local device to iCloud service.
iCloud is a cloud service, where you can backup up your photos, videos, documents, text messages, and more.
iCloud offers free 5GB storage for every user automatically. If you want to upload large files you're your iPhone to free up capacity, 5GB is not enough. There are 2 options:
1. Free up more space from iCloud storage. (Get the detailed information here.)
2. Upgrade your iCloud plan to get more space on iPhone as following,
Step 1.
Go to the
Settings
app on iPhone.
Step 2.
Tap your
Apple ID
, and find
iCloud
.
Step 3.
Tap
Manage Storage
or
iCloud Storage
.
Step 4.
Tap
Buy More Storage
or
Change Storage Plan
.
Step 5.
Choose a plan, and tap
Buy
and follow the onscreen instructions to buy more iCloud storage.
You can learn from the Apple official page to learn how much it is to buy more storage on iPhone.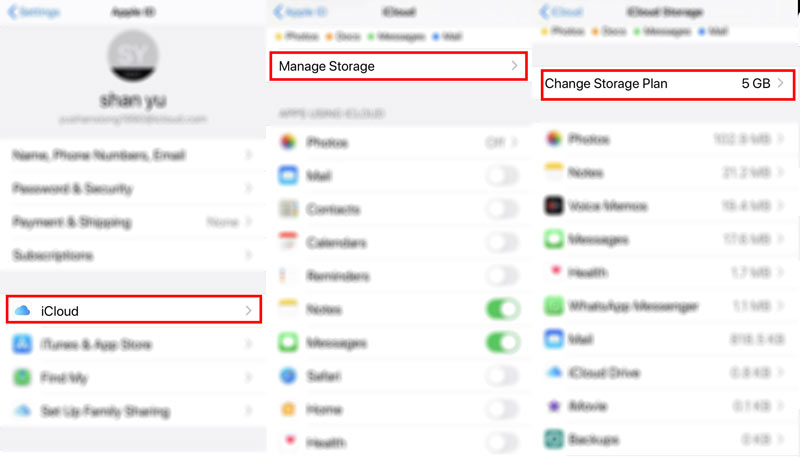 Part 3. FAQs of Getting More Space on iPhone
Does deleting text messages on iPhone free up space?
Yes. However, text messages are often some texts, which take up smaller size storage on iPhone. Even if your delete text messages to get more storage, it works a little. You can delete photos and videos on iPhone, which are large files, to create more space.
Is iCloud storage the same as iPhone storage?
No. iCloud storage is the cloud storage, which stores your iPhone backup on the cloud, while iPhone storage is the internal storage that keeps all your data on iPhone. They take up their responsive capacity and do not affect the other one.
Can you put an SD card on an iPhone?
No. iPhone does not leave you a slot to insert an SD card like an Android phone.
Conclusion
Full iPhone storage is a question that many iPhone users may meet, especially when an iPhone has been used for years. To put more capacity on iPhone or free up to get more is a question that those users need to solve. However, Apple offers iPhone users no SD card to expand the capacity. But you could follow the 3 hacks in this post to make more storage by increasing an external drive, cleaning iPhone data, and buying more iCloud space.
Have you got the hacks to optimize your iPhone storage?
Which way is your best pick to get more iPhone space?
Do you have other solutions to this problem?
Let me know by leaving your comments below.

Leave your comment and join our discussion