Emojis for Android - How to Enable Emojis on Android
Texting others without old emojis seems boring, right? Both iOS and Android are improving the cute "smiley" emoticons available to their users, while Android was a little lately to make emojis than iOS. But that doesn't mean you cannot access emoji for Android.
How to enable emojis on Android? How to get iPhone emojis on Android? This article is prepared for you on how to enable emojis on Android and how to get iPhone emojis on android.

Part 1. How to enable emojis on Android
Android users can find many ways to get emojis on Android. For Android 4.1 and higher versions, most smart phones are initially installed with emoji add-on, which enables users to use the "smiley" emoticons on all phone text filed to message or email others.
Step 1Check to see whether your Android phone can read and add emoji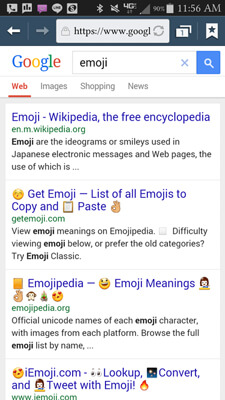 If you are not sure whether your device support Emojis or not, you can simply launch the web browser and enter "emoji". If your Android phone can support and read emojis, you can see a number of smiley faces in the searching result.
Step 2Enable the emoji keyboard on Android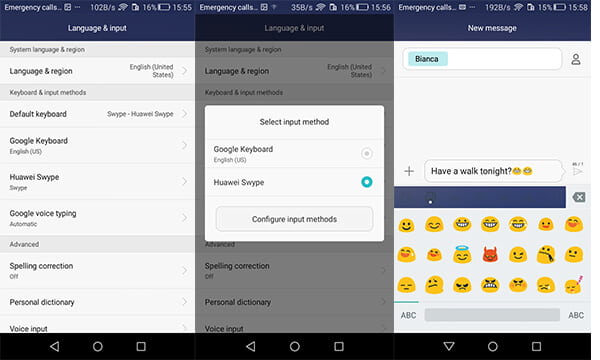 Your default keyboard may not include emojis even though your Android support emojis. How can you turn on emoji keyboard? For Android 4.4 and later versions, many Android smart phone has the standard Google keyboard, which has emoji features. Go to "Settings" > "Language and input" > "Default keyboard" > "Google Keyboard".
Best Android data manager and recovery you may want to know: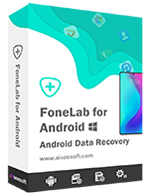 Check various data on Android device, even for the deleted ones.
Recover deleted files from Android phone/SD card/tablet with ease.
Easily handle various data loss situations like accidental deletion, rooting error, virus attack, system crash and more.
Support any frequently-used data recovery, such as contacts, pictures, videos, audio, messages and so on.
Compatible with any popular Android device like Samsung, HTC, LG, Huawei, Sony, Sharp, etc.
Part 2. Best emoji apps for Android
Some good or funny emojis can help you better communicate with your family or friends. This part will introduce you with3 great emoji apps for Android to offer you more emojis to use.
Bitmoji – Your Personal Emoji
https://play.google.com/store/apps/details?id=com.bitstrips.imoji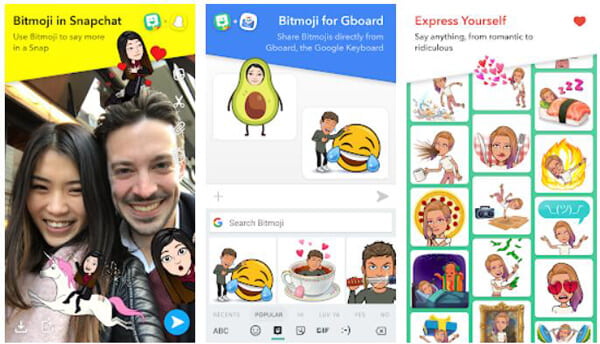 If you want to make your own personal emojis, this Bitmoji app can be a great choice for you. This Android emoji app enables you to create your digital avatar and funny emojis. It works well with many social apps like Snapchat, Facebook Messenger and more. Lots of stickers are offered to help you make emojis you really like.
Facemoji Emoji Keyboard
https://play.google.com/store/apps/details?id=com.simejikeyboard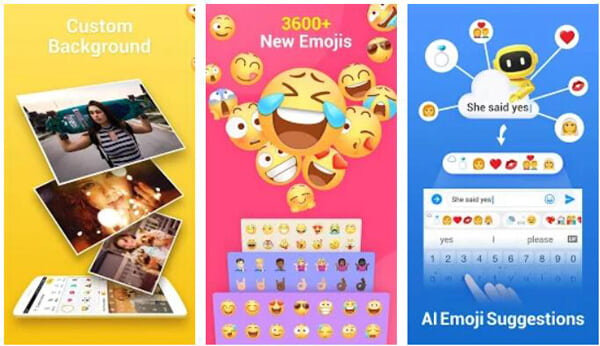 Facemoji Emoji Keyboard is more than just a simple emoji app for Android. It also carries many emoticons, GIFs, stickers on it. More than 3600 emojis are provided for you to choose from. Moreover, this Facemoji Emoji Keyboard can help you spice up chats in Facebook, Twitter, Instagram, WhatsApp, and more with ease.
Emoji Launcher
https://play.google.com/store/apps/details?id=com.smart.color.phone.emoji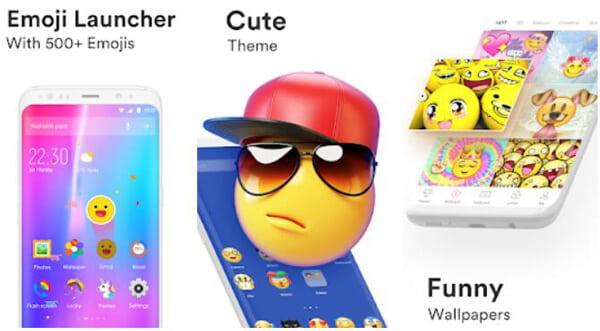 Emoji Launcher is a very popular Android emoji app which can help you quickly get new emoji styles. Many trending emojis & stickers, themes, HD wallpapers and call screen themes are provided for you. You can easily share cute emojis and GIFs with your friends. What's more, you can handily get many 3D transition effects.
Part 3. How to get iPhone emojis on Android
Emojis look different among different phones. When you use the method in the part 1, you will definitely find out that the smiley emoticons are not as the same as iPhone emojis. Do you want to get iPhone emojis on Android? How can you get iPhone emojis on your Android phone? Keep reading.
Method 1. Install WhatsApp on your phone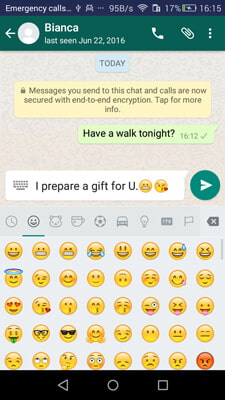 Actually, you can easily get iPhone emojis on your Android phone by installing WhatsApp, the ubiquitous messaging application which uses the same emoji keyboard, whether you are using iPhone or Android phone. In another word, you can use the iPhone emojis on Android phone through WhatsApp.
No special setup or rooting is needed, you just simply download and install WhatsApp for Android from Google Play. However, Whatsapp emoji keyboard cannot be applied in other messaging apps, so you're guaranteed to get iPhone emojis on Android WhatsApp.
Method 2.Root your android for iPhone emojis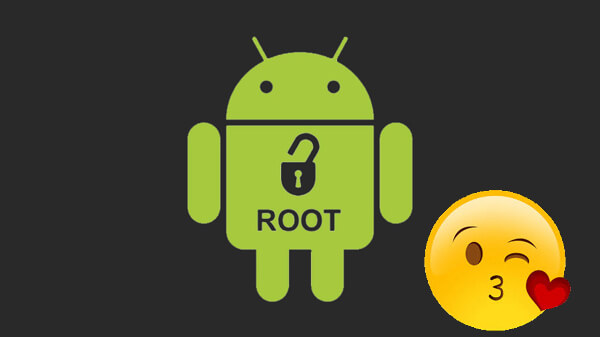 Actually, you can root your phone to get iPhone emojis on your Android, which needs you to know some technical know-how. But this may be the complete way of gain iOS-style emojis on Android phone. This method seems a little risky. There is potential risk when you begin to mess the system data and root your Android phone.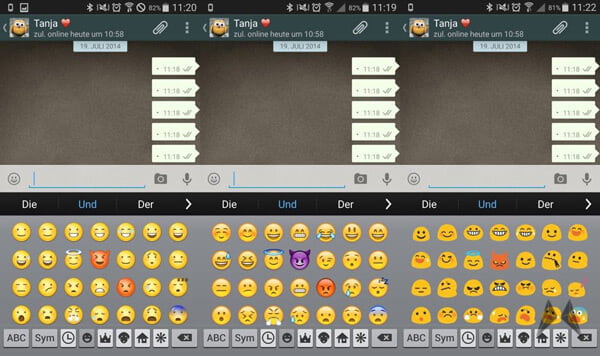 After you manage to root the device, what you can do is to download and install Emoji Switcher, an Emoji app which can take the place of the default Android emojis designs with iOS emojis. Once you launch Emoji Switcher, it can quickly recognizes the emojis you're using, and then makes you choose the new ones from its menu.
Method 3. Download an emoji application on Android phone
Don't want to root your Android phone to get iOS emojis? If you are useing Samsung or HTC smartphone, then FlipFonet 3 can be your choice. FlipFont 3 is one such application on the Google Play Store that enables you to access iPhone emojis on Samsung and HTC instead of rooting.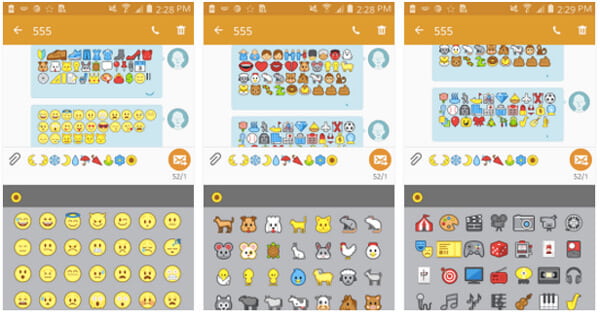 Step 1First, download and install FlipFont 3 application from the Google lay store.
Step 2For Samsung users, navigate to "Settings" > "Display" > "Fonts". For HTC users, head to "Settings" > "Display and Gestures".
Step 3Choose Emoji Font 3 and tap on "Done". Emoji Font 3 is basically a font application and emojis are part of it. However, it does not merely have much difference than the original one and its hardly noticeable. If you want to minimize the changing effect in font, you can always reduce the font size.
Step 4Now open your keyboard in any application and use the iOS emojis on Android. you will see the emojis you are using are iOS emoji-alike.
This method needs no complicated rooting process and you can manage to change Samsung/HTC emojis with iPhone-style emojis.
In this article, we mainly discuss about how to enable emojis for Android and how to get iPhone Emojis on Android. Do these tips make sense to you? By the way, read here if you are interested in how to add emoji keyboard to iPhone.