Emoji/Sticker/Handwriting Messages in iOS 10 You Can Not Miss
I update my iPhone SE to iOS 10 beta, and want to try the emoji messages. They lokk fantastic from internset images. But I cannot find the location to add emoji messages. Should I download more plug-ins?
These days, iOS 10 update is not doubt that the heated topics for iPhone iPad and iPod users. About iOS 10 update, one of the biggest changes in Apple applications is emoji messages. From Apple's preview, and internet news, you may find some cool, funny, cute or sweet message emojis and stickers. For its added functions, you can even use your animated emotions, and special handwriting to send your friends.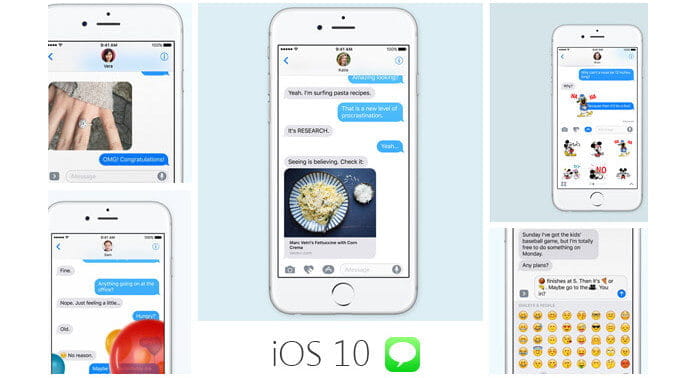 In this post, we will show you the hand-on iOS 10 messages emojis or emotions and how to use them in a step-to-step way.
Before you use emoji messages on iPhone iPad or iPod, you need to add emoji keyboard to devices firstly.
iOS 10 updated emojis, stickers or handwriting in text messages
If you often use text messages to tell your friends some happy or funny news, then you can use some funny or creative text messages emojism, tickers, even the handwriting from your own finger.
3X bigger emotions
iOS 10 brings emoji messages three times bigger than before in iOS 9.
1On your iPhone, go to "Messages" to hit the "Edit" image on the right top corner to start a text message conversation, enter the contact number.
2Navigate and tap the text messages bar, type the words you want to send, tap and hold the global-like image to choose "Emoji", then you can slide the emojis to find what you want exactly. If you still want to add other texts, just hit "ABC" in the left bottom side to type texts. Then tap the green upward arrow

to send the text messages. The emojis here are 3 times bigger than that in i0S 9. So you can easily send the "Happy Birthday" emoji messages to your friends to express your bless vividly.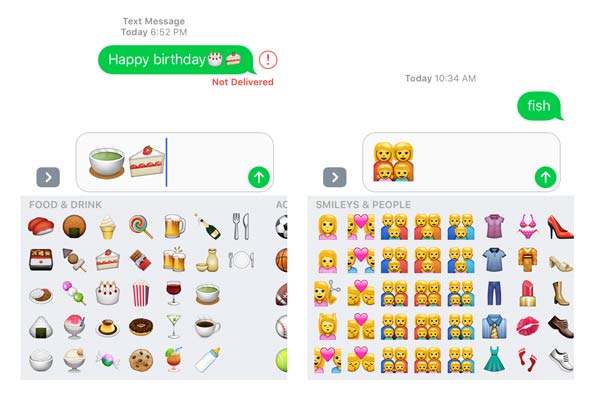 Animated handwriting
When the fans get the personalized signatures from idols, they may feel excited. Here you could also create your personalized signature or graffiti with your handwriting and send them to your frends by text messages, which is what iOS 10 does for you.
Step 1Go to "Messages", after printing the receiver's phone number, tap the messages editing bar.
Step 2Hit the image

on the left of the bar, choose the image

to go to the handwriting emojis, where you can find color option, and gesture reminder to get some special effects. Where you need to do is to choose color firstly, and then you can handwrite by yourself, or do as the gesture reminder on the right to send the built-in text messages effects.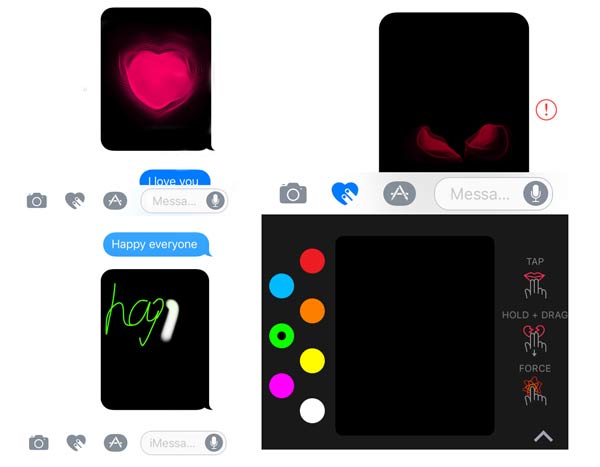 You can sketch any shape or words freely to get what emojis freely. You are allowed to sketch the cute or funny emoji images in the text messages to your friends. Also, you can sketch a horrible image to make a joke on your friends on Halloween. Also, you can "TAP + HOLD" to send the romatic heart emoji text message to your boy or girl friend. Definitely, you can handwrite the words you want to say, or your signature like celebrities to share with your friends.
When you use these cool or funny even birthday emojis in text messages, they will become MMS. So you should take care of your money.
Before you want to update to iOS 10 for these amazing emoji messages, you had better transfer your devices data to computer just in case.
New emojis in iOS 10 for iMessagess
iOS 10 update adds new emojis for iOS users. More than the funny or cute emoji messages as mentioned above, it also shows you creative emojis to send to your friends. But you should notice that you are only allowed in iMessages.
Step 1Turn on iMessages
Go to "Settings" on your iPhone, tap "Messages" > slide "iMessages" to ON. Scroll through to find "Send & Receive" to sign in your Apple ID. Enter your phone number and Email address in "You CAN BE REACHED BY IMESSAGE AT". On your friends iOS device with iOS 10, it is required to do the settings, so that both of you can receive and end various funny emoji messags.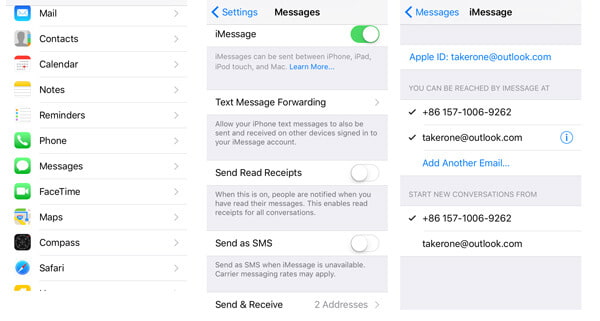 Step 2Send emojis iMessages
Back to "Messages" app, tap "Edit" to enter the receiver's iMessages number or Email. In the text editing bar, you can edit the words you want to send, and add mojis by tapping and holding on the blue upward

image to choose emoji effects. Here you will see Bubble and Screen options.
Bubble: If you choose Bubble, then four modes are for your reference, SLAM (like a quick knock), LOUD (a big font), GNETLE (a small font), and INVISIBLE INK (the words hided will be showed after the reader's tapping).
Screen: Screen effect will give you five effects with full-screen, and you can slide to change the different emojis. Balloons flying from bottom to top, color papers falling down, colored lines, fireworks, and stars moving.

After you choose one full-screen emoji messages, tap the blue upward images to send the emoji iMessages.
The above emojis are built-in emojis from Apple, if you want more pleasant emojis, you can download emoji app from App Store to have fun.
➤ For more sweet, funny, creative or love emoji or sticker messages, you can get a copy from your device app like WhatsApp, Facebook Messenger, etc.
➤ If you are not satisfied with the new added emojis in iOS 10 update, you can try to add other emoji keyboard from third-party like Swiftkey, Swype, Fleksy, etc.
➤ Every coin has two sides, so does iOS 10 update. Emoji messages are only free for iMessages users. For text messages, if you use emoji messages, those messages will become MMS, and you need to pay the money of MMS. When you use emoji messages, some problems like iMessages not sending, then check this post: iMessages not sending? Fix it.