PNG to Text: Converting an Image to an Editable Text or Document
You no longer have to retype the text all over again when trying to edit text from your picture. By utilizing picture-to-text converter programs, you can do just that. These allow you to modify the text from an image. Meanwhile, there are many tools developed for this kind of need. The thing is, not all of these tools are effective and deliver efficient results.
We will show you the tools you may use to turn your picture into editable text. You can refer to the guide below to learn to convert PNG to text.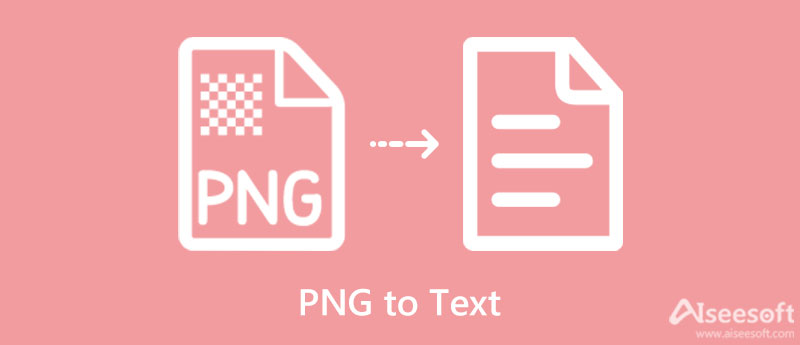 Part 1. Guide How to Convert PNG to Text on Windows/Mac
If you wish to open a PNG photo in your MS Word processor and make changes to the text, you may check the tools we compiled here. You will discover tools for your Windows and Mac computers.
1. Abbyy FineReader PDF Standard
Abbyy FineReader PDF Standard is the first program you can use to convert PNG to text effectively. The tool supports various text manipulation formats, including Excel, Word, etc. Besides this, you can take advantage of the proofreading feature to double-check the results. After double-checking, it appears that the program's accuracy is good. This tool has a lot to offer. Users can manage the fill forms and metadata, employ text and table extractions, edit text fonts, etc. Now, here is how to operate the tool.
Step 1:
Firstly, get the program installer and run the tool on your computer. After successfully installing and running the tool, you should see its interface.
Step 2:
Next, tick the
Open in OCR Editor
and load the PNG photo you like to modify. Then, you will be presented with the original and converted text file. You can edit the text font, style, etc.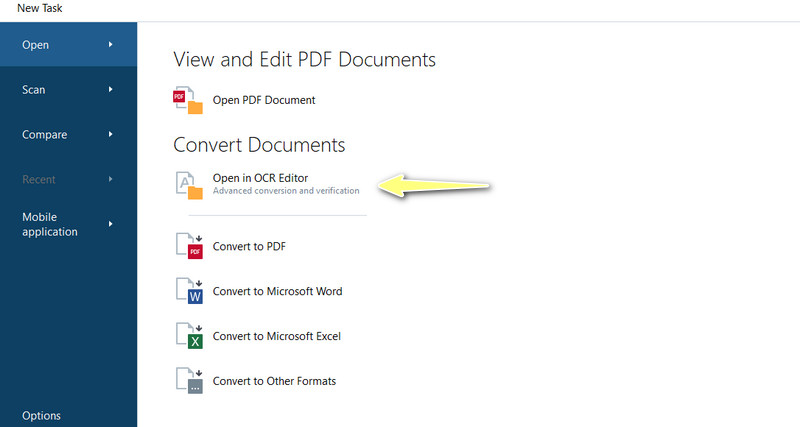 Step 3:
In this section, hit the Save drop-down menu and select
Save in Other Formats
. Afterward, choose
Text
as the output format. Finally, tick
Save
to convert the PNG into an editable text file.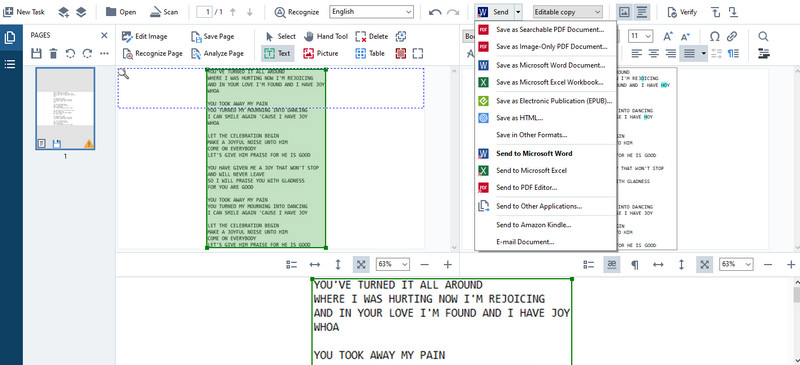 2. NewOCR
Next, we have NewOCR which helps to analyze and extract text from your image or PDF files. Besides PNG, you can use the program to convert from BMP, JPG, JPEG, GIF, and PDF files. Plus, you do not have to worry about the number of uploads. In other words, the files you can upload have no limitations and restrictions. Meanwhile, you may notice very low quality outputs, yet the effectiveness is there. Without further explanation, rely on the steps below to learn rip text from PNG.
Step 1:
Open a browser on your computer and reach the tool's home page.
Step 2:
From here, tick the
Choose File
and upload the PNG photo you want to convert. Then, immediately press the
Preview
to process the photo.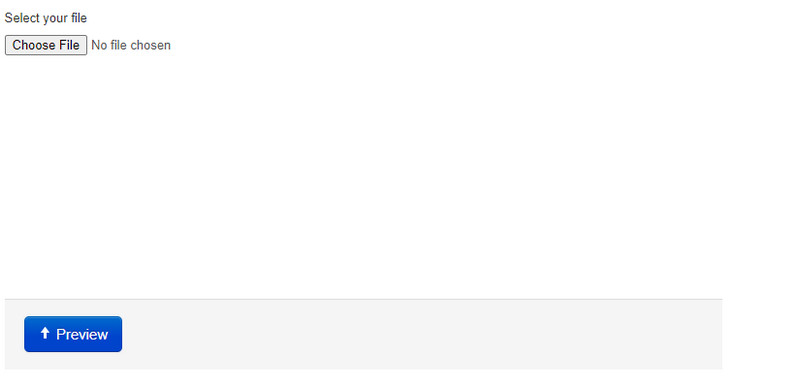 Step 3:
You can also specify the recognition languages and rotate an image.
Step 4:
Afterward, tick the
OCR
button to analyze the text from the photo. Then, you can copy the text that shows at the bottom of the interface or click the
Download
button to save.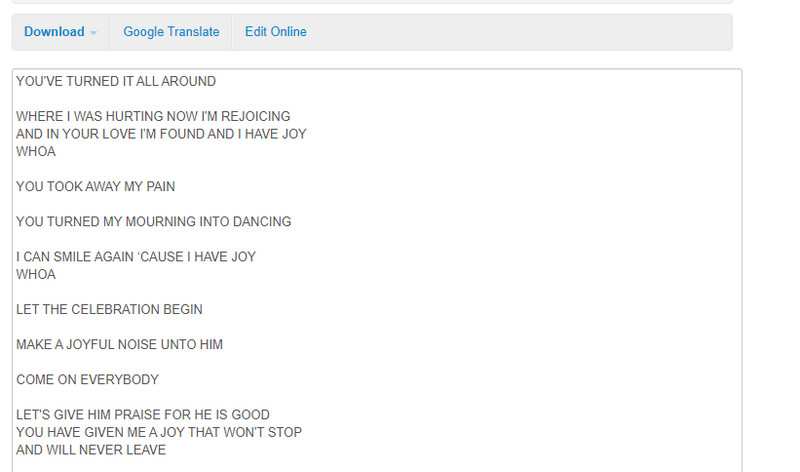 3. Online OCR
If you wish to turn your PNG photo into an editable text online, you can use Online OCR. This tool provides plenty of useful features for converting image and PDF files. You may convert in bulk, select recognition languages, convert ZIP archives, and a lot more. Moreover, it provides a preview of the text it has extracted from a photo or a PDF file. On top of that, users can convert files from the comfort of their iOS and Android devices. On the other hand, here is how you can operate this PNG to text converter.
Step 1:
Navigate to the program's website using any browser on your personal computer.
Step 2:
Next, tick the
SELECT FILE
button and upload the PNG photo you wish to convert.

Step 3:
Afterward, select a language and output format. At last, tick the
CONVERT
button to start converting from PNG to text.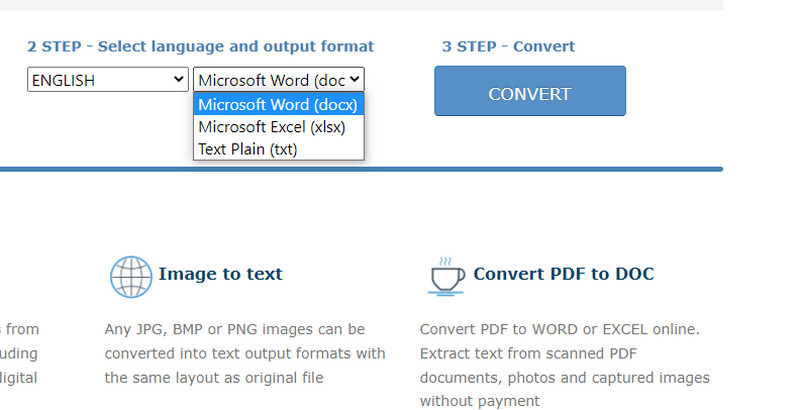 Part 2. How to Scan Text from PNG on iPhone
Aside from the desktop tools, there is also a built-in feature on the iPhone that helps you to scan and copy text from a picture. Whether a JPEG or PNG photo, it can assist you in converting photos to text. That is possible using the Live Text feature. Thus, you do not have to download third-party programs. As long as you have iOS 16 and up running, the Live Text feature is accessible. Follow the steps to operate it:
Step 1:
Open the photo that has the text you wish to edit or copy. You can also capture a photo on the spot and use the Live Text feature.
Step 2:
After opening the photo, tap the
Live Text
button on the bottom right side of your screen.
Step 3:
Select the image's text and copy it onto any document or text processing program.
Step 4:
Tap on your desired document processing tool and select
Paste
to make the copied text appear.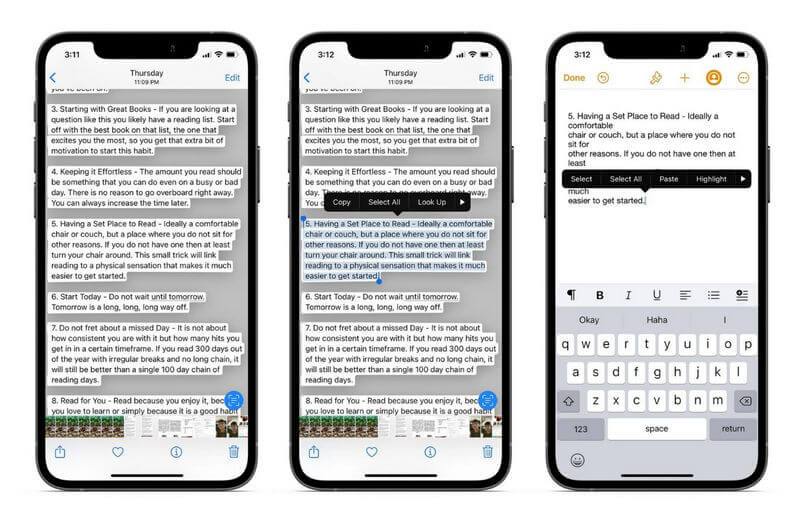 Part 3. Don't Miss: Aiseesoft Free Image Converter Online
Meanwhile, there is an instance where you need to convert various photos to JPG, PNG, or GIF. You can achieve that with Aiseesoft Free Image Converter Online. The tool supports almost any photo. And since it is a web-service program, the process is convenient and fast. Additionally, it offers to convert and download files in bulk. Best of all, privacy protection is well reached by the program, so you won't have to worry about the photos you added to this program.

Part 4. FAQs About Converting PNG to Text
Is PNG better than JPEG?
PNG is better if you want to achieve a better-looking photo. JPG is lower in quality when compared with PNG. However, it has a small file size.
What is OCR?
OCR is a technology used to turn your photo into an editable document. It can convert JPG, PNG, and PDF files into text editable by different word processing programs.
How may I convert an image to searchable text without a software?
If you mean without downloading programs, you can use the online tools mentioned in this post to convert a picture to text.
Conclusion
It is quick and easy to turn your PNG to text when you have the right program in hand. As you can notice, there are many tools to choose from to achieve this conversion. On the other hand, we simplify your task by compiling the best tools. Now, in case you have concerns regarding converting from one photo to another, Aiseesoft Free Image Converter Online is available anytime, anywhere.

Leave your comment and join our discussion