Top 5 Free Online Text to Speech Tools and AI Apps
Text to Speech (TTS) stands as a remarkable innovation in the realm of technological advancements. It has fundamentally altered the way we interact with information. This transformative technology seamlessly converts written text into spoken audio, enabling individuals to consume content in an auditory format. This post introduces five best Text to Speech tools, including free online ones and mobile apps, to easily turn your text into audio with high sound quality.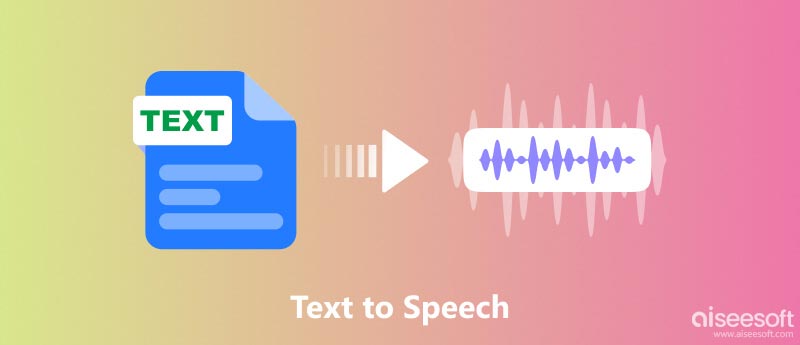 Part 1. Bonus: A Simple Way to Record Your Voice
TTS has emerged as a powerful tool for enhancing accessibility, promoting literacy, and revolutionizing communication across various domains. Before recommending Text to Speech tools, we like to share a simple way to quickly capture your voice.
Aiseesoft Screen Recorder is a versatile tool that not only allows you to record your screen but also enables you to capture your voice simultaneously. Whether you are recording a lecture, creating a voiceover for a video, or simply want to preserve your thoughts, it makes the process straightforward and efficient. It lets you handily record your voice from the computer's microphone or an external microphone.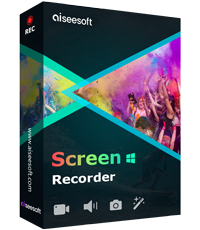 Downloads
Best Audio Recorder to Capture Your Voice
Capture sound from the microphone and system audio card.
Record webcams, video audio calls, gameplay, and other activities.
Capture background music and convert it to the right format you need.
Offer basic editing features to edit and optimize your recording files.
Step 1.
Download and install the voice recorder for your operating system. Open it and locate the
Audio Recorder
option on the main interface. Click its button to launch the audio recording module.

Step 2.
Under the Audio Source section, you will find two options:
Microphone
and
System Sound
. If you want to record only your voice, select the
Microphone
option, and disable
System Sound
. That can ensure only the audio input from your microphone is captured.

Step 3.
While not essential, you can further customize your recording by adjusting the recording settings. Go to the
Preferences
window and select the desired format for your recorded audio file. Common options include MP3, WAV, and AAC. Also, you can select the quality level for your recording.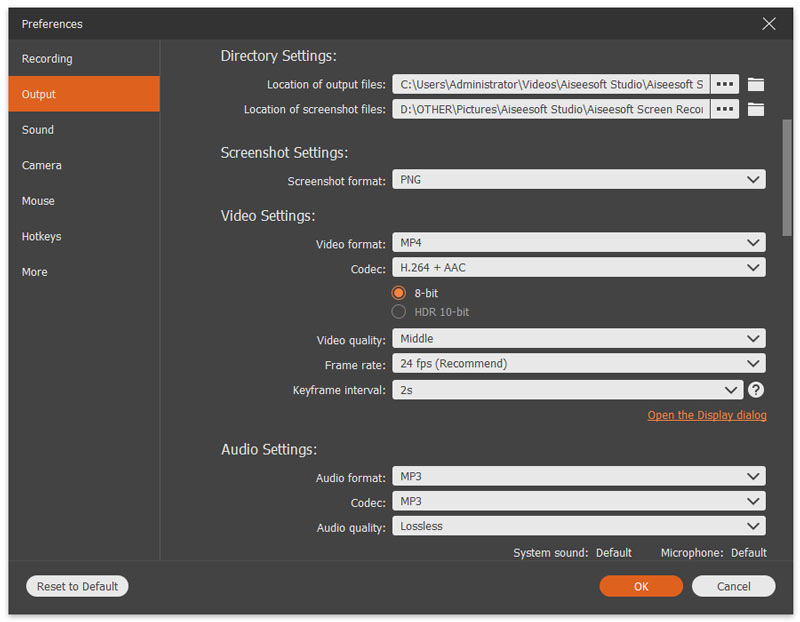 Step 4.
Once you have selected the audio source and adjusted the recording settings, click the large red
REC
button to start recording your voice. During the recording, you can pause or resume the recording using the respective control buttons. To stop recording, click the REC button again.
Step 5.
Once the voice recording is complete, Aiseesoft Screen Recorder will automatically open a playback window. You can listen to the captured audio and ensure it meets your requirements. If you are satisfied with the recording, click the
Save
button to store the audio file in the specified location.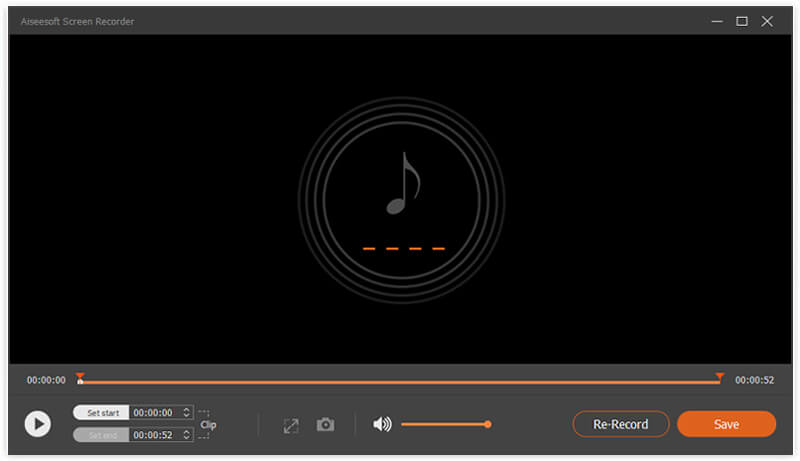 Part 2. Free Text to Speech Tools Online
The advent of free online TTS tools has further democratized access to this technology, providing a convenient and cost-effective way to convert text to speech. Numerous free online Text to Speech tools are available, each with its unique strengths and functionalities. This part recommends three popular options for you.
NaturalReader Free Text to Speech Online
NaturalReader AI Text to Speech tool stands out for its user-friendly interface and extensive voice selection. It supports many commonly used file formats, including PDF, EPUB, and Word documents. Additionally, NaturalReader provides real-time pronunciation feedback, helping you refine your speech skills.

Features:
Multiple voices and accents
Speech customization options
Text-to-MP3 conversion
PDF and web page reading
PROS
Easy-to-use interface
High-quality speech synthesis
Free for basic use
CONS
Limited features in the free version
Requires registration for full access
Woord: Text to Speech Online with Natural Voices
Woord seamlessly integrates with various cloud storage platforms, including Google Drive and Dropbox, allowing you to access and convert text from many sources. It supports a diverse range of text formats, including URLs, emails, and social media posts. Woord also carries several customization options, including adjusting voice speed, pitch, and volume.

Features:
Concise interface for quick conversions
Essential voice options for basic needs
Text-to-MP3 conversion
Social media sharing options
PROS
Free to use and offers a large selection of voices
Voice customization
Supports various file formats and offline conversion
Integrations with cloud storage platforms like Google Drive and Dropbox
Real-time pronunciation feedback
CONS
Limited free usage
Some features require a paid subscription
It is not as natural-sounding as some other TTS tools
Speechify - Text-to-speech online
Speechify is a powerful AI-powered TTS app that provides high-quality speech synthesis and a variety of customization options. It also offers integration with productivity tools like Evernote and OneNote.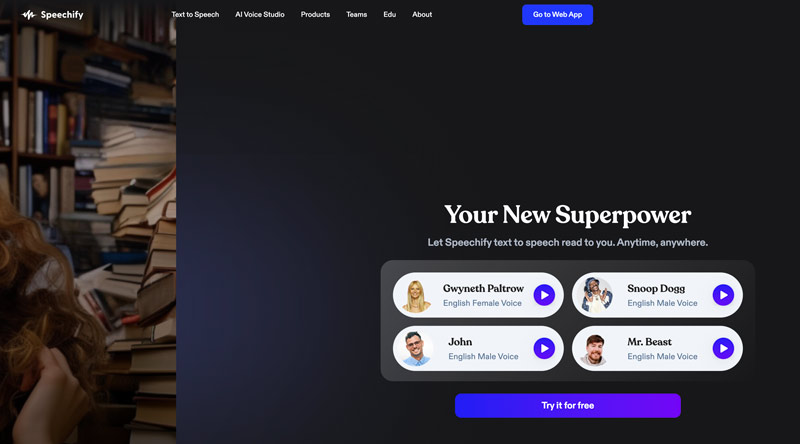 Features:
AI-powered speech synthesis for natural-sounding voices
Customization of speech speed, pitch, and accent
Integration with productivity tools
PDF and web page reading
PROS
High-quality speech synthesis with AI
Extensive customization options
Productivity tool integration for seamless workflow
Support for PDF and web page reading
CONS
Limited features in its free version
Paid plans are required for full access
Part 3. Best AI Text to Speech Apps for iOS and Android Devices
For those seeking the best AI text-to-speech apps for iOS and Android devices, two options stand out: Voice Dream Reader and Speechify. These apps have garnered acclaim for their advanced features, natural-sounding voices, and user-friendly interfaces.
Voice Dream Reader
Voice Dream Reader is an AI-powered TTS app that offers an extensive selection of high-quality voices. With over 100 voices in more than 30 languages, Voice Dream Reader caters to a global audience, ensuring that individuals from diverse backgrounds can access content in their preferred language.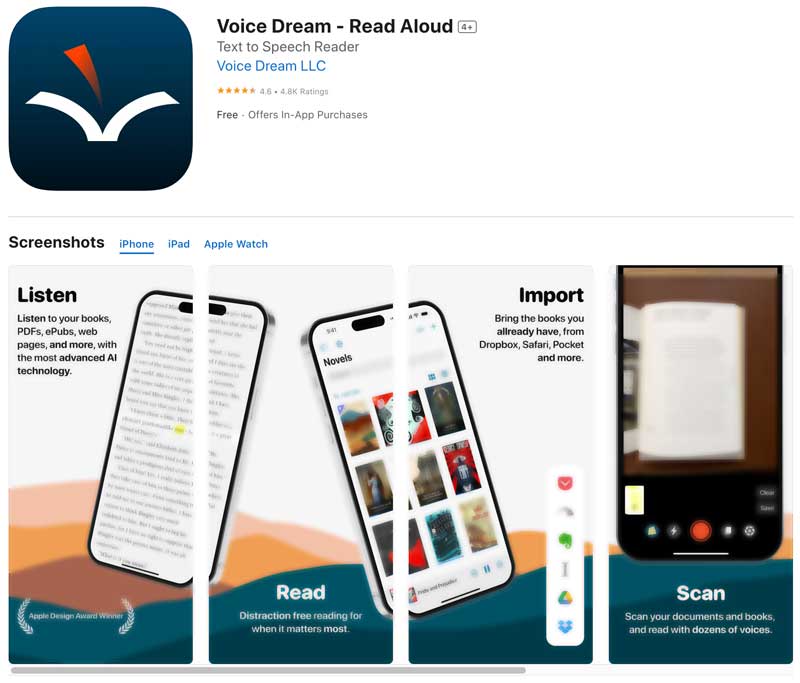 Pricing:
Voice Dream Reader offers a free plan with limited features, allowing users to test the app's capabilities before committing to a paid subscription. For those seeking unlimited features and advanced settings, premium plans are available at affordable prices.
PROS
Unrivaled voice selection and quality
Offline support for seamless usage without an internet connection
Text-to-Braille conversion for inclusive access
Advanced customization options for personalized listening
CONS
The free plan has limited features
Premium plans may be restrictive for some users
Google Text-to-Speech
Google Text-to-Speech is a free and pre-installed TTS app on most Android devices. It offers many high-quality, natural-sounding voices and supports multiple languages. Google Text-to-Speech can convert text from a variety of sources, including emails, web pages, and even PDFs. It can integrate with Google apps.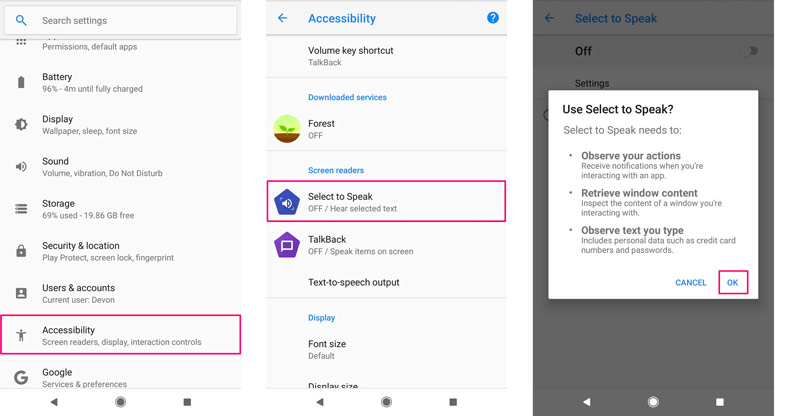 PROS
Free and pre-installed on most Android devices
High-quality natural-sounding voices
Support for multiple languages
Integration with other Google apps
CONS
Limited features compared to other TTS apps
It may not be available on all Android devices
Part 4. FAQs of Text to Speech
Does the Text to Speech sound natural?
The naturalness of Text to Speech has improved significantly over the years, and many TTS voices now sound very natural. However, there are still some factors that can affect the naturalness of TTS, such as the quality of the voice data, the size of the voice dataset, and the sophistication of the TTS algorithm.
Is there any open source Text to Speech tool?
Yes, there are many open-source Text to Speech tools available. Some popular ones include MARY TTS, CMU Flite, OpenTextTS, and eSpeak.
How does the Text to Speech translator work?
Text to Speech translators work by converting written text into spoken audio. This process involves a complex interplay of linguistic rules, acoustic models, and machine learning algorithms.
Conclusion
Whether you are a student seeking auditory reinforcement, a professional enhancing your presentations, or simply an individual seeking a more hands-free reading experience, Text to Speech offers a valuable solution.

Leave your comment and join our discussion