Twitter Direct Message: Learn How to Use and Manage It
Have you ever wanted to send someone a message on Twitter but didn't want it to be seen publicly? Let's face it, even on a social media platform like Twitter, you don't want to share everything publicly. Like other social media platforms such as Facebook, Twitter now gives you an option to send private messages to your friends.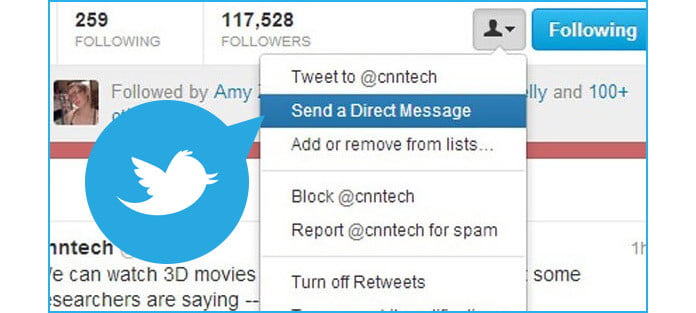 Twitter Direct Message, also known as Twitter DM, is a private message sent to a specific person on Twitter. Like regular tweets and replies, Twitter Direct Messages are limited to 140 characters. You can send a DM only to a Twitter user who's following you, which helps cut down on spamming and other unwanted messages. Enough being said, how to use Twitter Direct Message? In this article, we will teach you how to send a Direct Message on Twitter step by step. There are also some tips about Twitter Direct Message to help you better manage it.
How to send a Direct Message on Twitter
You can take advantage of Twitter Direct Message feature on both mobile and computer based platforms, and it is quite easy to DM someone on Twitter. Now let's see how this works.
Send a Direct Message on computer
Step 1Open your preferred browser. To send a Direct Message from Twitter, you'll first need to log into your Twitter account.
Step 2Click "Messages" in the top navigation bar, you'll see a pop up showing your Direct Message history.

Step 3Click the "New message" button. In the address box, enter the name or @username of the people you wish to send a message to. A Group message can include up to 50 people.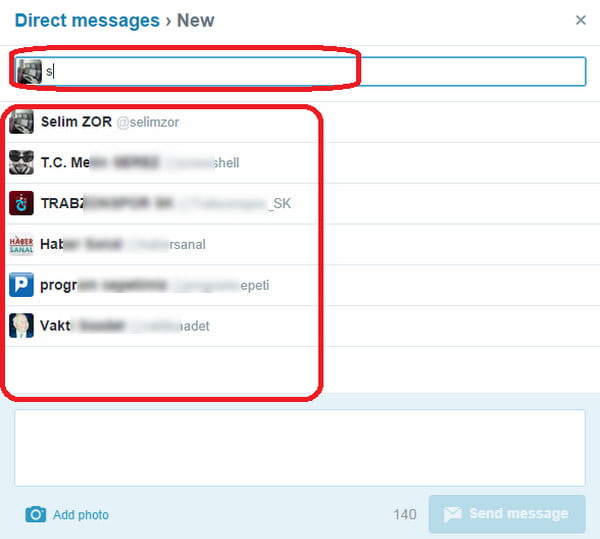 Step 4In addition to text, you can include a photo, video, GIF, or send a sticker via Direct Message.
Step 5When you done editing, click the "Send" button or press Enter key to send Direct Message.
Send a Direct Message on Twitter app
Step 1Tap the "Twitter" app, open Twitter and log into your Twitter account.
Step 2Tap the "Messages" tap in the bottom right corner of your screen.
Step 3Tap the "New Message" icon in the top right corner of your screen. You can see a list of your most frequently contacted Twitter friends.
Step 4Tap a Twitter contact's name. After their name appears in a drop-down menu, tap it; this will add them to a new message. You can do this for as many Twitter friends as you like if you want to create a group message.
Step 5Tap "Next" in the top right corner of your screen. This will take you to a new message window with your contact.
Step 5Tap the "Start a new message" field at the bottom of your screen to bring up a keyboard. Now you can type message. After the editing, tap the "Send" option to send this Twitter Direct Message out.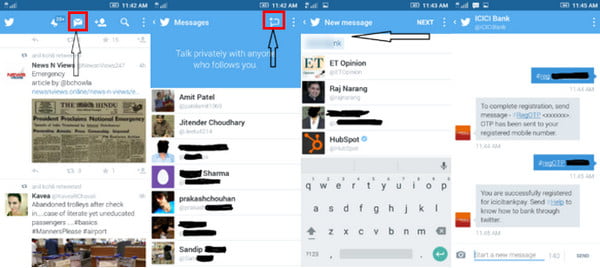 More Tips about Twitter Direct Message
How to mute from a direct message conversation?
Step 1Navigate to the Direct Message you'd like to mute.
Step 2Click or tap into the message settings. Find the more icon or overflow icon via Twitter.com or on iPhone/Android.
Step 3From the pop-up menu, select the mute time interval you'd like: 1 hour, 8 hours, 1 week, or Forever.
Step 4To unmute, click or tap the more icon or overflow icon, then click or tap Unmute notifications.
What does Direct Message read receipts do?
Direct Messages feature read receipts so you know when people have seen your messages. When someone sends you a Twitter Direct Message and your Send/Receive read receipts setting is enabled, everyone in the conversation will know when you've seen it. This setting is enabled by default but you can turn it off (or back on) through your settings at any time. If you turn off the Send/Receive read receipts setting, you will not be able to see read receipts from other people.
Read receipts are only viewable on the Twitter for iOS and Android apps, and twitter.com. Please note, however, that read receipts will also be sent when you view Direct Messages on mobile web.