Send/Recover Text Messages (SMS & MMS) with Hangouts on Android
Google Hangouts, a very popular communicational platform, lets users enjoy multiple powerful features of SMS, instant messaging, video chat and VOIP. On your Android phone, you are able to use Google Hangouts as your main messaging application for not only Hangouts messages, but also text messages, including SMS and MMS. How to send a hangouts message? This article will in detail show you about hangouts message set up and sending. What's more, we will introduce you an excellent Android Data Recovery in case you want to recover the deleted or lost hangouts messages.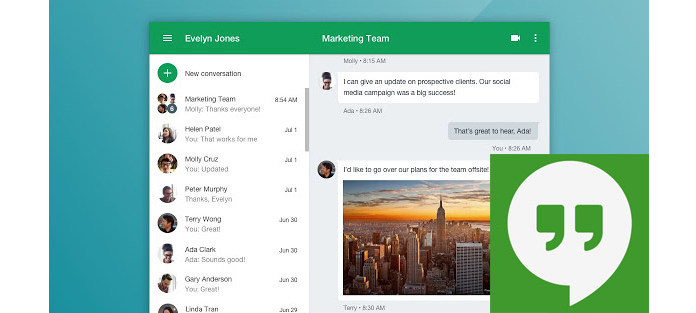 Part 1. Set up text messages (SMS) in Hangouts
In order to apply Google Hangouts as your default app, you should set up SMS text message for Hangout. But Hangout does not support dual SIM cards.
Step 1 Launch Android Hangouts app, and tap on "Menu" from the top-left corner.
Step 2 Tap "Settings" > "SMS".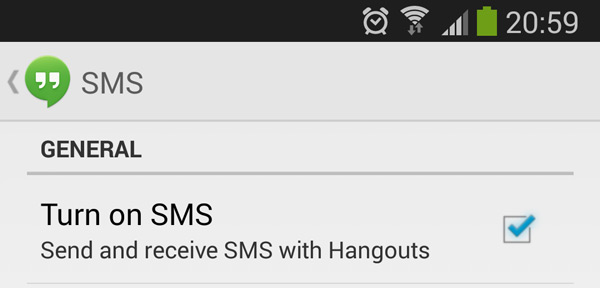 Step 3 Tap "SMS disabled" to switch the setting to "SMS enabled". If you are using an older device, try to check the box next to "Turn on SMS".
Step 4 Tap "Default SMS Messaging Account" and choose a Google account. Then your text messages will be displayed with your Hangouts conversations within this account.
If you want text messages in a separate profile (not under a Google Account), tap SMS. To see your SMS profile, tap Menu Menu. At the top, tap the SMS profile.
Hangouts on your Android phone. When you log out of your Google Account, you can still send and receive text messages in the Hangouts app. You'll need to sign in to your Google Account again if you want to send Hangouts messages or make video calls.
Part 2. Send a text message (SMS/MMS) in Hangouts
This part shows you how to send SMS messages or MMS messages in Google Hangout.
To send an SMS mesages in Hangouts
Step 1 Navigate to your device's Hangouts app. Tap "Add", the plus-like icon at the bottom right. Choose "New SMS".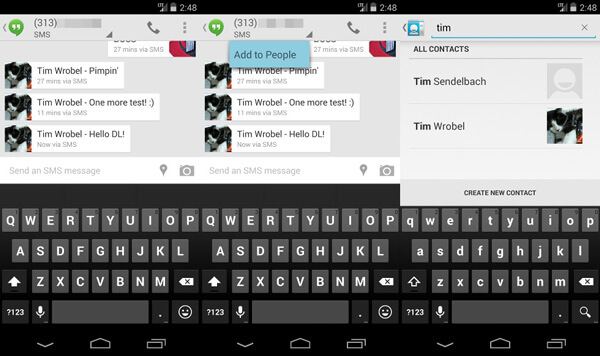 Step 2 Type in the recipient's name or phone number.
Notes:If you're traveling internationally, always use the "+" sign and country code when dialing or texting your contacts and phone numbers (even if it's local to your home or to where you're traveling).
Step 3 Tap "Continue" arrow to type your message content and tap "Send" icon.
Notes:You are able to save a number to your contacts by tapping the three-dot icon> "Add to contacts"> "Create a new contact" or add the number to an existing one.
To send an MMS mesages in Hangouts
Hangouts enables you to send MMS messages and you can add attachments to the message. From the bottom of the screen, you are able to choose an attachment type:
Emoji: Include an emoji with your message to show how you're feeling.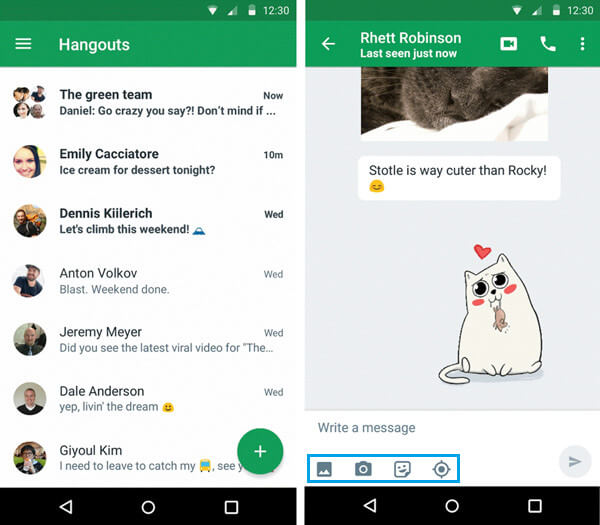 Insert image: Send one or more photos from your device's gallery.
Take photo: Take a photo.
Insert sticker: Add personality to your chat with an illustrated sticker. Stickers can only be sent in Hangouts chat or Google Voice text conversations, not in carrier text messages. To chat in Hangouts, tap to send your recipient an invitation.
Insert location: Add your current location or another location on the map. The message will send automatically after you add the location.
Ways to recover Google Hangouts messages
Lose some significant hangouts messages? How to recover the lost hangouts messages? Get the ways to resume Hangout messages.
Find and review Hangouts messages in Gmail
If your enable Gmail automatically save your Hangouts chats, you can try to find and review Hangouts messages in Gmail if you deleted or lost them by mistake.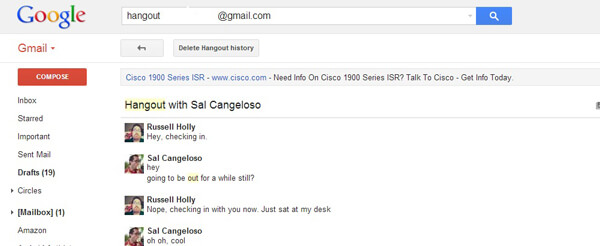 Step 1On your computer, open Gmail. Make sure it's the same account you use for Hangouts.
Step 2On the left side of the page, click More at the bottom of your Gmail labels list.
Step 3Click Chats. You'll see a list of all your Hangouts histories that you saved.
Step 4Find the Hangout you want to read, and click to open it.
Download an third-party software for Hangouts message recovery
When you lost or deleted Android files like contacts, text messages, pictures, documents, videos and more, you can download the professional Android Data Recovery program to recover them. With this software, you'll have a bigger chance to retrieve back the Hangouts messages.
Step 1Launch the Android Data Recovery on PC/Mac and connect your Android device to it via a USB cable. You need to tap "Trust" on your phone and let this program detect your phone.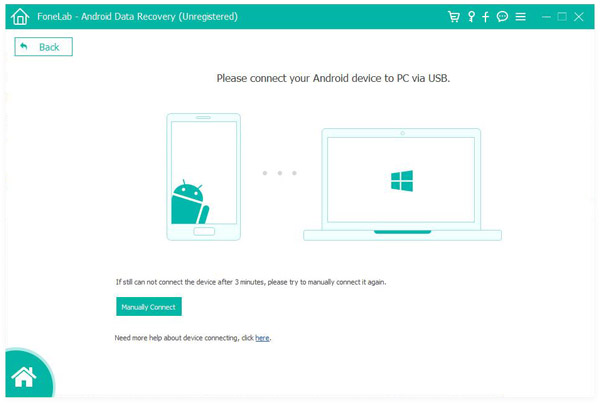 Step 2After connecting, you will enter the interface of this Android Data Recovery. Mark "Messages" and then click "Next" to start the scanning process.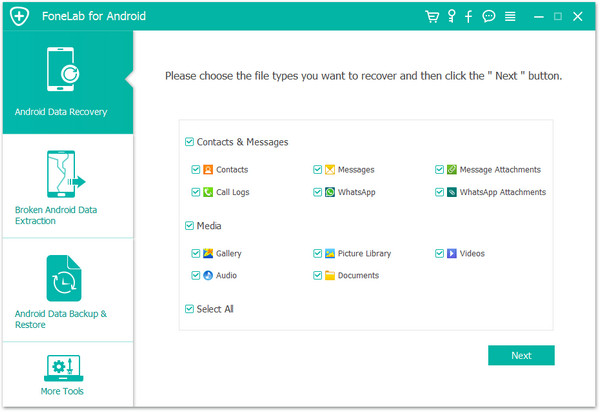 Step 3After connecting, you will enter the interface of this Android Data Recovery. Mark "Messages" and then click "Next" to start the scanning process.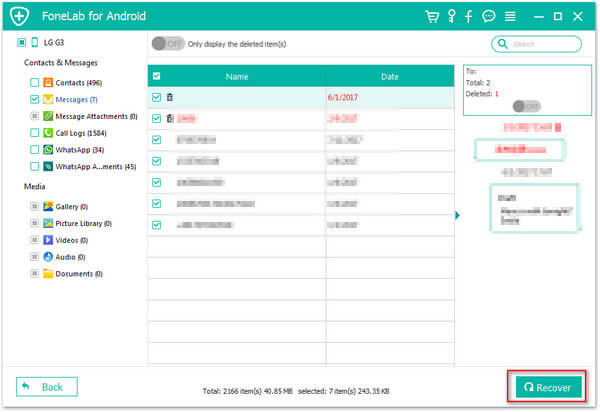 In this article, we mainly show you how to send an SMS/MMS message in Android Google Hangouts, and recommend Android Data Recovery for Hangouts message recovery. Leave comments below if you have better ideas.
You may also be interested in: How to record Google hangouts.