Top 3 iPhone Unlocker to Unlock iPhone Locked in Cricket Wireless
Get 32GB Apple iPhone 6 for &299.99, and you have to join Cricket or upgrade. And there are so many preferential discounts, which ties devices with Cricket carrier together. Once you bought smart phones from Cricket Wireless, it means you are ready to be the loyal customer of Cricket Wireless.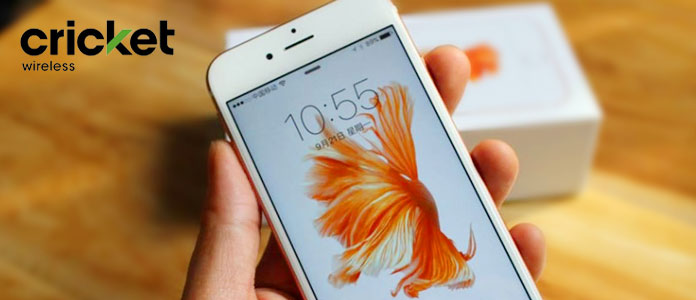 Unlock Cricket iPhone 6
For instance, if you accept the iPhone & Cricket discount I mentioned at the beginning, the Cricket iPhone 6 acquiescent contracts will limit you only to use Cricket wireless network and carrier. For some people who need to travel overseas or other specific reasons, Cricket Wireless is not the first choice any more. So is there any way to unlock Cricket iPhone 6, or other Cricket devices?
Part 1: General Cricket Device Unlock Requirements
Cricket Wireless announces that once you meet requirements they requires, you will succeed to get the unlock code to move Cricket network easily. But it also declares that Cricket Wireless reserves any unlock request with the potential of abuse and any other unlawful conduct. Let me translate for you, if you want to unlock Cricket iPhone, the following requirements are something essential but not critical.
1. Device Unlock of Cricket network
The Cricket device you want to unlock should be active for at least six months of paid service, promotionally priced versions included as well. Unless your device is on an Unlimited Plan.
Your device is locked with Cricket's network currently.
No lost or stolen report of your device, nor fraudulent account associated either.
If you has meet the above requirements, then there are two methods for you to do Cricket iPhone 6 removal, to contact the Cricket Support Advocate or visit your local Cricket Store.
2. Unlock Cricket iPhone 6 within 6 Month Service (Military Personnel)
There are special services for Cricket customers who are serving the country in military, even though the Cricket device has not reached the six-month service requirement. You just need to contact and send requirements to get Cricket iPhone unlock service.
Email address: militaryunlock@cricketwireless.com
Fax: 770-360-4979
Military information require: your name; date of birth; phone number; copy of your document of deployment status; the email address to receive Cricket unlocking directions.
Part 2: Unlock Cricket iPhone 6 Permanently
I work in Verizon store, and tonight I was attempting to help a customer activate his iPhone 6S Plus, which was purchased from Cricket. But when I put in the Verizon SIM card, the message appears that SIM Not Support. I know it means the phone is carrier locked. I searched methods online and follow their guides to contact Cricket CS to unlock iPhone 6 Cricket unlock. Sadly, I called three times, and every time I receive a different answer to refuse my Cricket iPhone 6 unlock request. Eventually, the Cricket CS just said that my customer has to go to the Apple Store to unlock iPhone.
Is it the typical process to unlock an iPhone locked in Cricket? What can I do to best assist my customer?
- Rkziki (from Reddit)
As you can see from above descriptions, not every Cricket phone unlock request can success. Cricket just reserve the right to deny you, oh, your Cricket Wireless locked iPhone. Fortunately, here are some Cricket iPhone unlocker sites, to help you unlock Cricket USA iPhone 6 in fast speed, and under reasonable price.
1. OfficialiPhoneUnlock.com (No jailbreak)
Price start from: £19.99
Typical timeframe: 24-72 hours
Official iPhone Unlock site support users to use one factory IMEI to unlock for iPhone locked to Cricket USA especially, and all baseband and firmwares are supported. Feel free to unlock Cricket iPhone 6 or later in OfficialiPhoneUnlcok.com, all iOS models are supported here, including latest iOS 12. After that, your iPhone will be SIM-Free, to accept any carrier to be put into the SIM card slot.
How to: choose your model and enter your IMEI. Cricket USA. You will see the Cricket iPhone unlock price and timeframe, complete the credit details to take the iPhone unlock order. And once Official iPhone Unlock have marked your iPhone to be unlocked from Cricket USA, you will receive the email with notifications and instructions inside. Use USB cable to connect iPhone and computer, locate iTunes and the message will displayed, to notify that your Cricket Wireless iPhone 6 has been unlocked.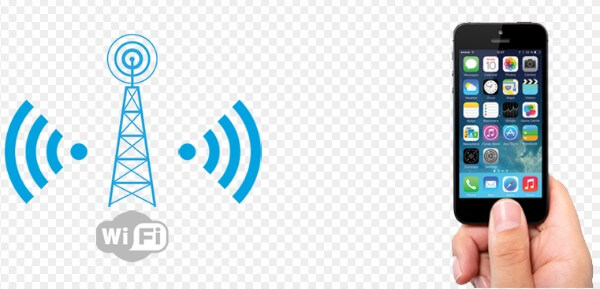 Cons: Instant carrier checking; the fastest unlock delivery; telephone support from Monday to Friday on UK; update your iPhone unlock status hourly.
2. iPhoneimei.net
Price start from: USD $119.00
Typical timeframe: 5-15 days
iPhoneimei.net offers Cricket USA iPhone unlock service as well, to get rid of certain carrier without wireless limitations anymore. It is verified official Apple unlock by Apple.inc already, so you can enjoy the 100% money back guarantee when your iPhone is still locked into Cricket Wireless carrier.
How to: select your iPhone model and insert your iPhone IMEI under Factory unlock Cricket iPhone menu. Then hit the Unlock now option, to unlock Cricket Wireless USA locked iPhone 6.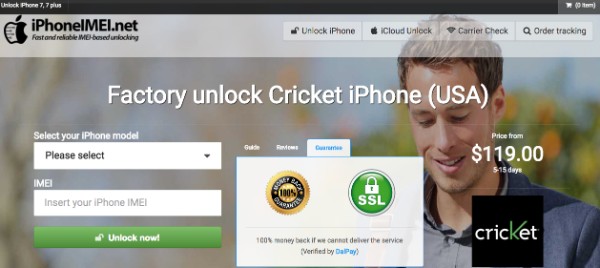 Cons: 100% money back guarantee
3. iPhoneFullUnlock.com
Price start from: USD 9.99
Typical timeframe: 4-15 business days
Quite low price for Cricket iPhone 6 and later unlocking. You can factory unlock iPhone permanently, with Apple iTunes Unlock support. iPhone Full Unlock announces that it can remove Cricket network permanently. After the Cricket-iPhone-Unlock is completed, your iPhone can be highly compatible with other wireless network.
How to: complete the IMEI number and iPhone model. Later, hit Unlock Now option to handle your Cricket iPhone 6 unlock request. Check out the payment and wait the estimated time to unlock Cricket USA iPhone.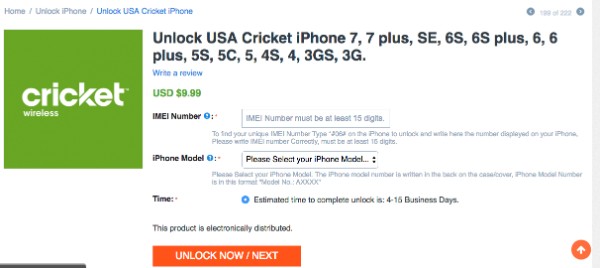 Cons: low price for unlocking Cricket iPhone
From the above three Cricket Wireless unlocker reviews, the advantages are obvious to find. You can compare and select out your best choice, to unlock Cricket iPhone 6 permanently, without iPhone jailbreak, with iTunes upgrade and warranty remain.