4 Effective Ways to Unlock iPod touch without Password
"I have lost my iPod classic ages ago, and this morning I found it in a corner of the drawer. I charge and start it. Then a lock screen appeared and asked me to enter the combination to unlock iPod. But unluckily, I can't remember this iPod screen unlock code. And I have tried a number of possible combinations of passcode. The screen still cannot be unlocked. How do I unlock the screen? Is there any method to unlock iPod?" - An iOS user.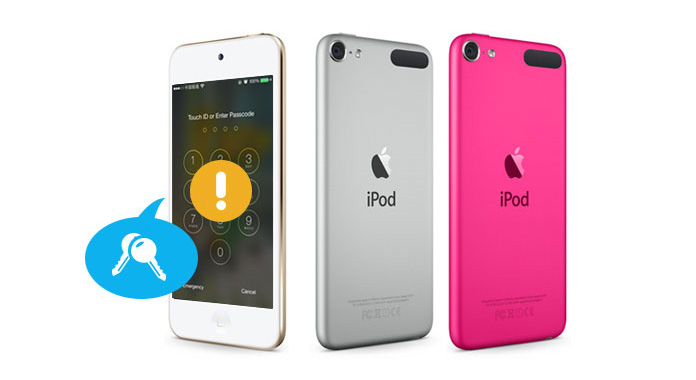 How to Unlock iPod Touch
Since iOS device add Screen Lock feature, many Apple users have met the problem of unlocking their iPhone/iPad/iPod touch screen. Screen Lock feature allows iOS users to lock their screen to protect your privacy and prevent accident taps on screen. For instance, if you didn't turn on Screen Lock button, someone may check your content of your iPhone, iPad, and iPod touch. Also, you may send some strange messages to someone in your contact list for you probably have written and sent the message by accident touches. The reason is that your device is unlocked. So, it is necessary to activate Screen Lock feature on your iPad/iPhone/iPod touch.
However, it is a common thing that we forget our passcode to unlock them. The article is written to present 4 available methods to unlock iPod screen.
Option 1: Unlock iPod touch with various possible passwords
How to unlock iPod touch?
Enter all possible combinations or passcodes you could remember. If you are lucky enough, you may unlock your iPod with right passcode. If all combinations you entered are wrong, the iPod will be disabled and remain unlocked after a minute. However, this method is least likely to fix your problem, though it is the first-recommended method to unlock your iPod touch. Then, go to the second option-to unlock an iPod with iTunes.
Option 2: Unlock an iPod touch with iTunes
Connect your iPod, iPod nano or iPod touch to the primary computer which synced with iPod at its first use, and open iTunes. You need to disconnect iPod from this computer through iTunes. After disconnecting, your iPod will be unlocked. But if the computer you iPod fist synced with is not available to you, using iTunes to unlock your iPod does not work. How could you do when you neither remind of the correct screen unlock password nor have access to the primary computer?
Option 3: Unlock iPod touch with restoring
How to unlock iPod touch?
If the previous methods are unable to unlock your iPod screen, you can try to restore your iPod to factory settings to erase all data and settings your have stored before, certainly including your iPod Screen Lock passcode. It is noteworthy that all data will be erased forever. However, if you backed up your iPod before restoring, you could recover all contents on your iPod back from backups.
Restore with iTunes
Restore with iCloud
If you have activated Find My iPhone function on your iPad, you can use iCloud to restore your iPod and unlock iPod screen.
Head to https://www.icloud.com/ on Mac, or another iOS device.
Log in with your Apple ID.
Select the device you want to restore from the iCloud.
After selecting your iPod, click Erase to wipe out your iPod, as well as its screen lock passcode.
Restore iPod from iCloud backup or iTunes backup, or set it up as a new one.
Option 4 Unlock iPod touch with FoneEraser
If you have not synced your iPod touch with any computer or have turned "Find my iPhone" off, try to use FoneEraser to erase all data and content on your iPod, further unlock your iPod touch.
Note: Before using iPod Data Eraser to unlock your iPod touch, you need to back up iPod so that you can get all data but screen lock code back to your iPod later.
Step 1 Download and install iPod Data Eraser to your computer.
Step 2 Launch the program and connect your iPod touch to computer via USB cable.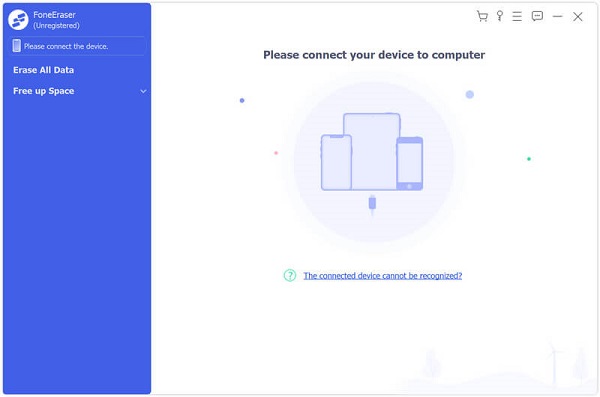 Step 3 Choose the erasing level.
After your iPod touch is recognized by the program, choose Low/Medium Erasing level to erase your iPod and unlock screen password.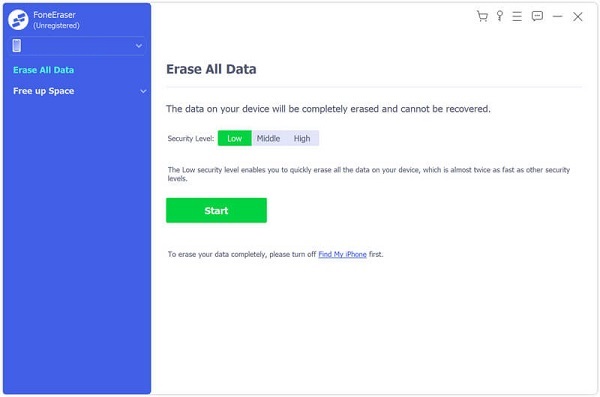 Step 4 Erase your iPod.
Click Start to wipe out iPod unlock screen password and unlock iPod touch.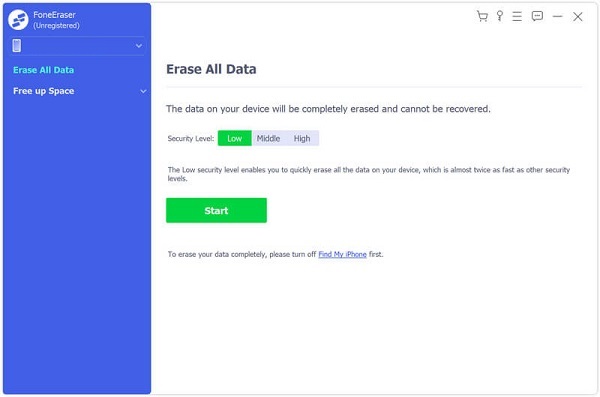 Once iPod screen is unlocked, restore iPod from previous backups. You can retrieve the previous data from iCloud backup or iTunes backup.
In addition, the methods listed in the article not only suit to iPod, iPod touch, and iPod nano, but also can be used to unlock iPhone X/8/8 Plus/7/6/6s/5/5s/5c/4/4s, iPad 1/2/3/4, iPad min1/2, iPad Air, and iPad pro.
After reading this post, you must know how to unlock iPod touch. Certainly, if you use Android phone, you can learn from here to unlock Android phone