How to Factory Unlock iPhone for All Modes to Use with Different Carrier
Summary: This article explains to you what is "factory unlock iPhone", and how to factory unlock iPhone 7/6s (Plus)/6s (Plus)/5s/5c/5/4 so that you can use it with different carriers.
Some of you may have not heard about factory unlock iPhone, but it can be of great use. Mostly, for people who have their devices locked to a specific network or carrier, they can factory unlock iPhone to change SIM card from any carrier. What's more, iPhone factory unlock helps iOS users get better network flexibility and accessibility, or even save up on Internet roaming charges.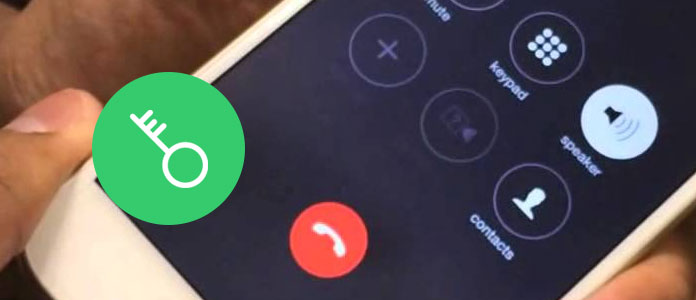 If you don't know well about the process to factory unlock iPhone, don't worry. You can start from this post to learn what it means to factory unlock iPhone, and how to factory unlock iPhone 7/6/5/4 in the correct way.
Part 1. What is factory unlock iPhone?
In most cases, the phone you bought is locked to a certain carrier like AT&T/Sprint/Verizon, with which you are not able to use other networks. Moreover, the locked phone may also come with specific logos or ringtones which you cannot get rid of. On account of that, many people tend to factory unlock iPhone to turn it into SIM-free or contact-free, so that they can use iPhone with any cell phone providers. More benefits you can get from a factory unlocked iPhone are listed below.
Advantages of Unlocked iPhone 7 (Plus)/6s (Plus)/6 (Plus)/5s/5c/4
1. Change cell phone providers and access any network you want. After you factory unlock an iPhone, you can change your SIM card to AT&T, Verizon, T-mobile, Sprint or any other providers as you like.
2. Save costs on roaming charges abroad. Factory unlocked iPhone allows you to change with local SIM card abroad, therefore you can save money for travelling abroad.
3. High in demand and resale value. Since factory unlocked iPhone has no restrictions or contacts imposed by the carriers, and buyers can start using hassle-free, it is in high demand and has high resale value. If you want to sale your iPhone 6 to gather some funds to a get new iPhone 8 or iPhone X, make your iPhone 6 factory unlocked will definitely attract more people.
Part 2. How to factory unlock iPhone – Top 3 websites to factory unlock iPhone
How to factory unlock an iPhone? The fact is, every carrier has its policy to unlock iPhone. You can check if you have met the related terms and conditions, then contact your network provider and ask for a permission to remove SIM lock on your iPhone. However, spoil alert, that's gonna take you forever. Alternatively, it is quite easy and fast to seek help from online iPhone factory unlock sites.
Here we would like to recommend you three best iPhone unlock services, and how to get official factory unlock for iPhone permanently.
1. Factory unlock iPhone with iPhoneIMEL
iPhoneIMEL.net provides you fast and reliable IMEL-based unlocking services. All iPhone factory unlock services from this site are official iPhone unlocks, permanent and lifetime warranted. Your iPhone will not get relocked because it unlocks your iPhone by whitelisting your IMEI from Apple's database. What's more, this service claims to factory unlock all modes, including iPhone X, iPhone 8, iPhone 7 (Plus), iPhone 6s, iPhone 6 (plus), iPhone 5s, iPhone 5c, iPhone 5, iPhone 4S, iPhone 4, etc.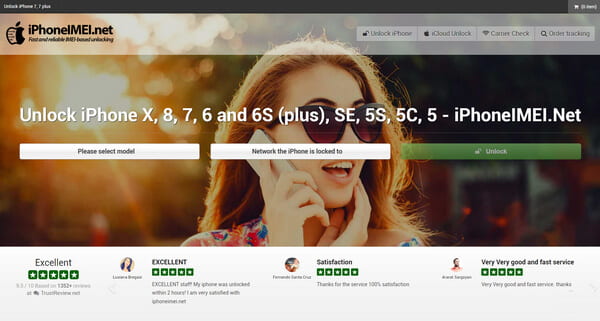 Steps to factory unlock iPhone with iPhoneIMEL
Step 1 Go to iPhoneIMEL.net official website, select your iPhone model and the network iPhone is locked to, then click "Unlock" button.
Step 2 You'll be lead into another page. Insert your iPhone IMEL here, and then click "Unlock" now button.
Step 3 Finish the payment and iPhoneIMEI.net will submit your iPhone IMEI to the carrier provider and factory unlock your iPhone. It usually takes 1-5 days. After it's unlocked, you will receive an email notification.
2. Factory unlock iPhone with Celllocker.net
Celllocker.net provides you the best and most straight forward iPhone factory unlocking solution. You can easily unlock iPhone X, 8, 7, 7+, SE, 6s+, 6s, 6, 6+, 5, 4S, 4 with no jailbreaking or complicated software. All you need to do submit your IMEI # and the model of your iPhone. No taking apart your phone, no remote unlock code.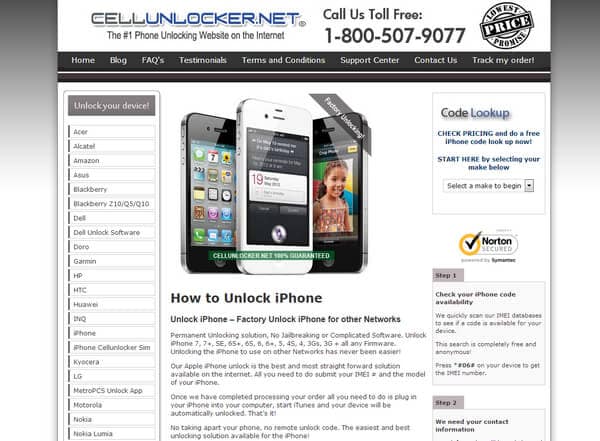 Steps to get factory unlock on iPhone for any network worldwide
Step 1 Fill in the Unlock availability list (iPhone model, network, IMEL number) and verify whether your iPhone can be unlocked or not.
Step 2 If you iPhone can be factory unlocked, fill in the payment information.
Step 3 Waiting for the email from Cell Unlocker to announce you open iTunes to unlock your iPhone remotely.
3 .Factory unlock iPhone with OfficialiPhoneUnlock.com
OfficialiPhoneUnlock.com is also a great IMEL-based permanent iPhone unlock provider. It guarantees you to factory unlock iPhone models, along with other services including iCloud unlock, network check and more. No iPhone jailbreak is necessary and it remains the warranty valid after iPhone is factory unlocked.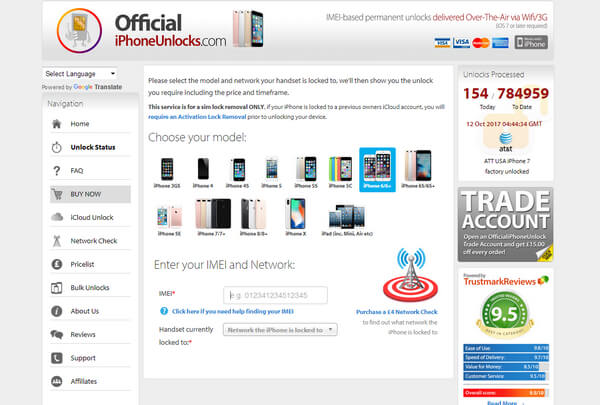 Steps to factory unlock on iPhone with officialiPhoneUnlock
Step 1 Turn to Official Unlock iPhone site and find Supported Models menu, choose your iPhone model, and you'll enter another page.
Step 2 Input your IMEI and network. Hit Add to Cart option to complete the payment.
Step 3 Once you purchase Factory unlock iPhone service, Official iPhone Unlock site will send you emails to tell you what they had done, and process your IMEI within Apple iTunes database to mark it as unlocked. When you receive the final email to announce you factory unlock iPhone has been done, you can connect your iPhone with computer and run iTunes to unlock your phone totally.
In this article, we have mainly explained to you what is factory unlock iPhone, and how to factory unlock iPhone with the best online unlocker tool for iPhone. Still have more questions about iPhone factory unlock? Feel free to leave your comments down below.