How to Unlock T-Mobile USA iPhone Easily
T-Mobile has a progressive pricing and cellular plans, which takes up about 17% of the market share of wireless subscriptions held by carriers in the U.S. Once you bought the T-Mobile iPhone, the iPhone is bundled to its network. What should you do to use a new carrier or overseas on your new T-mobile iPhone? Just check the methods to unlock T-Mobile USD iPhone. When you turn T-Mobile iPhone to SIM free, you can enjoy a different carrier without purchasing another iPhone.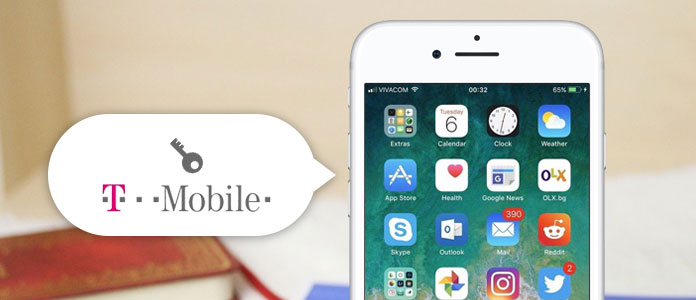 Unlock T-Mobile
Part 1: Send Unlock iPhone Request to T-Mobile
If you have read the unlock requirements, you should be frustrated about the certain conditions, restrictions, and other various requirements you should fulfill before request T-Mobile unlock code for iPhone. When you wanna send the request, you should check the rundown that you need to fulfill first.
Users
Requirements
All Users
1. iPhone was bought from T-Mobile.
2. The iPhone cannot be reported as lost, stolen, or blocked to T-Mobile.
3. Proof of purchase and certain other exceptions may apply.
4. You cannot have request more than two unlock codes in the last year.
Prepaid iPhone
1. Even if you are a prepaid customer, you still be active on its network for at least 12 months.
2. Less than one year, you account must have more than $100 in recharge since you first activated the device.
Contract iPhone
1. At least 18 consecutive months of on-time payments for contract iPhone.
2. Equipment installment plan, T-Mobile JUMP! Or JUMP! On Demand, you must have paid off the device completely.
And then you can contact T-Mobile customer service or visit the T-Mobile store to get the code to turn iPhone SIM free. You should attach account number to the device, provide the account holder's password, or the last four digital of their security number, IMEI or MEID number of the device and other information to request an unlock. Of course, even if you meet all the requirements, T-Mobile can still reserve the right to deny any request based on its own discretion.
Part 2: Install iPhone Unlock Software Tool for T-Mobile iPhone
When you are looking for unlocking T-Mobile iPhone for free, some iPhone unlocker software breaks the Apple security will achieve the goal for you. But root iPhone or break the security is a double-edged sword. But the major drawback is the iTunes updates, which might cause error message or even damage. Just download and install the code generator to SIM-free iPhone 5 with the following process.
Step 1 Download and install iPhone Unlocker
In order to solve the problem, you should download the program first. If you download the APP on iPhone, you should transfer it to your computer first.
Step 2 Connect iPhone 5 to computer via USB
When you connect iPhone 5s/c to computer via iPhone USB cable, you can wait for one minute to make sure the tool can recognize your cell phone.
Step 3 Input the information of iPhone 5
Here are the information required to unlock iPhone from T-Mobile, IMEI number on your locked device, Model of iPhone 5 and country information. Of course, you need to enter T-Mobile as the carrier.
Step 4 Unlock T-Mobile iPhone 5 with code
And then you can click the UNLOCK button to get the code to get the iPhone SIM free. You will get the code to get the iPhone 5 unlocked.
Part 3: Turn T-Mobile iPhone to SIM Free with Professional service
Is there any method to turn T-Mobile iPhone to SIM free one with ease and secure? If you have spent lots of energy to communicate with the customer service from T-Mobile or confused about the software. Official iPhoneUnlock should be the professional solution to unlock your iPhone with a factory IMEI unlock and make iPhone SIM free. Here is the way you can get the T-Mobile iPhone unlock with the service.
Step 1 Choose the Model of iPhone
It supports all baseband and firmware, including iPhone 2G, 3G, 3GS, 4, 4S, 5, 5S, 5C, 6/6+, SE, 7/7+/8/8+/X, iPad Mini, iPad Air and other types of iPad.
Step 2 Enter IMEI of the device
Just find your IMEI number in the Settings > General > About Screen, or by dialing *#06#. As for iPhone 5/5C/5S/6/6S/SE, the IMEI will be printed on the back of the iPhone itself.
Step 3 Unlock T-Mobile iPhone.
After you pay the Unlock price, you can get your iPhone locked to T-Mobile USA working on the desired carrier now.
Even if your iPhone is locked to a previous owners iCloud account, which is not acceptable for the T-Mobile service, you can also require an activation lock removal from Official iPhoneUnlock.
Conclusion
In order to unlock T-Mobile iPhone, you have to send request to T-Mobile with lots of limitation and extra money in order to turn it into SIM free. If you do not prepare to turn to another carrier, you have two solutions, the iPhone is unlocked by software and modification have to be made to the actual hardware to unlock the iPhone. When you use the software solution come with jailbreak, you should pay special attention to the free solution with software. When you have to use iPhone internationally and a better carrier service, you can ask some professional service in order to make the iPhone secure, Official iPhoneUnlock should be one of the best service you should try. If you have any other query related to unlock iPhone from T-Mobile, just share your opinion in the comments.