Effective Tools to Change WebP to GIF with Helpful Converters
Graphic Interchange Format has a unique ability that is not present in other image formats. It is a bitmap image format that supports animation. You have definitely seen one before, most especially memes across various social media platforms. Apart from that, web developers also use GIF files for static images. As we know, WebP is a lossless image. Images with this format are slow to load, especially under an unstable network.
Thankfully, the web is home to thousands of image converters. In other words, you can find a converter anywhere when searching the web. On the other hand, not all of them are created equal. This post will introduce tools that will help you change WebP to GIF pictures. To get the necessary information, read the rest of the article.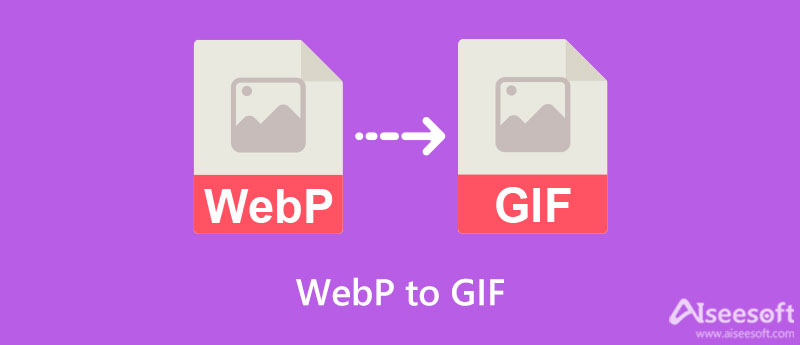 Part 1. How to Convert WebP to GIF
1. Aiseesoft Free Image Converter Online
From the name itself, Aiseesoft Free Image Converter Online is an internet-based tool that enables users to turn WebP into GIF in just a few simple clicks. In addition, it needs not to be installed to work on your computer. But of course, a stable internet connection is definitely a must-have. Using this program, you can convert multiple WebP photos to GIFs at once. As a matter of fact, you can upload and convert forty images per transaction.
Besides converting to GIF, you may also convert WebP to JPG and PNG. Therefore, you do not need to look for another tool to get these tasks done. On top of that, this tool can be used by anyone for free. That means you will not have to pay even a cent to get the most out of this program. Now, here are steps on how to convert WebP to GIF:
Step 1:
First, visit the program's website with a web browser available on your computer. From the home page, the conversion interface will immediately welcome you. Now, choose a format for the resulting picture. In this case, we will select GIF.

Step 2:
Next, upload the photo(s) you want to convert. You can perform this task by ticking the
Add Images
button on the home page. Then, select your target photos from the file folder to upload. The program will then instantly start the conversion.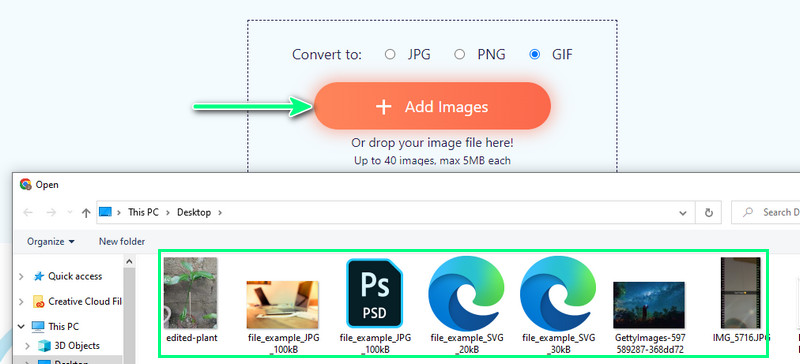 Step 3:
Afterward, you can download the converted photos to have copies of them. Just hit the
Download
or
Download All
button to get all the converted photos. You can find them in the download folder on your computer.

2. Convertio
Another internet-based program that may help you convert from .webp to .gif is Convertio. This program includes uploading files from Google Drive and Dropbox. Likewise, the tool enables you to process many files in bulk. However, you can only convert two files at a time if you are a free user. Nevertheless, the tool comes with a drag-and-drop interface, which makes it easy to load files from your computer. This feature is convenient since you do not have to run through a series of clicks. On the other hand, follow the steps to learn how to operate this WebP to GIF converter.
Step 1:
Access a browser on your computer and visit the program's official website.
Step 2:
Now, tick the
Choose Files
button and choose the WebP photos you wish to convert to a GIF. You may also hit the cloud storage icons for Google Drive or Dropbox if you like to upload from these services.

Step 3:
Next, select
GIF
as your target format from the
Image
tab. Click the drop-down list and hover the mouse cursor over the Image option. Then, select GIF to set it as the output format.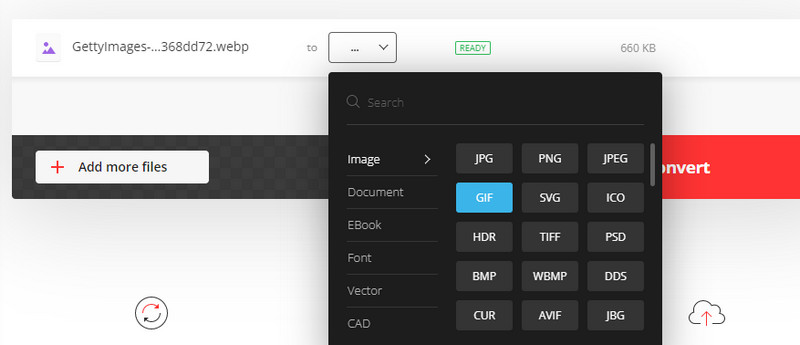 Step 4:
When everything is set, you want to start the conversion process. Simply smash the red
Convert
button to begin the conversion process. Afterward, the tool will let you download the converted files.

3. GIMP
If using an online tool is not your thing, you could switch to GIMP. This program works even without an internet connection. In actual fact, the program works primarily as a photo editor. But, it is more than a photo editor. With this program, you can perform a conversion, making it possible to convert WebP to GIF or WebP to JPG, PNG, etc. Like other editing tools, it has a lot of abilities. It comes with a crop tool, clone tool, background erases, blur or sharpen tool, and many more.
You may also edit the color, allowing you to adjust color balance, color temperature, hue, saturation, etc. It can also work with layers of photos like the feature in Photoshop. Without so much ado, rely on the steps to change WebP to GIF using this tool.
Step 1:
Obtain the tool and install it on your computer. Afterward, launch it and open the WebP photo you wish to convert.
Step 2:
When you are done opening the WebP image, navigate to
File > Export As
. Then, the
Export Image
window will appear.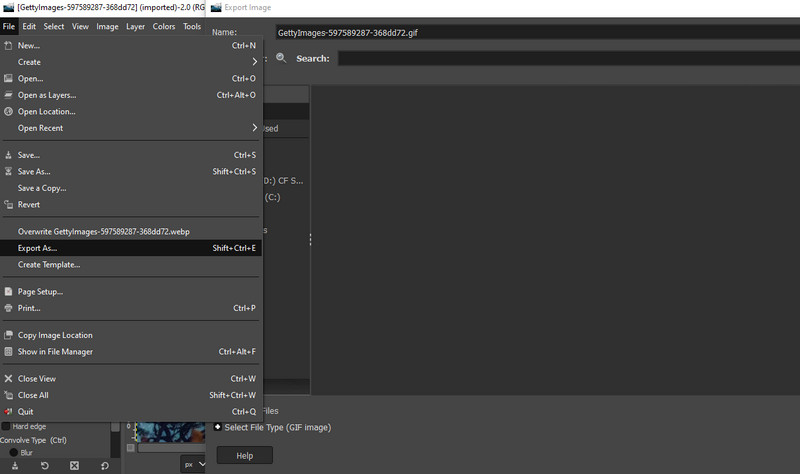 Step 3:
At the bottom of the interface, tick the
Select File Type
menu, and you will see a list of image formats. From here, select
GIF image
as the target format.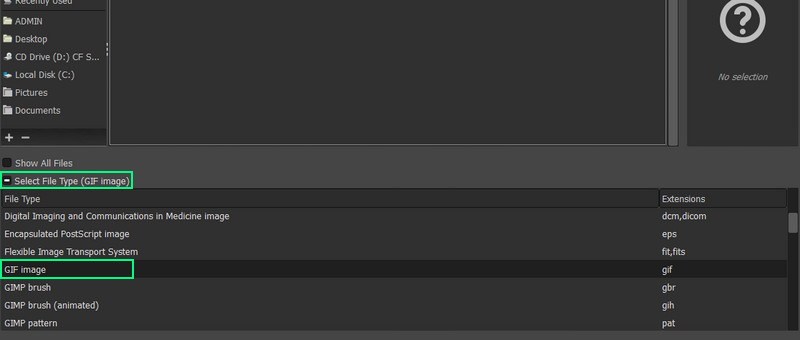 Step 4:
Finally, hit the
Export
button to begin converting from WebP to GIF.

Part 2. How to Make a GIF with Various WebP Images
Perhaps you are wondering how GIFs are precisely made. There are different methods for making a GIF. You can try EZGIF. Similarly, it is an online program dedicated to directly creating animated GIFs from the webpage. It enables you to adjust the delay of the position and resize images as you like. You can choose a frame to play slow or fast, depending on your preferences. On top of that, you may also apply effects, such as crossfade frames.
There is also an option to use global colormap. This feature enables you to use the same set of colors for every frame. In return, the file size is reduced. Over and above, the tool enables you to turn video into a GIF. Therefore, if you want to make a GIF from your MP4, MOV, or WMV video, you can do so. If you wish to learn how to get this task done, follow the steps below.
Step 1:
Load the WebP photos
Browse the web, and search for EZGIF. Once you get to the tool's main page, tick the GIF Maker option to access this function. On the next page, tick the Choose Files button and select the WebP photos you want to turn into a GIF. Afterward, hit the Upload and make a GIF! button to confirm.

Step 2:
Modify the options and settings
By then, you should get to the page where you will create a GIF. From here, you can access different options. To arrange their order, select and drag a particular photo to the order you wish it to appear. Scroll down the page and edit the necessary settings.
If you are through, and happy with the settings of your GIF, go and hit Make a GIF! Then, you will see a preview of your newly created GIF. Hit the Save button to get a copy of it. On the other hand, you can perform other actions to edit it further and get your desired outcome.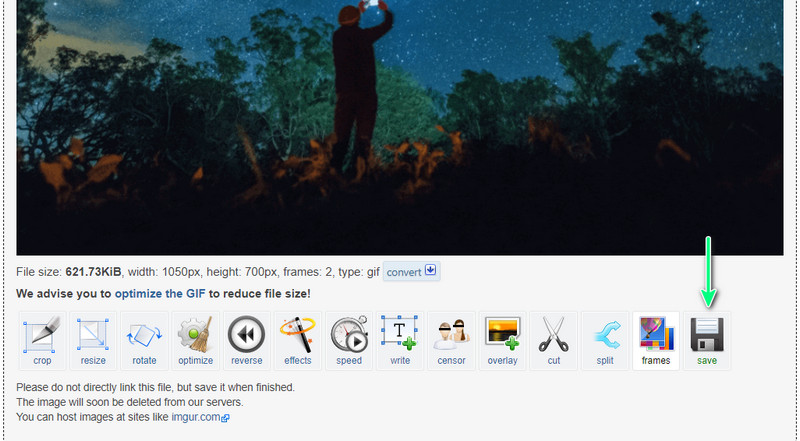 Part 3. FAQs About Converting WebP to GIF
Is GIF just an animated image?
Although it can make animated images, it can also be used for still images like PNG and JPG file formats. Its only edge is the ability to display animated images.
Can I make a GIF on Android?
Yes. There are many GIF editor apps you can use for mobile devices, like Android phones. One of these GIF editors is GIPHY.
Can I reverse GIF?
Yes, it is possible to reverse GIF. For this task, you can also use EZGIF. Just access its Reverse GIF function, upload your GIF and leave the rest of the work to the program.
Conclusion
There are various ways to convert WebP to GIF. You can go ahead and use an online program if you do not want to download software. Alternatively, you can use the software when the internet connection is not always available in your situation.

Leave your comment and join our discussion