Convert WebP to JPG Using 6 Effective Approaches with the Best Image Converters
Have you ever encountered downloading JPEG or JPG images on the web and suddenly the extension of it became WebP and want to convert WebP to JPG? Other users than you want to know how to do it. No need to worry because a dedicated converter can help you change the format into a JPEG or JPG. If you have a few minutes, we can give you a quick tour of converting your WebP files into a standard JPG; even if you don't have the experience, you will accomplish it. This guide says it all, so read this to know more!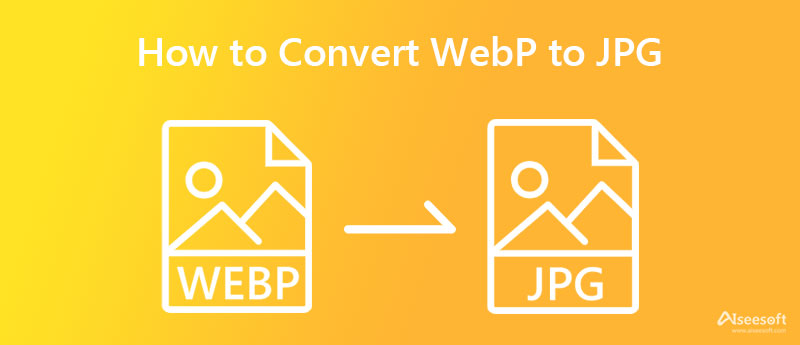 Part 1. Comparison Between WebP vs. JPEG
Since WebP became available in 2010, it has taken over 72.9% of images on the entire web. It is natural that every time you download a picture on a different net, there is a high chance that you will get the version of it in the WebP extension. JPG became the standard format on the entire web because of its compatibility and traditional design compared to the WebP. But which format wins on advantages? So, to help you determine who would win in the battle of WebP vs. JPEG, we add the factors to help you decide.
1. Bitrate, Data Color, and Transparency Supported:
Both WebP and JPG support 8-bits per pixel and 16 million of color data, yet JPG can go up to 24-bit per pixel to produce more detailed images. However, JPEG isn't transparent, which is what the WebP is best known for.
2. Editing Feature:
Even though you can edit both WebP and JPG, most image editor supports and has better processing when you upload JPG or JPEG. So, if you want to make some adjustments or add something to the WebP image, you better convert the format into a JPG to make it more possible to edit. So, you better learn how to convert WebP to JPG with the software we added.
3. Container Size and Compressing:
JPG has a much bigger container than WebP because of the color data and the bitrate it produces. Thus, JPEG isn't fitting for compressing because it is a lossy format, which means that color data loses every time you squeeze the file.
4. Best Use for the Web:
WebP has the upper hand in producing high-quality images with smaller file sizes, which will load much faster than other formats. But you can still use images in JPG or JPEG format for the web, yet it will load a bit slower than the WebP.
5. Best Image Format for Photography:
Without a second doubt, JPEG or JPG produces the highest quality and a super-detailed image when it comes to photography. Professional and average image taker still uses this format even though it is old. So, if you want to capture an image that processes high-quality output, you can't go wrong in picking the JPG format.
6. Flexible Image Format:
Besides the faster and smaller file loading, WebP doesn't offer much and isn't as flexible as you think. On the contrary, JPG or JPEG can give all of the gaps that the WebP can't fill in as a reliable format and will show you why it is still the standard image format today.
Part 2. How to Convert WebP to JPG Online [No Installation Needed]
Aiseesoft Free Image Converter Online can convert WebP to JPG for free and has the upper hand because you don't need to download this software before using it. Even if you aren't tech-savvy, you can still achieve a fantastic output when converting is done. Technically, it is a universal image converter because it is available on all devices as long as you have a browser at reach. If you want to give this tool a shot, you can read and try to execute the steps we added here.
Steps on How to Use the Aiseesoft Free Image Converter Online:
Step 1:
Open your web browser, and search its name to access the official website of this converter. Ensure that you open the application on the website of Aiseesoft.
Step 2:
Next, click the
JPG
format because you want your WebP file to be a .jpg format. Other than JPG, you can also export your WebP as PNG or GIF.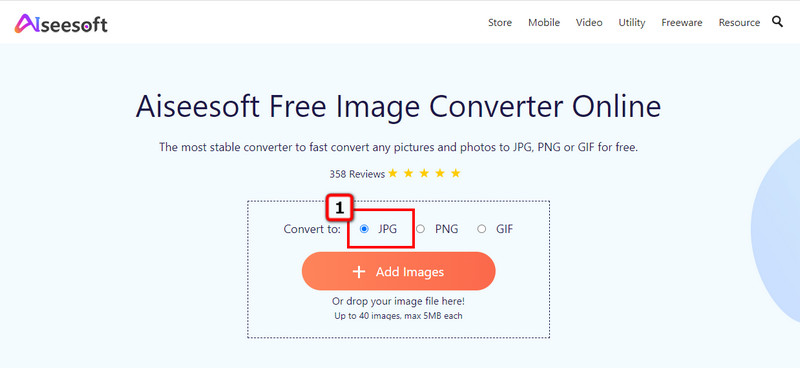 Step 3:
Hit the
Add Image
to add the WebP images you want to convert. You can upload multiple WebP and convert them into a JPEG by dragging and dropping them here.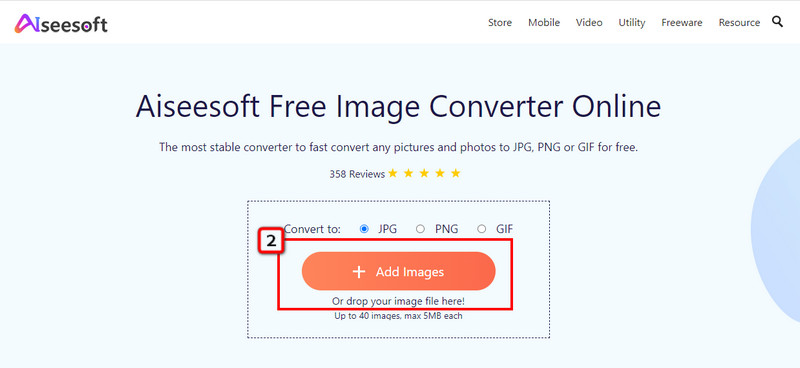 Step 4:
Wait for the converter works, then click the
Download
button to have the converted WebP on your device.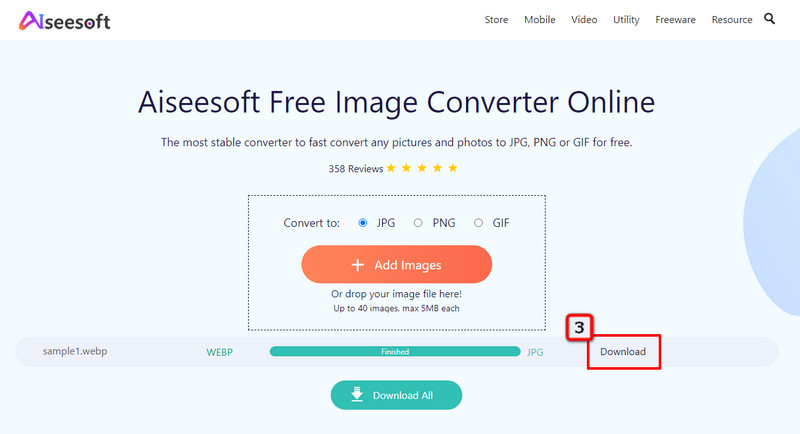 Part 3. How to Convert WebP to JPG Using Chrome Extension for Free
Save Image as Type is a free Google WebP to JPG converter you can use on any Chrome downloaded on your device. You will need to install this software before you can use it. This extension works differently from the converters we added here because it lets you choose the image's file type. You can follow the steps we add to know how this option works.

Steps on How to Use the Save Image as Type:
Step 1:
Open your Chrome and search for the name of this extension app. Now that you open the extension, click
Add to Chrome
to activate the app.
Step 2:
Search the image you want to save on Chrome and
right-click
the image.
Step 3:
After that, select the
Save Image as Type
and
As JPG
.
Step 4:
Select the location where the file will be saved and click
Save
. As easy as that, you have learned how to use this WebP to JPG Chrome extension.
Part 4. Convert WebP to JPG Offline on Windows & Mac Computers Easily [Need to Download]
1. FFmpeg
FFmpeg is command line utility software you can use to change the format of WebP to JPG. This software isn't your typical converter because you will need to input commands or codes to convert the image into a new format. Amazingly, this app works on Windows, Mac, Linux, BSDs, etc. Yet, this software is a bit difficult for beginners, but if you want to try this app out, you can copy the codes we added below.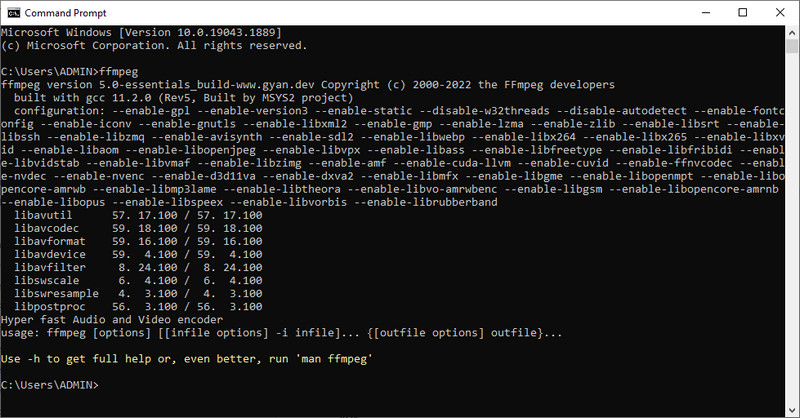 Steps on How to Use the FFmpeg:
Step 1:
Download this command line software on your desktop, then do the set-up. To check if the app is fully functional, open the
CMD
, type
ffmpeg
, and hit
Enter
. If there are codes shown on the command prompt, it means that the app is working.
Step 2:
On the command prompt, type this code
ffmpeg -i input.webp -preset ultrafast output.jpg
. Change the input's name into the file's name and the output to the name you want it to be.
Step 3:
After you add that code, press
Enter
on your keyboard and wait for the file to be converted.
2. Pixillion Image Converter
Pixillion Image Converter is a software developed by NCH Software to become one of the most reliable apps to convert WebP to JPG. This app is only available to be downloaded on Windows, which means it doesn't support a macOS version. Like another converter we add here, this app works fine on converting the image files into a new format. However, the GUI of it isn't as appealing because it looks old and unorganized. Nevertheless, we are here to convert, so if you want to learn how this app converts, follow the instructions below.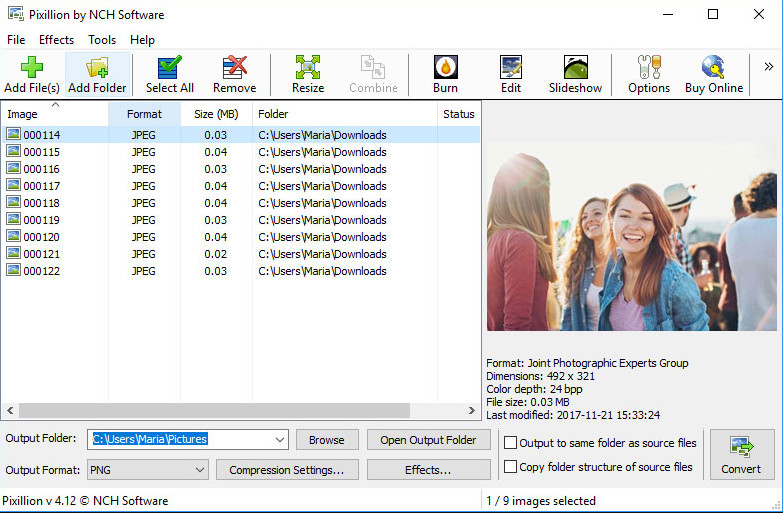 Steps on How to Use the Pixillion Image Converter:
Step 1:
Visit NCH Software to download the official version of the converter; there is no need to worry because you can freely download it.
Step 2:
To import the WebP images you want to convert, hit the
Add File(s)
, and choose the image file on the folder.
Step 3:
Set the output format to
JPG
and press
Convert
to save the final output as .jpg.
Bonus: How to Save WebP as JPG File without Converting the File
1. Paint
Paint isn't a converter but can open and save WebP as JPG. You wouldn't need to download this application because it is pre-installed on the Windows OS. Before you convert any picture to JPG or other formats, you can draw or add something to it before exporting the image. So, if you want to try to use this graphical editor on your Windows, kindly follow the steps.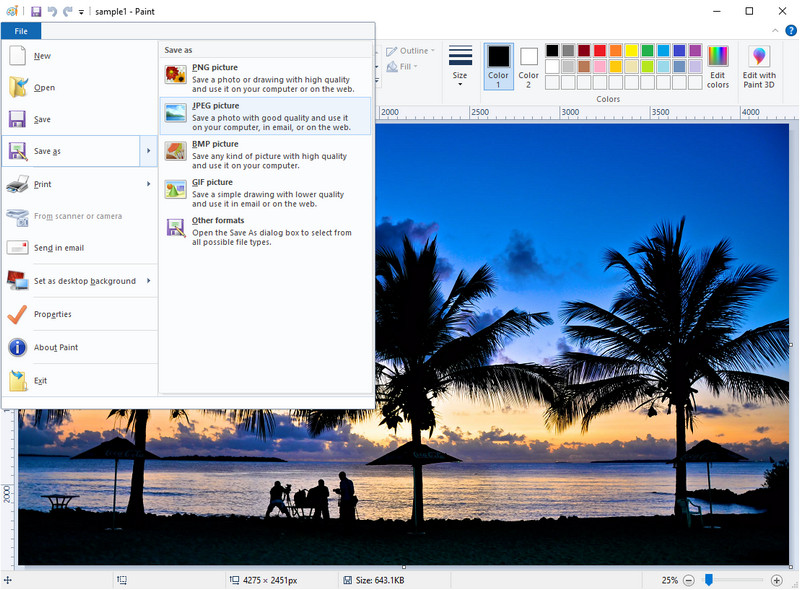 Steps on How to Use the Paint:
Step 1:
On your keyboard, tap the
windows
button and search
Paint
.
Step 2:
Go to the
File
and click
Open
to upload the WebP image you want to save as JPG.
Step 3:
Now that the image is in Paint, you can start editing the WebP by adding drawing such as shapes. But if you don't want to do it, you can skip this step and proceed to the last.
Step 4:
Click the File again, but this time, click
Save As
and choose the
JPG
format. A folder will appear on your display. Locate where you want to save the file and click
Save
.
2. Preview App on Mac
If you are a Mac user, you can use the Preview App, a default image viewer, and editor on Mac. Typically, when you double-click an image, this app will automatically view the image for you, but it has other purposes, like converting. Many users don't know this secret, be the first to learn how to change the WebP to JPG without downloading a converter.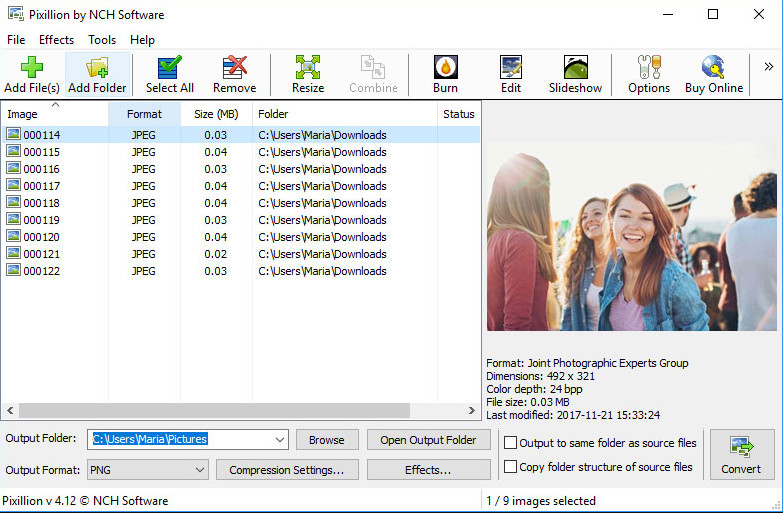 Steps on How to Use the Pixillion Image Converter:
Step 1:
Open the WebP image using the Preview App.
Step 2:
On the upper menu, click
File
and tap
Export
.
Step 3:
Under the
Format
, choose the JPG as the final output, and click
Save
to have a copy of the WebP as JPG.
Part 5. FAQs on How to Convert WebP to JPG
Does converting WebP to JPG make the file size bigger?
Since the compression of JPG isn't similar to WebP, the file size of the converted file will become slightly more significant than the WebP. If you have the original copy of the WebP, you can try and compare their file size and see it yourself. Since the file size of JPEG is large, you may need to shrink the JPG into a much smaller file size.
Can WebP become animated?
Yes, WebP can produce moving images; if we're about to compare the animation it has to GIF, WebP needs intensive CPU usage to load up properly. So, it is not ideal for creating moving images. Yet, in reality, there's more information you will need to learn about what GIF is.
Is WebP lossy or lossless?
WebP can be both lossy and lossless depending on what purpose you want it to use. But if you're going to use it for the web, you better select the lossless WebP version, for it has a smaller file size and loads faster than the typical image format used for the web.
Conclusion
Now, you have complete knowledge to convert WebP to JPG with the help of the added converters. You can try them all to see which fits you the best, but we highly recommend using the Aiseesoft Free Image Converter Online to process the image as fast as possible without quality loss.

Leave your comment and join our discussion